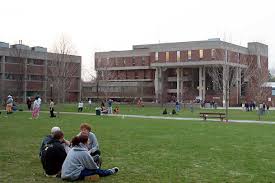 In a frightening scene for Jewish students, protestors at the Million Student March at Hunter College on November 15 screamed, "Zionists out of CUNY!" and "Intifada! Intifada! Long live the Intifada." Though the nationwide demonstrations were aimed at demanding tuition-free education and the cancellation of student debt, the organizers produced blatantly anti-Semitic tropes both before and during their events, including this Facebook announcement for the Hunter rally:
The Zionist administration [of the college] invests in Israeli companies…that support the Israeli occupation, hosts…study abroad programs in occupied Palestine, and reproduces settler-colonial ideology throughout CUNY through Zionist content of education…."
Students for Justice in Palestine (SJP)
Hunter's administration eventually issued a statement condemning the anti-Semitic content of the incident, but it barely registered against the broad and raucous scope of anti-Israel student groups around the country, who also used the march to condemn Israel and call for Boycott, Divestment and Sanctions (BDS) – and who, in fact, regularly foment anti-Semitism on campus.
* * *
Anti-Semitism never goes out of style, it seems. Only a few decades ago, it was a minor annoyance emanating from the extreme right, far from the mainstream. Today, left-wing groups are the biggest promoters of anti-Semitic activity, generally in the guise of opposition to Israel's actions. (This does not exclude even the Democratic Party, at whose 2012 convention both the State of Israel and G-d were booed!)
But what has happened to American universities, in particular? These institutions of higher learning, where one would expect to find heightened tolerance for other people and other views, are today the very places where blatant anti-Semitism has blossomed. How ironic that press coverage of the University of Missouri's problem with racism has flooded the news, yet there has been nary a word about anti-Semitic activity on that campus or any other.
From holding Israel Apartheid Week each year to menacing Jewish organizations and individuals year round, much of the campus anti-Semitism comes from groups sympathetic to the Palestinian cause. But they find fertile ground in the general liberal/progressive atmosphere of the universities. Denying the legitimacy of the State of Israel is seen as perfectly acceptable today, particularly when Israel is described as a racist apartheid state occupying Palestinian lands. These are not uncommon charges on college campuses, and actually, much worse is said.
Ever since the 1967 Six-Day War resulted in an Israeli victory, making Jews no longer the underdog but the "oppressor," public opinion has shifted in favor of the Palestinian narrative. Still, it is not yet socially acceptable for those on the left to admit they are anti-Jewish. Being anti-Zionist, however, is not a problem. This Orwellian manipulation of language serves to hide the core of the "anti-Israel" agenda: the dissolution of the State of Israel and a Jewish presence in the Middle East.
* * *
How bad is it?
The following disturbing statements were gathered from Jewish students at the University of California by the organization Amcha Initiative (amchainitiative.org):
"One of my friends wearing a yarmulke walking into the library had a member of SJP wearing a border patrol uniform say Hitler was right."
"I'm in a Jewish interest sorority and during divestment we're encouraged not to wear our sorority letters, because a few times people have come up to sisters during divestment and have started heckling them about BDS [Boycott, Divestment, and Sanctions] stuff."
"During BDS, I actually avoid Hillel, the quad, and even my sorority, because I just really don't want to have to deal with how unsafe campus feels during that time."
"I have been called an 'Israeli terrorist' and 'dirty Jew' many times."
"I was physically assaulted in an elevator in 2013. I heard my friend get called a 'Zionist kike' by SJP. Today I was called a 'kike' on campus by SJP. My two female friends and I were shoved to the ground and physically assaulted at our own Israel event in 2014…I am afraid to be on this campus."
"Any time a BDS activity occurs on campus, the number of swastikas found in libraries has gone up."
"Whenever BDS presents the divestment resolution on campus, the entire campus climate changes…My anxiety increases three-fold, and I genuinely experience PTSD after the meeting."
Amcha's raison d'être is to investigate, document, educate about, and combat anti-Semitic behavior on college campuses throughout America. It leads a coalition of about 45 organizations with similar goals, and brings together members of the Jewish community and their supporters, and helps them have a voice with university administrators. It also provides a place on its website for students to report concerns.
According to Amcha's site, more than 70 percent of University of California (UC) Jewish students polled reported witnessing or experiencing anti-Semitism on campus. One-third of respondents felt campus administrators were not sensitive to Jewish student concerns, and three-quarter of respondents reported that BDS campaigns "promote hostile actions toward Jewish students on campus."
This blatant anti-Semitism contrasts strongly with the current trend – typified by the recent troubles at Yale and the University of Missouri – of avoiding "micro-aggressions." This new term means subtle and unintended expressions of bigotry that might cause offense to socially marginalized groups. As Amcha's director Tammi Rossman-Benjamin wrote in the Santa Cruz Sentinel, "The UC policy is to try to make students feel welcome in an inclusive environment…. A document issued by the UC office of the president has identified seemingly innocuous utterances, including, 'America is a melting pot' and 'I believe the most qualified person should get the job' as examples [of micro-aggressions]."
"Meanwhile," Ms. Rossman-Benjamin continues, "Jewish students on many UC campuses are facing what can rightly be called 'macro-aggression,' long-standing and pervasive patterns of vicious, hateful behavior. In the past few years Jewish UC students have reported being harassed, assaulted, threatened, vilified and discriminated against, their property defaced and destroyed, and their events disrupted and shut down….Why," she asks, "are administrators so well attuned to the subtle forms of some types of bigotry but unable to recognize even the most flagrant forms of contemporary anti-Semitism?"
Ms. Rossman-Benjamin points to the lack of a working definition of anti-Semitism among university administrators as an obstacle to their making a proper response to incidents. Amcha has been campaigning to get UC to adopt the State Department definition, which is worded like this: "Anti-Semitism is a certain perception of Jews, which may be expressed as hatred toward Jews. Rhetorical and physical manifestations of anti-Semitism are directed toward Jewish or non-Jewish individuals and/or their property, toward Jewish community institutions and religious facilities." Demonizing or de-legitimizing or denying Israel's right to exist and holding Israel to a double standard are all included in the definition.
* * *
Although campuses in Maryland have been spared much of the anti-Semitism that plagues the West Coast, at least three cases have been reported in the past few weeks. At Towson University, in October, student Rebecca Altschul was stunned to find an outside chalkboard with these messages: 'Fascism, Just do it," "Hitler was right," and "With Jews you lose." She took pictures and emailed them to the Towson Student Government Association, the University president's office, and the Towson Hillel; she also posted it on Facebook.
Although she "felt pretty upset" and posted, "For the first time I don't feel safe on my own campus," she says she feels completely safe now, because "the administration addressed the issue," and the perpetrator was found and disciplined.
At Goucher College, on November 5, an anti-Israel group carried out its threat and nearly shut down a film presentation by Israeli television personality Assi Azar. When the speaker got up to talk, he was barraged with anti-Israel slogans and questions having nothing to do with his topic. Hillel members and others in the audience were especially upset by the fact that, although this seemed like a clear violation of the Student Code of Conduct, the protesters were allowed to continue their disruption for at least half an hour. Many in the audience felt betrayed by the members of Goucher's administration who were in attendance. Some students were in tears.
After the event, Max Adelstein, a Goucher student and Hasbara Fellow, posted on his Facebook page, "I have never been more appalled by actions at Goucher than I have on this night…I no longer feel comfortable being a Goucher student.… Goucher tonight failed Hillel and the Jewish community." He continues, "It was made very clear to the protestors that if they interrupted the speaker in any way or disturbed those in attendance to the event, that they would be asked to leave. They crossed every conceivable line save for violence, and even forced the event to end early. It is beyond me why this was allowed to continue."
When asked why the protestors were not immediately removed, Kristine Pinheiro, from the Communications Department, said, "The speaker was very gracious and engaged with protestors as well as with the students who were there to see the event. He was trying to have a free exchange of ideas with the entire audience, including the protesters…. Once it became apparent that it was no longer a productive conversation, that the atmosphere of learning and understanding was being weakened, at that point staff members did intervene."
This does not seem to be the way Mr. Azar saw it. On his Facebook posting the day after, he wrote that it was "one of the most horrifying experiences I have ever had to face." After the screening, the protestors were screaming chants against Israel that were "combative, filled with distortions of facts, mostly anti-Semitic." He writes, "It was very threatening. I could see the fear on the faces of the Jewish students who were sitting in the hall. Most of them did not take part in the debate that transpired. Students reflected afterward that they were simply afraid to speak as they would likely be targeted and possibly assaulted the next day."
Gal Massalton, a Jewish Agency shlicha attached to the Baltimore Zionist District, was also taken aback by the way the incident was handled by the administration. As an Israeli, she was surprised that the protesters were even allowed into the hall, per the dean's instructions, since they had not sent in an RSVP. She said the protesters' actions caused everyone in the audience to feel uncomfortable and that the questions they posed to Azar had nothing to do with the film but were only "asked" to further their own anti-Israel agenda.
David, a student at University of Maryland Baltimore County (UMBC) and a member of Alpha Epsilon Pi, can be seen in a video the fraternity produced last year. In it, he speaks of campus bathroom walls covered with anti-Semitic graffiti, and of students shouting "Free, Free Palestine" and "Go back to Palestine, you [expletive] Jews." I found this somewhat ironic, since these same students don't want Jews in "Palestine" altogether.
On November 10, Alan Dershowitz was the featured speaker at a Hopkins Scott Eisenhower Symposium event. In the weeks leading up to his talk, no less than three separate petitions were circulated protesting and attempting to prevent his presence on campus. At the talk, both Hopkins Feminists and the SJP protested by staging independent walkouts during the discussion.
Members of the Hopkins Feminists group stood up. Dressed in black, they held up derogatory signs alleging he was callous towards women in some of the cases he defended and allegations they accused him of, and stuck duct tape over their mouths. They then walked out. Next, Students for Justice in Palestine (SJP) held up signs reading "Stop Defending Occupation" and "Stop Supporting Apartheid" and also walked out, with one student carrying the Palestinian flag.
Victoria,* a Hopkins student who attended the Dershowitz event, did not want her name used for this article. "The SJP are the biggest problem," she says. "They have only been around for a couple of years but are gaining traction." She explains that this was a school-sponsored lecture series, with Hillel being one of the smallest sponsors. "The whole thing would not have happened if Dershowitz were not such an outspoken supporter of Israel," says Victoria, who also told me that some of the Jewish chairs of the event have been targeted and called "Zionist pigs" and "vile Zionists" and had been kicked out of parties. Naturally, they felt intimidated. One of the chairs said, "Never in my life have I been attacked for my views on Israel."
Hopkins has been historically a pro-Israel campus, so this incident has been shocking to Victoria and her fellow students. She feels safe now but always has in the back of her mind that things could turn again.
* * *
David Horowitz, head of the David Horowitz Freedom Center, is a former 1960s radical leftist who did "teshuva" and now devotes himself to exposing the left's tangled web of connections to extremist, and sometimes terrorist, groups. His list of the "Top Ten Universities Most Friendly to Terrorists," comprises, shockingly, Brandeis, Columbia, Harvard, Rutgers-New Brunswick, San Francisco State, University of Michigan-Ann Arbor, University of New Mexico, and the Irvine, Los Angeles, and San Diego campuses of the University of California.
In addition to his website, Frontpagemag.com, Horowitz runs a website called Jewhatredoncampus.org. It features a link for students to report incidents of anti-Semitism, including events such as Apartheid Week. Horowitz asserts, "The Muslim Students Association (MSA) and Students for Justice in Palestine (SJP) were created by members of the Muslim Brotherhood, godfather group to al-Qaeda and Hamas."
In his recent book, The Black Book of the American Left: Volume IV: Islamo-Fascism and the War Against the Jews, Horowitz supports his claims of these connections by pointing to a document seized by the FBI in 2005 during its investigation of the Holy Land Foundation. During trial, the prosecution produced a document called "An Explanatory Memorandum on the General Strategic Goal for the Group in North America," which called for the creation of front organizations, including the Muslim American Society, the Muslim Students Association (MSA), and the Islamic Society of North America, the Islamic Circle of North America, the Islamic Association for Palestine, and the parent group of the Council on American-Islamic Relations (CAIR). This same memo declares that Muslims "must understand their work in American is a kind of grand jihad in eliminating and destroying the Western civilization from within."
Horowitz calls the MSA (Muslim Students Association) and SJP (Students for Justice in Palestine) the main sponsors of Israel Apartheid Week events on U.S. campuses. They have been particularly active on UC campuses. What Horowitz finds most disturbing is that these groups espouse their anti-American and anti-Western agendas with the "financial and institutional support of university administrations." And most remarkable, in his view, is that leftists on college campuses are "making common cause with Muslim organizations famous for anti-Semitism, subordination of women to second class status (or worse), and deep religious conviction, a set of beliefs at odds with some of the classic values of the radical left in the twentieth century."
* * *
It is not only students who give voice to anti-Semitic views. Even more troubling are faculty members as well as associations that purport to be unbiased but who hold extreme views and don't mind sharing them in public.
USACBI (U.S. Campaign for the Academic and Cultural Boycott of Israel) is a campaign "focused on a boycott of Israeli academic and cultural institutions, responding to the call of Palestinian civil society to join the Boycott, Divestment, and Sanctions movement against Israel." One prominent member of its advisory board, which includes professors from across the country, is Honorary Advisory Board Member, Desmond Tutu, of South Africa. Over 1,300 university faculty members nationwide have endorsed the campaign, including seven from the University of Maryland.
And most upsetting of all is when these faculty members are Jewish. According to Amcha's Rossman-Benjamin, it is most disturbing (but not unusual) for Jews to be among faculty most critical of Israel. "When Jews get up and speak against Israel, and the first words out of their mouths are 'As a Jew…,' they are using their Jewishness as a club to beat up their own people. They realize that, as Jews, they are golden to the opposition."
She sent me a Youtube video link of a session during a recent conference at UC Riverside, which discussed, ironically, the "suppression of academic freedom of pro-Palestinian faculty and students." I saw college professors rant about Israel, and a Jewish professor, Jeffrey Sacks, Professor of Arabic and Comparative Literature at Riverside, went on a diatribe against Zionism, which netted these quotes (transcribed by Rossman-Benjamin):
"I would hardly want to be intolerant. The UC Board of Regents is presently formulating what it takes to be principles against intolerance, and it has invited – on intolerably short notice, I might add – what it has called 'public input.' I'll offer the following…. I'd hardly want to have to say anything about Zionism or its state – not only the state of Zionism…but also the Zionist state….Who would want to have to say anything about Zionism? I'll have to share that I can't tolerate it. Must we tolerate Zionism, compulsively imposing itself since 1948 and earlier and until our own day, and repeatedly creating new and ever more destructive facts on the ground?" And Sacks goes on to explain why the Zionist imperative is to kill Palestinians.
* * *
Shocking? Yes. But if I were a college student, and the only information I had about Israel was what I read on the anti-Israel websites, of which there are too many to count, I, too, would be horrified by the behavior of this country that, though tiny and faraway, is so evil that most of the world hates it. Listening to esteemed professors present their anti-Israel versions of "historical facts" would probably turn me against Zionism as well.
But a college campus is supposed to be a place where independent thinking is paramount, where rhetoric and propaganda are not passively accepted but analyzed for distortions, and where distinguishing between fact and bias is taught and practiced.
But even if one believes the lies and half-truths about Israel, that does not give him or her license to threaten and persecute Jews. Students are taught to be held accountable for their actions, to fight against any form of racism, and to try to be sensitive to others. It is time the left-wing progressives, and the many Jews in their midst, took a look at themselves and realized that there is never an excuse to have open season against the Jews.
Sidebar
Helpful Websites
by Eta Kushner
In addition to the internet resources already mentioned, several other websites and organizations are dedicated to monitoring, tracking, exposing and/or collecting evidence of anti-Semitism on campus.
The Simon Wiesenthal Center along with Alpha Epsilon Pi, the nation's largest Jewish fraternity, released a free cell phone app last year called "CombatHateU," where students can report campus-related anti-Semitic incidents. The app asks for a description, allows the upload of photos and videos, and also asks if the student has contacted faculty, campus administration, campus police, the media, or Hillel or other Jewish organization. The app also features links to news stories about anti-Semitism on campus.
The Anti-Defamation League (ADL) announced a new social media initiative, @CampusADL, intended to support students facing anti-Israel activity and anti-Semitism on campus.
Canarymission.org documents the people and groups that promote hatred of the U.S.A., Israel, and Jews on college campuses, and shows their connections to terrorist organizations.
Israel on Campus Coalition (israelcc.org) is a national network of students, faculty, and professionals dedicated to strengthening the pro-Israel movement on campus.
And StopTheJihadOnCampus.org, another David Horowitz site, features news and organizes teach-ins on campuses. This group's demands are "No Campus Support for Jihad Terrorists," "No Campus Privileges for Anti-Israel Hate Groups," and "No Student Funding for Apartheid Hate Weeks."
Another website that keeps tabs on campus activities is Campus Watch (campus-watch.org). The site describes itself as a project of the Middle East Forum. It "reviews and critiques Middle East studies in North America with an aim to improving them. The project mainly addresses five problems: analytical failures, the mixing of politics with scholarship, intolerance of alternative views, apologetics, and the abuse of power over students. Campus Watch fully respects the freedom of speech of those it debates while insisting on its own freedom to comment on their words and deeds."
Campus Watch calls out the Middle East Studies Association (MESA), for "giving up any pretense of professionalism… after it officially objected to the State Department's definition of anti-Semitism." More importantly, it reports that this past February, a MESA referendum approved a resolution that lauded calls for anti-Israel institutional boycott, divestment, and/or sanctions [BDS] as "legitimate forms of non-violent political action and deplored opposition to these exclusionary moves as an assault on the freedom of speech."