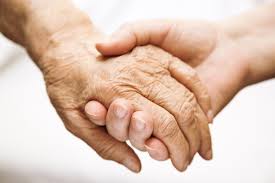 The first time I heard of the word "hospice" was in 1980, just six years after Connecticut Hospice, the first hospice in the U.S., opened in Branford, Connecticut. It was there that my mother, a"h, spent the last days of her life when it became too difficult for my father to care for her.
In August I sat in on a training program for volunteers at Gilchrist Hospice Care, Maryland's largest hospice organization. It gave me a fascinating glimpse into both the world of hospice care and Gilchrist's new Jewish outreach initiative. Mrs. Chaya Lasson, recently hired as Jewish Hospice Program Manager, arranged the training, and approached Jewish Caring Network and Bikur Cholim of Baltimore to cosponsor it.
"We thought we'd have 15 or 20 participants at the volunteer training event," says Mrs. Lasson. "In fact, we had 65 and had to close our registration!" She is grateful for the partnership with Bikur Cholim and the JCN and hopes this will be the beginning of many more such collaborations. "Volunteers are vital and essential for the peace of mind of patients' family members. We hope that this initial training program will encourage the participants to join the Gilchrist volunteer team."
At the two training lectures, the would-be volunteers heard from doctors, nurses, social workers, and rabbanim, who inspired them with the importance of this work. "If you are there for a person in his final hours of his final days," Rabbi Shmuel Silber, Rav of Suburban Orthodox Toras Chaim emphasized, "you have an incredible opportunity to give a person chizuk, strength, and unconditional love to help him focus on the things he did accomplish. Those moments of happiness, tranquility, and belonging that you can give someone as his soul transitions from this world to the next, I would suggest, is chesed shel emes, the ultimate act of chesed, because you are allowing a person to close out the journey of life and feel confident and comfortable beginning the next."
* * *
Gilchrist has served 5,700 patients, including Jewish patients, for more than two decades. Its new Jewish outreach initiative was spearheaded by well-known philanthropist Steven Fader, CEO, Atlantic Automotive, whose late father received hospice care at Gilchrist's Towson facility prior to his death four years ago.
The Jewish initiative consists of a major physical enhancement as well as new attitudes and policies. The recent 2,400-square-foot expansion of Gilchrist's 34-bed Towson campus includes a new Jewish chapel, family area, and courtyard. "For the first time, Jewish patients will feel more at home," says Mrs. Lasson. "There are mezuzahs on the doors and our own tranquil chapel with a wall constructed of Jerusalem stone, falling water, and a continuously-burning ner tamid." Although designed to complement the inpatient hospice experience for Jewish patients and their families, this area is open to all regardless of their spiritual beliefs, explains Mrs. Lasson. "The addition is magnificent, and we invite the community to see it."
Along with the new space, Gilchrist's priority, Mrs. Lasson emphasizes, is to make sure that Jewish patients feel respected in their beliefs. She has already trained 250 staff and volunteers, along with Jewish Community Services, about Jewish values, customs, rituals, and beliefs – including being sensitive to the Shabbos practices of Torah-observant patients.
"I want the frum community to know that halacha is critical to every decision we make," says Mrs. Lasson. "The most important thing in making halachic decision is details; if the details get lost in the shuffle, the whole decision is made differently. We respect that, and Gilchrist is reaching out to patients' rabbis to become more involved in health care issues of congregants who are in hospice care so that the patient's rav, physician, and family are acting as one team." Mrs. Lasson says she had the great zechus of speaking to the Vaad Harabonnim, who are aware of this program and the initiative to educate the Jewish community.
Dr. Julian (Yoel) Jakobovits, a member of Jewish Hospice Program's Advisory Board, says, "Gilchrist is an organization of highly professional and dedicated personnel with whom I have worked to the great advantage of our patients and their families. Their sensitivity to strict Jewish values goes a long way to alleviating some of the otherwise overwhelming stress associated with the care of seriously ill patients. I believe that they are providing critical services for our community." Other members of the Jewish Hospice Program's Advisory Board are Rabbi Mitchell Wohlberg and Mr. Allan Gibber.
For families that have no rabbi, Rabbi Aaron Blackman, who was present at the training, is the new Gilchrist chaplain servicing hospice patients who reside in assisted living and nursing home facilities in Owings Mills, Towson, Pikesville, and Hunt Valley. "A lot of the people I have seen so far are loosely connected with the Jewish community and have no rabbi," says Rabbi Blackman, "so I've become their rabbi to link them to the community and to their traditions."
* * *
Chaya Lasson's love of people and her leadership skills came together in her new position. The Baltimore native and registered nurse worked at GBMC's NICU (neo-natal intensive care unit) for the past 15 years. She loved her job but says it was the Yad Hashem that led her to her current position at Gilchrist.
"I didn't have a program management degree, but I knew I had the right kind of experience," says Mrs. Lasson, who noticed the job on the GBMC website. She rewrote her resume's cover letter to highlight her auxiliary volunteer experience at Levindale as well as the five trips to Israel that she led for JWRP (Jewish Women's Renaissance Project). "As Jewish liaison for Gilchrist, I can use my natural talents to educate the Hospice about the Jewish community and educate the Jewish community about the Hospice."
This unique Jewish program at Gilchrist and the expansion were made possible through a generous gift from the Judi and Steven B. Fader Family Foundation, together with funding commitments from numerous companies, foundations, and organizations, including the Harry and Jeannette Weinberg Foundation, the David D. Smith Family Foundation, the Whiting-Turner Foundation, the Pearlstone Family Fund, the Rollins-Luetkemeyer Foundation, the Jacob and Hilda Blaustein Foundation, the Henry and Ruth Blaustein Rosenberg Foundation and the Adams Foundation and Rodgers Family Fund.
* * *
Mrs. Lasson praises Deb Jones, one of the instructors of the volunteer training program, who manages the Gilchrist volunteer department comprised of over 500 volunteers as well as the grief and bereavement department of Gilchrist Services. "Still, with over 750 patients, we need many more volunteers," says Mrs. Lasson. "Since the Hospice's end-of-life philosophy is personal, it is custom-tailored to each person and family."
What do the volunteers-in-training say?
Faith Dean experienced this custom-tailored approach firsthand when her daughter passed away 31 years ago. "We had the benefit of home hospice care at that time, and I felt I may very well be able to volunteer. I don't fear death, I've experienced death with various members of my family, and I think Gilchrist has a wonderful program."
Rachel Ely, another of the course participants, says, "All of us, ultimately, will need this type of care and loving, not necessarily always in the same specific way…I have been eagerly anticipating the training."
Some joined because of their positive experience of being with their loved ones when they passed away. "I was with my father-in-law when he died, and it was very special; I want to be able to do that again for someone," says Chavie Klein.
Chayke Karp's purpose in joining the training class was twofold: "I was there with my parents, and I was there with a very dear friend of mine, at the end, and I just feel I want to know more. It is mind-opening to know how to deal with people and their pain and even to help me deal with some of my residual pain from the loss of my parents. I found the course very healing."
Myra Schein decided to be trained after her recent interaction with a hospice group. "When I saw what they did, I thought that might be something I would enjoy doing. It's a mitzvah, and I think I would be good at it."
Lisa Greenberg's induction into the world of hospice training was altogether different. The elementary school guidance counselor and resident of Owings Mills says it was "an amazing happenstance" that brought her to the hospice training seminar. "I was on an airplane, and Chaya Lasson and her husband were sitting next to me. When I told her that I was looking for bereavement guidance for myself, for a recent loss I suffered, it started us talking. She shared with me about this training, and here I am. Eventually, I would like to help the bereaved on the other end. I know I have a lot to offer."
For further information please contact Chaya Lasson: 443-849-8311; classon@gilchristservices.org. © Margie Pensak-2016