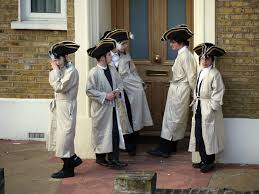 I have had the great pleasure and privilege to be one of the Simchas Esther Purim Shpielers in five of their last seven performances. Thanks to the tireless efforts of so many devoted women, along with a hefty dose of hashgacha pratis, we merited to hear more than 700 ladies laughing out loud last year as they "met the mechutanim." With Hashem's help, we've come a long way since the first play, performed in 2003 for approximately 250 women at Khal Ahavas Yisroel Tzemach Tzedek.
I'm sure that many of you hoped to see the ad for this year's play in this issue of the Where What When, but alas, there is no play this year. Mrs. Judy Neuberger, our dedicated producer and co-president of Simchas Esther (together with Mrs. Helen Hexter), searches high and low each year for the perfect script – well, it's never quite the "perfect" script but one that will become the perfect script once it reaches the able hands of Mrs. Mimi Biegacz, our multi-talented director. Sadly, this year there was no script to be found that had the potential for becoming this year's production. You think you're disappointed? You can't imagine how disappointed we are!
No pre-performance panic before walking out on stage? No thanking the Ribono shel Olam for helping us remember our lines? And how will we appreciate the peace and quiet in our post-performance life (until the next day, when we start cleaning for Pesach) if we're not out at rehearsals almost every night for five weeks straight? This weighs heavily on the hearts of the Simchas Esther Purim Shpielers.
What will I miss more – Mrs. Neuberger's fresh-out-of-the-oven potato kugel on the last Thursday night rehearsal before the performance? Or cast member Shira Feigenbaum's expertly coordinated Melava Malka spread at the last Motzei Shabbos rehearsal? And then there are the pizzas that seem to suddenly appear just when we need them most. (I know what you're thinking: I ought to get involved in the production just for the food!)
We'll all be missing the very special camaraderie that develops among cast and crew alike during play-time. I do not see Chana Esther Fogel, one of our star performers, from the day after one play until the first read-through of the next year's play. With our busy schedules, I'll now probably go for a full two years without seeing her. By then, the baby she gave birth to a few weeks after last year's play might be old enough to call her mother's cell phone during rehearsals!
Lest you think the drama and comedy only take place on stage the night of the performance, think again. There's always a whole 'nother "shpiel" going on off stage throughout the weeks of rehearsal. We often get caught up in each other's personal lives during those wild, crazy weeks, sharing the ups and the downs. Baruch Hashem, most of it is happy stuff – like the year Fagie Rosen's daughter Ahuva became a kalla in the middle of rehearsals:
Fagie: "Sorry, can't be there tonight. Gotta make a lechaim."
Mimi: "What??? You're in every scene – we can't practice anything without you!"
Fagie: "Ummm…okay, Ahuva, hold off on getting engaged. We've got a play to put on."
Not. The lechaim happened, and so did the play.
Or the year one of our cast members needed emergency surgery two days before the play. Mimi Biegacz, ever our miracle worker in so many ways, stepped in with a dazzling performance as Parmajenta.
Just last year, a medical emergency on the day before the production precluded one of our main characters from performing. Enter, stage right, our costume director, Nechama Schulman. Having hung around through so many rehearsals, working diligently and ever so pleasantly on all of our costumes, she had absorbed most of the script by osmosis. I still don't know how she pulled it off, but there she was the next night playing the part of Chassy, the about-to-become-engaged young lady in "Meet the Mechutanim." Nechama earned her flowers for Shabbos (Simchas Esther's version of the Oscar) for her cool, calm, and collected last-minute, save-the-day (and the play) performance.
But did you know that just a few days after playing her part, Nechama met the young man who would become her real-life chassan? Coincidence? Hardly! Only Hashem Himself could have written that script – and we were all so glad He did!
Mrs. Marsha Grant has performed in eight of the 10 Simchas Esther Purim Shpiels (so far!). She describes the experience as "the biggest win-win-win ever. I get to work with amazingly talented women, doing what I love to do (that is, making people laugh) and raising money for a most worthwhile tzedaka." Each year, Marsha and the rest of us "old-timers" welcome a few new shpielers to our ranks. They add new talent and energy to the mix; creating a chemistry different than ever before.
By the time you see the play performed, it has gone through a mind-boggling metamorphosis from the initial script run-through, when we are first assigned our parts. As rehearsals progress and intensify, with each cast member slowly taking on the persona of the character she will portray, the lines, jokes, and songs evolve accordingly. Before we know it, Mimi is saying: "It's ten days until show time. No more scripts on stage!"
The final performance that you enjoy is witness to the heartfelt dedication of the cast members and crew, including Mrs. Ellene Newman at the piano and Mrs. Debbie Kessler, our perfect-prop procurer. Everyone gives her all so that the women of the audience can leave all life's stresses at the door of the Bais Yaakov High School building and get lost in the laughter and the fun of those 90 minutes.
The next day, there's usually a flurry of emails among the cast members, all flying high as we congratulate one another on a job well done, expressing our hakaras hatov for the opportunity to be involved in this wonderful endeavor and bentching each other with a happy Purim ahead.
It is very gratifying to receive post-performance calls, emails, and text messages from family and friends and to be stopped in the supermarket for days and weeks after the performance with kind words from perfect strangers. But the greatest compliment is hearing the sound of roaring laughter from you, the wonderful women and girls of the audience, on the night of the performance itself. We never know exactly how the play will be received, but when we hear that first explosion of laughter, we know you got what you paid for. And when we hear that Simchas Esther raised enough money to help more local kallas and chassanim we know we all got what we paid for!
It is unfortunate that there is no play this year, but Simchas Esther still needs to help our kallas and chassanim. Please send your generous donation to Mrs. Neuberger at 418 Yeshiva Lane, Baltimore MD 21208. Play or no play, the show (of support) must go on!
On behalf of the Simchas Esther Purim Shpielers, best wishes to you and yours for a Purim same'ach, a Chag Pesach kasher vesame'ach, as well as many good laughs until our next performance, beYerushalayim Habenuya, iy"H!
The writer thanks Tova Rappaport for tweaking this article, as well half the cast for their input!