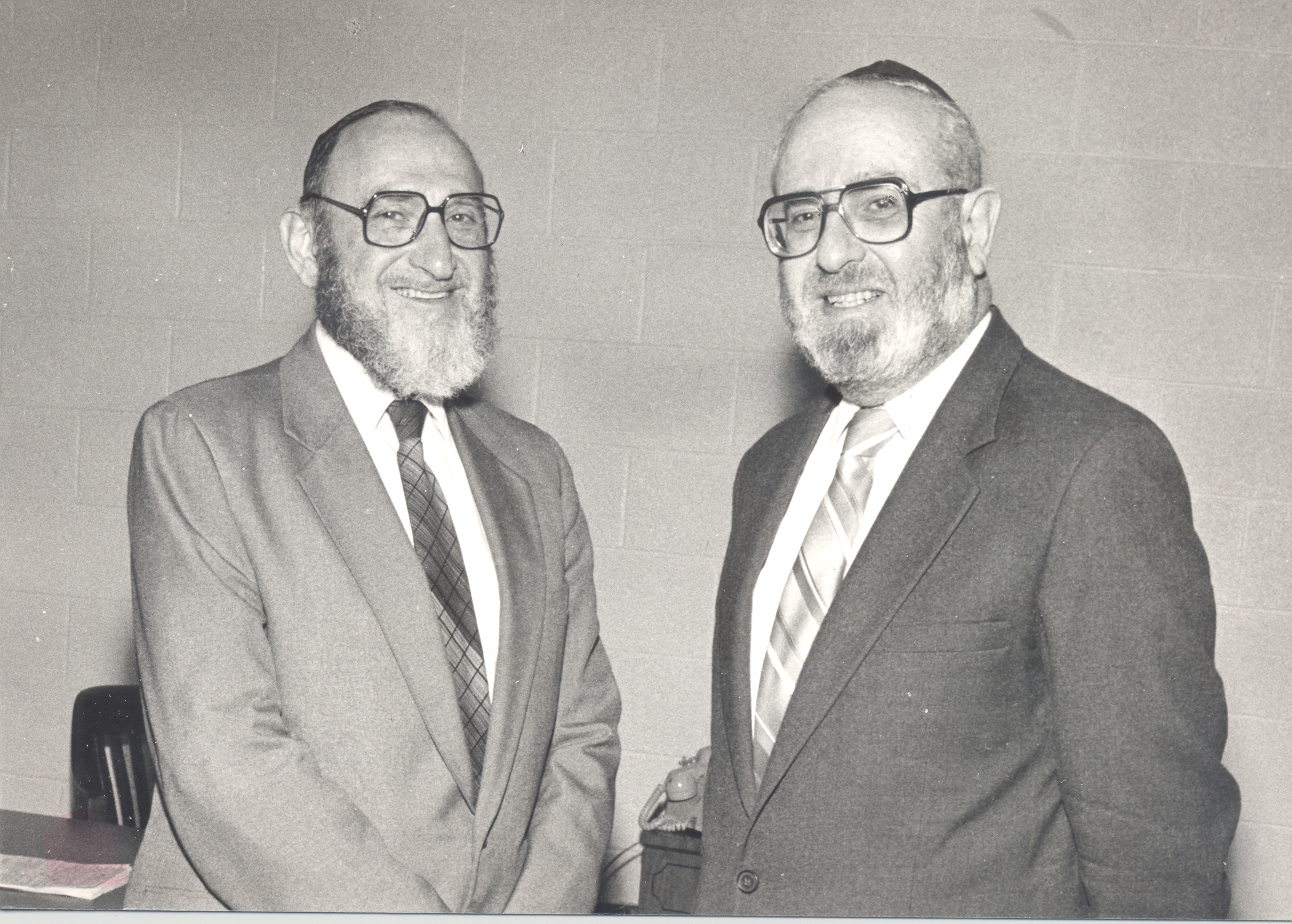 Whenever I drive down Greenspring Avenue, past the Sinai ER, on the way to the zoo, I glance to the left to see the old Bais Yaakov high school building, and say to my grandchildren, "Look, that is where I went to school!" The old mansion that housed our high school, built at the time of the Civil War, is still standing, though hard to recognize because the surrounding area has changed so much. The driveway that led to the school is no longer there, and the elementary building has been knocked down to make room for a housing development.
Since my daughter is finishing Bais Yaakov this year, and we are immersed in the rituals of graduation, I started reminiscing about the school I attended more than 40 years ago. Bais Yaakov has been established in the community for so long that some of its graduates have children, grandchildren, and great-grandchildren attending the same school they did. Sometimes they even have the same teachers. I spoke to women who attended Bais Yaakov High School in the '50s, '60s, and '70s to hear about their memories of high school life.
A Different Era
One interesting difference between then and now was simply how we got to school. Menucha Caplan, who was in the first high school graduating class, in 1959, remembers that Bais Yaakov had a few of its own buses. Unlike the carpools mothers of today, it was bus drivers who picked up the girls in the morning and brought them home in the afternoon; in-between, they did cleaning and maintenance for the school. Later on, Mrs. Caplan says, some girls took the city buses to Oakley Avenue and Park Heights. "Then, Mr. McGee came with a station wagon to pick us up and drive us the rest of the way. The station wagon had to make a number of trips to pick up all the girls."
I attended Bais Yaakov a decade-and-a-half later, and I also traveled on the city bus. We had to change buses at the corner of Park Heights and Belvedere on the way there, and we caught the bus to go home behind Sinai Hospital. No one was afraid to let children ride on the public bus, wait on street corners for the bus to come, or walk in public shopping areas.
A freak tragedy did happen, nevertheless. I remember the murder of Esther Lebowitz, a fifth-grade Bais Yaakov student, on her way home from school, on September 29, 1969. We lived on Glen Avenue at the time, and our house was used by the community and the police as headquarters for the search. I remember sitting in my room saying tehilim until the tragic news was finalized. The murder took place near the corner of Northern Parkway and Park Heights, and when I pass that area I often think of her.
An Intimate Place
Mrs. Caplan recalls that her class had eight graduates, which was considered a big class at the time. My class of '73 had 17 or 18 girls. My daughter graduating this year has more than 70 girls in her class. Our whole high school was close to the size of one grade today.
"Because the school was so small, it had a certain homey feeling," says Tova Rappaport, a 1971 graduate. The high school building was a mansion. There was a fireplace in each classroom, and the lockers were in the bathrooms.
"The bathrooms had big old bathtubs with claw feet which were great places to take a good nap," adds Esther Beila Schwarz, a 1975 graduate. "Bais Yaakov was surrounded by beautiful gardens and a pond, where we enjoyed sunbathing and eating lunch. It was easy to know every girl in the school."
Another advantage of having a small school was the opportunity for everyone to get involved. Unlike today, when each girl can have only one job, girls could participate in multiple ways. For example, Mrs. Rappaport was vice president of the GO in 10th grade and president in the 11th and 12th grade. "There were plenty of jobs available for the girls who wanted to do them," she says.
Chaya Sher, a 1966 graduate, fondly remembers the close connection the students had with the teachers and the administration. "When we went on Lag B'omer trips to Patapsco Park, Rabbi Steinberg, z"l, used to play on one team and Rabbi Diskind, z"l, on the other team," she recalls. "Our Shabbos afternoon activity was to visit the teachers and the principals at their homes. We used to make our rounds and visit the Steinbergs, the Diskinds, and the Wolks." And Ettie Rosenbaum, who graduated in 1975, remembers the 12th graders going to the houses of all the teachers on Purim night and ending up at Rabbi Steinberg's house.
The teachers had an important influence on the students and went out of their way to show them how much their learning was valued. Mrs. Sher especially remembers the advice of Rabbi Wolk, z"l. "I always wanted to be a nurse," she says "but Rabbi Wolk convinced me that I should be a teacher, because anybody can be a nurse but the world needs religious teachers."
Sheila Brisk, who attended Bais Yaakov before it had a high school, wrote about one experience in the memorial book about Rabbi Diskind.* She describes attending Rabbi Diskind's after-school classes for the girls who went to public high school. Once, Rabbi Diskind offered 15 silver dollars to any girl who could answer a certain question correctly. Sheila knew the answer and got the 15 silver dollars. Although her father made her return the money, Rabbi Diskind insisted that she keep five of the silver dollars and use them for pidyon haben. Mrs. Brisk writes, "These silver dollars have been used many times at a pidyon haben for grandchildren and great grandchildren, ka"h."
Students: from Siberia to Mexico and More
Girls in Bais Yaakov came from all over the world, as well as from American cities that did not have their own Bais Yaakov high schools. My family had two boarders, one from San Francisco and one from Los Angeles. Later on, my parents hosted a girl who had escaped from Iran. In my class, there was a girl from Egypt and another girl whose family immigrated to the U.S. after the 1956 Hungarian Revolution.
I remember when Shaindee Kelman came from Romania, with two long braids trailing down her back. As Shaindee describes, "I was 12 years old, and my English was limited. My parents and I were so excited that I could attend a Jewish girls school. That is one of the reasons we left Romania. Keeping Shabbat was very difficult under the Communists, and there was very little Jewish education. My parents hired a private rabbi who taught us Yiddish and a little halacha.
"When I learned that you are not allowed to write on Shabbat, I went to school (which was mandatory on Shabbat) and told my teacher that I am not writing," continues Shaindee. "The next day my parents were called into the office and scolded. At the end of the year, all top students were given a pin as a reward. I was not given one because I was Jewish. Kids called me dirty Jew on the playground. I came home crying, and my smart father took me in his lap and said, 'They are jealous because the Jews are so much smarter and more accomplished.'
"Rabbi Diskind and Rabbi Steinberg were wonderful, and all the teachers were so kind and welcoming. They told the girls to be extra kind and sensitive to me, and everyone was. Bais Yaakov was very kind and gave me free tuition until my father got a job. My father paid the tuition back."
Elaine Brown came to Bais Yaakov as a twelve-year-old student from Mexico and graduated in 1964. She remembers a diverse student body, where not all the students were from shomer Shabbos homes. The rule was that, to graduate from Bais Yaakov high school, a girl had to be shomer Shabbos in public. "Even when Bais Yaakov had a high school," says Mrs. Brown, "some girls used to leave after sixth grade. Their parents probably thought that the high school did not give a good enough education."
On the other hand, some girls transferred from public school to Bais Yaakov. "Stacy" applied to Bais Yaakov after having been inspired by NCSY. She describes an amusing scene that occurred when she and her mother came to meet the principals. Her mother had heard that at Bais Yaakov the students sat on benches and learned all day, sort of like a monastery. Stacy, who really wanted to go to the school, laughed and said, "It means that they bentch, not that they sit on benches." Imagine Stacy's mother's horror when they walked into the school and the first thing they saw was the davening room with rows of benches!
Many of the girls in Bais Yaakov, 40 or 50 years ago, were children of Holocaust survivors. It was not unusual for a girl to have no relatives, because her entire extended family was killed in the war. "We had to be interpreters for our parents of the American culture," says one woman, "and I always wondered what it would be like to have a real American mother." In fact, some of the students were survivors themselves. As Sara Cywiak, who graduated in 1950, wrote in the memorial book,* about Rabbi Diskind: "I came to the United States when I was 11 years old, having spent the war years in Siberia and then in post-war DP camps. I knew no English and entered Rabbi Diskind's school in the first grade despite my age. With a lot of hard work and encouragement, I caught on to the language and bridged the gap until I was able to be in a class with my peers. Our class was comprised of just four girls. I came from a family of Gerrer chasidim, and Rabbi Diskind wanted me to know about Gerrer history. I would go to his house on Friday nights, and he gave my private history lessons on the Gerrer dynasty."
Chaya Litwack, a 1964 graduate, wrote another interesting anecdote in the memorial book, portraying how the administration hoped to attract Jewish girls to the school. "I was in the sixth grade when my friend called me and asked me to accompany her downtown to the main library. Rabbi Diskind had asked her to look up back issues of the Jewish Times, dated six years ago, and to record the names of the parents of the baby girls whose births were announced in the mazal tov section….We understood that Rabbi Diskind wanted to contact these parents and encourage them to place their little daughters in Bais Yaakov instead of public school. He had a dream that at least some of those Jennifers and Pamelas and Amys would emerge from the Bais Yaakov system as Torah-true young women."
Several women remembered the '60s and '70s as the era of the mini-skirt, and since there were no uniforms, the length of the students' skirts was always an issue. One girl I remember had a special skirt just for school, which she rolled up every day to make it shorter for secular studies.
Reading, Writing, 'Rithmetic – and Hebrew
The learning schedule in the old days was not so different from today's. We had Hebrew subjects in the morning and English subjects in the afternoon, and we had school on Sunday mornings. The selection of classes was more limited, reflecting the size of the school. Today, Bais Yaakov offers many more electives and options, such as various computer programs, science, advanced and lower versions of classes, as well as AP and college classes. The option of taking college classes as seniors began in 1975, recalls Ettie Rosenbaum. There were also some differences in the curriculum. For example we took French for two years instead of using Hebrew to fulfill the language requirement. There was only one kind of Chumash class, not be'iyun and bekiyus, as are offered today. There was a big emphasis on memorizing parts of the Chumash. We memorized the beginning of parshas Ha'azinu in eighth grade, when Mrs. Zucker was our teacher.
The make-up of the staff was different, too. While, today, most of the high school teachers, even in the secular department, are religious Jews, 40 years ago, we had many teachers who were non-Jews, and a lot of them were male. Do any readers remember our history teacher, Mr. Griffin?
Sarah Schabes, an old classmate of mine, recalls that many of our teachers took off on secular holidays, so Rabbi Steinberg and Rabbi Diskind had to substitute on those days. "Rabbi Steinberg had no trouble filling in for any teacher or teaching any subject," Chaya Esther Brull, another classmate recalls.
"One of the best classes was Rabbi Steinberg's historia class," says Ettie Rosenbaum, of the class of '75. "When we went to seminary, everyone knew that the Baltimore girls were the most knowledgeable about history."
Debbie Gibber, a 1971 graduate, remembers the required home economics class. "We learned to sew and cook," she says. "I specifically remember Mrs. Pliskin teaching us how to measure Crisco. We took a two-cup measuring cup, filled it with one cup of water, and then added the Crisco until the water reached the top." How many of today's Bais Yaakov students know how to measure Crisco – or have used it at all, for that matter?
One subject that has truly gone by the wayside is shorthand. Who can forget the many hours we spent practicing typing and shorthand with Mrs. Round, learning the abbreviations and trying to increase our speed so that we could take dictation from our future bosses!
Not Just Studies
In the early days of Bais Yaakov, school was held on Chol Hamoed Succos and on Purim. On Chol Hamoed, the girls attended for half a day, had parties in the succah, and bentched lulav and esrog. They also had half a day of school on Purim, so that the girls could hear the Megillah.
We had a GO, but there was much more pomp and ceremony in choosing the president and vice-president; the job was very prestigious and involved a visible campaign. Each candidate had to give a speech telling the school what she would do to make Bais Yaakov a better place, and signs all over the school promoted the various candidates. Chaya Esther Brull ran for president and remembers that her slogan was "CE in '73."
Color war was also a much bigger deal than it is today. It always encompassed at least one occasion of staying up all night, as we practiced theme songs and marches and made signs. When I was in 12th grade Miriam, the daughter of Edith Neuberger, convinced me that I could sing, and since she was the captain of our team, I was in the choir for color war that year.
One of the highlights of high school was the opportunity to act in the ninth grade play. The plays were not based on Jewish themes and did not try to teach good middos but were based on secular classic stories. Our class performed Huckleberry Finn; the main character was Tom Sawyer, played by Chaya Esther Brull. She thinks she was given that part because she had red hair. Because the classes were small, every girl could get a part in the play. Rabbi Steinberg was very involved in the plays and helped direct them.
We had sleepover Shabbos, just like today, and we shlepped mattresses down from the attic to sleep on. "Rabbi Steinberg used to stand at the top of the stairs and throw the mattresses down the stairs and the girls stood at the bottom to catch them," Ettie Rosenbaum recollects.
In ninth grade, we went on an overnight trip to Williamsburg, Virginia. Although, I don't remember the details, I do remember the excitement of that trip. For some reason, Rabbi Diskind's warning to behave especially well and make a kiddush Hashem sticks in my mind. He told us that the people in Williamsburg see Jews so rarely that they think we have horns based on the phrase in the Torah that talks about the rays of light that shone from Moshe Rabbeinu's head. (Rays, karnayim, can mean either horns or rays of light.)
Graduation and Beyond
The school used to be divided up differently than it is now. The elementary school was until sixth grade, and culminated in a formal graduation. Junior high was seventh, eighth, and ninth grades, with high school for the remaining three years. The ninth grade graduated at the same time as the twelfth graders. The only difference was that they wore blue gowns instead of white ones. "I remember that first graduation in the formal gardens of the school, because it was so exciting and beautiful," says Debbie Gibber, although she was only six years old at the time.
The vast majority of Bais Yaakov graduates this year are going to Eretz Yisrael seminaries, but it was not always like that. In my grade, only two girls went to Eretz Yisrael. One of the girls met her chassan that year and has lived there ever since. Both girls went to BJJ, because that was one of the only seminaries in Eretz Yisrael at the time. Some girls went to Breurer's in Washington Heights or other seminaries in the New York area, like Bais Yaakov of Williamsburg or Esther Schonfeld.
In writing this article I got to speak to women who share common memories of Bais Yaakov High School. All the women with whom I spoke were surprised to hear the reason for my call and enjoyed reminiscing about things they haven't thought about for a long time. I am sure it is hard for current Bais Yaakov students to fathom that their mothers and grandmothers once sat in classes similar to theirs, studied for tests, sunbathed during the breaks, competed in color war, stayed up half the night during sleepover Shabbos, and voted in GO elections. It is just as hard for us grandmothers to absorb that our school days were so long ago and that we are now the older generation!

* The Life and Legacy of Rabbi Hirsch Diskind: A Legendary Mechanech, Dean of Bais Yaakov, 1952-1987 is a collection of memoirs written by his family, friends, and students.