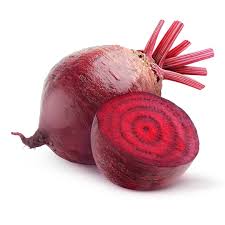 Beets are back! Beets are the "hot new superfood," claims a recent article in the LA Times. And with consumers wanting quicker and easier access to their versatile properties, many companies have been producing beets in an ever-increasing variety of forms, including vacuum-packed, peeled fresh beets and beets jarred in vinaigrettes. The vibrantly hued vegetables have become more popular than ever as an ingredient in colorful salads and side dishes. They have even found their way into dessert recipes, such as chocolate fudge cupcakes.
If you're familiar only with red beets, you'll be delighted to learn that beets can be found in array of shades. According to Molly Watson of localfoods.com, "Beets come in a range of colors and sizes, from red and yellow to stunning candy-cane-striped Chioggia beets."
An interesting historical fact about the beet: Centuries ago it became a staple of the Eastern Ashkenazi diet, because it was among the few vegetables available throughout the winter. The late Jewish-food historian, Rabbi Gil Marks, wrote in the Encyclopedia of Jewish Food that beets featured prominently in such dishes as borsht, salads, pickles, preserves, horseradish, and confections. Marks also noted that beets made their way to the Middle East and appeared in salads, relishes, and soups. He pointed out that beets have long been associated with traditional Rosh Hashanah foods.
Nutritionally, beets are considered to be a very good source of folic acid, fiber, magnesium, and potassium. In addition, beets are considered rich sources of vitamins C and A and of the mineral iron.
Beet juice may help lower blood pressure. A recent review article in The Journal of Nutrition found a significant reduction in systolic blood pressure among more than 250 participants across several studies. The researchers explain that the reason beets may help lower blood pressure is that they are a rich source of inorganic nitrates, which may increase the generation of nitric oxide in the body. Nitric oxide helps to relax and widen blood vessels, which can potentially improve blood flow and lower blood pressure.
A small study published in the journal Hypertension also showed a blood-pressure-lowering effect that was still present 24 hours after consumption.
Beets may also improve the flow of oxygen to our muscles. A study published in the Journal of Applied Physiology in 2009 showed that beet juice consumption may be correlated with increased stamina when exercising.
Other beneficial beet phytochemical, betalains, are also getting more attention within the scientific community. They are a class of antioxidants found most prevalently in red beets. About one cup of red beet juice per day has been clinically demonstrated to be enough to help reverse the effects of free radical damage and oxidative stress in humans. More broadly, the medical literature suggests that beets and beet juice can help combat inflammation and a variety of degenerative diseases.
So, as you try the following recipes, know that in addition to the taste and visual appeal, you'll also be enjoying a nice array of health benefits.
Apple-Beet Crumble
I was really excited when I saw this recipe adding cooked beets to an apple crumble! This recipe was adapted from lovebeets.com.
Apple-Beet Filling
3 Granny Smith apples, peeled and sliced
2 T. unsalted butter or coconut oil
2 T. fresh lemon juice
1/3 c. pure maple syrup
1/2 tsp. ground cinnamon
Pinch of ground nutmeg
Pinch of sea salt
1 tsp. vanilla extract
2 T. gluten-free all-purpose flour
1 (8.8 ounce) package of Love Beets Organic Cooked Beets, chopped, or similar kosher-certified product
Crumble Topping
3/4 c. gluten-free all-purpose flour
1/3 c. gluten-free rolled oats
1/4 c. pure maple syrup
1/4 tsp. ground cinnamon
1/4 tsp. salt
1/3 c. coconut oil, softened or melted
Preheat oven to 350° F and lightly oil a 9-inch square or round baking dish. (I used a 9.5-inch cast iron oval baking dish.) Add the sliced apples, butter, lemon juice, pure maple syrup, ground cinnamon, nutmeg, and a pinch of sea salt to a saucepan and heat to medium-high. Cook covered, stirring occasionally, until juices are seeping out of the apples, about 8 to 10 minutes. Add flour, vanilla extract, and chopped beets. Stir until everything is well-combined and flour has dissolved. Combine all of the ingredients for the crumble topping in a mixing bowl and stir well to combine. Transfer the apple-beet filling to the oiled baking dish, then evenly spread the crumble topping on top. Bake on the center rack of the oven for 40 to 50 minutes or until topping is golden-brown and crispy. Allow crumble to cool for 15 minutes before serving with your favorite ice cream!
Fudgy Vegan Cupcakes with Pureed Roasted Beets
This recipe is modified from one I found on the minimalistbaker.com website.
2 medium beets
1 c. unsweetened vanilla almond milk
1 tsp. white or apple cider vinegar
1/2 c. natural sugar
1/4 c. vegetable oil or melted coconut oil
2 tsp. pure vanilla extract
1 c. plus 1 heaping T. whole grain or gluten-free flour mix
1/2 c. unsweetened cocoa powder plus more for topping
1 tsp. baking soda
1/2 tsp. baking powder
Pinch of salt
Preheat oven to 375° F. Remove the stem and most of the root from your beets, and scrub and wash them underwater until clean. Drizzle beets with a bit of canola oil, wrap tightly in foil, and roast for one hour or until a knife inserted falls out without resistance. They should be tender. Set in the fridge (in a bowl to catch juice) to cool to room temperature.
Once cooled, peel beets and finely grate them or puree in a blender (adding orange juice or water to encourage mixing). Measure out 1/2 cup and set aside. Line a muffin pan with paper liners. Whisk together the almond milk and vinegar in a large bowl and set aside for a few minutes to curdle. Add the sugar, oil, vanilla extract, and 1/2 cup beets and beat until foamy. Add the flour, cocoa powder, baking soda, baking powder, and salt to a sifter and slowly sift it into the wet ingredients while mixing with a hand-held or standing mixer. Beat until no large lumps remain.
Pour batter into liners, filling to 3/4 full. Bake 22 to 25 minutes or until a toothpick inserted into the center comes out clean. Transfer to a cooling rack and let cool completely. Do not try to unwrap the cupcakes or they will stick to the wrapper.
Once cooled, dust with cocoa powder and store in an airtight container to keep fresh.
Not Your Bubbe's Borscht
This creative update of a traditional classic recipe is adapted from a recipe I found on the website whatjewwannaeat.com
3 large beets, washed, peeled, and cut into 1­inch chunks
Extra virgin olive oil
1 medium sweet potato (can use a purple sweet potato), washed, peeled, and cut into 1­inch chunks
2 medium carrots, washed, peeled and cut into 1­inch slices
2 medium leeks, washed well and cut into slices
3 c. water
1T. apple cider vinegar
1 T. honey
1 lemon, juiced
1/2 c. coconut milk
Salt and pepper to taste
Dill for garnish
Preheat oven to 400° F. Put beets on a piece of foil, drizzle with 1 tablespoon extra-virgin olive oil and wrap. Roast for about 30 minutes. Add sweet potatoes and carrots and roast for 30 more minutes or until vegetables are fork tender. Meanwhile, make pickled onions by whisking together 1 teaspoon of salt, 2 teaspoons of sugar, and 1/2 cup of apple cider vinegar in a medium bowl. Add onion slices and mix together. Let onions sit for 1 hour. When vegetables are cooked, take a few pieces of cooked beets and dice into small pieces. Set aside for garnish.
In a large stockpot, heat 1 tablespoon olive oil over medium heat. Add leek slices and sauté until soft and slightly browned, about 5 to 7 minutes. Add beets, sweet potato, carrots, water, apple cider vinegar, honey, and lemon juice. Bring to a simmer, and puree with an immersion blender or in a food processor. Return to the stockpot if you used a food processor.
Temper hot borscht with coconut milk by adding 1/4 cup of the borscht into the coconut milk a little at a time to bring it to temperature. Then whisk in the coconut milk and season borscht with salt and pepper to taste. Top portions of borscht with beets, pickled onions, and dill.
Roasted Root Veggies
This recipe, created by my friend and colleague Linda Shapiro, who calls herself the Meal Planning Maven (mealplanmaven.com), uses two types of beets. Here's what Linda writes about this recipe: "Did you know that roasted root veggies are nature's 'candy'? Their natural sugars slowly caramelize in the oven until just crispy on the outside yet soft on the inside, making them soooo incredibly sweet!"
2 medium sweet potatoes, peeled and cut into chunks
1 pound parsnips, peeled and cut into chunks
1 small bunch golden beets, scrubbed, trimmed, cut into chunks
1 small bunch red beets, scrubbed, trimmed, cut into chunks
3 medium turnips, scrubbed, trimmed, cut into chunks
Olive oil spray
1 1/2 - 3 T. olive oil
Salt and ground pepper as desired
Preheat oven to 425° F. Lightly coat 2 baking sheets with olive oil spray or use parchment paper. Place prepared vegetables on baking sheets; toss with olive oil. Sprinkle with salt and pepper as desired. Roast for about 25 minutes or until vegetables are tender and caramelized. Turn occasionally with a spatula to prevent sticking.
Although best served immediately, these veggies may also be prepared up to two days ahead. Reheat at 325° for about 10 minutes or until hot. May also be served at room temperature.
Lauren Mirkin CNS, LDN, LCPC, NCC is a licensed nutritionist and professional counselor. Please contact her for information about her comprehensive integrative nutrition counseling services, mindful eating workshops, and health and nutrition classes. She also provides psychotherapy for those struggling with eating disorders and disordered eating. She can be reached at 443-326-7023 or holisticnutritionhelp@gmail.com or holisticcounselinghelp@gmail.com.