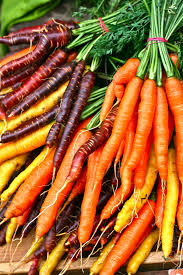 In contrast to current Pesach food trends that tend to emphasize the fancy, the gourmet, the complicated, and the expensive, I'd like to celebrate simplicity and focus on an inexpensive, everyday staple: carrots. Carrots can be used to make simple and delicious dishes that are often just as tasty and palate-pleasing as their more sophisticated counterparts.
The late Rabbi Gil Marks, a"h, in his Encyclopedia of Jewish Food, informs us that the carrot first appeared in Jewish sources in the writings of medieval Persian rabbis. When the carrot was first introduced in Europe, this "lowly" root vegetable was high-class. It was considered a rarity and luxury item. But because carrots thrive in poor soil and can be left in the ground or in a root cellar through the winter, they were cultivated widely by the 15th century and became a significant food throughout the continent. Rabbi Marks writes, "At this time, the carrot emerged as one of the foremost vegetables in the cookery of Central European Jews, a position it would shortly achieve in Eastern Europe as well."
Jews in Europe and elsewhere have used carrots in an amazing variety of dishes. Of course, they are added to chicken soup, gefilte fish, and brisket, and are used to make kugels and tzimmes, among other delicacies.
Marks points out many other uses worldwide that may be less familiar to most of us. For example, in the Middle East, carrots are added to stews and omelets and mixed with pickles. Indians make carrot halva. Sefardic Jews in the Balkans and Turkey used carrots as part of a sweet and sour braised-celery dish called apio, a Pesach favorite. A lemony carrot salad spiced with cilantro, cumin, paprika, and garlic made its way to Israel in the 1940s by way of Moroccan immigrants, eventually becoming an Israeli staple along with pita, pickles, and hummus.
Even we American Jews have our own carrot traditions. Carrot cake made its debut in 1912 in a cookbook published by the Council of Jewish Women, according to Marks. And in the 1960s, carrot cake with cream cheese frosting caught on as a popular dessert nationwide.
Nutritionally speaking, carrots are superstars. Colorful carrots are one of the best sources, alongside sweet potatoes, of a class of well-studied phytochemicals (plant chemicals) called carotenoids. These substances are distinguished by their colorful red, yellow, and orange pigments and are found in certain fruits and vegetables. The best-known among them, carotene, was first isolated in carrots and is the compound that gives them their bright orange hue.
Carrots are an excellent source of beta-carotenes, specifically. These antioxidants help protect against cardiovascular disease and cancer. Antioxidants work to neutralize free radicals by boosting the cell's defense mechanism. Free radicals damage the cell's DNA, and this damaged DNA results in altered genetic instructions that can accelerate the aging of cells and lead to the formation of cancer cells.
Research has also linked higher blood levels of beta-carotene with lower levels of C-reactive protein, a marker of inflammation and a known risk marker for heart disease.
Several epidemiological studies (research that looks at factors that contribute to health and disease in populations) have examined the relationship between cardiac health and a diet high in carotenoids. In one study of 1,300 elderly adults, those who consumed at least one daily serving of carrots or squash (also high in carotenoid) reduced their risk of heart attack by 60 percent, compared with their peers who ate less than one serving of such foods daily. On the basis of these study results and others, health journalist Deborah Mitchell included carrots in her list of heart-healthy foods in her book 52 Foods and Supplements for a Healthy Heart.
Beta-carotene is also known as a cancer-fighter because of its ability to switch on some of the body's immune cells. Studies conducted at the Institute of Food Research in England found that beta-carotene influences the effectiveness of cancer-killing immune cells known as monocytes. Health writer Jack Challem, in his User's Guide to Carotenoids and Flavonoids, explains further: "In order to seek out cancer cells, monocytes have to be able to tell them apart from normal cells. They do this with a special protein that serves as a form of 'anticancer radar.'…Beta-carotene can increase the number of cancer-detecting proteins on monocytes."
Moreover, a 2005 study published in the American Journal of Clinical Nutrition showed that serum carotenoids are inversely associated with type 2 diabetes and impaired glucose metabolism. This means the more carotenoids (i.e., the more servings of carrots) you eat, the better your blood sugar is regulated, and the lower your risk of developing diabetes. This study is one reason physician Steven Pratt, author of SuperHealth, recommends eating a serving a day of these carotenoid-rich foods. Yea, carrots!
* * *
Basic Carrot Kugel
The beauty of this recipe lies in its simplicity. Just a few ingredients that you're almost guaranteed to have around the house on Pesach, and you have a healthy, colorful, delicious dish to add to your table.
8 to 10 c. shredded carrots (10 to 12 carrots)
6 eggs
2 (4 oz. each) packages of ground almonds or 1 c. almond flour
1/3 c. oil (walnut recommended)
1 tsp. salt
1/3 to 1/2 c. honey
Mix all ingredients together in a large bowl. The mixture should be thick but stirrable. Pour into oiled 9x11" pan. Bake at 350 degrees for 35 to 40 minutes, until the top is slightly golden brown.
Deluxe Carrot Kugel
Here's a carrot kugel that has a slightly longer ingredient list. This delicious side dish can double as dessert. I modified the recipe from one I found on notderbypie.com.
1 c. matza cake meal or almond flour
1/2 c. sugar
1/2 tsp. baking powder
1/2 tsp. baking soda
1/2 tsp. salt
1/2 tsp. cinnamon
1/4 tsp. cloves
1/4 tsp. ground ginger
1 tsp. lemon juice
2 1/4 c. grated carrots
2 eggs
1/2 c. oil (walnut recommended)
Preheat oven to 325 degrees. Oil an 8" square baking pan. Combine dry ingredients in a large bowl. In a smaller bowl, combine eggs, oil, lemon juice, and carrots. Mix the wet ingredients into the dry ingredients, and stir until the two are combined and no lumps of flour remain. Transfer batter into the prepared baking pan and smooth the top with a spatula. Bake for 45 minutes: when done, kugel should spring back when touched. Serve warm or at room temperature.
Carrot Walnut Salad
This easy salad, adapted from the classic Spice and Spirit Kosher for Passover Cookbook, is a perennial favorite in our home.
6 carrots, peeled and shredded
3 apples, peeled and shredded
1/2 c. chopped walnuts or filberts
1/2 c. oil
1/4 c. lemon juice
1 tsp. salt
1 tsp. cinnamon
1 to 2 tsp. sugar or honey (optional)
Carrots and apples can be grated by hand or with a food processor. Mix together shredded carrots and apples and stir in walnuts. Mix remaining ingredients, and pour over carrot and apple mixture. Toss well and enjoy!
.
Carrot-Almond Butter
This tasty and versatile spread is adapted from recipes in Ecological Kitchen, by health food chef extraordinaire Lorna Sass.
2 c. sliced carrots
2 T. almond butter
1/4 tsp. salt
For a sweeter variety add:
1 to 2 T. honey, or to taste
1/4 tsp. cinnamon
Steam carrots till fork tender, then let cool. Puree in a blender or food processor with almond butter and salt until smooth, adding the liquid from the steamed carrots if necessary. For a sweeter variety add other ingredients.
Tasty Carrot Soup
I modified this vibrant sweet and spicy soup from a recipe I found in the wonderful cookbook Dining In on Pesach.
2 onions, diced
2 cloves garlic, sliced
2 to 4 T. oil for sautéing
8 to 9 large carrots, thinly sliced
1 red pepper, diced
1 potato, cut into chunks
8 c. water with 2 T. Better than Bouillon vegetable base (Star K-P), dissolved
1 – 2 tsp. salt
1/2 to 1 tsp. pepper
1/4 to 1/2 tsp. ground ginger
In a large pot, sauté onions and garlic in oil. Add carrot slices and diced red pepper. Add potato chunks and sauté another 8 to 10 minutes. Add water with bouillon. Cook for 1 1/2 hours, adding salt, pepper, and ginger to taste. Blend with an immersion blender.
Lauren Mirkin, CNS, LDN, LCPC, is a licensed nutritionist and professional counselor. Please contact her for information about her comprehensive integrative nutrition counseling services, workshops and classes. She can be reached at 443-326-7023 or holisticnutritionhelp@gmail.com.