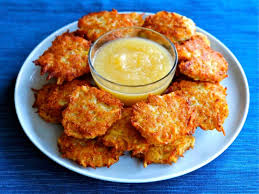 As Chanuka approaches each year, I think about how I have not made latkes since last Chanuka. (After eight days of them, when my tummy says, "Enough with the fried food," I remember why.) The old recipe comprised of potatoes, eggs, salt, and pepper fried in oil is my favorite. But it is fun to try something new and different every once in a while. Dressing up the good old standard potato latkes with toppings is an interesting spin (ha!) on an old standby.
Potato Latkes
1 lb. potatoes, peeled
1 egg
1 tsp. salt
1/4 tsp. pepper
1 medium onion, diced
1/4 c. corn starch
Oil (for frying)
Grate potatoes in a food processor and squeeze to eliminate extra moisture. Mix ingredients together. Cover the bottom of a frying pan with about 1/2 inch of oil and heat. Drop about 1/4 cup of the mixture into hot oil. Fry for 2 minutes or until golden brown and flip to cook the other side. The thinner the pancake, the faster it will cook. Drain on paper towels and serve.
Toppings
Why not use a latke as the base for an appetizer? You can start with the ideas below, but the possibilities are limited only to your imagination. If there's something you like to eat with potatoes, it can go on top of a latke!
Cranberry sauce
Turkey or corned beef deli
Fried egg
Sauerkraut
Mustard
Lox
Dill
Sour cream
Applesauce
My favorites? Top the latkes with a 1 teaspoon of cranberry sauce and a folded slice of turkey deli. Or fry an egg and place on top of a latke. Or top the latke with a teaspoon of sauerkraut, a dot of mustard, and a folded piece of corned beef. Or take a teaspoon of sour cream (tofutti sour cream if you want pareve) and top with a folded piece of lox and a sprig of dill.
Sweet Potato, Maple Syrup and B-A-A-A-Con Latkes
These latkes can also be used as the base of an appetizer! You can leave out the B-A-A-Con and put turkey and cranberry sauce on top. You can also serve these with maple syrup. And when I say maple syrup, I mean real stuff, not Mrs. Butterworth's, which is really just corn syrup.
1 lb. sweet potatoes, peeled
1 eggs
1/4 c. maple syrup
1/4 c. crumbled lamb B-A-A-A-Con (Star-K certified)
1/2 tsp. salt
1/4 c. corn starch
Oil (for frying)
Grate sweet potatoes and squeeze to eliminate extra moisture. Add eggs, maple syrup, B-A-A-A-Con, salt, and corn starch to the sweet potatoes and mix. (As a substitute for the commercial B-A-A-A-Con, you can fry a few slices of deli meat to make them crispy and crumble.)
[E1] Pour 1/2 inch of oil into a pan and heat. Drop the mixture into the oil by 1/4 cupfuls. (For bigger latkes use more batter, for smaller, less.) The taller the latke, the longer it takes to cook, so press it down to cook it more quickly. Fry until golden brown, then flip. Drain on paper towels and serve. Makes 10 to 12 latkes (4 to 6 servings)
Curried Sweet Potato by Joan Nathan
This recipe pairs the sweet potatoes with spiciness!
1 pound sweet potatoes, peeled
1/4 c. all-purpose flour
1 T. brown sugar
1/2 tsp. cayenne powder
2 tsp. curry powder
1 tsp. cumin
Salt and freshly ground pepper to taste
2 large eggs, beaten
Peanut oil for frying
Grate the sweet potatoes coarsely. In a separate bowl, mix the flour, brown sugar, cayenne pepper, curry powder, cumin, and salt and pepper. Add the eggs to the dry ingredients to make a stiff batter. Add the potatoes and mix.
Heat 1/4 inch of oil in a frying pan until hot. Drop in the batter by tablespoons and flatten. Fry over medium-high heat several minutes on each side until golden. Drain on paper towels and serve.
Malaysian Latkes by Jamie Gwen
Malaysian latkes? You bet! There are a bunch of fun flavors in here, reminding me of the Pacific Rim. (Thinking about warm places on cold Chanuka nights is a fun activity – and you can always pull out an atlas and have the kids find where Malaysia – all 878 islands of it!)
1/2 c. unsalted cashews or peanuts, chopped
1/4 c. mint or flat-leaf parsley or a combination, chopped
1/4 c. finely red bell pepper, chopped
2 T. jalapeño pepper, seeded, deveined (optional), and finely chopped
2 tsp. grated fresh ginger
2 tsp. kosher (coarse) salt, or to taste
1 tsp. curry powder
2 large eggs, beaten
2 large baking potatoes (12 ounces each), cut into wedges
1 medium-size onion, coarsely chopped
1/4 c. all-purpose flour
Oil
Cucumber Dip with Yogurt Sauce (recipe below)
Combine the cashews, mint, bell pepper, jalapeño, ginger, salt, curry powder, and eggs in a large bowl, and mix well. Set it aside. Shred the potatoes and onion together in a food processor. Squeeze potatoes to get as much liquid out as you can. Add the potato/onion mixture to the egg mixture, and combine well. Stir in the flour.
Cover the bottom of a large, heavy skillet with 1/2 an inch, and heat over medium-high heat. Drop 1/4 cup of batter per latke and gently flatten. Cook until crisp and brown, 2 to 3 minutes on each side. Transfer the latkes to paper towels to drain. Serve immediately with the Cucumber Dip. Makes about 16.
Minty Cucumber Dip with Yogurt Sauce
1 English cucumber
Coarse salt
2 c. plain yogurt (could substitute pareve yogurt)
1 to 2 tsp. crushed garlic
2 T. extra-virgin olive oil
2 T. dried mint
1 tsp. toasted cumin seeds
Fresh mint leaves, for garnish
Combine yogurt, garlic, olive oil, dried mint, cumin seeds, and salt to taste in a bowl, and whisk until smooth and creamy.
Grate the cucumber coarsely into a colander. Sprinkle generously with salt, and allow to stand for 15 to 20 minutes. Then rinse off the salt and let drain. Pat the cucumbers dry and combine them with the yogurt sauce. Taste and adjust the salt. Cover and chill for at least 1 hour. Garnish with mint leaves, if desired.
Bracha Shor is the owner and executive chef of Sweet and Good Catering. Her email is bshor@sweetandgoodcatering.com. Questions and comments are welcome.
---