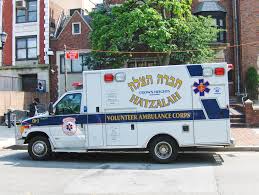 The first thing that struck me as I pulled into the Bnos Yisroel parking lot to attend the shloshim for Lonnie Borck, a"h, were Hatzalah's four ambulances lined up outside the school's entrance. It was just as touching to see Lonnie's Hatzalah colleagues lined up against the rear wall of the auditorium in tribute throughout the almost two-hour-long gathering. Hespedim were not allowed at Lonnie's levaya, since his petira was on Shabbos Chol Hamoed Succos. The shloshim therefore provided the opportunity to share stories of Lonnie's extraordinary middos and his care and concern for others.
Alan Borck, Lonnie's brother, noted that after moving here to attend the Talmudical Academy in tenth grade, Lonnie fell in love with the Baltimore, and Baltimore fell in love with him. It is customary to learn Mishna in the niftar's memory, because the word mishna is comprised of the same letters as the word neshama and because it helps give an ilui (elevation) to the neshama. "It was particularly appropriate to learn Mishna in Lonnie's memory," said his brother, "because he looked at every neshama in a special way. He went out of his way for people who were completely different than he was or not on the derech at all. We need to learn from his example."
Rabbi Menachem Goldberger, Rav of Congregation Tiferes Yisroel, mentioned that, in the late 1980s, he was introduced to a group of vibrant teenagers from NCSY, via the Lowenbrauns; Lonnie was among them. "The man Lonnie became was beginning to blossom at that time." He compared Lonnie to an aishel, who gave shelter and comfort to those who needed to take refuge, with a "lev shalem," a full heart.
Rabbi Goldberger related that Lonnie found out that someone who worked for him was having difficulty having children. Unbeknownst to his employee, he changed his insurance plan to a better plan which would cover the cost of treatments the couple needed; they conceived and have a beautiful family.
Howard Tzvi Friedman said, "One of the hardest acts of kindness is to help those who are hardly noticed. The little guy always had Lonnie Borck in his corner. Like Avraham Avinu, Lonnie taught us all by his actions. He made sure that young people stayed true to Torah and mitzvos."
Mr. Friedman noted that the four ambulances standing outside were only there because of Lonnie. After the fire commissioner nixed the idea of the formation of a Hatzalah branch in Baltimore – since only union members can drive City ambulances – Lonnie would not take no for an answer. He persistently called Mr. Friedman until they were granted a meeting with Governor O'Malley and Dr. Bass, the head of Maryland Emergency Medical, in charge of all the City ambulances. The governor threatened Dr. Bass that, if there was no Hatzalah, Baltimore City's money would be cut.
"Lonnie's appetite for mitzvos and chesed was contagious," said Mr. Friedman. "While he is no longer here to carry out this type of chesed, himself, his legacy lives on through the many people he taught – his 'talmidim' – who are now carrying out the same exact acts of chesed."
Rabbi Yakov Horowitz, Rav of Congregation Darchei Tzedek, spoke about Lonnie's roots in chesed. Lonnie's paternal grandmother once went to the bakery in Philadelphia, where she lived. While she was there, a man walked in and asked for day-old bread. The baker said, "I don't have any." He persisted, "You don't have any?" The baker said no. After the man walked out, Lonnie's grandmother said to the baker, "Tell him you have day-old bread; give him fresh bread, I'll pay the difference." The baker called the man back in and sold him the fresh bread, and she paid the difference. She left the bakery, then returned to tell the baker, 'From now on, whenever he comes in for day-old bread, I want you to give him fresh bread and send me the bill."
Rabbi Mordechai Becher, Lonnie's first cousin and a Yeshiva University rebbe, said, "There are people who see the oneness in the world, they see the oneness in people, and they are one with other people. Lonnie, a"h, was a person like that. He could look at a person and he could feel one with you. We should try to look at others, ourselves, and Hakadosh Baruch Hu with the same eyes that Lonnie, a"h, looked at everyone."
Rabbi Beryl Weisbord, Mashgiach, Yeshivas Ner Yisrael, emphasized, "Nothing stood in the way of Lonnie's desire. If he wanted to do something for an individual in the community, whether in chesed or Hatzalah, nothing stood in his way. Lonnie had this koach haratzon – whether he could do everything he wanted to do or not was totally immaterial, whether he had the means to do what he wanted to do didn't play a role. If he wanted to do it, he was going to do it, and he did it."
Nechemiah Weinreb, who had Lonnie as an NCSY advisor and remained close with him, admitted, "I was one of Lonnie's 'projects.' I was 15 years old when I met Lonnie. I was a kid who today you would call a 'kid at risk.' In those days, I was maybe one in 10,000; today, I would probably be one in 10. I hadn't made it in the classroom. I couldn't sit still, couldn't learn Gemara. I found no success in Yiddishkeit at all, and I wanted to be a half successful person, so I started looking for it outside of Yiddishkeit. Lonnie taught me – because, just like me, Lonnie couldn't sit still – that you can take your energies and use them to do chesed for others, to do anything possible for a friend. I saw from Lonnie that there is a place in Yiddishkeit for someone who can't sit still and can't sit and learn. When someone is struggling or someone is in need, they need someone real to show them how to live and that they care about him – not as a favor – and Lonnie was that real person. He loved you and wanted to help you."
Representing the entire Hatzalah organization, Elimelech Goldstein, a close friend of Lonnie's, recapped the events of that fateful Shabbos morning, when his Hatzalah radio went off at 7:22 a.m., and how he soon realized why Lonnie did not take the call on his own street.
"Lonnie's number one passion was his family. His kids are his true legacy," remarked Dr. Goldstein. "Lonnie reached out beyond his immediate family. He chose to befriend people who were working to overcome challenges, people who needed extra support and help in life. He saw good and potential in everyone. He saw the glass half full, not half empty, but he saw it even further – he saw how he could fill the glass up."
Dr. Goldstein concluded with the announcement of a new campaign to keep Lonnie's memory alive: a second Hatzalah garage, the "M58 Lonnie Borck Hatzalah Building," which will be built on the Lev Shlomo campus, where Lonnie was so loved. The building will house a state-of-the-art ambulance to provide emergency care to the community, continuing Lonnie's legacy.
Rabbi Yisrael Lefkowitz, a rebbe at the Talmudical Academy, shared that, for years, he and Lonnie sat down every single night, when he had the Brasserie and Café 921, to learn with him, along with some of his employees.
"He loved to learn; it was the highlight of his day," recalled Rabbi Lefkowitz. "No such thing as missing learning, even if it meant staying late. He told me I was the only one who could make him sit and learn. It's hard to copy and fill someone else's shoes," continued Rabbi Lefkowitz. "To say we are going to become Lonnie Borck is impossible, but to continue that love that we all have for each other because of Lonnie, to continue to do anything in the world for another person are things we can learn from and continue."
Chuckie Epstein, the MC and last speaker, shared that when Lonnie came to TA, he lived with Chuckie and his mother in Pickwick apartments; he moved in for another few years after returning from yeshiva in Israel. "I honestly never thought of myself as Lonnie's friend," he said. "I've always described Lonnie as the closest thing I've ever had to a brother. He made me feel like he was truly proud of my accomplishments."
To help sponsor the M58 Lonnie Borck Hatzalah Building in Lonnie's memory, please email donations@hatzalahbaltimore.org or call 443-570-9741.