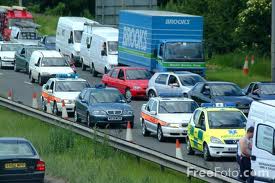 We've all noticed them, whether we live in Baltimore City or County: intersections prone to accidents, potholes we must swerve to avoid, and the lack of wheelchair accessibility at curbs, among other unsafe conditions. Is it possible to get action to resolve such traffic and safety issues? And if so, how?
I have to admit, I never gave this topic much thought until I attended the Pikesville-Greenspring Community Coalition's (PGCC) traffic and safety committee/neighborhood and pedestrian safety meeting in July. Although the subject of the meeting was the Smith Avenue corridor, the safety issues it raised are not exclusive to County residents. As a City resident, I took note.
Rabbi Zvi Teichman, Rav of Ohel Moshe, where the meeting was held, spoke about the commandment of preserving safety, which is reiterated many times in the Torah. Among several other speakers, David Feldman, co-chair of the PGCC Traffic and Safety Committee, educated the audience about how the committee reaches out to the residents of its member communities on a regular basis to hear homeowners' concerns.
Here are examples of past issues the committee helped address: a sign warning of a crosswalk ahead or another safety-related sign was down and needed to be replaced; a hedge at a corner had grown so large that it obstructed the view of drivers making turns; vehicles driven at excessive speeds that hindered residents from crossing the street safely; and the need for a traffic circle or rumble strips, a new traffic signal or crosswalk, lanes repainted, or any number of other improvements to pedestrian safety.
Additional safety issues discussed during the Q&A session included uneven sidewalks, a lack of sidewalks and curb cuts, the dangers of narrow roads for cyclists and runners, drivers texting while driving, speeding, not stopping at stop signs, the need for more crosswalks on Smith Avenue and other long streets, getting school children involved in an anti-texting campaign, and certain extremely dangerous, accident-prone intersections.
A few attendees were concerned about community members dressed in black walking home on Friday and motzei Shabbos night, who are not easily visible to drivers. An audience member suggested that rabbis or shul presidents should advise their congregants of the need to wear reflective safety clothing, as cyclists and runners do.
Citizens Speak Out
Last month, a letter to the editor about traffic safety, written by Marty and Arlene Kurland, was published in the WWW. Mrs. Kurland elaborates on her concern: "It seems that most of the drivers ignore their speedometer. Most exceed the speed limit of 25 mph. Most do not stop at the stop sign. What they do is come to a 'rolling stop.' That's probably what caused the accident on Northbrook and Hatton after shul last month. I realize that Northbrook is the only two-way street leading directly into Pickwick and that folks are in a hurry to get home for dinner, but I'd like them to realize that if they continue to drive recklessly, they may never make it home to enjoy their evening."
Another "trouble spot" was brought to WWW's attention by Mrs. Felor Shoub, who lives across from the particularly accident-prone intersection of Willowglen and Fallstaff. "Mostly, it is because there is a stop sign on Fallstaff, and drivers either don't see it or don't pay attention to it before turning onto Willowglen," says Mrs. Shoub. "They go very fast, so it causes a lot of accidents. One time, a lady driving a minivan came all the way down Willowglen and almost drove into my house. When a police officer came for one of these accidents, I asked him what we could do about it. He told me, 'We can't do anything about it, because Fallstaff is the City and Willowglen is the County.'"
Bikers on the Road
Baltimore County resident, Mrs. Paula Guttman Sharfman, shared her concern about cycling safety: "I am an avid cyclist and have been biking on the neighborhood streets for many years. One of my most favorite things to do was to hop on my bike and explore Pikesville and Mt. Washington. Not anymore. In the last few years, drivers have become much more distracted, mostly because of smartphones. This is the new reality. I have had many near-accidents involving cars, and unfortunately, there have been several serious biking accidents in this area. I made a decision not to take my life in my hands by street-biking anymore.
"My husband and son are runners who run at night. They run mostly on the sidewalk, but in many areas, there are none. They wear head lights or arm band lights so they can be seen at night, as it is simply too dangerous to go out without these."
City resident Mr. Howard Shiman has been cycling for the past 41 years. Until quite recently, his rides included the 13-mile-long roundtrip to his workplace at Social Security in Woodlawn. He recalls an accident that happened to him in 2009, near the Beazer development on Smith Avenue: The street had been purposely paved with corrugated roadway. My wheel got stuck in a groove, and when it got unstuck, my wheel had suddenly turned at right angles. Smith Avenue is now smooth.
Mr. Shiman recommends that bikers wear a high visibility (e.g., screaming yellow or bright orange) shirt or jacket, which allows motorists to see them sooner. He even puts reflective, high visibility stickers on his helmet. And he wears his cycling jersey untucked, so that it flaps in the wind, attracting the attention of drivers like a flag.
What's a Resident to Do?
I have often wondered, do police really pay attention to calls from residents, or do they come out a couple of times and then ignore the complaint? Baltimore City Councilman Isaac "Yitzy" Schleifer says, "Police resources are allocated based on crime stats and call volume. Police will respond to any calls that warrant police response. The response time varies based on the current call volume." He adds, though, that "Like any big business, you have strong employees who rapidly respond to calls for service and you have clock watchers."
It's no wonder that it might take the City a while to service your complaint. The Department of Transportation (DOT) website mentions that the department is responsible for 2,000 miles of roadways; seven miles of interstate highways; 298 bridges and culverts; 3,600 miles of sidewalks, curbing, and gutters; 456 miles of alleys; 72,000 street lights; 1,300 signalized intersections; and 250,000 traffic and informational signs. Wow!
All Baltimore City traffic and safety concerns are funneled to the appropriate department by calling 311. A resident can either call 311 or report his or her concern online at Yourcouncilman.com (click the resource tab). One can also report it by downloading the 311 app. "First report it to 311," advises Councilman Schleifer, "then send the report number to me at Yitzy@BaltimoreCity.gov.
For Baltimore County traffic and safety concerns, the protocol is different. Contact Baltimore County Department of Public Works director Steven Walsh at 410-887-3306 or Councilwoman Vicki Almond's office, by calling 410-887-3385 or emailing council2@baltimorecountymd.gov.
Be a Good Jew and a Good Neighbor
One PGCC meeting attendee summed up the safety issues in our community like this: "In order to make our streets safe for drivers and pedestrians, we all need to take a step back and work on our driving habits. Mothers and fathers driving carpool with one hand on the wheel, one hand on the phone to their ear, on narrow streets with only one lane for two-way traffic, is dangerous. People speeding before Shabbos or to shul, disregarding the rules of the road, making U-turns and then parking in spots that are illegal, is unacceptable. I have seen countless cars running stop signs, especially when making right turns on busy intersections, causing many accidents. We need to be good neighbors. Please realize that when you get behind that wheel, you represent our community, and when we disobey the laws we are creating a chilul Hashem."
© Margie Pensak-2017