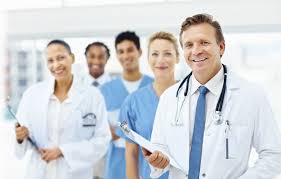 Jonathan Ringo was six years old when he was diagnosed with leukemia. No treatment was available in his native South Africa at that time. His parents contacted various medical centers around the world, and the one facility willing to chance treatment was the Dana-Farber Cancer Institute in Boston, Massachusetts. At the time of his diagnosis, the prognosis for survival for that type of leukemia was less than five percent. His mother was 26 years old and his father was 27, and people advised them to let their son die comfortably at home. They thought it was cruel of them to take their son out of the country to die. Baruch Hashem, his parents didn't listen and, instead, brought Jonathan to Boston, where he received an experimental chemotherapy. Presently, Dr. Ringo is one of the longest survivors of pediatric cancer.
"Being in-and-out of hospitals for three years and on chemotherapy gave me a taste of the importance of good medical care, compassionate medical care, quality medical care, and it sparked my interest in medicine," explains Dr. Ringo, who was recently appointed the president and chief operating officer (COO) of Sinai Hospital.
The Road to Baltimore
This was only the beginning of the divine providence that guided Dr. Jonathan Ringo to where he is today. When he completed high school, he learned in Eretz Yisrael for a year before starting college at Boston University. While he was attending medical school, a faculty member offered him a position in a biotech company he was starting. After working as a senior scientist and global strategy manager for GlaxoSmithKline for a few years, he was asked by the Feuerstein family, who would host Dr. Ringo for Shabbos, if he could give a ride to Rabbi Beryl Weisbord, the mashgiach ruchani of Yeshivas Ner Yisroel, for whom they were hosting a parlor meeting. During that ride, Rabbi Weisbord asked him if he had a regular learning seder.
"I told him that I was really busy, and he told me, 'It's not right; you really need to,' so we started learning over the phone," recalls Dr. Ringo. "At first it was for five minutes, then 10 minutes, then 15 minutes, etc."
As hashgacha (providence) would have it, Dr. Ringo's sister married a physician who practiced at Johns Hopkins. After they moved to Baltimore, he would visit them whenever he was in town, in addition to seeing Rabbi Weisbord at Ner Yisroel. Eventually, Dr. Ringo met and married the Rabbi's daughter, Dvora Meira.
After Dr. Ringo earned his medical degree from the International University of Health Sciences, his marriage brought him to Baltimore. When he was completing his residency in obstetrics in Sinai, serving as the administrative chief resident of the hospital during his training, he decided that he wanted to take on more of an administrative role and spoke to the chief medical officer of Sinai. He was told that there were no opportunities for him at the facility at that time.
Not long after that, Dr. Ringo attended a medical conference in Las Vegas. Walking in the hallway, he started talking to someone who turned out to be the chief medical information officer of North Shore-LIJ Health System (which has since been renamed Northwell Health) in Great Neck, New York. Obamacare had just started, and the facility was looking for a physician who knew about population health and insurance companies; they offered the position of director of population health information to Dr. Ringo.
"I decided to give it a whirl," says Dr. Ringo in his delightful South African accent. "At first, we would come back to Baltimore once a month. As time went on, we returned for two Shabbosos a month, and then three Shabbosos a month. When we were in town, I would often take a 12-hour shift in the labor and delivery department at Sinai, when they needed someone to cover it."
Dr. Ringo was subsequently introduced to the LifeBridge Health CIO, Tressa Springmann, to whom he spoke about some of the work he was doing in New York. She introduced him to Neil Meltzer, president and chief executive officer of LifeBridge Health, as well as former president of Sinai, Amy Perry. In September 2014, they offered Dr. Ringo the position of chief medical information officer. And less than a year after the Ringos moved back to Baltimore, Dr. Ringo was offered the position of vice-president of clinical transformation to oversee system-wide case management, population health, medical informatics, and ambulatory quality.
On May 2, Dr. Ringo was named the president and chief operating officer of Sinai Hospital, a position he held on an interim basis for four months when Perry stepped down. He plans to continue practicing as an OB/GYN in Sinai's labor and delivery unit, as well as taking shifts at Sinai Community Care. Interestingly, several of Dr. Ringo's family members were born at Sinai, including his wife, five of their six children, and his mother-in-law, Dr. Aviva Weisbord.
Shabbos Is Special
"It's an incredible opportunity to live in Baltimore," says Dr. Ringo. "We get to eat Shabbos meals with my in-laws every week, so my children have the opportunity to spend time with their grandparents and family. It is really wonderful to be able to experience such a haimishe environment.
"We are able to take advantage of all the wonderful availability that Baltimore has in terms of chinuch," believes Dr. Ringo, who was born in Johannesburg and still has his parents there. Although, Dr. Ringo is far from his beloved birthplace, he feels fortunate that one of his sisters lives close by – his brother-in-law is a nephrologist at Johns Hopkins – and another lives in Toronto. He appreciates Baltimore's diversity, the opportunities it has to offer, and the tremendous chesed that happens here, including that which is practiced in partnership with Sinai LifeBridge Health.
Frum-Friendly Sinai
"Sinai has always worked very closely with Bikur Cholim, Hatzalah, Chai Lifeline, and a number of organizations," notes Dr. Ringo. "They are regular participants of a lot of programs that we have here. Sinai Hospital was founded 150 years ago, when other hospitals wouldn't train Jewish physicians, so chesed is in keeping with our mission.
"We have kosher food available for the patients, we have a kosher cafeteria, and there is a Bikur Cholim pantry that is fully stocked and accessible 24/7 with food and sefarim," notes Dr. Ringo. "Hatzalah has access to the Bikur Cholim food closet in the Sinai ER, as well. There is a daily Mincha minyan in the Sinai chapel in the winter, when it is hard for people to make Mincha elsewhere before the clock changes. On Shabbos mornings, Levindale hosts a Shacharis minyan. Sinai also has entrances marked for Shabbos entry, so visitors do not have to deal with the electric doors opening and closing. For those who need them, we have three Shabbos elevators, as well. There is a full understanding by our staff, that if someone is shomer Shabbos they are not discharged or expected to sign forms on Shabbos. We are continuing to enhance our programs, most recently, with the leadership of both Bikur Cholim and Hatzalah, to make sure that all their programs are fully integrated with what we have at the hospital."
When I asked Dr. Ringo how he feels about his achievements, he responded, "I am very honored and humbled by this tremendous responsibility, but I'm glad to be part of Sinai's tradition to give back to the community."