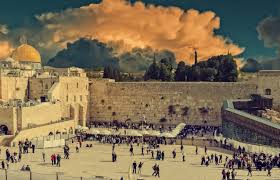 Life is a journey. Each person treads his or her own path, and choices must be made along the way. Will I embark on a quest for meaning? In what direction should I climb? What route should I take? For many, their individual path leads them to marry early and raise families, while others blaze a different trail. Life is not about waiting for events to unfold; rather, one must take action and strive to fulfill one's dreams regardless of life circumstances. Every age and every stage possesses a treasure.
Why more single women don't make aliyah was a question I pondered prior to my own move to Eretz Yisrael two years ago. It is easy to continue one's life in the groove, to adhere to an accustomed routine of work, family, single social circles, and events. Familiarity plays a big role in many people's lives. And so I procrastinated and continued my life in my beautiful hometown of Baltimore, waiting for the right time to pick up my feet and settle in Eretz Yisrael, the land of my dreams.
I was born and raised in Baltimore and educated in Bais Yaakov. But as far back as I can remember, even as a very young child, I knew in my heart that I was going to live in Eretz Yisrael one day. After my seminary year in P'ninim in 2006, I returned to Baltimore and began working in early childhood education, only to return to Israel a couple of years later for nine months. It wasn't the right time for me to settle there, and so I moved back again. The years went by as I advanced professionally, waiting for the time that I too would get married and fulfill my dream of living in Eretz Yisrael. Finally, I woke up, and it became clear that sometimes in life, there is no right time. Often, you can simply designate the present as the right time. And so, after much deliberation and a lengthy pilot trip, which I detailed in my first article of this series, I was on the plane, excitedly anticipating a new life for myself on holy soil.
Well, it's been two years, and I would like to share with my curious readers how single women experience life in Eretz Yisrael. In this and a subsequent article, you will have a chance to glimpse life here in Israel through the eyes of several single young ladies who made aliyah from Baltimore.
* * *
While in Chochmas Lev seminary in 2009, Shana Laks felt an inner pull to make aliyah but held off from doing so until May of this past year. After seminary, Shana returned to her hometown Baltimore and went for her degree in computer science at Towson University. She subsequently found a job as a computer programmer in Travelers Insurance, where she worked for three years. All the while, she didn't forget about her love for Eretz Yisrael: "I went to Nefesh B'Nefesh aliyah fairs and was reading articles on their website, but I felt like I had to have everything figured out before I came. I finally realized that it wasn't possible, so I decided to make aliyah in steps."
First, Shana came back to Israel as a student at She'arim, a college of Jewish studies for women in Har Nof. She studied there for five months, while figuring out the ins and outs of Israeli life. "This took a lot of the pressure off, and it was easier to make decisions when I could just get on a bus and check things out rather than speaking to someone over the phone or reading about it online," says Shana. Upon her trip home for Pesach to be with her family, Shana packed for her aliyah. She describes her initial adjustment as being "really amazing." Shana's attitude and prior time in Israel were key factors in granting her a soft landing. "I decided I wouldn't have any major expectations of what it would be like or how fast the process would take, although I did make a lot of checklists," she says, "but so far it's been even better than I had hoped."
Batya Miriam Perlman has always been an original thinker. After completing 10th grade at Bnos Yisrael of Baltimore, she decided to begin college and work. A year later, when she was 17, she studied at P'ninim seminary, and although she wanted to stay in Israel, she figured it was wiser to first finish her degree in the States. After getting her bachelors from Excelsior and BCCC, Batya Miriam embarked on her aliyah journey at the age of 19. She arrived in Eretz Yisrael on Lag B'omer of 2016 and describes her initial adjustment as being "very bumpy." She explains, "There was a lot of change and I moved many, many times in the first year. I think it took a full year to feel a measure of being settled." She explains her aliyah intentions: "I realized that it would be worthwhile to come when I am single, when I have time to develop myself and learn how I fit into Israeli society. Also, I really believe Mashiach is coming, and I don't want to miss any action being in the States when eventually we are all going to be in Eretz Yisrael."
Rochel Urszuy was homeschooled in Baltimore and first came to Israel on Birthright when she was 19 to discover what the Land is all about. The trip had a big impact on her, and she decided to leave the cleaning business she had started in Baltimore and study in Neve Yerushalayim for two-and-a-half years to become more strongly religious. Afterwards, Rochel decided to pursue even more academic learning in She'arim for seven months. "I realized," says Rochel, "that I didn't want to leave Israel. I couldn't see myself raising kids anywhere else." She shared her feelings with a friend, who then convinced her to make aliyah before she lost her aliyah benefits. Rochel describes her transition from being a student to an Israeli citizen: "I had already been living here, so there wasn't much of an adjustment. The only thing that is frustrating is not owning a car, which I had in the States."
* * *
Finding the right community in Israel is usually a big factor for olim in accomplishing a successful aliyah. It is crucial to feel a sense of belonging amidst like-minded people and to be comfortable in one's environment. There are communities of young single olim in Yerushalayim in various neighborhoods. Nachlaot and Rechavia in the center of the city have diverse, colorful crowds. The Har Nof community has many baalei teshuva and religious established families, while many English speakers and young American couples living in Israel short-term reside in Ramat Eshkol. Katamon, Emek Refa'im, Baka, and Talpiot in southern Jerusalem attract singles who identify with a dati leumi lifestyle, and there are some chareidi singles living in and around the Mattersdorf neighborhood.
Shana, Rochel, and I all found ourselves in Har Nof for different reasons. My experience has been that the community of Har Nof is similar in many ways to what I am familiar with in Baltimore. It has a suburban, out-of-town feel, similar to Baltimore, but also has many stores. And I find the community accepting and open-minded toward me as a single woman. Both English- and Hebrew-speaking families live in Har Nof, which is important to me because I would like to integrate and do not want to live in a predominantly English-speaking community. However, the importance of living in a supportive, comfortable environment where you will have enough people with whom you can identify and feel at ease should not be underestimated. Another reason I chose to live in Har Nof is simply because I am a nature person, and Har Nof is surrounded by the Jerusalem forest and has a gorgeous view.
Shana describes how she got to Har Nof. "Although I have some amazing cousins in Israel, I knew I'd be coming here alone and that my friends who are here, were married and busy with their kids, b"H! I felt it was really important to find my community before I even made aliyah." During her time in She'arim, Shana discovered more than just a study program. "I fell in love with She'arim's approach, with the amazing rebbetzins who teach there and the atmosphere of growth that is embraced by student and teacher alike. While studying in She'arim full time, I figured out where I would want to live and how exactly I would want to start my aliyah process (ulpan, work, or university). I would say that this was one of the best decisions I've made so far. She'arim has become my community and also introduced me to some very special people in Har Nof." Shana adds, "There is also an amazing community of single women living in Jerusalem who have get-togethers and shiurim. I've found that these communities are incredibly positive and supportive of olim. I've met so many women who give me their number and tell me to let them know if I need any help with the process."
When Rochel made aliyah, she continued her studies in She'arim and had the comfort of living in the student apartment, surrounded by the school environment she was accustomed to. A short time later, Rochel felt ready to enter "real life" and stayed with a family in Har Nof with whom she is close while searching for a place to live. Only a couple of weeks later, she found a singles apartment in Har Nof that was a good fit. Rochel says, "I had integrated into Har Nof because of the families I was set up with in seminary, but I consider my real community to be my friends, because I moved out of Har Nof recently, and now realize that I rely more on my friends for support." Wanting to be closer to Hebrew University where she is currently studying, Rochel found an apartment with a couple of friends in French Hill and is slowly making connections again through her rabbanim from seminary and friends. She is happy that Ramat Eshkol, which has many English-speaking young couples and singles, is walking distance to French Hill. "My ideal community for when I get married," says Rochel, "is a place where people are open, friendly, and serious about their Yiddishkeit. This is why I like to get recommendations from people I know (rabbi's/friends) so that I can find like-minded families."
Batya Miriam's plan for an easy transition was to be a madricha in a girls program, where she could live and work in a friendly environment. Unfortunately, things did not work out for Batya Miriam in the program, and she decided, like many young olim, to move into a shared apartment. Her experience was rough, though, and she moved about 10 times within her first year in Israel. Finally, Batya Miriam found a comfortable apartment with five friends near the Machane Yehuda shuk, where she is happily living.
Batya Miriam describes the kind of community she envisions for herself. "I am looking for a community that has a mix of Israelis and Americans and different types of religiosity so that my family will, G-d willing, not grow up in too much of a sheltered environment but with a certain openness that I received, which I appreciate from America. I haven't found a physical community yet that I really feel connected to, but I have a community of friends who likewise came to Israel young, and they have really been a support system for me here." Despite a tough initial adjustment, Batya Miriam keeps up her positive attitude and says, "It was all worthwhile."
* * *
Apartment hunting is one of the first tasks when making aliyah. How did my friends go about it? "I know some people use an agent," Rochel responds, "but because I was looking to move into a shared apartment, I advertised by word of mouth and by posting on WhatsApp, Janglo (an amazing Anglo website), and Facebook. In the end I found my apartment on WhatsApp."
Shana also found her apartment through a WhatsApp group that posts available apartments. "There are email groups as well for the single women's community," says Shana, "and most neighborhoods have their own email groups where apartments might be posted."
Batya Miriam took the other approach and went apartment hunting by calling agents she found on Facebook and Janglo. "After calling numerous times," says Batya Miriam, "all of a sudden the apartment that I currently live in with my friends just popped up. It was a miracle, and we signed the lease on the spot."
Ultimately, finding a good apartment is a matter of siyata d'Shemaya. When I made aliyah, I thought I had my apartment all planned. I had found a singles apartment on Janglo during my pilot trip. But when I actually moved in, I realized it wasn't a good fit for me. After searching for a few months, I was at my wit's end. One day, I came home from work and suddenly found an ideal apartment on Janglo to move into with a friend of mine!
* * *
We all know people who float free, who ride through life taking things in stride, with few expectations and flexible attitudes. The opposite extreme is those who plan everything, concern themselves with the details, and hold tight to the reins of responsibility. And then of course, there are the balanced ones, which is what we all aim for – to navigate life responsibly and adapt when unexpected circumstances arise. When making aliyah, one enters a new culture, which often includes learning a new language. Whether or not you come prepared with a plan, it is very likely that things will not turn out the way you anticipate.
When Batya Miriam's plan to be a madricha did not work out, she took a new direction. "It was very important to me to come with a plan," she says, "because that's what motivated me to have the courage to come, but at the end of the day many things change, and Hashem sometimes sends better opportunities." Batya Miriam proceeded to use her other skills and found work in graphic design. Currently, she is working for a couple in the Old City and studying Chinese medicine in Ma'ayanot, a religious college with separate tracks for men and women. She describes her job: "They call me Savta's helper. I do their shopping, cooking, basic cleaning, paperwork, and some phone calls. I also dabble with other activities, like running kumzitzes for seminaries and participating in Jewish outreach programs. I constantly have to juggle things – studying, finding time for friends, and making money."
When Shana made aliyah, she wasn't sure how necessary ulpan would be and if it made sense to first start working and do ulpan on the side. "I realized pretty quickly after coming that ulpan was a major priority," she says, "and started looking into ulpanim." Now that Shana finished the program, she accepted a job offer after a short search.
Rochel describes her approach towards making aliyah: "I really didn't have much of a plan. I knew I wanted to work and eventually go to school. About a year into aliyah, I decided to pursue a career in social work and applied for Mechina at Hebrew University, where I'm currently studying." Mechina is an international program that teaches Hebrew language and academic studies to prepare students for university. There are many foreign and Arab students enrolled in Mechina because getting an education in Israel is cheaper than other places. In addition to being a student, Rochel works part time as an affiliate manager for a blog that offers great deals.
When I made aliyah, I planned to take a web design course online to enable me to enter a new field, which I thought would be stable and well paying. I figured I would work part time either for a company or freelance in web design and teach part time, which is what I'm skilled at and enjoy doing. I didn't want to rely solely on finding a job in education because I knew I was entering a new environment and culture. Well, to my disappointment, although I finished the web design course, one thing after the next prevented me from entering the field.
Although my initial aliyah plan didn't go the way I expected, I am grateful for the opportunities that Hashem sent my way. I worked for two years in an Israeli Waldorf-style gan (preschool) in Ramat Motza, a suburb of Yerushalayim, and took side jobs such as tutoring, writing my aliyah column for the Where What When, and working for the Heritage House, a hostel for not-yet-religious women in the Old City. This year I switched to a different gan in Yemin Moshe, which has a similar educational style. What I love about the Waldorf education is the emphasis on creating a homey atmosphere through dim lighting, toys and furniture made from wood and natural materials (no plastic!), and the smaller teacher/child ratio. This past summer, I started working as a live-in madricha in Midreshet B'erot Bat Ayin, located in Gush Etzion. As of now, I don't have a long-term plan, other than that I would like to start a private gan next year, b'ezrat Hashem. As I like to say, "I'm living day by day."
* * *
How to conduct a job search in Israel is usually best learned from experience and by asking advice from others in the know. Common ways to search are on Facebook, Janglo, a single women's email group, or a Jerusalem job Whatsapp group started by a young single. Then there are always good old circulars that are delivered to your building in many American chareidi neighborhoods, such as the Pirsumet and Shechunaton. I found three jobs on Janglo, and my current gan job in Yemin Moshe was found by word of mouth.
Rochel found her job on the Jerusalem WhatsApp group. Batya Miriam says, "Job searching is tricky. I started on Janglo and realized very fast that it's very easy to get a full-time job or a job in a store, but getting a job as a student is harder." She ended up hearing about the couple that she is working for from a relative, and is grateful for the ability to work part time and study.
Shana searched for a job on LinkedIn and Janglo, and applied to jobs on several Facebook groups as well as Nefesh B'Nefesh's job board. "Ironically, the job I was offered didn't come through any of those avenues but through someone who forwarded me the job description after hearing that I was looking for a job," says Shana. "I can't emphasize enough how grateful I am to Hashem for the job offer I got through a seemingly random avenue. I thought I had totally messed up the technical interview and then got the job offer on my last day of ulpan. So many things came together with a lot of hashgacha pratis!" Shana mentions a helpful tip she received: "One of my rebbetzins recommended that I say Parshas Haman when looking for a job, and I would say it before I went to an interview to remind me that it really wasn't in my hands. It had an added benefit of helping me relax."
* * *
Of course, olim will naturally feel differences in the Israeli workplace when comparing it to what they were accustomed to in America. Batya Miriam and Rochel note that in Israel, menial jobs, like cleaning, sometimes offer significantly better pay than positions like office work. Shana says, "One thing I strongly recommend is talking to someone who's experienced with working in the Israeli workforce. Negotiation is extremely important, and your salary and benefits can be based largely on what you're willing to ask for or insist on. Also, don't sign a work contract without having someone who understands Hebrew look it over. I was so fortunate to have my cousin and her husband help me walk through the contract offer and some of the intricacies of Israeli work culture."
Another difference that I have been noticing is that during a work interview you will often be asked "getting to know you" questions, like "Jewish geography." Although there definitely are workplaces that require professional CVs, degrees, and solid experience, there is less emphasis here on such things. The Israelis seem to care more about how you would fit into their workplace in a social sense, which I guess makes some sense if you're trying to create a cohesive atmosphere among the employees.
Another cultural difference I find in working in Israel is that you may have to learn the ropes on the job or be assertive and sharp enough to ask questions, because things may not be as organized as in America. In Baltimore, the school that was hiring me would send organized pamphlets before school began, have me sign a worker's contract in the beginning of the year, and in general inform me of the details of my prospective job. In Israel, it is common to wait until literally the last minute to get an answer about whether you are hired or not to work in a school. I have decided that the system must work this way to teach us how to rely on Hashem and to build good ol' middos like flexibility and a relaxed attitude. (I mean, why stress out that you don't have a sure job days before gan starts if you can just stay calm and cool?!)
I have to say that, all kidding aside, everything does work out in the end, b"H. Every year I find employment, and every month I get paid on time! I also learn a lot from the Israelis. The hard work and devotion I have seen in the ganim are truly admirable. I only wish I would have been briefed beforehand on what to expect in the system here. When you expect things to be the same as what you're used to in America, you get frustrated, but when you realize that "Hey, I'm in a foreign culture and things don't have to work in the way I expect or what I'm used to," it's easier to take things in stride and even be happy that you are meriting to learn the system in the Holy Land. Ultimately, it is a foreign culture here – not good or bad, just different.
I have repeatedly heard people (who usually lack experience) say that a job in Israel is hard to find, especially something full time. From my own experience and that of my friends, I don't agree. One only has to look online and through job listings to see that there are plenty of decent jobs to be found that don't require complicated skills or training. Of course, like anywhere in the world, some people (like me) will have to juggle a few part-time jobs to make ends meet. But in my case, I did that in Baltimore as well, because I have multiple interests and would go crazy working in one place the whole day. And of course, like anywhere in the world, people get laid off or have a hard time finding a specific job in their own community. As an example, I know a woman in America who finished a college course and for several months now hasn't been able to find a job using the knowledge she gained.
My perspective is that people who stay in Israel and are happily living here are those who develop flexibility. Yes, you may have to learn a new language and culture, or you may have to commute in order to work in the field you are seeking, or you may have to switch to a new field altogether. All these are possible if your priority is to live in Israel. If an excellent paying job in a specific field is your main goal, and you don't find that, you may become too disappointed and wind up back in America. It all depends on your priority.
Plenty of Israelis and olim find full-time, well-paying jobs. I have friends who are working full time in fields such as nursing, occupational therapy, computer programming, and accounting, to name just a few. One friend , originally from Canada, has a degree in mathematics and was fortunate to find a great job with nice benefits after only a short job search. Another friend, Israeli, was asked to leave her job in architecture and found odd jobs for about a year while searching for another position in her field. After realizing that she wasn't being successful in finding the job she wanted, she accepted a position as a guide in a museum, and realized that she enjoyed what she was doing. This young woman is now working and going to school again to become a tour guide. I see her as an example of someone who was flexible enough to try something new and courageously set a different goal for herself. I believe that with trust in Hashem, effort, humility, and flexibility, if you want strongly enough to live in Eretz Yisrael, you can and will, b'ezrat Hashem.