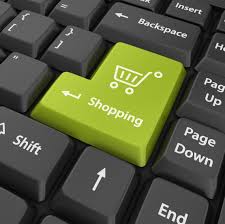 Online shopping has become so pervasive that I wonder if actually entering a store to make a purchase will someday be called "offline shopping." I must confess that, before I began researching this article, I had purchased nearly nothing online. But after finding out about the sites that will be mentioned below, two thoughts occurred to me: I may never have to leave my home again! And where can I find another source of income?
I clicked, mesmerized, through bargain after bargain and all kinds of "special deals." Many items are offered at the same or lower prices than in the store, and can be obtained with much more ease. Electronics, kitchenware, clothing, toys, groceries – anything you can buy in the store and many things you cannot – are found find online, often with free shipping.
Compare this to the phenomenon of in-store Black Friday sales, which has exerted a great attraction for the past several years. I guess some people enjoy the thrill of the chase, camping out for hours (if not days), and stampeding with others to grab that bargain. Personally, even if the stores were giving away products (no matter what), I wouldn't go. But this is no longer even necessary. As several people told me, "Now you can shop in your pajamas, at your leisure, at home and still get the best deals on Black Friday and all year round." (The fact that some people shop in their pajamas in the stores is a different issue.)
From the people I interviewed, it seems that online shopping is the wave of the future and certainly the way most singles, young-marrieds, and many older people already do a good portion of their purchasing. Besides saving time and money, customers are able to obtain non-standard sizes or selections not available in the stores. But to be successful online, just as in "regular" shopping, it pays to research the actual item, what bargains are available, and whether shipping is free or cheap enough to be worth it. Otherwise, online shopping, especially at "deal" sites, can lead to impulsive spending and can even turn addictive. With those caveats, I will explore some popular websites, in the words of members of our community who use them.
Vast as the Amazon River
Any article about buying over the internet has to start with Amazon.com, king of the online shopping jungle. One of the earliest companies to get into online retailing, it started as a bookstore but now encompasses millions of items in every category. It not only sells its own merchandise but also serves as a fulfillment center for other merchants. Yes, Amazon is huge – and hugely popular.
In addition to generally low prices, Amazon offers many other ways to save. For a fee (currently $99 per year or $49 for students), you can join Amazon Prime, which gives the customer unlimited, free, two-day shipping on eligible items. Other benefits include a Kindle-owner's lending library as well as many free Kindle book downloads. Amazon Prime can be shared with up to four additional family members living in the same household, which defrays the cost.
Allie*, a young mother of three, uses the Subscribe & Save program on Amazon. This option gives users an extra five percent off when they subscribe to deliveries at intervals of from one to six months. The customer selects the frequency and then subscribes to the items she wants. The items all arrive together on the same date of the month. When the subscription comprises five or more items, the discount rises to 15 percent. Allie has subscribed to receiving diapers and certain groceries every month. If she finds that she only needs four items that month, she'll check out a deals blog to find any small item on sale, such as a two-dollar tube of mascara. She adds that to her subscription for that particular month and cancels it for the following month. The trick is to have five items arrive together to get the full 15 percent discount on all items. These items can be managed/changed throughout the month until shortly before shipping time. And shipping is always free.
Bina* replenishes her children's favorite breakfast cereals each month, via Subscribe & Save, as well as detergent, shampoo, and diapers. There are thousands of product choices. Coupons are also available. The KOAB (see below) blog posts a list of Subscribe & Save items that she uses frequently when making her five-item delivery order.
Another feature of the Amazon website is the Wish List, which keeps track of things you are interested in and let you know when the price has dropped. Engaged couples often use this instead of registering at one store for wedding presents. Your Wish List can be made public or a link can be sent to interested parties.
Kosher on a Budget
One of the most popular sites for the kosher community is KosheronaBudget.com (KOAB), whose logo states, "Living fruitfully without multiplying your budget." It is run by Mara Strom, who lives in Cleveland. She describes herself as "a modern Orthodox Jewish woman raising a strictly kosher-keeping family of five." On her "About Me" page she shares her story of how she and her husband turned their financial lives around after being $30,000 in debt three years previously. They are now out of debt and have six months worth of expenses in an emergency fund. "By sharing tips, stories, recipes, freebies, coupons, and deal match-ups, I hope to give you the tools and inspiration to live a rich, kosher life that is within your means."
Besides the deals, Mara posts budgeting advice, menu planning, holiday tips, recipes, and more. She also offers individualized personal budget counseling, spending many hours with each couple, including being available for follow-up questions as long as needed.
The day I visited her site, I found deals for Lands' End, Rachael Ray magazine, RUUM, and Nordstrom's to mention just a few. Nothing is posted on her site unless it is "kosher" in every sense of the word.
Blogging to Help Others and Herself
Chani Yudkowsky has been running an online "deals" blog at bargainboutiquedeals.com for about a year and a half. This lucrative part-time job began a few years ago as a hobby, when she posted special deals she found online to her own Facebook page, just to share with friends. People started asking her, why not start a blog, where you can make some money doing the same thing? It turns out that this is not so simple. It took a lot of time, work, and perseverance for Chani to become an "affiliate" of several companies, meaning that these companies pay her a small commission when purchases are made through the link she provides on her website. In order to become an affiliate, some companies require a personal interview, although most companies ask only for an application, says Chani. But some want to know how much traffic a website gets. Chani uses tracking software to supply this information. She can see the number of "hits" on her site and which items are the most popular, but she can't see who buys what.
Chani's blog features specially priced items that she feels the frum community is interested in. Around Pesach time, this would include kitchenware. In the summer, she features deals on swimsuits and back-to-school items. By late summer, her posts go to cold weather apparel. Great deals on children's toys are featured all year round, but especially before Chanukah.
For Chani, this is not a full-time job. "I usually work in the early morning and then periodically during the day, but during holiday seasons, I can sometimes be up all night." If she wants to go on vacation, she simply doesn't post for those days. Chani estimates that about 800 people follow her website, which is not a lot compared to full-time bloggers who are doing it for their main income and need to accrue a much larger audience.
As far as her own shopping habits, Chani says that she makes a larger percentage of her purchases online each year, currently about three-quarters of them. This method works for her as long as items are returnable, with either free return shipping or the ability to return to a local store. Amazon, for example, offers free shipping and returns for apparel, shoes, jewelry, and some baby gear; otherwise, most sales are final unless the item is defective. However, Chani will still buy a great deal from Amazon if she is positive she wants to keep it. This includes things like toys, kitchenware, games, and household items. She buys small kitchen appliances online all the time and feels she usually gets better deals.
When she is looking for a large appliance, Chani checks the clearance section of stores like Home Depot, Lowe's, and Sears Outlet. Some stores, like Sears, normally pick up and haul away a refrigerator when they deliver a new one and will do the same for online purchases. To determine the quality of the product, she looks at Consumer Reports and also does extensive online research (reviews on multiple store websites about the product). "Just looking at a model in the store does not really give you any information on its performance," she says Chani, who usually ends up ordering the item online.
One category that Chani tends to buy in stores is groceries. Stores often have special low in-store pricing and promotions, and manufacturers' coupons can be used. She tries for even greater savings by combining the manufacture's coupon with a store coupon. However when Amazon has rock bottom prices for groceries, she will buy from there.
The Older Generation…
It's not just the "young'uns" who are shopping online.
Elissa*, of the grandmother generation, likes to buy online because "the stores often don't have my size, especially in shoes. Selection is also better," she says. "Even Target and Walmart offer many more items than they carry in their stores, and you can pick up or return an order at the stores without incurring any shipping charges." Elissa has ordered toys, jackets, pajamas, and other clothing for her grandchildren at Amazon and at The Children's Place. She has frequented JC Penney for home goods. Some other items Elissa has bought are art supplies, dishes, small kitchen appliances, a computer, and, of course, many books.
Zahava*, another Baltimore bubby, has been shopping online for several years, but last year, when she wasn't feeling well and was spending more time at home, she realized that she was getting addicted to "purchasing too many of the great bargains I saw." At that point, Zahava cut back but still shops online for kitchenware, a vacuum cleaner, and toys and clothes for her grandchildren. "I used to go to Macy's or Amazing Savings for gift-type items," she says, "but now I do most of this online. I don't buy clothes for myself, because it is hard to determine the proper fit without trying things on." Some others have voiced this same hesitation, although most people I spoke with have no problem with online sizing. (Many sites provide measurements for each size.)
Zahava is also a fan of eBates.com. When you sign up on eBates and use their link to make purchases from all kinds of vendors, including Amazon, you get a certain percentage back, once you have spent $25.00. Zahava finds this very useful for purchases, at Kohls, Amazon, and other vendors. She also enjoys using both the Bargain Boutique Deals and KOAB websites. Her daughter buys diapers, wipes and related items online.
Gittel,* yet another Baltimore bubby, buys her sneakers at www.joesnewbalanceoutlet.com, which sells previous years' models of New Balance shoes for great prices, and has a very good return policy. Gittel shops a lot at Amazon.com and Macys.com because she hates going shopping. Her Amazon purchases have included Freeda vitamins, electronics, printer cartridges, an electric blanket, costumes for Purim, books, and dishwasher detergent. "I look at Amazon first before schlepping out," says Gittel. "It works out cheaper, because I can avoid making impulse purchases of things I see in the other aisles in the stores." Gittel also buys paper and other business supplies online. Gittel occasionally shops on eBay, an auction site that offers used items as well as new ones. She was able to find the few missing pieces to a set of silverplate flatware that she inherited.
Sybil Barer, a bubby to grown-up grandchildren, orders many of her groceries online at PeaPod.com for the convenience. Shipping fees range from $7.95 to $9.95; the larger the order, the smaller the delivery fee. However, certain delivery times and days can be selected to receive up to $3.00 off this fee. Coupons can also be used with PeaPod. Sybil usually orders about once a month, but if any of her grandchildren will be staying over, she orders more often. Sybil also does in-store shopping but tries to order the heaviest items online. She doesn't do that much other online shopping – though she recently bought her brother in New York an unusual gift, a Scough, because he lives in a "city of germs." The Scough website claims that this scarf protects the wearer from airborne viruses. After unsuccessfully calling all the major department stores in New York, she finally found it online. Sybil had it shipped to her brother for a Chanukah present. Whether he will actually wear it is another question.
…And the Young One
Dr. Rachel*, a 30-something mother of two, figures she makes an online purchase about once a month. She shares an Amazon Prime membership with a family member, so always has free shipping. She subscribes to KOAB and she'll look into any deals she feels are good. Recently, she was able to purchase the all-popular-among-the-kiddie-set, "Frozen" DVD for about $7.00. She also signed up for GoldStar.com, where she gets alerts for discounted tickets for local events such as the zoo and concerts. For airfare she uses either Kayak or Southwest.com.
In addition to using Amazon's Subscribe & Save program, Allie*, the mother of three mentioned above, has been doing a lot more online shopping since getting Amazon Prime two years ago. She finds shopping is so much easier this way. Her purchases arrive in two days and they offer everything including shoes, trashcans, food, clothes, and uniforms for school. She also orders directly from The Children's Place website as well as from Target online. With her Target RedCard, she gets free shipping and five percent off any purchases. The RedCard also allows you to sign up a school to receive a small percentage of your purchase price through their Take Charge of Education program. Allie admits that one drawback of seeing the special deals online is impulse buying and overspending, particularly for items for the children. She has forced herself to cut back recently to purchasing the bare necessities.
Allie notes that the 2015 Consumer Reports says that Amazon is the best site to buy small appliances and computers. Many people also use Amazon for work and office purchases, for items as varied as light bulbs for a refrigerator case to belts for vacuum cleaners to replacement parts.
Shelley,* a 30-something mother of three, says she has had a lot less time for shopping since the kids were born and is definitely going online more often. She likes the Gap and various other sites for clothing for herself and the kids. She doesn't use Amazon very much. However, she did try Amazon Prime free for 29 days last year around Pesach time. It seemed that every night she realized that she had one more thing to add to the list. She ordered a potato peeler one day, then, realizing she would need more than one, she got another one a couple of days later. Then she remembered a measuring cup and maybe some dish towels. Since shipping was free, it was no problem.
Shelley has a friend who treats the Zappos website like a shoe store. Since they offer free shipping and free return shipping, this friend will order seven pairs of shoes for the kids, try them on as if they are out shopping, and then return whatever they don't want.
Shelley has come to expect good deals online; if she doesn't find one, she simply comes back to the site until something shows up. She puts a lot of weight on the customer reviews but says they can sometimes add up to peer pressure. "If someone posts that a certain product is the best thing ever, I feel maybe I should get it," she says. "But I also wonder if the reviews are honest – especially when the item has only positive reviews."
Shelley accurately describes the feeling of excitement inherent in receiving a package one has ordered. "Although I know that the items have already been paid for, I still feel a thrill when they are delivered. It's like I am getting a gift! The UPS man is so nice to me, always bringing me presents!"
Travel Transformed
Buying airfares has been totally changed by the ability to go online. In addition to buying your ticket straight from an airline's website, many people use Kayak, Orbitz, Travelocity, Expedia, or Priceline to compare fares from multiple airlines (though not Southwest) at once. Priceline even has a name-your-own-price feature, where you can bid for a fare, hotel room, or car rental. It would take an article in itself to describe the tricks and strategies for getting these bargains. A website that specializes in travel is DansDeals, run by a frum young man in Cleveland, who researches and posts them every day. Dan has quite a few followers, although the complicated details of using credit card and airline points is beyond the capability of many. One of Dan's recommendations is the website matrix.itasoftware.com, which the aggregate websites (like Kayak, etc., above) use. One of my family members swears by this website for finding the lowest airfares.
Israel Online
Many Israelis, including olim, also shop online.
Before making aliyah from Baltimore, in 2010, Rivkah Lambert Adler did a lot of online shopping. She appreciated the convenience and being able to avoid going to a store only to discover that they didn't have what she needed. "I was never one for recreational shopping," Rivkah says, "I mostly bought books, clothes, and household goods online." Rivkah's first experience with online shopping in Israel was with Book Depository and Better World Books; she buys a lot of books, and both these companies ship free to Israel. Knowing that she would have trouble feeding her book appetite in Israel, Rivkah also bought a Kindle before making aliyah, and is able to download books within minutes. She still orders things from the U.S. and tries to find friends to bring them to Israel for her. "That's definitely the cheapest way to do it, but it requires the cooperation of friends, and with the luggage allowance reduced so dramatically, it's harder to ask friends to bring us things. If we're coming to the U.S., I start ordering things online and have them sent to a friend or family member and then bring them home to Israel."
Rivkah recently heard about AliExpress, a Chinese site similar to eBay, and started ordering from there. Shipping takes a long time from China – up to a month or more – but at least it's free. Rivkah also recently ordered new eyeglasses from Zenni Optical. The new glasses she had made in Israel cost around 2,000 NIS ($500) for two pairs. She ordered backup glasses from Zenni (without the thinner glass, since these are for back-up) and got three pairs for under $45.00, including $9.95 for shipping.
Except for groceries, Rivkah does little shopping in Israeli stores but feels conflicted, because she would also like to support Israeli businesses. "Olim will often use Facebook groups and community lists to ask one another, 'Where in Israel can I buy...?'" says Rivkah. In addition, several Facebook groups help buyers in Israel learn more about shopping online. Rivkah recently started one in English, called "Live in Israel. Shop Online."
Devorah Guggenheim Mishraki, another former Baltimorean, has been been living in Israel for 16 years. She shops online frequently and usually has things delivered to Baltimore family members who arrange for the items to be brought to her. She follows Bargain Boutique Deals on Facebook as well as KOAB. Devorah also follows the Baltimore Rummage Facebook page, a place where people in our community either sell or give away used (or new) items. Of course, it's a little harder for her to "shop" there as someone in Baltimore needs to be available to pick up the items she wants.
Nechama C's family made aliyah last May. She was an avid Amazon and eBay shopper before moving to Israel, and her habits have not changed much. Most of the time she has items shipped to her parents in Baltimore, who get them to her. However, she has found that many places now ship to Israel for $10 to $15, or even free. Nechama pointed out that free shipping doesn't necessarily come out cheaper for Israelis for high-priced items. One gets charged meches (customs taxes) if they receive a delivery with a value of $75 or above. One way people get around this is to have separate orders come, at least two or three days apart. Nechama recently received an order of several crochet hooks (for $5.00), purchased through eBay, from a seller in China. It took six weeks to arrive, and she had almost given up on it. She hopes to order from Book Depository and next.co.uk, both of which offer free shipping.
Online Reviews: Not Just for Information
Many people mentioned researching online reviews of items. While these reviews are for the most part very informative, they can be more than that. Here's just a small sampling of what some very funny people felt compelled to say about a banana slicer on Amazon:
"For decades I have been trying to come up with an ideal way to slice a banana. 'Use a knife!' they say. Well, my parole officer won't allow me to be around knives…"
"I tried the banana slicer and found it unacceptable. As shown in the picture, the slicer is curved from left to right. All of my bananas are bent the other way."
"What can I say about the 571B banana slicer that hasn't already been said about the wheel, penicillin, or the iPhone.... This is one of the greatest inventions of all time. My husband and I would argue constantly over who had to cut the day's banana slices. The minute I heard our six-year-old girl in her bedroom reenacting our daily banana fight with her Barbie dolls, I knew we had to make a change. That's when I found the 571B banana slicer. Our marriage has never been healthier."