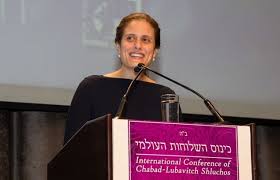 Way back in the 1940s, when the founders of Bais Yaakov established the mission of the new school for girls – creating the Jewish "mothers of tomorrow" – they most likely didn't envision one of its graduates doing her mothering in the heart of diplomatic Washington! But then again, maybe they did. Because being a Jewish woman and mother encompasses all the circumstances in which she might find one day herself. Rhoda Dermer (nee Pagano), wife of the Israeli ambassador to the U.S. Ron Dermer, and mother of five, is an outstanding example of such a woman, who represents the Bais Yaakov ideal among the leaders of the world.
Born and raised in the heart of our Baltimore community, Rhoda took a roundabout route to D.C. diplomatic circles. A Bais Yaakov graduate, she attended Stern College for Women and Columbia University in New York. Later, she graduated from Yale Law School. Although the trajectory of her life may not be exactly what she and her friends envisioned all those years ago, she is filling her current roles – mothering and more – with aplomb, all the while remaining loyal to the values her parents and teachers instilled in her.
Rhoda stays in contact with many of her BY and childhood friends. One of them, Aliza L, remains close to Rhoda to this day. "I'm actually not surprised about Rhoda's position and her path in life," says Aliza. "She is an extremely bright and accomplished woman. She's a great friend, and I am glad we are still close and can share experiences and have our children grow up to know each other even if we live far apart." And Naomi W, a more distant classmate, nevertheless remembers Rhoda as being a studious and diligent student who was very bright and a class leader: "She was very kind and refined, and people always gathered around her."
Mrs. Dermer graciously gave her time to participate in this email interview. In it, she explains how she came to be in her position and what it's like to be an Israeli ambassador's wife, speaking eloquently about her "unofficial" role and how it impacts her family.
Where What When: Did you ever think of aliyah when you were growing up, or was this a surprise development in your life?
Rhoda Dermer: It was definitely a surprise development! In the fall of 2000, just after law school, I began a comparative law clerkship at Israel's Supreme Court. It was supposed to be a one year clerkship, a year off between law school and the start of a career at a big law firm in New York City. But during that year I met Ron, and the entire course of my life changed. Although I guess you could say that I moved to Israel for love, what I've discovered over the years is that I love living in Israel. I love the food and I love the people. I love the hustle and bustle of the Jerusalem neighborhood we call home (when we aren't living here in the U.S.), and I love the quiet and the solitude you encounter when you drive out to Harei Yehuda. Most of all, I love that my children are growing up steeped in Jewish history, and I love that I am raising them at the heart of the Jewish future. I feel very fortunate and very blessed that my life took the unexpected turn that it did.
WWW: What is your role as the ambassador's wife? Are you expected to participate in any aspect of your husband's job? Is it formal or informal?
RD: The wife of an ambassador is not actually an employee of the Israeli Embassy, but I obviously try to do whatever I can to help my husband represent Israel here in the U.S. There are events that an ambassador's wife is encouraged to attend, like official state functions, and many of these events I've also wanted to attend, like the Prime Minister's historic speech to Congress last year. Beyond that, we host dinners (and breakfasts and lunches!) at our home pretty regularly, and we also go to various functions around town.
There's an international women's club that the wife of the Israeli ambassador has traditionally been a part of, so I try to attend their events, and I really enjoy meeting with various women's groups to discuss the situation in Israel or to hear from them about the challenges they are facing, so I do that as well. All of that said, in addition to being the wife of Israel's Ambassador. I am also the mother of five small children (b"H), and my kids have always been a priority for me. I try to give as much as I can whenever I can, but juggling it all is definitely a challenge.
WWW: What's it like to hobnob with the "great ones"? Would you describe it as interesting, scary or exciting?
RD: If by "great ones" you mean famous people, I've definitely met my share, and it's been interesting, scary, and exciting, all rolled into one! We hosted Secretary of State John Kerry for a seder two years back, and it was really fun to watch him hide the afikoman from our kids. At one of our Yom Ha'atzmaut events, Vice President Biden spoke. And this past January, on International Holocaust Memorial Day, my husband and I had the honor of hosting President Obama at our Embassy.
Being a family with young children, we especially enjoy having guests on Shabbat, and those guests are often senators or members of Congress, prominent Jewish leaders, or businesspeople. And of course, sometimes our guests are prominent Israelis – like the Israeli Defense Minister and even, on one occasion, Rabbi Adin Steinsaltz. One of my favorite events was the one we held to celebrate Hispanic Heritage Month, during which the noted Israeli singer David Broza performed on our front lawn!
But while these events can often be interesting and fun and certainly expose us to all sorts of famous people, they are first and foremost opportunities to explain Israel's unique challenges to people who either are now or might one day be in a position to affect Israel's future. I know that that's the way my husband sees them, and I also know that, as a result, he approaches this aspect of his work with a tremendous sense of responsibility.
Israel is the one and only Jewish state, and it is home to nearly half of the world's Jews. And while we have a truly wonderful country, there are those who are working every day to demonize Israel in the hopes of weakening it and ultimately destroying it. That's why the primary responsibility of Israeli diplomats everywhere is to advance Israel's interests and strengthen Israel's relationships with other countries, thereby helping to secure Israel's future. Sometimes that means going to a meeting at the White House or at Congress. Sometimes that means doing an interview on CNN. And sometimes, I guess, that means "hobnobbing" with the "great ones."
WWW: What are Netanyahu and his wife like in person?
RD: My husband obviously knows the Prime Minister and his wife much better than I do, but the Netanyahus have been a part of my life since I first met Ron. In fact, Ron mentioned the Prime Minister to me on our first date. Unfortunately, it wasn't in the context of some grand political discussion, but to warn me that he'd be cutting our date short in order to meet with him. Talk about a harbinger of things to come!
Over the years, the Netanyahus have been there with us to celebrate in our simchas – to dance at our wedding and to attend the britot of three of our four sons. But it was the shiva call that the Prime Minister and Mrs. Netanyahu made after my father died that left the most powerful impression upon me. My father, Richard Pagano, a"h, passed away erev Sukkot of 2010, and our family sat shiva in Jerusalem. Netanyahu was then serving as Prime Minister, and I know that there were important diplomatic discussions going on at that time, because my husband was going back and forth on the telephone with his counterpart at the White House. Despite the fact that he was a sitting Prime Minister, and despite the fact that he was attending to important matters of state, the PM, along with his wife Sara, came to be menacham avel. And they didn't just come and go. For almost an hour and a half, they sat and spoke to all of us about our father and about our family, and they empathized with us in our loss. During that shiva call, I saw a very warm and a very compassionate side of the Netanyahus that most people who are only focused on Netanyahu as a statesman don't really have an opportunity to see.
WWW: What kinds of attitudes have you encountered among world leaders regarding Israel? How do you react to them?
RD: If you spent all of your time reading the op-ed pages of certain newspapers in this country, I guess you'd imagine that the general attitude towards Israel would be pretty negative, but that hasn't been my experience at all. Every month I am invited to attend a meeting of wives of various ambassadors, congressmen, and administration officials, and what I've found is that most people are deeply impressed and inspired by Israel. And why shouldn't they be? Israel is only 68 years old, but this past year, we ranked number eight on a list of the most powerful countries in the world. We have the strongest military in the Middle East, and one of the strongest in the world.
At the same time, Israel has become a true center of technological innovation. We are global leaders in water conservation, science, medicine, and cyber security. What's more, we have accomplished all of this while being the most endangered democracy on earth, constantly defending ourselves against war and terror. And most important of all, in defending ourselves, in building our country, and in constantly showing a willingness to make peace, Israel has remained true to its highest ideals. Though our enemies characterize us in the worst terms imaginable – as war criminals, monsters, and even as Nazis – the Israeli people are in fact exceptionally kind and compassionate, decent and moral.
And of course, when people think about Israel, they aren't just thinking about what we have accomplished over the last 68 years. They are thinking about an ancient people who 2,000 years ago were exiled from their land and were relegated by nearly everyone to the dustbin of history. They are thinking about how, against all the odds, this very same people gathered itself from the four corners of the earth, returned to its ancestral homeland, and regained its sovereignty. They are thinking about what a miracle that is, and they are rightly impressed and inspired!
WWW: Has your Bais Yaakov education helped you in your current rule?
RD: My Bais Yaakov education has definitely helped me, and in fact, I think about Bais Yaakov often. When I was in high school, Rabbi Binyomin Steinberg, z"l, was the principal. As some of your readers may recall, he would often take us to local parks for cookouts and hikes. During those trips, he would always insist that we behave with the utmost decorum, and at the end of each trip, he would always remind us to clean up after ourselves and to thank the bus driver. In this way, he instilled in us the understanding that, whether we liked it or not, our behavior could affect not only how other people saw us as individuals but also what they thought of Jews as a whole. That's why acting inappropriately would be a chilul Hashem and why acting appropriately would be a kiddush Hashem.
Today, I have no doubt that by emphasizing the concept of kiddush Hashem in this way, Rabbi Steinberg made it easier for me to transition from being a mother living in Jerusalem to being the wife of Israel's Ambassador to the United States in Washington D.C. Just as our behavior as Bais Yaakov girls in a local park didn't just reflect upon us as individuals but upon the Jewish people as a whole, so, too, what my husband and I do in the U.S. doesn't just reflect upon us as individuals but upon the people of Israel as a whole.
What's more, during my time here in the U.S., I have come to appreciate that what is true for me and my husband is true in some sense for all Jews. Because we are Jews, all of us are ambassadors – all of us represent the Jewish State. Whether you are a school girl playing at a local park, a mother shopping in the grocery store, or a wife standing next to her husband in the halls of the White House, the way you behave can affect people's opinions not just of Jews but also of Israel – opinions that can make a difference many years later.
I'll give you an example: About a year ago, my husband met with a member of Congress who had immigrated to the U.S. as a child and who is a strong supporter of Israel. He told Ron about his experience with the American Jewish community where he grew up. When he was 15 years old, he and his friends were on the streets looking for a place to play basketball. Because they were immigrants, nobody wanted to let them play. In the end, the only place that opened its doors to them was a local synagogue that happened to have an attached gym. They welcomed them in and befriended them. Nearly 40 years later, that Congressman hasn't forgotten. "The Jewish people stood with me," he told Ron, "and I will always stand with the Jewish State."
WWW: How do you balance your responsibilities as Mrs. Ambassador with mothering?
RD: Not always very well, I'm afraid! A good friend once described parenting to me as "hazorim b'dima b'rina yiktzoru" (He who sows with tears, will reap with joy), and if that is true, then I will bli ayin hara eventually be overflowing with rina! When you're the wife of the Ambassador but you're also the mother of five children ages three through twelve, things are simply bound to go wrong! We hosted a dinner once for a group of Congressmen and women, and my boys decided that that was the perfect time to practice catapulting in the bedroom overhead. Another time, we were held up on our way to a family State Department reception because my ten-year-old insisted that bright green crocs should count as dress shoes! And then there was the time one of my kids asked in a very loud "whisper" when our guests were going to go home already!
But as difficult as it can be sometimes to raise our children while Ron is serving as ambassador, I know that this is a once in a lifetime experience for all of our kids, and I hope that it will have a positive and lasting impact. They've met so many people from so many different countries, and the older ones especially have learned so much about politics and history – plus, they're getting much needed experience practicing table manners! And it's not just what they've experienced. During the last few years, they've seen their father really dedicate himself to Israel, and I think that having that kind of personal example in a parent is priceless in terms of the values we are trying to instill in our children.
Finally, I hope that it's not only that our children have gotten something out of this experience but that they've contributed to our efforts to represent Israel in the U.S. as well, even if only in a very small way. Israel has the highest birthrate in the Western world, so large families like ours aren't unique there. In fact, I've noticed that when I'm outside of Israel and I tell people that I've got five kids, I'm greeted with stunned silence followed by a very timid "So are you done yet?" But when I'm in Israel and I tell people I've got five kids. I get a huge smile, a pat on the back, and a "Call me when you've got eight, then we'll talk!" You see children everywhere in Israel – even in fancy restaurants and at solemn memorial day ceremonies – and I think it's because children are something that Israeli society really values and really cherishes. I hope that when people walk into our home and see our children – even with all of the balagan that necessarily comes along with them – they get a little taste of that side of Israel too.
WWW: What do you suggest is the most effective thing that American Jews can do to combat the war against Israel being waged in the court of public opinion?
RD: As your readers know, Israelis face continual threats to their physical safety. Just recently, a 13-year-old girl was murdered in her home in Kiryat Arba and a father was gunned down in his car with his children in the backseat. But there is also a war being conducted against our people in the court of public opinion. In the newspapers and on TV, in the halls of government around the world, and at the UN, the worst kind of lies are spread about our people. Israeli soldiers are labeled as war criminals. Our leaders are compared to Nazis, and our people are made out to be bloodthirsty. These are moral attacks. They are attacks against who we are and the kinds of values we represent, and they are attacks that are designed to call our moral legitimacy into question.
In the face of these attacks, the first thing all of us must do is educate ourselves about the conflict in Israel; about our legal, historical, and moral rights; and about the remarkable efforts Israelis have made to make peace. We can't hope to counter what other people are saying about us if we don't actually have the facts. And the facts are on our side. Whenever there has been a partner for peace, Israel has seized the opportunity to make peace. What's more, even in the face of unremitting aggression and terror attacks, we have shown remarkable kindness to the civilian population of our enemies. In fact, just after the last round of fighting in Gaza, an Israeli hospital treated the daughter of one of the leaders of Hamas. At the same time, wherever we have defended ourselves, we have gone to extreme lengths to protect the lives of innocent Palestinian civilians, including putting our own soldiers at risk in ground operations in order to avoid aerial bombing that would claim many more innocent lives.
Once we are armed with the truth, we can then set out to spread it. Not too long ago, it was only prime ministers and ambassadors who could take to the airwaves to make Israel's case, but today, with the rise of social media, everyone has a platform. As I said earlier, when it comes to the Jewish State, we are all ambassadors: You never know who your Facebook posts or your Tweets are going to impact or how.
And by the way, we shouldn't think that in countering the lies we are only addressing our enemies. It is important to educate ourselves about what's going on in Israel, because the attacks against us in the court of public opinion also have an impact on our children and our grandchildren. I once sat in on a meeting between Ron and a group of Jewish leaders who were very supportive of Israel but were concerned that the younger generation of Jews didn't feel connected to it. They explained that some in that generation saw Israel as an "occupier in Palestinian land" and IDF soldiers as bullies. To me, nothing could be sadder, because nothing could be further from the truth. But how are our children and our grandchildren to know that we aren't colonialists in the Land of Israel if they don't know the history of Hebron? How are they to know that the IDF is the most compassionate army in the history of mankind if we ourselves don't know the steps that the Israeli army takes to protect Palestinian civilians? That is why educating ourselves is of the utmost importance and why giving our children and grandchildren a solid foundation in Judaism, Jewish history, and the history of the State of Israel is ultimately one of the best ways we can all help to spread the truth about Israel.
WWW: Is there anything else you would like to say to our readers?
RD: We all obviously understand how important Eretz Yisrael is to the Jewish people, but from time to time, we also need to remember how important Medinat Yisrael is, as well, and how fortunate each and every one of us is to witness the miracle that is the Jewish State. Most of us take Israel for granted for the very simple reason that we don't remember and can't really imagine a time when it didn't exist. We don't remember that Jews couldn't always study at a seminary or at a yeshiva in Yerushalayim after high school. We don't remember that Jews couldn't always travel to Tzfat to daven or go to the Kotel to celebrate a bar mitzva. But for the roughly 2,000 years before 1948, living a full Jewish life in Israel was nearly impossible for most Jews.
Instead of experiencing Eretz Yisrael for themselves, most Jews could only lament along with Rabbi Yehuda Halevi, "Libi bamizrach v'anochi b'sof maarav." (My heart is in the East, but I am on the very edge of the West.) The founding of the State of Israel changed all that, and now, any Jew, anywhere, can chose to make his home where our forefathers prayed, where our prophets preached, and where our kings ruled. Equally important, the founding of the State of Israel fundamentally changed the condition of the Jewish people worldwide. One hundred generations of Jews had to bow their heads to despots and kings, but now we stand tall, sovereign in our own land. One hundred generations of Jews had to seek refuge in country after country following expulsion after expulsion, but now, Israel welcomes any Jew from anywhere who is fleeing persecution. One hundred generations of Jews had to beg others to defend them against stones, knives, guns, and worse, but now, we have the Israeli Defense Forces, and we defend ourselves. And it is precisely because Israel has proved to be such a blessing for the Jewish people that we need to be thankful each day for its existence and diligent to secure its future for generations of Jews to come.
WWW: Thank you for a very interesting interview.