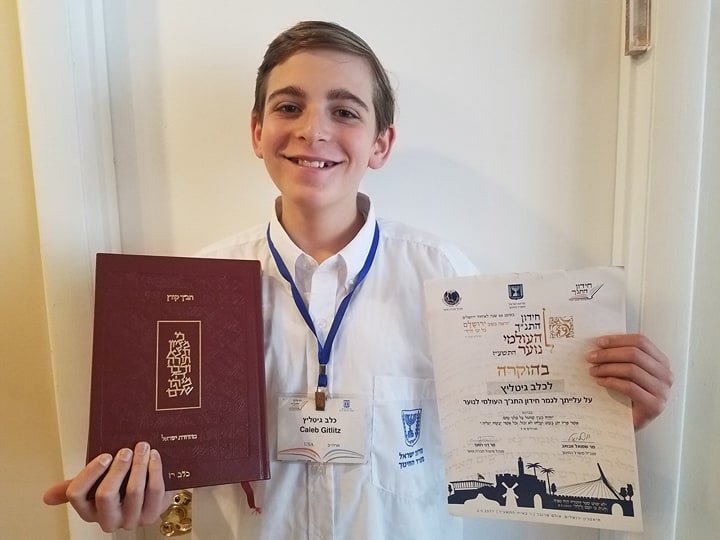 What defines the Jewish nation? When people think about our nation, one of the first things that comes to mind is the Tanach (Bible). The Tanach is not only a history book; rather, it contains the words that Hashem spoke through Moshe, the Prophets, and the great leaders of Israel. It is what binds us together as a people. It is also our deed and claim to the Land of Israel. For these reasons, among others, I really enjoy studying the Tanach.
I first wanted to participate in the Chidon HaTanach, the International Bible Contest, when I heard about it in fifth grade. However, the contest is only for sixth to eleventh graders, so I waited an entire year until I could finally do it. When I competed in my school in sixth grade, I advanced to the National level, which was held in New York that May, during which I surprisingly took second place! When I competed again the next year, with the help of Hashem, I managed to place first in the country for my division! There are three divisions in the United States: Hebrew Middle School, Hebrew High School, and English for both Middle School and High School, the division for which I won. I was overwhelmed! My family, classmates, school and synagogue, both of which are Beth Tfiloh, were super happy and excited for me! I was going to Israel to compete there and represent my school, my community, and my country!
That brought me to the International level, which took place in Israel right after Pesach this year, where I met with 73 other kids living in 39 different countries (including the United States of America), aged 13 to 18 years old. I became close friends with many of them.
For the past year, I have been studying approximately 10 to 11 chapters of Tanach a day, and every Wednesday I would meet with an excellent rabbi from Teaneck, New Jersey, named Rabbi Frazer. He used to coordinate the Chidon HaTanach in America, and he helped me study by discussing the chapters of Tanach that I had learned the previous week and having me make lists of key quotes and phrases. At one point, he even told me to "think like the coordinator" and write my own questions. If not for him, I would never have been able to do nearly as well as I did in Israel.
On the Tuesday before Yom Ha'atzmaut, Israel's Independence Day, we all took an exam with 60 questions covering 410 chapters of Tanach. Miraculously, I made it into the top 16, which meant I would compete on live television in Israel on Yom Ha'atzmaut! When I went on stage, I was so excited and happy that I made it this far. When I received my question (in written form) during the first round, the answer came to me immediately. When the judges asked me the question, I answered readily. I was overjoyed when they said: "Correct answer. Ten points." When I heard that, I knew I would be back up for the next round! When I was up on stage for the second round, the MC called us up next to him to show us a screen with six questions, both in Hebrew and our native language (for me, English), which he would ask and I would answer. In the end, because of the help of Hashem, I scored in sixth place!!! It was really a miracle!
All in all, however, I feel like the competition was just a part of the experience – that the experience was our reward for studying Tanach, and that the competition on Yom Ha'atzmaut – as amazing as it was – was just a part of the whole experience of being in the Holy Land and all the great friendships that we made there. We did so many awesome things in Israel, such as going to the Kotel, climbing Masada, visiting the Jewish Agency, meeting Prime Minister Netanyahu, and adding so much energy and spirit to Shabbat and Yom Ha'atzmaut. It was truly incredible what we did when we were in Israel. Some might say that Israel and the Tanach are history, but I disagree strongly – they are what we, as the Nation of Israel, live and breathe today.