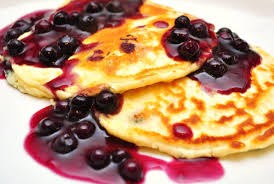 On the list of iconic breakfast foods, pancakes and waffles have to be right near the top. Surpassed in popularity only by the cold crunch of cereal and milk, a stack of steaming hot pancakes or waffles, fresh off the griddle, can brighten a cold winter day like nothing else.
Maybe they're a special treat in your house, reserved for weekends or holidays. Or perhaps the griddle or waffle iron is the most important appliance in your kitchen. Either way, we're not the first society to have enjoyed this comfort food. In his book Feast: Why Humans Share Food, archaeologist Martin Jones suggests that pancakes were probably the earliest and most popular cereal food of prehistoric society. The earliest recorded references to pancakes are in fifth-century, BCE, Greek plays. The Greeks called their pancakes tagenias, from the word tagenon—frying pan. (Note the similarity to the Hebrew letagein, to fry!) Waffles are not quite as ancient as pancakes, but food scholars believe they have been around since the early Middle Ages, with the earliest known recipe from a 14th-century French manuscript.
Modern pancakes and waffles have come a long way from their humble roots. Recipes abound, ranging from the simple to the sophisticated. But can we have our pancake and eat it, too? From a nutritional standpoint, a large serving of a primarily white flour- and sugar-based pancake or waffle is not the ideal way to start the day. The good news, though, is that with a little tweaking of ingredients and toppings, your favorite breakfast food can be a wholesome and great start to your day.
The most important element in a grain-based recipe is, of course, the grain. Rest assured that your pancakes and waffles will taste just as good – if not better – if you swap out the white flour for more healthful choices like spelt, oat, brown rice, whole wheat, or even quinoa flour. With some good-quality fat and protein thrown into the mix, pancakes and waffles quickly become a full and satisfying meal. Here are some recipes:
* * *
Healthy and Hearty Pancakes
I modified this wonderful recipe from dairyfreecooking.about.com.
1 1/2 c. milk or non-dairy milk
1 1/2 T. apple cider vinegar
1 c. whole grain flour (see above)
1/2 c. almond meal or flour
1 1/2 t. baking powder
1/2 tsp. baking soda
1/4 tsp. salt
1/4 c. maple syrup or honey
1 large egg or 1/4 c. Ener-G egg replacer with 1/3 c. hot water and 1 t. tahini.
In a small bowl or pitcher, combine milk and vinegar. Set aside. In a medium bowl, sift together dry ingredients. Set aside. In a small bowl, whisk together maple syrup and egg until combined. Add to the milk mixture, mixing well. Combine the wet and dry ingredients, mixing until batter is just combined and slightly lumpy. (Over-mixing will prevent your pancakes from rising correctly.) Heat a small amount of oil in a heavy bottomed skillet or griddle over medium heat. Add batter to the heated skillet, 1/4 cup at a time, flipping with a heatproof spatula when bubbles begin to appear on the surface. Serve with your choice of tasty toppings.
Greek Yogurt Pancakes
This is a great recipe I adapted from one on the website of Oikos, a popular brand of Greek yogurt. Besides the yogurt, which adds a delicious flavor and texture, this one is prepared entirely in the blender!
1 c. rolled oats
1/2 c. whole grain flour (see above for choices)
2 T. flax seeds
1 tsp. baking soda
1/4 tsp. salt
2 c. Greek yogurt (plain or flavored. Regular yogurt also works fine.)
2 large eggs
2 T. maple syrup or honey
2 T. coconut or light olive oil
Combine first five ingredients in a blender and pulse-process 30 seconds. Add yogurt, eggs, oil, and honey and blend until smooth. Let batter stand to thicken, about 20 minutes. (Batter can be prepared up to 1 day in advance; cover batter and refrigerate). Heat large non-stick skillet or griddle over medium heat. Brush skillet with oil. Ladle batter into skillet and cook until bottoms are golden brown and bubbles form on top, about 2 minutes. Turn pancakes over; cook until bottoms are golden brown, about 2 minutes. To keep these warm until they're all done, place cooked pancakes on a baking sheet in an oven heated to 200 degrees.
Basic Waffle Recipe
No tricks or special ingredients here, just a basic, whole-grain waffle to jazz up as you please.
2 large eggs
1 3/4 c. milk (dairy or non-dairy, such as almond, coconut or rice)
1/4 c. oil (melted butter or coconut oil work well)
1 T. honey or maple syrup
1/2 tsp. ground cinnamon
1/4 tsp. baking soda
1 1/2 c. whole wheat flour (spelt, oat, or rice flour also work well)
2 tsp. baking powder
1/8 tsp. salt
Optional: ¼ c. flax seed or chopped nuts
Preheat your waffle iron. In a large mixing bowl, whisk together the eggs, milk, oil, honey, cinnamon, and baking soda until well combined. Add the flour, baking powder, and salt, and whisk together just until the large lumps disappear. When the waffle iron is hot, dab it with a little butter (or spray with Pam) and ladle some batter onto the center of the iron. Follow the instructions that came with your waffle maker to know how long the waffles should be cooked (mine takes 3 to 4 minutes each). Keep waffles warm until you finish cooking all of them. Top with pure maple syrup and fruit. Enjoy!
Pumpkin Waffles
Modified from the food blog, cookieandkate.com. and features oat flour.
2 1/4 c. oat flour
1 T. baking powder
3/4 tsp. salt
1 tsp. cinnamon
1/2 tsp. ginger
1/4 tsp. nutmeg
1/4 tsp. allspice or cloves or 1 tsp. pumpkin pie spice
3 large eggs
Scant 2/3 c. milk of choice (I used plain, unsweetened almond milk)
Scant 1/2 c. melted coconut oil or 7 1/2 T. butter, melted
1/2 c. packed pumpkin puree
3 T. maple syrup
1 T. vanilla extract
In a large mixing bowl, combine the first 7 ingredients. Whisk to combine. In a medium mixing bowl, whisk the eggs. Add milk, coconut oil or butter, pumpkin purée, maple syrup and vanilla extract. Whisk until the mixture is thoroughly blended. Pour the liquid mixture into the dry mixture. Stir with a big spoon until just combined (the batter will still be a little lumpy). Let the batter rest for 10 minutes so the oat flour has time to soak up some of the moisture. Plug in your waffle iron to preheat. After the 10 minutes, give the batter a gentle swirl with your spoon. The batter will be thick. Pour batter onto the heated waffle iron, enough to cover most of the central surface area, and close the lid. Once the waffle is deeply golden and crisp, transfer to a cooling rack or baking sheet. Don't stack your waffles on top of each other or they'll lose crispness. If desired, keep waffles warm by placing them in a 200-degree oven until you're ready to serve them. Repeat with remaining batter and serve with desired toppings on the side.
Maple Peanut Banana Bread Waffles
Here's a great way to use up ripe bananas. The peanuts add a nice crunch, and the maple syrup adds a delightful flavor. This recipe doesn't use eggs, for those times when you need an egg-free recipe. I modified this from a recipe on kblog.lunchboxbunch.com.
1 1/2 c. flour (whole-wheat, spelt, oat)
3/4 c. rolled oats
1/4 c. milled flax seed
3/4 tsp. salt
1 T. baking powder
2 ripe bananas, mashed
1/3 c. melted butter or Earth Balance spread
3/4 c. dairy, rice, almond, or coconut milk
1/4 c. maple syrup
1/4 c. roasted peanuts
1/4 tsp. cinnamon
1/2 tsp. pure vanilla extract
Combine all ingredients in a large mixing bowl. Spoon onto waffle iron, making sure not to overfill. Cook until the edges are crisp and waffles are golden brown; 3 to 5 minutes, depending on your waffle iron.
* * *
What about Toppings?
Almost as traditional as a stack of pancakes is the maple syrup dripping down the sides. Fortunately, in moderation, pure maple syrup can indeed be part of your healthy pancake or waffle breakfast. Make sure to stick with pure maple syrup; it tastes better than imitation "breakfast syrup" and has a full complement of trace vitamins and minerals. But don't overdo it; in fact, you might want to blend or "cut" the maple syrup with butter (which will melt quickly when your pancakes are fresh off the griddle), or perhaps tahini, both of which will add healthy fat to the meal.
Some other options for toppings include peanut or almond butter, and jelly; coconut oil and honey; cottage cheese or yogurt, drizzled with maple syrup; and fresh or frozen fruit, like blueberries, mangoes, and strawberries.
If you want to get a bit more elaborate with your toppings, here are a few ideas from The Good Breakfast Book by Nikki and David Goldbeck.
Berry Syrup
2 c. berries (like blueberries or strawberries)
1/4 c. honey
1/2 tsp. vanilla
Heat berries in a saucepan; crush with back of spoon. Once berries get hot, stir in honey and vanilla and simmer for 5 minutes. Makes 1 1/2 cups.
Banana Cream
1 ripe banana
1/2 c. orange or pineapple juice
2 T. tahini
Puree in blender until smooth. Use immediately or refrigerate. Makes 1 cup.
Pumpkin Cream
1/2 c. canned pumpkin puree
2/3 c. orange juice
2 T. tahini
4 pitted soft dates
2 tsp. maple syrup
1 tsp. cinnamon
Puree in blender or food processor until creamy. Use immediately or refrigerate. Makes 1 cup. Variation: Tahini can be replaced with almond, peanut, sunflower, cashew, or other nut butter.
Maple Cream
Mix together equal parts plain yogurt and maple syrup.

Lauren Mirkin, CNS, LDN, LCPC, is a licensed nutritionist and professional counselor. Please contact her for information about her comprehensive integrative nutrition counseling services, workshops and classes. She can be reached at 443-326-7023 or holisticnutritionhelp@gmail.com. Lauren would like to thank her son Yehoshua Mirkin, a student at Yeshiva University, for his help and assistance with the research of this article.