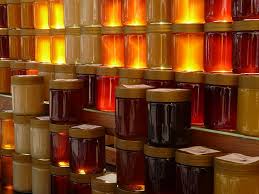 As we continue to dip the challa into the honey during the Sukkos and Simchas Torah season, here are some other honey-infused recipes to enjoy during this festive time of year. If you read part one last month, you'll recall that, by using honey, not only are you enjoying a sweet, rich taste; are also benefiting from antioxidants, minerals, and other health-enhancing compounds. Just remember to not overdo it!
Honey Mustard Dressing
This simple dressing can be used for a variety of dishes. This recipe is based on one at SueBee.com; I've added a couple of healthy twists.
1/4 c. honey (Sue Bee or other brand)
1/2 c. mayonnaise (You can use your regular brand, or try Hain's safflower mayonnaise or Earth Balance's Mindful Mayo, both of which use good-quality oils)
1/4 c. mustard
1 T. vinegar (rice, wine, or apple cider)
1/4 tsp. salt
1/4 to 1/2 tsp. pepper or Mrs. Dash table blend
Whisk ingredients together and chill.
Here's a second version that does not use mayonnaise and works great as a dressing for delicate greens. I found this on Food.com.
2 to 3 T. honey
2 T. Dijon mustard
1/2 c. oil (Use grapeseed, walnut, extra virgin or light olive oil, or liquid coconut oil, like Carrington Farms, which remains liquid, unlike regular coconut oil)
In a small bowl, combine honey and mustard until smooth. Add vinegar and whisk until blended. Add oil gradually, while beating with a whisk. Serve over salad greens.
Easy Almond-Honey Apple Cake
There are four things I love about this recipe: 1) It uses honey. 2) It uses apples, which is another traditional and healthy Yom Tov food – in fact, a superfood. 3) It calls for eight cups of almond flour. (I ordered a 10-pound bag for Pesach that I am still working through!). 4) It is gluten-free, which is great for those who need to eliminate or reduce wheat or gluten. This recipe is slightly modified from one I found in a very creative cookbook, called A Taste of Wellness by talented baker Rochel Weiss. If you prefer a less-sweet version, use the smaller amount of honey indicated.
Batter
4 large eggs
1 c. good-quality oil (see about for recommendations)
1/2 – 1 c. honey
1 T. pure vanilla extract
1/2 c. apple cider
8 c. almond flour
1 tsp. baking soda
Filling
6 apples, peeled and cored
1/4 – 1/2 c. honey
1 tsp. cinnamon
Batter: Preheat oven to 325 F. In a large bowl, combine eggs, oil, honey, vanilla, and apple cider. Add almond flour and baking soda. Mix together with a mixer or by hand until well blended.
Filling: Grate apples and place them in a large bowl. Add honey and cinnamon; mix well. Squeeze apples gently to remove excess moisture. Pour half the batter into an ungreased 9x13" baking pan. Spread apple filling evenly on top of batter. Pour remaining batter evenly over apple mixture. Bake for 1 hour or until brown on top.
Cranberry-Honey Spread
Both these easy-to-make spreads are from the website of another well-known, kosher-certified honey company, Golden Blossom Honey.
2/3 c. cranberry juice, unsweetened (not concentrate)
1/2 c. honey (Golden Blossom or other brand)
1 3/4 c. cranberries
1/2 lemon peeled and cut into sections
1/2 c. dried cranberries
1/8 tsp. ground allspice
Combine cranberry juice and honey in a medium sauce pan. Bring to a boil, stirring. Add remaining ingredients. Return to a boil and simmer until cranberries begin to pop and mixture thickens, about 15 minutes, stirring occasionally. Remove from heat, cool, and then refrigerate. Spread will thicken more when chilled.
Honey Apricot Spread
Honey brings out the delicious taste of the apricots in this nutrient-dense spread. Apricots are considered a good source of potassium, fiber, beta carotene, and Vitamin C. Regular consumption may help reduce the risk of vision loss associated with aging. Research shows that people who consume at least three servings of fruit per day have less vision impairment. Eating apricots can contribute towards this goal.
1 1/2 tsp. ground ginger
1 pound dried apricots
1/4 c. lemon juice
2 c. water
2 T. honey
In a heavy saucepan, combine first 4 ingredients. Bring to a boil. Reduce heat to low and simmer, uncovered, 15 minutes, stirring constantly until apricots have softened. Stir in honey and ginger. Pour into a food processor and pulse until smooth. Return to saucepan. Simmer, stirring often, about 1 hour, or until thick. Cool. Pour into glass jars and refrigerate. Great as a spread for challa or your favorite bread or muffins.
Healthy Honey Applesauce Carrot Muffins
The recipe for these wholesome baked goods is from the website melskitchencafe.com.
1 1/2 c. whole grain flour (wheat, spelt, kamut, or a gluten free blend)
1 tsp. baking soda
1 tsp. ground cinnamon
1/4 tsp. ground nutmeg
1/4 tsp. ground ginger
1/2 tsp. salt
2 T. oil (see above for recommended types) or melted coconut or palm oil
1/2 c. honey
1 egg, lightly beaten
1 tsp. pure vanilla extract
1 c. unsweetened applesauce
3/4 c. finely shredded carrots (2-3 medium carrots)
Preheat oven to 350 F. Line a 12-cup muffin tin with paper liners. In a large bowl, whisk together the flour, baking soda, cinnamon, nutmeg, ginger, and salt. Make a small well in the center of the dry ingredients and add the oil, honey, egg, vanilla, and applesauce. Stir ingredients together until just combined and there are still some spots of flour remaining. Fold in the shredded carrots until just combined. (Don't over mix, or the muffins will be dense.) Distribute the batter evenly among the muffin liners. Bake for 18 to 20 minutes until a toothpick inserted in the center of a muffin comes out clean. Remove to a wire rack to cool completely. There muffins freeze wonderfully and keep well if covered at room temperature for 2 to 3 days.
Lauren Mirkin CNS, LDN, LCPC is a licensed nutritionist and professional counselor. Please contact her for information about her comprehensive integrative nutrition counseling services, workshops and classes. She can be reached at 443-326-7023 or holisticnutritionhelp@gmail.com.