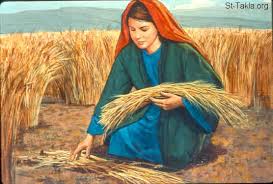 Tzadik Lev and Tikvah Womack were married three times. The first wedding was Christian, the second Conservative Jewish, and most recently, over two years ago, they were once again married as Orthodox Jews.
The Womacks live in Baltimore and daven at Ner Tamid. Tzadik Lev, a lawyer, is an associate at Snider & Associates, LLC, in Baltimore. Tikvah is raising their toddler and also works full-time as a school-based therapist at a Baltimore charter school. The story of the Womacks' journey to Yiddishkeit is one of idealism and truth-seeking, reflecting that of their spiritual forebear, the biblical Rus.
Their Roads Converge
Ironically, the Womacks attended the same Baltimore middle school and ended up in the same college – Gettysburg College in Pennsylvania – but they didn't date until after college. They did find out, while in college, that their fathers had been friends.
"We joke that our fathers made the shidduch," says Tikvah. "They kept telling us that we should see how one another was doing. Tzadik reached out to me one day, and this time I actually followed through. Four months later, we were engaged, and a year-and-a-half later we were married."
After they got married, they ended up going to graduate school together. It was there that their spiritual journeys began to merge. "Tzadik mentioned some Jewish practices that he learned about, and I asked him if he would be willing to try it," recalls Tikvah. "We went down that path, and it evolved over time. Each step brought us closer to Yiddishkeit."
"I was raised very, very, very Christian," notes Tzadik Lev. "My uncle was my minister from the time I was born. I went to church every Sunday and learned the Bible regularly. While my uncle was preaching, I was listening to what he was saying, but I would be going through a different section of the Bible and highlighting it and making notes and asking questions about it later on. It was always very important to me to be educated about my faith – or what was my faith at that time."
Tikvah's childhood, growing up in a military family, was a bit different. "I did not have a religious upbringing, but I had always been very spiritual, even as a child, and asked questions," says Tikvah. "My parents were at a different place religiously, so they weren't necessarily able to pass a specific tradition down for a religious framework at that time. I went on my own to different places of worship and asked different questions."
"I reached a point where, as time went on, I wanted to put what I learned into practice," says Tzadik Lev. "We ended up converting Conservative and then converted, again, to Orthodoxy. It was the culmination of a learning cycle of many years, for me and many years for Tikvah."
Tzdik Lev majored in philosophy at Gettysburg College and took courses in Judaism and the New Testament so that he could converse intelligently to people about Christianity. Even in his fraternity, he recalls always being the guy who would talk with the J's Witnesses or other missionaries who came to the door. He feels these discussions contributed greatly to his decision to make law his career. He received his JD and MBA at Suffolk University and presently is an Associate at Snider & Associates, LLC, in Baltimore.
While Tzadik Lev was studying at Suffolk University, Tikvah attend Lesley University, where she received a master's in expressive therapies with a specialty in mental health counseling. She recently received her licensed clinical professional counselor (LCPC) certification and is looking to branch out and do consultation work privately in expressive therapy and mental health counseling.
Aha Moments
Tikvah vividly recalls the turning point for her. "I was sitting in a parking lot and saying, 'G-d, I am just trying to find You, and I don't know why it should be this hard.' I always had this spirituality; all I needed was a framework. Some people ask, 'Don't you find the halacha constraining and restrictive?' I answer with all sincerity, 'Honestly, it is freeing for me because there was a sense of I have this spirituality and have no container to express it through; I have no direction to figure out how to use it or how to cultivate it. It's like having a beautiful bouquet of roses without the appropriate vase to put it in. I finally found my vase."
Tzadik Lev adds, "After we graduated, we decided we wanted to start growing our family, but we knew that, as Conservatives, once we had a child, he or she would not be accepted by everybody, in terms of being Jewish. It would have been completely heartbreaking to think that we would have gone through all of this and sacrificed what we sacrificed only to bring a Jewish child into the world who would not have been accepted everywhere. We knew at that point, before having children, that we would have to have an Orthodox conversion."
As Tzadik Lev explains, becoming Orthodox was just a confirmation for him of what he had already done. "When I converted to Conservative, I went to the mikvah, I went to a mohel, I had to sit before a beis din, I did all the same things as when I converted Orthodox. I considered myself Jewish at that time, but, at the end of the day, what changed me was speaking to a rabbi, who said to me, 'The main reason Orthodox rabbis don't hold by Conservative conversions is because Conservative rabbis don't require their congregants to be observant,' You can ride on Shabbos and don't have to eat kosher or do things that the halacha requires of you."
Orthodox Jews of Color
When the Womacks were in graduate school in Massachusetts, Tzadik Lev came home one day and told Tikvah that he had a meeting with an Orthodox rabbi. He asked her if she was willing to meet with him.
"I said, 'Oh no!'" reminisces Tikvah. "It wasn't because I didn't believe in Orthodoxy at the time; it was because I knew what was required of an Orthodox woman – and I guess I just wasn't there yet. I knew that I needed a community and a support around me in order to be there, and I didn't have that in Massachusetts. With family being here, plus being in a large, vibrant Orthodox community, the move for Baltimore was necessary for me to make that lifestyle change.
"In addition," adds Tikvah, "the main thing that was missing in our conversation was Hashem…. We have to remember why we are on this journey – to honor Hashem all our lives and to have a relationship, a connection, to bring meaning to our lives, to our family, and to the world. We also knew we needed to make that move in order to bring Hashem back into our conversation."
The Womacks took on Orthodox practice in 2013 and underwent an RCA Orthodox-approved conversion (accepted by the State of Israel) on Tzom Gedalya, 2014. Tikvah conceived a couple of months later.
Tzadik Lev reflects on one aspect of their conversion: "Unfortunately, there is a lot of racism that we encounter in our community, and being Jews of color, and raising a child who is going to be a Jew of color as an adult, we feel that if our child, if he would walk into a room, he can feel, 'Hey, I'm frum-from-birth; I know who I am.'"
"We daven in Ner Tamid, and Rabbi Motzen is our very supportive, amazing rabbi," says Tikvah. "We've had conversations with him about this issue, and he welcomes the conversation. It is a very diverse community, and we feel very much at home here. We feel very privileged to be part of a community, because, as Tzadik says, some Jews of color end up off the derech because they can't find a community. We feel fortunate that we were able to."
"It's a very special thing, just in terms of the support the rabbi has offered my family," remarks Tzadik Lev. "For example, my grandmother, whom I love dearly, passed almost a couple of years ago, on an erev Shabbos. Besides my wife, she was the woman I was closest to, in addition to my mother (who passed when I was a freshman in college). I would have to stand outside of the church during the funeral. I don't know if my family members would have understood that. That is something that my rabbi helped me through; he was able to explain that to me.
"Even though there is this concept that, once you convert, your family is no longer your family, you really need a sensitive rabbi to understand that there are still connections there," continues Tzadik Lev. "Those are the people who brought you up; those are the people who – with whatever they said, whether it was a good thing or a bad thing – led you to Yiddishkeit. How could you begrudge them? So it is very important to have a rabbi who can help you navigate those sensitive situations and have those conversations on an emotional and relational level, so your family doesn't feel like you are casting them aside or shaming them."
Call Me Bubby
"My relationship with my family is such that we are fine because I am very assertive and direct," continues Tzadik Lev. "If they go down a road they are going down that I don't like, I let them know. They accept me. My dad is wonderful and accepting of everything, although he doesn't understand everything. My uncle – who was my minister growing up – and I had a long conversation before I converted Conservative, and he said, 'Go ahead and do what you're going to do.' The rest of the family has been supportive as well."
"I could not have asked for a better mother," shares Tikvah. "She has supported me in this journey, this experience. She is just amazing, and she goes by "Bubby." This was her self-chosen name, and she truly is a Bubby and embraces it and loves it. She is frequently over here for Shabbos and sometimes Yom Tov. It is just wonderful. My dad used to live very close, and he is as supportive as can be with his limited understanding. But as long as G-d is present, he doesn't really care too much what it looks like. Some days it's okay and other days it is difficult, because the expectations are now being challenged. Just like any family, with any family dynamic, you make it through, somehow. Relationships are either preserved or changed. We all love each other and that doesn't change."
With Shavuos right around the corner, Tzadik Lev concludes, "It's important to know why you are doing what you're doing. For us, being gerim, and for baalei teshuva as well – coming as we did into something that we didn't have before – it's important. We all have to be cognizant of why we are doing what we are doing. I can't say that I don't fall into the trap of doing things by rote, but I've been frum now since 2014. At this time, I can say the Shemoneh Esrei, backwards and forwards, without looking at the siddur. But why you do the things you do and how do you do them with kavana? I think it is all-important to focus on this idea, in terms of coming to Shavuos and receiving Torah."
© Margie Pensak-2017