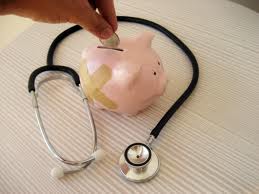 In my previous articles, I explained how Medicare Parts A and B pay for seniors' hospital and medical care. Medicare offers generous coverage, but you must pay for a share of the costs as well. If you develop a condition that requires a lot of treatment, you can potentially be left with bills that total thousands of dollars over the course of the year. As an actuary, I have personally seen policies that have paid out hundreds of thousands of dollars in a single year to cover a senior's medical expenses. So what can you do to protect yourself from these potentially large costs? That is where Medicare Supplement comes in.
Medicare Supplement insurance, also known as Medigap, is a policy sold by a private insurance company to seniors enrolled in Traditional Medicare. It is a popular option that helps pay for seniors' remaining medical expenses after Medicare has paid its share of the cost. (That is, it fills in Medicare's "gaps.") For a defined monthly premium, a Medigap policy will insulate you against the risk of large and unexpected hospital and medical costs. (It will not pay for your share of Part D prescription drug costs, however.)
Unlike with Medicare Advantage plans, Medigap policies allow you the freedom to visit any doctor that participates in the Medicare program. If you have a Medicare Advantage plan, you are not eligible to purchase Medigap to help pay for your remaining costs.
It should be noted that some employers offer medical coverage to their retirees that pay for some or all remaining medical costs. Check with your employer to see how your plan works with Medicare to learn if you will need to buy a Medigap policy. Medicaid may also help pay for the medical expenses of some low income individuals.
Every company offering Medigap insurance in your state must have its products and premium rates approved by the state's department of insurance before making them available for sale.
Plan Options
For the past 25 years, the federal government has defined exactly what each Medigap policy may pay for. There are 10 plan options that are defined by letter (Plans A, B, C, D, F, G, K, L, M, and N). For example, any company selling Plan F in your state must cover the exact same benefits as another company offering Plan F. Each plan pays for some or all of your share of the cost of medical services after Medicare has paid its portion. Any company that sells Medigap can make some or all of these plans available for purchase. The main difference among companies is the price, which can vary greatly for the same plan.
See the table in this article for a good summary of the plans available for sale (in all states except MA, MN and WI). It is taken from the CMS National Training Program and updated for 2016. The percentages in the table tell if the plan covers a particular benefit. Plan A offers the least comprehensive coverage and is least expensive, and Plan F offers the most comprehensive coverage and is also most expensive.
Your cost for each of the benefits in the table was explained in previous articles about Medicare Part A and Part B. For each of the benefits on the left side of the table, the Medigap plans will pay the percentage of your cost that is noted in the respective column. The exception is that with Plan N, you will need to pay up to $20 when you visit a doctor's office and up to $50 when you visit the emergency room.
In general, Medicare will not pay for care received outside the country. Medigap's Foreign Travel Emergency benefit can help pay for emergency care that you receive while traveling outside the United States. To qualify for the Foreign Travel Emergency benefit, treatment must be for an injury or sudden and unexpected onset of sickness that requires immediate medical care. Services must qualify for Medicare Parts A or B had they been rendered in the United States. After you pay a $250 deductible, the Foreign Travel Emergency benefit will pay for 80% of your eligible charges, up to $50,000 over your lifetime.
Popular Medigap Plans
The three most popular plans are Plan F, Plan G and Plan N.
Plan F: This is the most popular plan, and accounts for more than 50% of all Medigap policies. It offers the most comprehensive coverage but is also the most expensive.
Plan G: Plan G is growing in popularity, increasing by 17% from 2013 to 2014[1]. It covers all the benefits in Plan F with the exception of the Part B Deductible ($166 in 2016). The price difference between Plan F and Plan G is often more than twice the amount of the deductible. If you can afford to pay the $166 deductible charges on your own you will likely save much more than $166 in premium payments. Plan G has recently experienced lower trend rate increases and can be a very good value over the long term.
Plan N: Plan N is a relatively newer plan that was introduced in 2010. Like Plan G, it has been growing in popularity. It does not cover the Part B Deductible and includes a co-pay for doctors' office and emergency room visits. If you are used to paying a fixed amount each time you visit the doctor this plan may be a good fit for you.
Policyholder Value
As of year-end 2015, there were 11.9 million Medigap policyholders nationwide. Companies paid close to 80% of premium dollars for policyholder claims[2]. Remaining premium dollars were used to pay for the companies' cost of policy administration, distribution expenses, state premium taxes, and company profit (usually under 5%).
An AHIP survey in March 2014 showed that policyholders highly value their coverage: 94% of respondents are satisfied with their coverage, and 91% would recommend it to a relative or friend. What respondents like the most about Medigap coverage:
Limits on out-of-pocket costs
Ease of dealing with bills and paperwork
Ability to budget for unexpected medical costs
Can choose to visit any doctor
Applying for a Medigap Policy
Beginning in the month that you turn 65 and also enroll in Medicare Part B, you are entitled to a one-time Medicare Supplement Open Enrollment period. For six months, companies must sell you any Medigap plan that they offer without asking health questions for you to qualify. Some companies will allow you to apply a few months before you turn 65.
There are other limited opportunities to purchase a policy without answering health questions, known as Guaranteed Issue situations. In these circumstances, you are entitled to a 63-day period during which you may buy certain Medigap plans. The more common of these relate to losing prior employer or Medicare Advantage coverage, moving out of a service area, or coming back from a short Medicare Advantage trial period. There are a few states with additional Open Enrollment entitlements.
Outside of Open Enrollment and Guaranteed Issue periods, you will generally need to answer medical history questions to buy a Medigap policy (known as underwriting). Requirements will vary from company to company, and it is possible that if you do not qualify for a policy with one company you may with another.
Paying for Your Medigap Policy
In most states including Maryland, Medigap policies have attained age rate schedules. With an attained age rate structure, premiums begin at their lowest level at age 65 and then increase by a few percent every year that you get older. This type of rate is cheapest for you when you enter Medicare, but you need to budget for an increase in rates as you age. Some states, including Florida, require premiums to be based on your age at the time you bought the policy and not increase as you age. Others, including New York, use community rating, where everyone pays the same rate regardless of age. These alternative premiums are generally more expensive for newer policyholders, but can be cheaper over time.
In addition to age, premium rates may vary by gender (male rates can be 10 to 15% higher than female rates), zip code within a state, and smoker status (smokers may pay 10% more than non-smokers).
A number of companies have begun to offer household discounts. Eligible household members qualify for a discount of 5 to 12%, depending on the company. Some companies require that two members of a family purchase a policy in order to get the discount. Other companies only require than another adult lives with you at the time that you apply for your policy, even if the other adult does not apply for coverage.
By law, Medigap policies are Guaranteed Renewable. This means that the company may not cancel your policy for any reason aside from non-payment of premium. Your rates can be increased with state approval, but you can't be singled out for a rate increase for any reason.
Premium Rate Changes
Your premium rates are likely to change each year. The first reason is that if you buy a policy with attained age premiums, they will automatically increase as you age.
Companies also raise rates. Every year, your insurance company must file its premium rates with the state insurance department. They generally seek approval to increase rates to offset increases in medical costs (medical inflation and the cost of new technologies). Sometimes the amount of claims that they pay out exceed what they originally expected, and they request to increase rates by more than medical inflation. While the state may limit the amount of increase that the company can implement, rates will generally go up each year.
Rate increases vary from company to company. This can be related to the specifics of a company's customers and how well the company manages its risk. Over time, this can result in a situation where a plan that was originally a good choice for you is no longer the best fit. As mentioned before, any company offering your letter plan must offer the same package of benefits as you have. If you can pass the medical history questions, you may be able to qualify for the same plan at a much reduced price. In some cases, this can result in savings of several hundred dollars per year, not a small amount for a senior on a fixed income. An independent insurance agent who represents multiple companies will be able to help you decide if there is a better option for you.
Replacing Your Medigap Policy
If you decide to replace your policy, your agent will work with you to decide whether to buy a plan with identical benefits or a different plan. You may find that another policy offering fewer benefits at a reduced price is a better fit for you. The new company will generally require that you answer medical history questions to qualify.
When replacing your policy, you should only contact the first company to cancel your original policy after the new policy is approved and issued. You do not want to give up your policy if you don't qualify for a new one! By law, the new company must offer you a 30-day "free look" period. During this time you can cancel the new policy for any reason for a full refund. While it is uncommon to turn down a lower-priced policy, some people pay the premium for both policies during this free look period to ensure that they can go back to the first one if they change their mind.
The good thing about Medicare Supplement policies is that they are guaranteed renewable. Even if you can't qualify for a new one, you can keep the current policy for as long as you pay the premium, regardless of how your health changes.
More Information
In this series of articles, I provided an overview of Medicare, the enrollment process, and Medicare Supplement insurance. Medicare has countless details that could not be covered in a short series. More information on Medicare and Medigap is available on Medicage.gov, and also at my site, securityandintegrity.com.
Moshe Nelkin is a Medigap pricing actuary with several years of experience in competitive rate and market analysis. Having seen a number of policies that paid out hundreds of thousands of dollars in a single year, he feels passionate about the value that Medigap provides to seniors, especially seniors on fixed incomes. His insurance agency, Security and Integrity LLC, helps seniors understand their options and choose wisely. Contact him at info@securityandintegrity.com or visit SecurityandIntegrity.com.
© 2016 – Security and Integrity LLC
---
[1] AHIP analysis of NAIC data
[2] Mark Farrah Associates, based on 2015 NAIC data