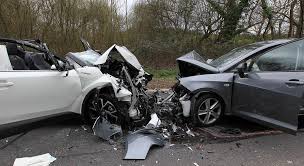 Driving home from work as usual, you notice a car out of the corner of your eye going through the stop sign. You realize immediately that there is no way you can avoid a collision, and indeed, the car rams into your passenger-side back fender. As you exit the car to deal with the other driver, you thank Hashem that you seem to be unhurt. At the same time, you dread the disruption to your life you know is coming.
Auto accidents can be traumatic, even if you are not injured and even if you are not at fault. Along with the time and inconvenience involved in repairing or replacing your vehicle, there is a most disturbing trend coming out of the auto insurance industry in recent years. That is its attempt to evade properly compensating you for the damage to your car. While not all insurance companies engage in these unfair practices, you should be wary any time you ask your insurance company for an estimate.
There are three issues you should be concerned about: 1) making sure your car is completely repaired; 2) making sure that your settlement reflects your car's reduced value as a result of the accident; and 3) making sure you get a fair settlement when your car is totaled.
Many consumers accept seriously flawed offers, either because they are ignorant of their rights or because they are afraid to challenge their insurance company's actions. Keep in mind that you have been paying the insurance company's premium all this time, and you are entitled to get a fully repaired car and/or a fair settlement.
As an attorney who represents auto owners who are not being treated fairly by their insurance companies, I will examine each of the above issues and provide advice how to handle them.
Is Your Car Completely Repaired?
Once your insurance company decides that your car is repairable, you are entitled to a fully-repaired car, less any applicable deductibles. Although the law does require the insurance company to tell you that you are free to have your car repaired at the shop of your choice, it will often send you to its own repair shop or one with which it is closely associated.
Eli Feldman, president of Maven Motors, has been selling used cars and repairing damaged cars for over 20 years and has seen many of customers shortchanged by their insurance companies. He cautions accident victims to be aware that the collision repair shop associated with the insurance company is usually under pressure to keep the cost of the repair as low as possible. "You probably will not see any out-and-out fraud here," says Eli, "but if you want to make sure your car is thoroughly repaired in a quality manner, I strongly advise you to take it to a reliable independent collision shop. They are much more likely to notice damage that the insurance company's estimate did not cover. In addition, they are much more likely to use higher quality original equipment replacement parts where the insurance company's shop may try to use cheaper, used or reproduction parts to repair your car."
Does Your Settlement Reflect the Diminished Value of Your Car?
This issue of your car's post-accident value is much more subtle than the first issue. Suppose your car is completely repaired. If it was significantly damaged in the accident, then even if it is fully repaired, its value could be a lot less than it was before the accident. By significant, we mean damage that would cause a used car dealer or a private buyer to offer you a lot less money for your car when you sell it because of the severity of the accident. In some cases, they may refuse to buy it at all.
By now, everyone has access to databases like CARFAX. If potential private buyers see that the car was in an accident, no matter how minor, that could affect what they are willing to pay for the car – if they are willing to buy it at all. And if the damage was significant, even established used car dealers may refuse to buy it. If, for example, a used car dealer sees that the airbag was deployed in the accident, something that can happen at relatively low speeds, they may refuse to even touch the car.
The insurance companies are usually required to compensate you for your car's diminished value, although that varies from policy to policy. But even when diminished value is covered by your policy, the insurance people often do not bring up the topic, hoping you will not realize you have a right to that compensation. The auto owner needs to raise this issue to his or her insurance company. Failing to do so could mean the loss of thousands of dollars when it is time to sell the car that was in the accident.
If you do not get an adequate response when you raise this issue, you need to get an independent appraiser to appraise your car's diminished value as a result of the accident. You then present that appraisal to your insurance company. The insurance company has the right to have its own independent appraiser do the same thing. Once that is done, you and the company would negotiate an amount for the diminished value. In some situations, the best solution is to go to binding arbitration, which is usually discussed in your insurance policy as to whether it is allowed and who pays for it.
What if Your Car Is Totaled?
If your insurance company declares your car a total loss, you can expect an offer that is supposed to compensate you for the fair market value of your car before the accident occurred. Some insurance companies base their settlement offers on two of the independent car-price databases, National Auto Dealers Association (NADA) Official Used Care Guide or Kelley Blue Book. But it has become common in recent years for some insurance companies to use a third database, Certified Collateral Corporation Information Services Inc. (CCC). CCC essentially services the insurance industry. The CCC fair market values are almost always well below those of the first two databases. The difference typically runs from $1,000 to $3,000 lower than the independent databases. Then, even after basing their settlement offers on this CCC database, the insurance companies sometimes knock the number even lower, citing something they call "condition of the car." Not every insurance company uses the CCC database in making its settlement offer, but if you see that your offer is based on the CCC database, you should not accept it.
Eli Feldman is all too familiar with the effect of the insurance companies basing their total loss evaluations on the CCC numbers: "The CCC-based total loss figures are an elaborate con by a lot of the insurance companies. No used car dealer that I know of uses these ridiculously low CCC numbers to set the prices of their cars. The insurance companies are counting on the consumer being too afraid to refuse these unfair settlements. In the meantime, this may be saving the insurance companies billions of dollars that they should be paying out in claims."
Just as in the case of the diminished value situation, you need to find a competent independent appraiser who will give you a valuation based upon his or her professional judgment. In selecting an appraiser, be sure he or she is willing to testify in court should it be needed. Once you get the appraisal, you present it to the insurance company. They may then want their own appraiser to evaluate the car. Once again, you and the insurance company may need to negotiate a settlement and/or go to binding arbitration.
Conclusion
The bottom line in any of these three damaged-car scenarios is that consumers should not blindly accept insurance company repair estimates, settlements that do not provide full compensation for diminished value, and settlements that do not fully compensate the consumer for the total loss of his or her vehicle. To avoid being the target of an unfair settlement process, consumers should bring in independent expertise regarding the real impact of the accident on the car and take their cars to an independent collision shop for repairs.
Jonathan Libber is licensed to practice in the State of Maryland, and represents auto owners who are not being treated fairly by their insurance companies. He can be reached at 410-358-4616 or TotaledAdvocacy@gmail.com.