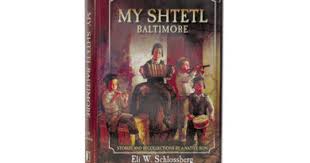 At his annual teshuva drasha, on the Thursday evening before Yom Kippur, Rabbi Yissachar Frand thanked Eli Schlossberg for his work in bringing the yearly lecture to the community. Then he congratulated Eli on his new book, My Shtetl Baltimore. "It's always a great pleasure to take a walk down memory lane," said Rabbi Frand.
I would add that this book – 557 generous pages of reminiscence, nostalgia, history, and memoir – is definitely a pleasure to read, even for someone who didn't grow up in Baltimore's frum community. Raised in the '40s and '50s on Shirley Avenue in lower Park Heights, I wasn't frum (yet). But in those days, traditional Judaism influenced the whole community – even the non-observant. Perhaps that's why Eli Schlossberg's memories spark mine.
He talks about Agudas Achim Congregation on Park Heights Avenue across the street from Manny's Fish Market and a dry goods store owned by his aunt and uncle. I remember Manny's and especially Agudas Achim, where I attended Sunday school. My brother Julian, who attended Isaac Davidson Hebrew School, had an aliyah for his bar mitzvah at Agudas Achim. And on Simchas Torah, both of us marched in the downstairs social hall with a shiny, red apple on the end of our flags.
Now, through Eli's book, I see many "pictures" of the past I experienced along with new pictures I didn't know about, which increase my love for this community I have recently rejoined. He speaks warmly of Shabbos and Yom Tov in the Jonquil Avenue neighborhood and mentions many well-known families. My Shtetl Baltimore is packed with memories of Eli's own family with their Jewish-German heritage, their food business, and their love of music. He writes, "As a family, we communicated through music. We even performed as a family at a Bais Yaakov function, in costume – just like the von Trapp family in the Sound of Music."
My Shtetl Baltimore book covers so much – even his mother's special recipes and her remarkable garden. He writes, "We had a small garden behind our home on Linden Avenue, but it was only when we moved to Jonquil Avenue, in 1958, that Mom began to plant what was to become an incredible garden." One part was a vegetable patch where Eli's mother taught him how to grow watermelons, corn, tomatoes, cucumbers, herbs, and more. Another area was a flower garden with many colorful varieties, and, of course, there was her famous and "most precious fruit-bearing esrog tree."
Most of all, My Shtetl Baltimore honors those who held on to the Torah as a "tree of life" and worked with all Jews to bring shalom. That's why even someone who is not frum or lives in another community could appreciate this chronicle of Jewish life in Baltimore.
In a section called "Personalities and Mentors Along the Way," many beloved Baltimore rabbis and lay leaders are highlighted. Added to this is a history of shuls, schools, and institutions, such as the Baltimore Mikvah, Shearith Israel, the Tamudical Academy (TA), Bais Yaakov, and Ner Israel Rabbinical College. What a surprise I had when I came to a chapter of biographies of the students in TA's first, 1947, graduating class and read that Esther Grossblatt rented rooms in her home on East Pratt Street to pay two dollars a month tuition for her grandson Rabbi Nachman Klein, z"l, and each of her eight grandchildren's education at TA. My children's father, z"l, was one of her eineklach; my children therefore also benefited from her sacrifice.
More surprises fill this upbeat volume. Several chapters, contributed by others, add interest, as does a memorable picture album at the end of the book.
Writing his own "haskama," Eli shares the principle that he follows in his writing as taught to him by a great posek: "If it is the truth – the emes – and does not, chas veshalom, harm or offend anyone, you can write it." In My Shtetl Baltimore, Eli W. Schlossberg lives up to this creed. His book contains a lifetime of observations and notes recreated in a loving history of his family and Jewish Baltimore. It is a book to treasure.
My Shtetl Baltimore by Eli W. Schlossberg, (Targum), Jerusalem, 2017, is available at local bookstores and on Amazon.com.