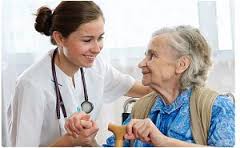 When you are going into eleventh grade like I am, one of the first questions that people ask you is "What are your plans for after high school?" For a while now, I have been going back and forth between two medically-related professions: The first, a child life specialist, is a profession that specifically appealed to me because of the wonderful work they did for my sister during her many hospital stays. The other profession that I am interested in is nursing, which seems to be pretty popular in our community. Regardless, I wanted to experience what it would be like to work in a hospital setting, since that is crucial for both of these jobs.
I had heard about the Sinai student volunteer program through a friend's sister. She and her family told me when the forms were available online in March. Those forms were just a part of the process one must follow in order to successfully attain this opportunity. There were medical forms, reference forms, and I even had to write an essay about why I wanted to be a Sinai volunteer. I emailed the forms to the volunteer manager and soon got a call from her to schedule an interview. Before my interview, I had to attend an orientation. There, I learned about the responsibilities of a volunteer, the volunteer dress code, and other important information for anyone who wanted to work in the hospital.
Pretty soon after the orientation, I had my interview, which was very much a behavioral interview, during which the volunteer manager asked me questions, including why I wanted to work in the hospital. After that, it was time to discuss which department was the right one for me. My preference had been pediatrics, but they suggested that I volunteer in the Mother/Baby Unit, as I was unable to dedicate all of the time required for the pediatrics opportunity. I was then given the contact information for the manager of the Mother/Baby Unit and was told to call or email her to schedule another interview.
Shortly after I connected with the manager, and we scheduled an interview at the Mother/Baby Unit. She asked me more questions and then told me what kinds of things I would do as a volunteer. She then gave me a tour of the unit and introduced me to some of the people I would be working with.
A few weeks later, I received a letter in the mail saying that I had been accepted to the program. I had to go to Sinai to purchase my volunteer polo shirt and obtain a badge.
My first day actually volunteering was July 20, and I arrived not really knowing what to expect. My interview had been in early May, so it was a long time since I had visited the unit, and I wasn't sure what I was going to do. However, the Mother/Baby Unit in Sinai is constantly changing and usually very busy, so there is always something for me to do.
A typical day for me at Sinai usually includes helping set up the paperwork and charts for the doctors, residents, and nurses to use. I also visit the mothers and bring them water, juice, and food if they need it. My favorite thing, though, is spending time in the nursery with the babies. I get to feed them and hold them and get them dressed. I learned how to swaddle babies and how to set up a warmer and clean it once the babies come off it. I also help them stock up on supplies and put together circumcision kits and bath bowls.
I really enjoy volunteering at Sinai. I am there from nine to five, so I am usually tired when I get home, but it is such a rewarding experience. It is also a fantastic opportunity for anyone who is interested in medicine. Since Sinai is a teaching hospital, the nurses, residents, and doctors are always ready to answer any questions I have, and I really take advantage of this opportunity. I have also seen some really cool things. One day, one of the residents came over to me and used a vein-finder to show me all of the veins in my arm. I've also seen echocardiograms and ultrasounds.
This whole volunteer experience has shown me that nursing is the profession I want to pursue in the future. I have been given advice by some of the nurses about various schooling opportunities and the kinds of rotations in the different wards that you have to do while in nursing school. If given the chance, I would definitely volunteer at Sinai again next year, and I would recommend it to anyone who is looking for a rewarding and exciting experience in medicine over the summer.