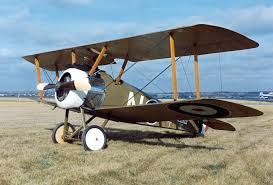 These days, when we say we are "heading to the airport," we are usually referring to Baltimore-Washington Thurgood Marshall International Airport (or BWI), a mere 35 minutes away. Who would have thought there were other options for locals here, almost a century ago, that were much, much closer to home. But that is exactly what I recently discovered! First, a little background is in order.
The Aviation Age Comes to Baltimore
On May 21, 1927, a new chapter was written in the annals of aviation history. His repugnant anti-Semitic views and abhorrent lack of family values notwithstanding, the fact remains that on that day Charles Lindbergh became the first person to complete a solo transatlantic flight, flying non-stop from Long Island, New York, to Paris, France. That achievement not only catapulted him into the stratospheres of public adulation and fame, but transformed the nascent aviation industry into the hottest, newest investment on Wall Street.
A fellow aviator, Elinor Smith Sullivan, who herself was recognized as the 1930 Best Woman Aviator of the Year, recently remarked on the outsized impact of Lindbergh's flight, noting that before, "people seemed to think we [aviators] were from outer space or something. But after … we could do no wrong. It's hard to describe the impact Lindbergh had on people. Even the first walk on the moon doesn't come close. The '20s was such an innocent time, and people were still so religious – I think they felt like this man was sent by G-d to do this." She observed, "It changed aviation forever, because all of a sudden the Wall Streeters were banging on doors looking for airplanes to invest in. We'd been standing on our heads trying to get them to notice us, but after Lindbergh, suddenly everyone wanted to fly, and there weren't enough planes to carry them." (Her comments appear in The Century, a contemporary history by Peter Jennings and Todd Brewster.)
That sudden, intense interest in flying created a brand-new market for aviation schools, for equipment, and for instructors. And Baltimore answered that call in a big way.
An Airfield around the Corner, Literally
Drive down Park Heights and eyeball the vast grounds of Northwest High School, where our boys play Pirchei Baseball (formerly known as Yiddle League) during springtime. Squint if you can and try to imagine an airfield there – because, apparently, there was one in that area in the late 1920s, referred to as City Line Airport on the 1929 Rand McNally Standard Map of Maryland with Air Trails. It was a 53-acre commercial airfield, operated by the Aircraft Corporation of Maryland. It seems to have been a very short-lived airfield, as there are virtually no records of it. One source placed it along Seven Mile Lane between Park Heights and Reisterstown Road (an original tenant of the Seven Mile Market property, perhaps?), while a fascinating website, www.airfields-freeman.com/MD/Airfields_MD_Balt_NW.htm, notes the site is now covered by a school and residential properties, making the case for the area around the high school. Regardless, these two points are within walking distance of one another, and it isn't too hard to imagine planes taking off and landing there today.
Why Baltimore?
Interestingly, there were more airfields in the area – Baltimore was seemingly ground zero for them. A November 10, 1929 Baltimore Sun article began with this headline: "City Viewed as Future Air Hub of East," which basically echoed the sentiments of George W. Lewis, director of aeronautical research of the National Advisory Committee of Aeronautics, after he made a study of conditions in various other cities. The national committee was preparing its annual report to President Herbert Hoover on the progress of aviation in the country during 1929.
According to Mr. Lewis, "Baltimore not only has a favorable labor market but it has the additional advantage of being on the tidewater." He then pointed to a map of existing and future airplane trade routes indicating Baltimore's strategic advantages. "It is very logical. We are going to have South American trade, and it undoubtedly will be by large flying boats. The city on the Eastern seaboard that has the most desirable system, communications on land, and the greatest amount of desirable landing space for seaplanes undoubtedly will become the Eastern terminus for that system. I don't see why Baltimore shouldn't be it."
To New York in 90 Minutes
During the course of Mr. Lewis' visit to Baltimore, his group visited various manufacturing sites and area airfields. It is mentioned that they went to observe a stunt flying exhibit by Lt. Otto Melamet, a World War I aviation veteran, at the Park Heights Flying School Field. And where was this local airfield located? A map of the time clearly places it in the triangle between Park Heights Avenue to the west and Stevenson Road to the east. The 695 now runs along its northern boundary. This field, also known as Service Field, and later as Handler Field or Handler Airport, was a 72-acre commercial airfield that was also home to the Park Heights Baltimore Aero Club. It was on just the other side of Druid Ridge Cemetery or, as we call it in my house, the Duck Pond.
Handler Field had a single 2,000- by 300-foot grass runway, oriented NW/SE. In a Commerce Department Airway Bulletin published in 1930, this warning was issued to pilots: "Those landing on Park Heights Flying Field for the first time should use northern half of field. South of trees in center of field are knolls and depressions with which pilot should be familiar." (I'm sure they didn't reveal those instructions to their passengers, many of whom were probably first-time flyers.)
The Baltimore Airways Company used Handler Field as the base for its newly established New York-to-Baltimore daily passenger service. It promoted its commuter flights between Newark Airport and Handler Field, promising a flight-time of 90 minutes each way. The per-trip fare was $25, and included "automobile transportation to and from both fields." I'm not sure we can't envy those passengers of yesteryear. The company's tagline was, "SAFETY with SPEED and COMFORT."
Handler Airport ceased operation around 1934 or '35. It is currently the site of the housing development, the Fields of Stevenson.
The Story of Curtiss-Wright
One other airport was located in our area, one that had a significant presence, and that was the Curtiss-Wright Airport, located on Smith Avenue near Greenspring Avenue. The Curtiss-Wright story is the convergence of the stories of three aviation pioneers: the Wright brothers, renowned for history's first flight; Glenn Curtiss, the father of naval aviation; and Charles Lindberg, renowned for his transatlantic voyage. Here is how they all came together.
As is well known, on December 17, 1903, Wilbur and Orville Wright for the first time flew a manned, heavier-than-air machine for 12 seconds at Kitty Hawk, North Carolina, thereby ushering in the age of aviation. The Wright brothers perfected their design to the point where they could sustain flights of 24 miles, during which they could bank, turn, and do figure-eights. But in 1905, when the Wright brothers offered their invention to the United States Army, it was rejected. Even the patent office was skeptical. An application filed in 1903 was finally approved and granted in 1906 for a "flying machine."
In 1909, the first great international aviation meet was held in Rheims, France. The Wright brothers entered three planes, confident that they would dominate the event. Instead, a young, relatively unknown aviator named Glenn Hammond Curtiss won the competition. In 1907, Curtiss had been recruited by Dr. Alexander Graham Bell to be among the founding members of Bell's Aerial Experimental Association. Within a decade, Curtiss was instrumental in the development of U.S. naval aviation by providing aircraft as well as training for pilots. His Curtiss Aeroplane and Motor Company became, during World War I, the largest aircraft manufacturer in the world, producing more than 100 aircraft in a single week.
When Wright Aeronautical was incorporated in 1919, its charter was the design and manufacture of aero engines. Although the Wright brothers were no longer involved with that company (Wilbur had died and Orville had other interests), it can be said that the Wright Aeronautical engine tradition began with the first Wright brothers' engine in 1903. But the ultimate success of the company came when they developed a relationship with Charles J. Lawrance, a talented engineer.
After purchasing the Lawrance Aero Engine Corporation, Wright Aeronautical was able to successfully design and build the J-5C Whirlwind, a 9-cylinder engine that was simple and easily maintained. They now had a first-class product and looked for a way to advertise the engine and show it to the world. Charles Lindbergh's flight into aviation history in May 1927 was the success Wright Aeronautical was hoping for: Lindbergh had flown a J-5C. His flight was an international triumph for Wright Aeronautical, and his feat made the J-5C the most popular engine for long-distance air travel. As a result of the successes of the pioneers of the aviation industry, Curtiss-Wright Corporation was formed from the merger of 12 Wright and Curtiss affiliated companies on July 5, 1929.
An Airport at the Shopping Center?
I've heard many times over the years that "there used to be an airport at the shopping center."
Well, on closer inspection, that description vastly understates the size of this former airport. Depending on the source, the Curtiss-Wright Airport tract constituted either 240 or 260 acres; it had a 4,000-square foot landing area, two 100x120-foot hangars at the end of the field, and four runways, the longest of which was a 3,000-foot east-west strip.
Its boundaries were roughly Smith Avenue to the north; Greenspring Road to the east; a jagged southern edge consisting of Cheswolde Road, Woodcrest, and Benhurst; and the Maryland Country Club (a property then bounded roughly between Falstaff Road and Clarks Lane and below Shelburne Road) to the west. The boundaries were not smooth, straight lines, so that the southernmost tip touched Benhurst, the western edge hit Clarks Lane, moved westward down Falstaff till it roughly hit what is now Labyrinth (Labyrinth didn't extend past Falstaff then), and traveled northward back up to Smith.
If it were still extant, the southeastern corner of the tract would directly face Shomrei Emunah. To get a sense of its vastness, envision all the modern streets and developments contained within this area: The current area of this tract includes not only Greenspring Shopping Center but also Wellwood Elementary School and park, all of Summerson Road between Wickfield and Farringdon, Willow Glen from Clarks Lane to Greenspring Avenue, all of the Pickwick and Willowbrook apartments, and all of Heather Ridge. The area was simply enormous!
Construction of the Curtiss-Wright Airport began in 1929. An October Sun article noted the rapid "clearing and grading" of the new airfield in "Green Spring" (sic), which would be "equipped for day and night flying and … is expected to be ready for use in the spring." It was described at the time as a "million dollar airport." It was a serious operation, owned by Baltimore Air Terminals, Inc., operated by Curtiss Airports Corporation, and used by the Flying Club of Baltimore. Aerial shows included members of the Thunderbird Flying Club, formed in 1933.
At completion, it offered numerous services, among them, a flying school, an air taxi, airline transportation, crop dusting, aerial photography, and aerial advertising. It all sounds rather contemporary, considering the industry was very much in its infancy. The Curtiss-Wright Flying Service billed itself as the "world's oldest flying organization," which is amusing from a twenty-first century lens, when we consider that "oldest" then couldn't have meant more than a decade or two.
By 1941, it was Baltimore's largest flying center. It closed for civilian operations during World War II. In 1946, it was renamed Pimlico Airport. It finally closed down for good between 1947 and 1949, around the same time that BWI – originally known as Friendship International Airport – began development.
What the Aviation Craze Meant to Baltimore
On October 27, 1929, the Sun announced Baltimore's first ever aircraft show to be held in the city in December of that year, "with a significance foreign to the usual aviation exposition," meaning that trade shows were usually either of a technical nature geared to industry professionals or had a side-show aspect purely for entertainment purposes for the general public.
This show was to "be the means of affording the people of Baltimore a first-hand knowledge of aircraft and aviation in the world of today." The article reiterated Baltimore's importance as an aviation manufacturing center, then went on to discuss the growing number of flying fields in the area, as well as improvements being made to existing ones as "another indication of Baltimore's serious inclination toward aeronautics. There are in the metropolitan district no less than eight in use and under construction." These included the Curtiss-Wright Airport, Handler Field on Park Heights, and the Park Heights flying school nearby.
To get a sense of the increased interest in aviation at this time, we need read no further than the end of the article: "…Loch Raven, Pikesville, Glenburnie [sic], Catonsville, and other suburban towns are dotted with flying schools and private landing fields." Furthermore, it cited the new aviation-related courses that were now being offered at local schools: aeronautics at Baltimore Polytechnic Institute; aeronautical drafting at the Maryland Institute; and airplane building shop classes at Baltimore School of Aeronautics.
We sometimes forget that what we think is new and amazing will be looked back with a chuckle in a few years by a future generation – especially these days, when the technological advances that come at us do so with such blinding speed that they can hardly be absorbed. It is partly, I think, for this reason that I sometimes take these strolls through the past, to explore what came before, to remember Kohelet's teaching that there is really nothing new under the sun. What was will be again. It may appear different on the surface, but if we look a little closer, we find that we can relate quite well.
Until next time, then.