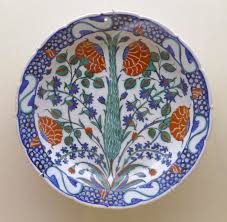 There's a new organization in town, and they are not seeking your money! Rather, they are looking for your commitment to take part in an innovative idea which aims to help Israeli businesses. They are selling nothing other than a concept. A new piece of "must-have" Judaica is being introduced to the Baltimore/Washington area. Called the "Klee," and it will serve a purpose close to the Jewish heart. Just as most Jewish homes usually have at least a mezuza, a Chanukah menorah, and Shabbos candlesticks, the Klee (which you may very well already have in your house) will also be used in a meaningful Jewish way. It is a designated dish for Israeli products.
Rochelle Zupnik of Monsey spoke to a small gathering of women, recently, in the home of Tova Taragin. Rochelle is one of the founding members of ACHI, American Communities Helping Israel, created during the second intifada, in 2004. ACHI, which is also the Hebrew word for "my brother," promotes awareness of the need to help our brothers and sisters in Israel and aims to unify all Jews towards this goal. Rochelle presented the latest ACHI initiative, the Klee.
Klee is the Hebrew word for "vessel," and can indicate a dish, platter or any container which can hold food or other items. Klee is also an acronym for Cohen, Levi, Yisrael, representing the totality of the Jewish nation; we are all in this together. How are we to use the Klee? Fill it with made-in-Israel products. In this way, it serves as an economic response to the growing BDS movement, which seeks to strangle Israel financially and isolate her from the rest of the world. Multiply this by thousands of people across America and a significant impact could be made.
The idea is to have a designated Klee (or more than one) on your table or desk. You can even have a special one just for Shabbos. It could be filled with different items each week, such as pickles, olives, tea biscuits, seeds, chocolate, Bisli, and the like. It should be refilled with Israeli products whenever it is empty. Not only will we be using these goods, but the Klee will remind us about the connection to our "Israeli side" of the family. Along with helping Israeli manufacturers and vendors, it is hoped this effort will lead to greater Jewish unity as we support one another. Rochelle says "We are teaching ahavat Yisrael, love for our fellow Jew and our love for the land of Israel." ACHI encourages everyone to, "Think Israel, Buy Israel."
Where do you get a Klee? Anywhere. Whatever you want to use, such as a condiment dish, will work fine. An Israeli-made Klee would be a plus. But many people have made their own "kelim" using a variety of art media, such as ceramic, glass, wood, etc. A Klee can also be used in the bathroom to hold Dead Sea or other skin care products. Art departments in some schools and camps have had kids design their own, often with the word "Klee" written on them. Kids bring them home along with the Klee card, which an Israeli graphic artist donated her time to create.
In 2004, when the Israeli streets were emptied of tourists, resulting in terrible business losses, a series of "Ben Yehudah Street Fairs" were organized in Teaneck, Monsey, and the greater New York metropolitan area as well as other places around the country, so that Israelis could come sell their goods. Thousands of people came and purchased these products. This allowed Americans who were not able to travel to Israel to support Israeli businesses.
Once the street fairs were over, however, Rochelle's friend Suzanne Weilgus, who was very involved in organizing the fairs, said, "We need to have a meeting. The fairs are over and we have to do something to help Israel. We need to make a commitment for life." Together with other volunteers, who were high school friends, they founded ACHI. Their goal was to think up easy-to-implement ideas that could benefit Israelis, in which anyone, from kindergarten through the elderly, from unaffiliated to committed Jews, could easily participate.
The ACHI group approached the Board of Jewish Education (BJENY) in New York, which welcomed them with open arms. They invited them to speak to over 600 educators, because they were told, "Israel needs us." Rochelle replied, "It's not that Israel needs us. We need Israel. And we need to get the next generation to feel the same way and have the same connection." Their motto is "Keeping Israel in the hearts and minds of our next generation."
ACHI became a resource for helping teachers in the classroom. They began by going to schools individually with lesson plan suggestions on how to convey to the younger generations the love and connection we feel with Israel and the importance of making sure we are there for our brothers and sisters. They soon realized that this was not the most effective way to spread their ideas. Fortunately, a volunteer was able to build them a website (achi613.org) pro bono, allowing ACHI to serve as a resource on a much larger scale. The ACHI website posts resource ideas, lesson plans, and class projects – and also allows educators to share their own new ideas online. ACHI is grateful and proud to say that they have also received the pro bono services of a lawyer and accountant. This is because the reaction of everyone with whom they share this idea is, "How can I help you?"
At Rochelle's Baltimore presentation, Tova Taragin went beyond the call of duty in setting up her Israeli food-filled table. Not only was there a variety of cheeses, cookies, pretzels, and condiments; they were all served in made-in-Israel containers.
Besides introducing the Klee concept at the meeting, it was also announced that Tova, who helped give the presentation, has become the new ACHI team leader for the Baltimore/Washington region. Our area is the first expansion out of the New York, New Jersey, Connecticut region.
Tova, who has also been a friend of Rochelle's since high school, had visited with her in Monsey recently. While there, they went on an expedition in a large kosher supermarket and photographed every product they could find made in Israel. There were at least a hundred different items, including foods, Shabbos and Chanukah candles, cleaning supplies, and thin white plastic disposable plates. Tova turned these photos into a PowerPoint, which she displayed at the meeting.
Tova taught technology classes at Ohr Chadash for the past several years. In the final semester, she incorporated the ACHI educational ideal of keeping Israel in the hearts and minds of our next generation and teaching the importance of the ACHI tagline, "Think Israel, buy Israeli."
First, she was able to arrange for ACHI members Gloria Gordon, Suzanne Weilgus, and Rochelle to speak to the fourth and fifth grade class about the goals of ACHI via Skype. Tova then assigned them a project: Make an advertisement for ACHI. Tova supplied the ACHI logo and pictures to choose from. Using their computer skills, the students made fliers, which had to include these items in addition to a piece of information they learned. The results were magnificent. They all "got it" and did well. Students wrote copy on the fliers like, "Stop BDS," "Israelis have to work too; they need our money." Afterwards these fliers were printed out, laminated, and sent home to be used as placemats.
Recently, Tova, who frequents Pikesville Office Supply for her printing needs, noticed they had boxes of copy paper marked, "Made in Israel." The owner, Mark, said they actually began selling it by chance and had not even realized it was a product of Israel until a customer pointed this out. Mark likes this brand so much that they use it for much of their own printing needs. The price is comparable to other high quality copy paper sold in the U.S. and is much less likely to jam in the printers. Mark told Tova that if people mention her name, they will be able to get a 10 percent discount on a case of the Israeli paper.
ACHI also wants to convey to youth the idea that Israel is a gifted, blessed, and flourishing country. Rochelle suggested the following opportunities to "double the mitzva" of supporting Israel throughout the calendar year:
Tishrei – Dip the apple and challa into honey from Israel.
Kislev – Light Israeli Chanukah candles and/or use olive oil made in Israel.
Shevat – Think of buying shivat haminim (the seven special species) grown in Israel.
Adar – For Purim mishloach manot, choose products made in Israel.
Nissan – Use the many kosher-for-Passover products that are made in Israel.
Sivan – Choose from the many Israeli cheeses – like feta, Edam, and Swiss - and serve with Israeli crackers.
Perhaps we should repurpose the BDS acronym and let it stand for, "Buy, Display, and Show your support for Israel."
ACHI will be planning non-parlor (no money solicitations) meetings after the summer in the community and region. They are also looking to partner with organizations and schools in the Baltimore /Silver Spring /DC region. Feel free to contact Tova Taragin, tovtar@gmail.com if you or your organization is interested in being involved.