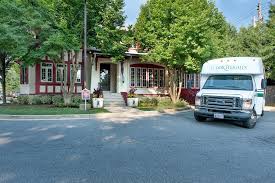 By the time I got to Peregrine's Landing at Tudor Heights, shortly before 10 a.m. on Friday, preparations for Shabbos were already in full swing. Several pairs of Shabbos candlesticks were set up on a beautiful granite-topped chest of drawers in the synagogue (doubles as an events room), where residents were watching a Shabbat Tunes video. In the adjoining lobby, the spunky director of activities, Goldie Milner, was dancing to the music with a sweet resident named Anita. Permeating the air was the aroma of succulent roasted chicken and a hearty, meaty cholent – kosher, of course – prepared by former King David Hotel executive chef, Menashe Shabtai who is now the facility's director of dining services and head Star-K Kosher Certification mashgiach.
With the delightful tweeting coming from finches of every pastel color that were fluttering around in the indoor glass aviary, I took the opportunity of asking a few of the residents what living in a dedicated Jewish ambiance means to them.
When I asked Vivian Mishner, who founded Beth El Congregation together with her husband, Morris, a"h, what kosher means to her, she replied, "It means you are Jewish, and you are observant, and you want to obey the laws, and you enjoy good kosher food…I've been living here for four years. The food is very good here. Kosher was a big consideration for me in deciding to move to Tudor Heights. Also, my daughter is very Orthodox; she is able to come here and eat with me, and it is within walking distance for her to visit me on Shabbos. They always have a Shabbos service here and different programs on Shabbos. If you want to go, you can go; if you don't want to, you don't have to…You get three meals a day and you have nice company. They also take you out occasionally to go shopping or to a movie. It comes to a point, when you get older, that you don't drive. If you can't live at home anymore, this is a nice place to live."
Jean Schuchalter, a former employee at the M. Goldseker Real Estate Company and longtime Levindale Hebrew Geriatric Center volunteer, concurred with Vivian about the importance of living in a reputable kosher facility. "In five minutes, my whole life was changed, over a year ago, when I fell," explained Jean, who said prior to that she was a very active person. "If it wouldn't be kosher, I wouldn't be here. Naturally, I had no choice but to move here. We are a really religious family. Tudor Heights is very nice. I observe holidays. I go to shul. Every week I went to Beth Tfiloh; that was my shul. But my life has changed. What can I do? That's the way it is. You know the old story: Don't get old, but if you don't get old, that's no good either."
Dovid Brucker, a retired registered nurse who only began his Judaism journey at Ohr Somayach in Israel at the age of 48, came to Tudor Heights about a year ago, after completing an intense physical therapy program at Levindale. "When I was convinced that I needed to leave my home and come to a facility, I was very hesitant at first, because I had been in my home for well over 20 years. I couldn't have done it without the support of those people I call my family. I don't have any biological family anywhere, but I have many people, especially right here in this little corner of the Eruv, who are very much like family to me. After looking at several places within the Eruv, I decided that Tudor Heights would be the place for me; it appealed to me. It has a lot to offer, such as kosher. It's not easy producing food for a large group of people, but Menashe Shabtai does a great job, and it adds a lot to the aura of this being a Jewish place.
"Another thing right at the top of the list is the feeling that everybody cares about everybody else, and the caring attitude is kind of infectious," continues Mr. Brucker. Mrs. Zaslow has done a tremendous job running this place. She is constantly keeping an eye on everything, and her wonderful administrative staff is always available to all of the residents. That is important because leaving your whole life behind and coming to a different place at an advanced age is very difficult for most people. Tudor Heights really has a nice feel about it because of the way it is set up and the way it is run."
Menashe Shabtai is just one of the important key staff members at Tudor Heights. He works 55 to 60 hours a week cooking for its 55 residents, from 8:30 a.m. to about 7:30 p.m., daily. On the way to my tour of the fleishig kitchen, we passed a bulletin board with wallet-sized pictures of the residents pinned to it. Under each picture is a note that mentions the special kind of diet the resident is on. With great pride, Menashe shared with me what's on tap for Shabbos dinner: gefilte fish over green salad, chicken noodle soup, an entrée choice of braised beef with Marsala wine or honey-raisin roast chicken with roasted potato and glazed carrot sides, and peach cake for dessert.
After taking a sneak peek at the chicken and cholent, we were off to the milchig kitchen, where Shabbos breakfast was already being prepared on cheerful royal blue china plates: A bagel, scoop of cream cheese and hardboiled egg halves, garnished with tomato and cucumber slices. We discussed the other Shabbos menus before heading to his office to shmooze about kosher.
"To some of the residents, it is important for them to eat kosher; to others, it is important for their families to eat kosher," explained Menashe, a veteran chef who has doubled as a mashgiach for over 40 years, including in the Israeli army. "But the bottom line is that everybody wants to eat kosher; it's important for them to be in a Jewish environment. I can see that they connect kosher with their life in the past, even if they were not observant their whole life. Whether it is Rabbi Kurcfeld's shiurim and his Yiddish classes or Shabbos and Yom Tov services and meals, it is important to them.
"I'm thrilled that all the residents enjoy my food," continued Menashe. "I try to be gourmet with Jewish. When I came back the day after Yom Tov, the residents told me they loved my brisket. They didn't have to chew it; it melted in their mouth it was so soft. One of the resident's sons even told me, 'My mom ate better than I did over the holiday!' These compliments make my day, my week!"
It is obvious that being the head chef and mashgiach at Tudor Heights, the only Star-K certified assisted living facility in Baltimore, is a labor of love for Menashe. He cheerfully custom-tailors his dishes to ensure that each resident is happy. Beyond providing the low salt, salt-free, sugar-free, and cholesterol-free menu options, he goes out of his way to fill every other food request. Just one example is how he serves one resident who finds it easier to eat shredded lettuce instead of chopped lettuce her own more thinly-sliced portion. In addition, Menashe refuses to take such Old World Shabbos staples as gefilte fish and cholent off of the menu, even though not everyone may eat them, because they have always been part of Jewish life.
"I have one resident who recently turned 100," shared Menashe, who heads a crew of about seven employees. "She loves pea soup. Because of her, I put pea soup on the menu almost every week, at least once. Whenever she sees me, she asks, 'When am I getting my pea soup?' Before Pesach, when I was kashering the kitchens at 11 o'clock at night, I told my coworkers, 'I don't look at this as a job. We are doing a chesed for these people by doing our best to make sure that their Pesach is kosher 100%.' For some of these residents, it is going to be their last Pesach. That's what motivates me, whether I am preparing for Shabbos or Yom Tov. I am close to the residents; I'm attached to them. I even say Kaddish for a month for the residents who don't have anyone to say it for them. For Yizkor, I try to remember their names. I don't look at this home as a workplace. I love what I'm doing."
As I was about to leave this uniquely warm, inviting, home-away-from home, a sales and marketing associate shared that children of perspective residents who tour the facility often mention how astonished they are that their parents all of a sudden want to live in a totally kosher place – that it's a non-negotiable, even though they never kept a kosher home. "At the beginning and the end of their lives," he conjectured, "they feel the most connected to tradition, religion, and G-d. In their last years, especially, they realize how important these things really are to them."
"Having an excellent program, staff who go the extra mile, personalized care, and a beautiful, warm Jewish environment means we don't settle for less than the highest level of kashrut," explains executive director Sherri Zaslow. "We don't believe in shortcuts and we are proud of this commitment by offering the only certified kosher Assisted Living and Memory Care in Baltimore. Our loved ones deserve no less, until 120 in strength!"
For further information about the Peregrine's Landing at Tudor Heights community, support groups, or respite options, call Sherri Zaslow, 420-318-8000