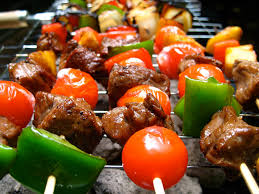 Purim is coming! (Of course, that means Pesach is also coming, but I'm not going to think about that yet.) Filled with friends, family, and food, Purim is one of my favorite holidays. One thing I love is to see so many people I don't normally get to see. Dropping off shalach manos and sharing a seuda, it is a time filled with achdus: brotherhood and unity.
Here is an easy menu for the Purim seuda. Serve the dips with challa for a pre-appetizer course. Then serve the soup and egg roll together (you can dip the egg roll into the Thai Coconut Corn Soup!). The brisket can be made ahead and frozen, and the zaatar oil dip keeps for three weeks in the fridge.
Zaatar and Roasted Garlic Spread
1 c. extra virgin olive oil
8 cloves roasted garlic
1 T. zaatar
1 tsp. salt
1/4 tsp. pepper
Puree olive oil and roasted garlic. Add zaatar, salt and pepper. Serves 8
Tahina Dip
2 garlic cloves
1/2 tsp. salt
1/2 c. well-stirred tahini
1/3 c. lemon juice
1/4 c. water
1/4 c. olive oil
1 T. chopped fresh parsley
With an immersion blender or food processor, blend together the garlic, salt, tahini, lemon juice, water, and olive oil. Garnish with parsley and serve.
Thai Coconut Corn Soup
1 T. olive oil
3 scallions (split into white parts and green parts), thinly sliced
1 red bell pepper, julienned
4 cloves garlic, minced
3 tsp. curry powder
Two 15-ounce cans coconut milk
1.5 c. light-colored vegetable broth
1 16-ounce bag frozen corn
1 tsp. salt
1/2 c. chopped fresh parsley
Heat oil in a 4-quart soup pot. When the oil is hot, add white part of scallions and the red pepper. Sauté for about 3 minutes. Add minced garlic and curry powder for about 1 minute. Add coconut milk and broth and bring to a simmer, then lower heat and cover for about 5 minutes. Add salt. Garnish with parsley and the green parts of the scallion. Serves 6.
Egg Rolls
2 small onions, diced
3 T. oil
1/2 lb. thinly sliced pastrami, julienned
1 lb. coleslaw mix (shredded white cabbage and carrot)
2 T. soy sauce
1 T. sesame oil
1 T. rice vinegar
1 T. sugar
1/2 tsp. garlic powder
1/2 tsp. ginger powder
16 egg roll wrappers
1 c. water for sealing wrappers
Oil for frying
Duck sauce for dipping
Heat oil in a sauté pan and sauté the diced onion until translucent (about 3 minutes). Add pastrami and coleslaw mix until cabbage just starts to soften. (If you cook too long, it'll get soggy.) Add soy sauce, sesame oil, rice vinegar, sugar, garlic powder, and ginger powder. Mix to combine over low flame for about 4 minutes.
Remove from heat. Place egg roll wrappers in front of you and put 2-3 tablespoons of mixture in the middle lower portion of the egg roll wrapper. Dip your finger in the water and press around the perimeter of the egg roll to seal. Then roll like a blintz (fold left and right sides over and then roll from bottom to the top). In a frying pan, have about 3 inches of oil (enough to deep fry the egg rolls). Heat the oil until hot and fry the egg rolls. Fry for about 3 minutes per side until golden brown.
Alternatively, you can bake the egg rolls. Put them seam side down on a cookie sheet lined with parchment paper. Spray the egg rolls with cooking spray. Bake at 425° F. for 20 minutes.
Chicken Kabobs
I find kids really like things on skewers. These are easy and fun to eat, but watch out. They might sword-fight after they eat them!
Marinade
2 T. oil
Juice of 1 orange
2 T. soy sauce
2 T. honey
1/2 tsp. oregano
1 tsp. paprika
2 cloves garlic, minced
Skewers
1 lb. chicken breast, cut into bite-size cubes
2 onions
1 box grape tomatoes
1 can pineapple chunks
skewers
salt
Combine marinade ingredients in a zip-lock bag. Add the chicken, squeeze out the air, and zip up. Marinate the chicken at least an hour or up to 2 days. (Overnight is a nice amount of time.) Cut up onions into chunks the same size as the chicken. Skewer the onions, tomatoes, pineapple, and chicken. Place them on a cookie sheet and bake at 400° F. for 12 minutes. Makes 12 skewers
Julie's Garlic and Vegetable Brisket
I can eat brisket all the time! This brisket is filled with a roasted garlic flavor. Don't expect leftovers.
3 T. olive oil
2 lbs. brisket
20 cloves of peeled garlic
1 bag frozen peeled pearl onions
2 large carrots
2 large stalks celery
2 large potatoes sliced into thick circles
1/2 c. red wine
1 1/2 c. chicken broth
1 tsp. dried thyme
1 tsp. dried rosemary
Salt and pepper
Preheat the oven to 325° F. Heat oil in a heavy bottomed roasting pan over high heat.
Salt and pepper the brisket on both sides. Place brisket in the pan and brown on both sides (this sears in the juices and flavor) about 5 minutes per side. Transfer brisket to a holding platter and set aside.
Cut the celery and carrots into chunks. Add celery, carrots, potatoes, garlic cloves, and onions to the oil and sauté until golden. Remove to the holding platter.
Add wine to the pan and deglaze – scraping up all of the yummy bits from the bottom with a spatula. Add stock, thyme, and rosemary. Reduce heat to a simmer. Return vegetables, onions, garlic, and brisket to the pot. Cover tightly and place in oven for 3 hours (until fork tender).
Cool and refrigerate. After the fat has congealed, remove it. Slice brisket thinly across the grain. Strain the liquid, keeping the garlic for the gravy. (The vegetables can go back in the roasting pan.) Puree the garlic with 1 cup of the liquid. Put the pureed mixture with the rest of the liquid back in the roasting pan with the sliced brisket.
Taste and adjust the seasoning as necessary. Reheat the brisket at 270° until heated through and serve!
Apple Hamantaschen
You can fill this dough with whatever you like. I really like a chocolate filling! I included an apple filling.
Dough
2 eggs
1/4 c. oil
2/3 c. sugar
1 tsp. salt
2 3/4 c. flour
1/2 tsp. orange or lemon zest (optional)
Mix wet ingredients (eggs, oil and sugar). Add dry ingredients (flour and salt). If you plan to make apricot, raspberry, or apple filling, add zest. (I strongly dislike citrus with chocolate, caramel, pecan pie, or peanut butter, or chocolate, so I omit the zest for those flavors. But if you like it, go ahead and add.)
Knead until the mixture is firm and pliable. If the dough is too moist to roll, add more flour. (I sometimes have to add up to a cup more of flour, depending on the day!) Roll your dough to thickness of about 1/4-inch. DO NOT leave the dough out as it will get dry. Rather, cover with a wet paper towel when you're not using it. Cut out circle with cookie cutter or drinking glass. You'll be able to get about 30 three-inch circles. In the middle of each circle, put the filling. Then fold and pinch one side, a second side and then the third side so the filling is still showing and you have a triangular shape. Bake at 350° 14 minutes or until golden brown.
Apple Filling
4 apples, peeled, cored, and sliced
1/4 c. sugar
1 tsp. cinnamon
1 T. lemon juice
Combine apple slices, sugar, cinnamon, and lemon juice in small pan. Simmer on low heat until the sugar dissolves and the apples soften (about 10 minutes).
Bracha Shor is owner of Sweet and Good Catering and can be reached at bshor@sweetandgoodcatering.com. She will very enthusiastically respond to any query. May Simcha ben Itzak Ber's neshama have an aliya.