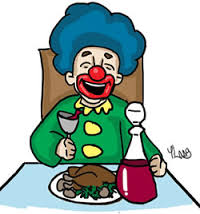 Baked Spinach and Sun-Dried Tomato Appetizer
These appetizers are delicious, fun, and gorgeous. You can put them out on the plates as a first course.
10 oz. frozen spinach (defrosted)
1 sheet pastry dough (12x8 rectangle)
6 oz. artichoke hearts, drained and dried
1 c. diced onions
2 T. chopped sun-dried tomatoes
Pre-heat oven to 375 F. Spray 24 mini-muffin cups with cooking spray. Cut pastry dough into 4 columns and 6 rows for 24 pieces of dough. Sauté onions. Press one dough square into each muffin cup at least three quarters of the way up the sides. Add 1 teaspoon of spinach, 1/2 teaspoon sautéed onions, 3/4 teaspoon artichokes, and a few pieces of tomato to each cup. Bake 10 to 12 minutes or until dough is deep golden brown. Let stand 1 minute in muffin cups. Serve warm. Serves six.

Skirt Steak Salad
Healthy and delicious, this is my kind of salad. There's enough here for six, if this is the main course. It'll stretch further if you are having chicken or another main course.
3 lbs. skirt steak, cut into 4-6 inch pieces
1 tsp. salt
1/4 tsp. pepper
8 c. mixed salad greens
1 cup cherry tomatoes, halved
Marinade:
1/4 c. fresh lime juice
1 T. minced garlic
1 T. cayenne (optional)
1 medium ripe (not squishy) avocado, diced
Dressing:
1/2 c. oil
1/2 c. lime juice
1 T. minced garlic
1/4 c. honey
1 tsp. salt
Combine marinade in a ziplock bag and add steak. Close bag, expelling as much air as you can and refrigerate three hours or overnight. Discard marinade and grill steaks 10 to 12 minutes to medium rare (for an internal temperature of 145 F.), turning twice.
While steaks are cooking, puree the dressing. The honey will act as an emulsifier to help combine the oil and lime juice. Cover and set aside.
When steaks are done cooking, rest them for about 5 minutes. (This helps lock the juices in.) Then carve them, cutting into thin slices against the grain.
Plate the salad greens on a platter. Top with tomatoes, avocados, and steak slices. Pour about half the dressing over the top of the steak and greens. Serve the other half of the dressing on the side for those who want more.
Chicken Marsala
Where there is Purim, there is often wine. So, you might as well include your chicken in the festivities! If you use the same wine in the recipe as you are drinking during the seuda, they will pair nicely!
6 chicken breasts, skin on
1 tsp. salt
1/4 tsp. pepper
1/2 c. flour
1/4 c. Canola oil
1 c. diced onion
1 lb. mushrooms, sliced
2 c. Marsala wine
2 c. chicken stock (or vegetable stock)
1 T. tomato paste
3 T. cornstarch
1/4 c. water
Sprinkle chicken with salt and pepper. Dredge each piece in flour, shaking off the excess. Heat oil in sauté pan over high heat. Once oil is hot, add chicken, skin side down, and sauté until brown, then flip and brown the second side. Transfer the chicken to a plate and set aside.
Continue using high heat and add onions and mushrooms to the sauté pan and sauté until brown. Add wine and reduce the liquid for 15 minutes. Add the stock, tomato paste, and chicken and bring to a boil. Reduce the heat to a simmer. Simmer for 15 minutes. The chicken should be cooked through. Remove the chicken and continue to simmer the liquid until it is reduced to 1 cup. Add the cornstarch to the 1/4 cup water and stir. (This will allow you to get all the lumps out of the cornstarch before adding it to your sauce.) Add the smooth mixture to your simmering sauce and cook over medium heat (stirring constantly to prevent lumps) until the mixture boils. Boil for about 2 minutes (still stirring constantly). Check seasoning, and see if you need more salt or pepper, then spoon over the chicken and serve.
Roasted Potatoes and Carrots
I eat these as a treat. Any roasted vegetable that has been browned is like candy to me!
1 package baby carrots
3 lbs. red potatoes, quartered
1 c. oil
1 tsp. salt
1/4 tsp. pepper
1 tsp. dried parsley
Pre-heat oven to 425 F. Toss the carrots and red potatoes with the oil, salt, pepper, and parsley. On an aluminum foil-lined cookie sheet, bake the mixture for 40 minutes until cooked through and browned.
Easy Classic Chocolate Chip Pecan Pie
I really like pecan pie, and if you add some chocolate – yum – I'm in heaven. Pecan pie is super easy to make. It takes less than 5 minutes of prep time. The hardest part is waiting for the pie to cool down properly before you can eat it. If you cut it too soon, you might have a delicious but very liquid piece of pie that will be tricky to serve.
1 c. light corn syrup
3 eggs
1 c. sugar
1 c. chocolate chips
2 T. margarine (melted)
1 tsp. vanilla extract
1 1/2 c. pecans
1 unbaked (9 inch) piecrust
Preheat oven to 350 F. Gently combine corn syrup, eggs, sugar, margarine, chocolate chips, and vanilla. Stir in pecans. Pour filling into pie crust and place on top of a cookie sheet to catch any spills. (Pecan pie filling is very hard to clean out of ovens.) Bake for 60-70 minutes. Cool for 2 hours before serving.
Bracha Shor is owner of Sweet and Good Catering. Contact her at bshor@sweetandgoodcatering.com or 410-900-6640. Questions and comments are welcome.
Sidebar
Don't Forget the Décor!
by Bracha Shor
Purim same'ach! Purim is a time to build relationships and reconnect with friends. After the mad rush of delivering shaloch manos, the seuda is a chance to sit down with friends and family to enjoy each other's company, Torah, and food. What better time to spruce up the centerpieces and make a new runner and fun banner!
Table Runner
A table runner is easy to create. Buy fabric that complements the tablecloth you are going to use. You can pick whatever catches your eye, but I would suggest a lightweight fabric, like linen or cotton (not a fleece). Let's say you're going with a royal motif, and your tablecloth is gold, white, or black. A royal blue, purple, or red runner would look nice on top. Cut the fabric as long as your tablecloth and to a width of 2.5 feet. If you are not inclined to sew, you can just fold the edges three inches under and iron a crease on each edge. This will give you an attractive runner without ever having to sew!
On top of your new runner you can place gold candlesticks with candles for an elegant look. Only have old beat up candlesticks? Get some gold metallic spray paint from Michael's and, quick as chick-chock, you'll have new "golden" candlesticks.
Banner
Making a banner is a fun arts and crafts project you can do with the children. Take 12 pieces of 8x11 paper and cut a V-shape into the top (8") end to form two points that resemble a "fishtail." With the straight short edge of the paper at the top, draw one letter of the words "Purim Sameach" on each piece of paper. (You can draw the letters by hand or use clip art letters. Openclipart.org has a number of block letter fonts.) Place a string near the top of each paper and fold the paper over it by one inch. Glue, tape, or staple the paper to itself. Hang the string of letters as a banner from the ceiling.