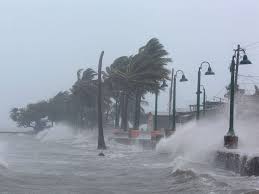 It was a smell I had experienced once before on a similar weeklong volunteer mission to the New Orleans Jewish community, in 2005, after the destructive Hurricane Katrina had decimated the city. Acrid. Pungent. Harsh. It was the smell of a severely flooded house, one that had recieved over five feet of water, maybe more. A face mask can only stop so much of the smell, while your eyes will see the destructive force of water in its entirety.
Only six hours earlier, in the wee hours of a Sunday morning, it was "wheels up" from BWI to Houston's Hobby Airport via St. Louis. I had seen photos from Houston and was eager to get down to help, knowing how bad it would be for those homeowners unlucky enough to be flooded. I was fortunate to join a great team of volunteers from Baltimore, assembled ad hoc via WhatsApp, primarily from two synagogues, Shomrei Emunah and Ohel Moshe. Led by Azi Rosenblum and Yair Reiner, we were blue-collar in our volunteerism but there were, among us, doctors, lawyers, financial professionals, and basketball coaches (you never know when a three-on-three game could break out!) – all there to help in whatever way they could.
At the Southwest boarding area in St. Louis, after spotting and buying a kosher pack of Big League Chew bubble gum, I got to speaking with a friendly non-Jewish couple in their 60s who were on their way to Houston as well. I informed them I was going to help those affected by Hurricane Harvey. They had been delayed in their return to Houston and figured their house would be flooded, too. They didn't seem distressed or worried. After several minutes of conversation, they generously offered me a ride from the airport directly to the Robert Beren Academy. That's where the locals were leading the efforts to assemble supplies and direct volunteers to their tasks. Chaim Goldfeder, formerly of Baltimore, and his talented staff were there, too, serving meal after meal after meal to anyone and everyone.
The Clif Bars and Powerade I had packed could wait, once I smelled his famous pulled-brisket, the smoke wafting through the sunny Texas sky. This warm, friendly Southern couple coincidentally lived within a mile of the Beren Academy! A ride in their brand-new Lexus with the AC cooling me from the legendary Texas heat saved me from the Uber I had planned to take. Truthfully, I actually figured it would work out like this….
* * *
At the Beren academy, I noticed three great flags: the United States of America, Israel, and the State of Texas. I quickly picked up some masks, gloves, eye protection, and other supplies from a well-stocked room buzzing with phone calls from locals asking for help. The room contained crowbars, hammers, and soaps, plus supplies for residents of Houston who had lost everything. Each time something was removed, it was steadily replenished. A whiteboard displayed the names of those requesting help, those being sent to help, and the status of that request. It was a bold reminder of how much lay ahead for not only the volunteers but for the entire community in the weeks and months ahead as they deal with the rebuilding of their houses, not to mention their lives, after the havoc the water had wreaked.
Within 20 minutes of arriving, a local teenager who attends the Beren Academy drove me to a spot where the first team of Baltimore's volunteers were halfway through cleaning out an elderly woman's garage of everything the water had touched. She had lived in one place for 50 years, and there was a lot of stuff. I noticed family heirlooms, books about Israel's miraculous founding, old insurance documents – all to be brought to the curb, where a Houston city garbage truck with a large claw-type add-on would pick up the waterlogged mess and throw it away as if it never existed.
I guess many of us are similar in the "things" we save. I thought of how painful it must be for her to see the memories of her life strewn to the curb like so much meaningless garbage. We must be cognizant of those emotions when doing this type of volunteer work. Again and again, we would see remnants of a life strewn amongst rotted flooring, old paint cans, soaked furniture – many of them items that only days before were feasible for daily living.
The scene on this beautiful street of ranchers was eerily reminiscent of the New Orleans neighborhoods I saw: miles of ruin on the front lawns of every house. The homeowners, if they were there at all to face the ruination, needed to remove the destroyed materials quickly, as not doing so risks all kinds of secondary damage to their health. The dangers are mold and toxic air, and, in my opinion, even more so, the emotional damage sustained when people see their material life dissolve in watered destruction.
This work required big muscles, big teamwork, and an even bigger heart. The Jewish homeowner, feeling "guilty" that she couldn't "repay" us, offered us water with her best Southern charm to give us strength to remove much of her life in the 94-degree heat. As some of her family arrived at the end of our efforts, they were awed that we came all the way from Baltimore, remarking "You came all the way from their to help fellow Jews?!" The answer, I surmise, is that this group of Baltimoreans would have gone anywhere in the world, if need be, for a fellow Jew.
* * *
Returning to the Beren Academy in our rented van, I felt gratified to be among people I had seen in Baltimore but not known personally; it felt immediately as though we were lifelong buddies. I was amazed at how quickly random teams of people who may have not known each other came together with one mission in mind: doing whatever it took, in the next 24 to 72 hours, to help with the A to Z requirements of those whose homes and lives were destroyed by the voracious floods. I remarked to my team in the van that my experience told me that the house we had just seen wasn't even terribly damaged. Some of the houses in New Orleans sat underwater for weeks and longer, and were rotted to the core, never to be occupied again. In fact, I had seen fishing boats in trees. They had been lifted by the 30-feet high water and failed to come down once the water receded. Even so, after Hurricane Harvey, three to five feet of water in a house for several days after 51 inches of rain requires the guts of the house be ripped out, from drywall to flooring.
Over the next day or two, the Baltimoreans, who arrived in two separate teams – Sunday to Monday volunteers and Monday to Tuesday voluneers – along with volunteers from other cities would help everyone from old ladies living alone with no children or grandchildren nearby to a wonderful kiruv-couple who had recently arrived from Beit Shemesh, in Israel. Their story is fascinating. He is a black-kippah-white-shirt-wearing professional web designer, a ger-tzedek of Honduran origin via Texas, and religious by way of Aish Hatorah Jerusalem. She is a giyores-tzedek by way of Tunisia. They had come to this house only two weeks earlier, with the intention to show unaffiliated Jews in Houston the beauty of Judaism.
Gil Horowitz (who smartly rented a Texas-size truck), two of his sons, and several others packed boxes so this family from Beit Shemesh could move to another area in Houston. When I saw the house they would have to move into, temporarily or otherwise, I remarked that it was perfect for a sukkah, as it had a built-in lattice structure in the patio garden. I told Yosef and his wife, the gerei-tzedek from Honduras/Tunisia/Texas/Israel, that I would gladly return on Sukkot to share a lechaim with them in a beautiful Southwestern-style sukkah.
* * *
On to the next house: a middle-aged couple, a beautiful house. We packed the kitchen goods, marked many a box "Pesach," and carried the boxes upstairs to their children's rooms. We saw sefarim, trophies, and sports collections of local Houston teams. It was a real Jewish all-American family. The upstairs, particularly in this house, had remained untouched. Not all the houses were ranchers.
In many of the neighborhoods, random locals were driving around, offering cold water, gatorade, and food to homeowners or those they found on the street helping. Many had taken their children with them. What a great way to teach their children to take action and help. Many said they had been unaffected by the hurricane and felt obligated to be active in thanks for the good fortune. One such family offering help had a Baltimore connection. Rabbi and Mrs. Esky Cook's daughter and children live in the Houston area and had coincidentally run into us Baltimore helpers. They offered us mouthwatering baked goods and cold drinks. Small world.
* * *
Off to a warehouse about half-hour away, where we met up with teams of volunteers controlling the trucks coming from faraway Jewish communities like Baltimore. They were filled with dry goods, canned and other food, bedding, and miscellaneous supplies. We formed a line of six to ten people, from the truck to inside the warehouse, and hastily unloaded several trucks into this huge warehouse. We arranged the boxes so those in need could simply show up and take what was needed to restart normal daily living.
On our way to retrieve our luggage and get one of Chaim Goldfeder's Texas-sized meals – he was now assisted by O'Fishel, who flew in to assist in the cooking! – we were thankfully allowed to use a local Houston YMCA; one of our volunteers had reached out to them. They were so kind to let our team shower, clean up, and refresh before our flight back to Baltimore, in several hours. Of course, seeing the gym, I had to step in for a brief three-point shootaround. The nets responded beautifully with several swishes! Couldn't leave Texas without hitting a three-pointer!
As for our accommodations, we were graciously hosted by many Houston Jewish families in several different neighborhoods. Seems to me I met many a former Northeasterner who moved to Houston for various reasons: the weather, the jobs, the lower housing prices, the benefit of being in the tax-free state that Texas is. Their homes had been spared the flooding, and they were wonderful to welcome us with food and drink and a comfortable setting – as if they had nothing else going on in their lives.
* * *
To speak to the difference between my trip to New Orleans in the aftermath of Hurricane Katrina and this trip to Houston's Jewish community would need several more paragraphs of intricate detail. But here are some of the major differences. The New Orleans trip was taken several months after the destruction and was arranged by the Associated of Baltimore. The Houston trip, with about 20 members of Baltimore's Jewish community, was arranged and undertaken very quickly.
The speed in which volunteers can be assembled, today, using various forms of technology, is amazing. The most important technology is WhatsApp. (Thank fellow Jew Jan Koum of Kiev, Ukraine, for inventing WhatsApp!) Within hours, the leaders of Baltimore's groups had procured supplies, rides, airline tickets, and contributions. Speed counts when desperate people await your help. The ZAKA team is an example of this speed and advance of technology, which was able to summon people from all over the world. Arriving within the week, after an 18-hour trip from Israel, a ZAKA member told me they were duty-bound to help, whether the catastrophe was 18 minutes or 18 hours away. That same help was not as readily and immediately available in New Orleans, unfortunately, as technology was not as prevalent back then.
In New Orleans, many neighborhoods felt like an atomic bomb of water had hit it, which it had. And because the city is way below sea level, it was weeks and months before all the water receded. We heard about areas that would never see houses rebuilt. Also, in New Orleans, there were few local houses to stay in. We stayed in the Touro Hospital, which seemed to be at half-capacity. At night, our team hung out in the ER lobby areas, sleeping in hospital beds. One plus I remember from that trip, though, was the incredible view of the sunset over the Mississippi from our fifth floor window. In Houston, the water, overflowed from bayous, and the 51 inches of rain affected some streets horrendously yet spared others with no more than several inches of water. And thankfully, the water subsided within 7 to 10 days.
One thing that was similar on both trips was the immense and colossal kiddush Hashem that is made each and every time Jewish people assemble to help out in times of turmoil. Whether in New Orleans, Houston, or Haiti, these desperate people would otherwise have little to no extra hands or emotional support. We are a great nation defined by volunteers of all religious levels and from different backgrounds. Meeting in new cities, they assembled to do hard work on a moment's notice. To those of you who contributed money to these efforts in the past, present, or future, know that it is greatly appreciated!