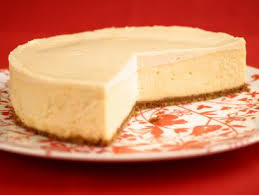 Shavuos is coming! I know, because we've been counting the omer day by day – each day meaningful, each day a chance to accomplish good. This counting of the omer reminds me that, every day, I am supposed to improve my character traits. Every day I can accomplish mitzvos and help people, even if it is only sharing a smile, and make someone else's burden just a little bit less.
One of my favorite things to share is food, and the holidays always bring many opportunities! Shavuos! It is very easy to share cheesecake, it turns out. Cheesecake is an extremely versatile "cake," but it's really not a cake; it should be considered a custard. In fact, if you place a water bath in your oven (a pan filled with about an inch of water under the rack where the cheesecake is), this will make the temperature in your oven more even (and humid) and help the cheesecake cook more evenly.
* * *
Cheesecake Factory Oreo Cheesecake (Adapted from Food.com)
People tell me they like my recipes because they're easy. Well, here's an exception. This cake is a bit more complicated, but it is a stunner and is delicious and rich.
Chocolate Cake Layer
If you have a favorite chocolate cake recipe, you can use it for the chocolate cake layer.
9 T. sugar
1 egg
1⁄2 tsp. vanilla
2 T. vegetable oil
1 T. shortening
1⁄4 c. water
1⁄2 c. all-purpose flour
3 T. Hershey's cocoa powder (not dark)
1⁄2 tsp. baking powder
1⁄4 tsp. baking soda
1⁄4 tsp. salt
chocolate icing
Oreo Cheesecake Layer
1 1⁄2 c. heavy cream
1⁄2 c. sugar
1 tsp. vanilla extract
16 oz. cream cheese, softened
Oreo cookies, original (not double stuffed)
Oreo Mousse Layer
1/4 oz. unflavored kosher gelatin (Willigers is a kosher fish gelatin)
1⁄2 c. hot water
2 oz. white baking chocolate
1 egg yolk
1 1⁄2 tsp. corn syrup
1 T. milk
1 1⁄2 c. heavy cream
10 Oreo cookies, crushed
Chocolate Ganache Layer
1 egg
3⁄4 c. heavy cream
1⁄4 c. sugar
1⁄2 tsp. vanilla extract
1 1⁄4 c. semi-sweet chocolate chips
6 oz. mini-chocolate chips (1/2 bag)
Preheat the oven to 350 degrees F. Combining the sugar, egg, and vanilla in a medium bowl and mixing with an electric mixer on high for 2 minutes. Add oil and shortening and mix well, then add water and mix until smooth.
In another medium bowl, combine the flour, cocoa powder, baking powder, baking soda, and salt. Pour this dry blend into the bowl with the wet ingredients and mix until smooth. Pour into a well-greased 10-inch spring form pan and bake for 25 minutes.
While the cake is in the oven, prepare chocolate icing. Once the cake is completely cool, spread icing over the top of the cake, reserving some for garnishing the cake later. Freeze cake with icing for 1 hour.
* * *
Prepare the Oreo cheesecake layer by mixing the heavy cream, sugar, and vanilla in a medium bowl with an electric mixer on high until the cream forms stiff peaks. Mix in the softened cream cheese until smooth. Spread 1/3 of the mixture over the icing on the cake. Place whole Oreo cookies in a single layer across the entire cake. Follow with the remaining cheesecake mixture. Chill for 1 hour.
* * *
Make the Oreo mousse layer by mixing half a packet of the powdered gelatin with the hot water. Refrigerate until set. Once set, place in cold water to soften gelatin enough to loosen it from the pan. Place softened gelatin into a double boiler and melt.
In a separate double boiler, melt the chocolate, being careful not to burn it. Add melted chocolate to gelatin and mix well. Whip egg yolks by hand in a small bowl to soft foamy peaks. Meanwhile, bring honey to a boil. Pour hot honey onto the yolks, stirring constantly. Fold the melted chocolate into the yolk mixture. Heat the milk in a small saucepan. Stir the milk into the chocolate mixture.
In a large bowl, whip the cream to soft peaks and fold into the chocolate mixture. Add the crushed Oreos to the mixture and mix well. Pour enough mousse over the cheesecake layer to form a layer about a half-inch thick. There may be mousse left over. Chill for at least 2 hours or overnight.
* * *
Prepare chocolate ganache layer by whisking together the egg, cream, and sugar in a medium metal bowl. Set the bowl over water that is simmering in a medium saucepan over medium/low heat (you can also use a double boiler for this) and whisk for 6 minutes, or until thick. Remove the bowl from the heat, add the chocolate chips (not the mini-chocolate chips), and mix with a spoon until smooth. Spread over the Oreo mousse layer. Chill at least 1 hour.
* * *
Load the reserved chocolate icing into a piping bag. Remove cake from springform pan and pipe icing into 12 even circles around the side of the cake. Lay half an Oreo cookie with cream filling removed onto each mound of icing. Press mini-chocolate chips around the sides of the cake. Press firmly so that the chips stick. Chill the cake for at least another hour, then use a serrated knife to cut the cake into 12 slices. Serve with a mound of whipped cream and Oreo cookie pieces to the side.
Delicious Easy No Bake Granola Bars recipe
I met some lovely women who started a tahini company called Soom. I modified my granola bar recipe for my friend's children who are allergic to peanut butter. This recipe is easy for my kids to prepare (and super-easy for them to eat). These bars are super versatile; you can make them with your favorite fruit (or no fruit at all), favorite nut butter, and chocolate chips. (I always say yes to chocolate chips!)
2 c. Rice Krispies (or other rice cereal)
1 1/4 c. uncooked, quick-cooking oats
1 c. chopped dried craisins and apricots (or any dried fruit)
3/4 c. chopped cashews (or any nut)
1/2 c. honey
1/4 c. brown sugar
1/2 c. Soom tahini (you could use any tahini but Soom really is delicious)
1/4 c. chocolate chips (optional)
Combine Rice Krispies, oats, fruit, and nuts in a large bowl. In a small saucepan mix the honey and brown sugar and heat to a simmer. Remove from heat and stir in the tahini. Pour the tahini mixture over the cereal mixture and stir until coated. Spray your fingers or the spatula with Pam and press into a sprayed 9x13 pan or sprayed mini-muffin tins.
You can make these a little fancier by drizzling chocolate on top. Melt 1/4 c. chocolate chips. Put the melted chocolate into a ziplock bag and close. Snip a small hole in one of the bottom corners and then drizzle on bars.
Cut into 12 to 24 bars and store in the refrigerator.
Banana Bread
Since I bought some Soom tahini, this banana bread has the added punch of sesame flavor and contains calcium, magnesium, thiamin, and a bunch of good stuff in it.
3 extremely ripe bananas, mashed
1/4 c. oil
1/4 c. Soom tahini
2 eggs
1 tsp. vanilla extract
2 c. all-purpose flour
1 tsp. baking soda
1 tsp. baking powder
1/2 c. sugar
1 tsp. salt
Preheat the oven to 350 F. Line a loaf pan with parchment paper. In a large bowl, combine the mashed bananas with the oil and tahini, stirring to combine. Mix in the eggs and vanilla. Set aside. In a separate bowl, combine the flour, baking soda, baking powder, salt, and sugar. Fold the dry ingredients into the wet. Pour the batter into the prepared loaf pan. Bake for 60 minutes or until a knife inserted in the center comes out clean. Allow to cool for 15 minutes before removing from pan.
Cheesecake Topping
If you are looking to not have a whole cheese cake but just want cheesecake flavor without eggs.
3/4 c. sugar.
8 oz. cream cheese.
In a quart-size saucepan heat the sugar over medium heat. The sugar will melt on its own (try not to stir until all the sugar has turned into a liquid). Once the sugar has liquefied, add the cream cheese. Stir constantly for about 10 minutes until the sugar has caramelized into a gorgeous golden color. You now have a delicious spread to go on top of your banana bread, any bread, or drizzled on top of a dessert.
Bracha Shor is the co-owner of Sweet and Good Catering, which specializes in kosher gourmet exotic foods. Contact her at bshor@sweetandgoodcatering.com.