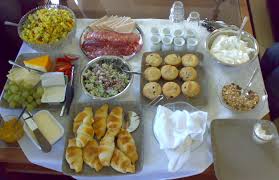 Mazel tov! You've agreed to host a sheva brachos. As always, let me just remind you that everyone coming just wants to have a good time, so whatever you do, they'll enjoy it and be so grateful to you for hosting. Here are some different and fun recipes to showcase your fun and frisky side as you wish the happy new couple years of simchas.
Cucumber and Salmon Appetizer
I love rolling things in cucumbers. If you don't have a mandoline (a very fun tool that you can get online or at Bed Bath & Beyond), you can use a peeler to peel strips of cucumber, just make sure your cucumber is not larger than your peeler.
3 English cucumbers
12 2x1x1-inch salmon rectangles, steamed
2 T. hummus
fresh dill
fresh lemon juice
kosher salt
fresh dill, for garnish
Take your mandoline and strip off a peel of English cucumber, then peel again in the exact same place. The second strip should be wider and have green edges. Peel 3 to 4 slices. Rotate the cucumber and repeat the process.
At one end of the cucumber slice (with the green side facing out), place 1 salmon rectangle with 1 teaspoon of hummus on top. Spritz a little lemon juice on it and sprinkle with a little kosher salt. Roll up the cucumber. If it doesn't stay rolled, pierce it with a toothpick to keep it in place.
Repeat for all of the salmon rectangles. Garnish with fresh dill. Serves 6.
Baked Chicken and Pumpkin Waffles
Full disclosure: I just got a Belgian waffle maker and I'm a bit obsessed. Belgian waffles are delicious – with fresh strawberries and whipped cream, with chocolate, with bananas, maple syrup – the toppings are as endless as the recipes for the waffles themselves. Since I have waffles on my mind, my friend C. E. suggested making pumpkin waffles! I thought, Let's do a fun chicken and pumpkin Belgian waffles main course for a sheva brachos.
I totally thought this dish was from the South. Hold on to your hats, folks – it originated with the Pennsylvanian Dutch in the 1600s! They had waffles and pulled chicken with gravy. This current incarnation of the dish seems to be from Harlem in the beginning of the 19th century, and now there are a bunch of fast food restaurants that serve the waffle and chicken combination. The crispy waffle with some maple syrup and fried chicken are just delicious. For my recipe below, I baked the chicken.
This recipe is considered comfort food for some, but completely exotic and fun for most of us! (Just make sure your waffle maker is pareve if you're going to try this combo.)
Pumpkin Waffle
2 c. flour
1 T. baking powder
1 t. cinnamon
1/2 t. nutmeg
1/2 t. cloves
1/2 t. salt
3 T. cornmeal
1/4 c. oil
1 egg
1 c. Rich's Whip
3 T. brown sugar
1 c. pumpkin puree
Baked Chicken
1 whole chicken, cut up
2 T. oil
2 c. cornflake crumbs
1/4 c. crushed pecans
2 t. salt
pepper, to taste
1 egg
1 c. almond milk
Garnish
1/2 c. maple syrup or honey, or a honey-mustard sauce
fresh parsley
For the waffles: Blend together flour, baking powder, cinnamon, cloves, nutmeg, salt, and cornmeal. In a separate bowl, whisk together oil, egg, Rich's Whip, brown sugar, and pumpkin puree. Add the wet ingredients to the dry and fold together gently (don't overmix, or the waffles will be tough).
Make the waffles according to your waffle maker's directions. If you prepare them in advance, put them on a cookie sheet and heat them at 350 degrees for 20 minutes to have them warm and crispy. Cut each waffle in quarters and place 1/4 of a waffle on each plate. (This recipe will give you 2 waffles, or 8 servings.)
For the chicken: Preheat oven to 375 degrees. Place 2 T. oil in a large baking dish. Mix together cornflake crumbs, crushed pecans, salt, and pepper. In a separate bowl, whisk together egg and 1 c. almond milk.
Pat the chicken dry. Dip each piece of chicken in the egg mixture and then dredge in cornflake crumbs, coating evenly. Place in the baking dish. Bake for 40-45 minutes until crispy. Turn once during baking (around the 20-minute mark).
To serve, put the waffle on a plate with a piece of chicken on top. Drizzle maple syrup or a honey-mustard sauce (1 part honey to 1 part mustard) on top. Garnish with some fresh parsley.
Carrot Bundles
If you bundle anything with a green onion, it looks fancy and yummy. This will add a nice splash of color to your chicken and waffle plate!
2 medium carrots, peeled
1/4 c. water
1 t. lemon juice
1 t. sugar
1/2 t. garlic, minced
6 green onion strips
pot of boiling water, for shocking onions
Cut the carrots into 2x1/4-inch strips. Combine carrots, water, lemon juice, sugar, and garlic in a saucepan and cover. Cook over medium heat for 6-8 minutes or until carrots are tender but still crisp. Remove the carrots from the water and set aside in a bowl.
Trim off the top white portion off the green onions. Place the greens in a colander and add boiling water to shock them (this makes them more pliable). After 5-10 seconds, remove the green onions from the water and run them under cold water to stop the cooking process.
Gather 4 carrot strips into a bundle and tie with an onion strip. Repeat the process with the remaining carrots. Serves 6.
Chocolate Trifle
I love trifle – everyone loves trifle. Once it's individualized in little cups, it looks incredibly fancy. This recipe is another one that your children can help you with – it's an easy process once you have all the parts together. You can add fresh fruit (bananas, cherries, strawberries), and you can substitute cake or even cookies for the brownies.
your favorite brownie recipe
whipped cream (or whipped Rich's Whip)
chocolate syrup
crushed candy bar (like peanut chews, or use chocolate chips or lentils)
maraschino cherries (or real cherries, which are much healthier!)
Take an 8-oz. cup (like a plastic wine goblet) and use it as a cookie cutter to cut 6 circles into the brownies. Drizzle some chocolate syrup into the bottom of each cup. Add a 1/2-inch layer of brownie. (If your brownie is too tall, cut the circle in half horizontally.) Top with a 1/2-inch layer of whipped cream and sprinkle the crushed candy bar on top. Drizzle with some more chocolate syrup. Repeat the process, finishing with chocolate syrup and then a cherry on top. Serves 6.
Bracha Shor is the owner and executive chef of Sweet and Good Catering. She can be contacted at bshor@sweetandgoodcatering.com. Questions and comments are welcome.