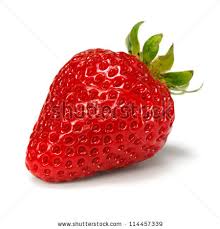 What I like most about strawberries – aside from their terrific taste, high nutrient content, and culinary versatility – is their year-round availability. You can always find strawberries, either fresh in the produce section or frozen, whole or sliced, in the frozen foods aisle.
An interesting trend reported on strawberrynutritionnews.com is that the fresh fruit is now the top snack consumed by boys and girls ages two through 12. A study by a New York-based marketing organization called the NDP Group found that "cookies are crumbling out of favor as the top snack for children" and that fresh strawberries are among the most kid-friendly fruits.
In short, strawberries are both lauded by health experts and loved by youngsters: a nutritionist's dream. One factor that makes them a nutritional powerhouse is their high antioxidant content. Antioxidants are vitamins, minerals, or phytochemicals that naturally occur in many fruits and vegetables. They help protect against oxidative stress and inflammation that can damage cells and DNA. Without this protection, the risk of chronic diseases and other health problems spirals upward.
In addition to being rich in vitamin C, one of the best-known antioxidants, strawberries have a highly absorbable phytochemical that is part of the flavonoid family, called anthocyanins. These antioxidant compounds are what give strawberries their red color. (The anthocyanins in blueberries give them their blue color.)
Most of the research on strawberries has focused on their ability to ward off cancer and heart disease. Some research has looked at brain health, as well. Here's a small sampling of recent studies:
A team at Oklahoma State University found that diet supplemented by freeze-dried strawberries in 60 overweight or obese adults cut levels of total and LDL ("bad") cholesterol.
Spanish and Italian researchers added 3.5 cups of fresh strawberries to the daily diets of 23 healthy men and women for one month and found sizable improvements in total cholesterol, LDL cholesterol and triglycerides.
Harvard researchers studying more than 93,000 participants in the Nurse's Health Study found that women who ate more than three servings of strawberries or blueberries weekly had a lower risk of heart attack than women who did not.
According animal research by the Human Nutrition Research Center for Aging at Tufts University, eating the daily equivalent of a pint of strawberries is one way to lessen the effects of brain aging, such as poorer communication between neurons.
A team of Bulgarian researchers found that strawberry extracts inhibited lung tumors in mice. They concluded that the berries exerted their protective effect through a complex interaction of various beneficial compounds.
As you can see, when it comes to eating fruit, strawberries give you about as much bang for the buck, nutritionally, as you can get.
Some may ask, but what about pesticides? Unfortunately, notwithstanding their stellar nutritional profile, strawberries have made the "dirty dozen" list in the past for being among the fruits and vegetables with the highest levels of pesticide residues. Going organic is certainly one option, but it can be a bit pricey. Experts say that simply washing the fruit helps remove some residual pesticides, along with dirt and bacteria, but won't get rid of chemicals that have seeped inside the fruit. Commercial produce washes are available, but there's little evidence they are more effective than water at removing pesticides. The Star-K recommends a thorough washing and checking process for fresh strawberries – you can learn more at www.star-k.org/kashrus/kk-BugsRevisited.htm – and this is likely to help the pesticide issue as well.
All in all, the consensus of many nutrition organizations is that there's a net benefit to consuming more fruits and veggies, organic or conventional, and not being paranoid about pesticides. I tend to agree. Consuming more fruits and vegetables in general – strawberries included – is a prudent investment in your health.
In that spirit, here are a few healthy and refreshing recipes that feature strawberries:
Saucy Summer Fruit Salad
This is a simple summer fruit salad inspired by a recipe I saw on Allrecipes.com.
2 c. sliced strawberries
1 c. blueberries
2 large peaches, peeled and cut into chunks
2 bananas, sliced
3 tsp. lemon juice
Orange-Yogurt Sauce

1 c. vanilla yogurt or plain unsweetened yogurt with ½ to 1 tsp. natural sugar or honey or stevia to taste (or use cultured coconut milk, which is the consistency of yogurt)
2 T. frozen orange juice concentrate
Combine fruit and lemon juice. In a small bowl, mix yogurt and orange juice concentrate. Put fruit in a large glass bowl or 4 to 6 small bowls or parfait glasses. Drizzle sauce over fruit.
Fresh Strawberry Shake
Enjoy this dairy or pareve version of a recipe found on realsimple.com.
1 pound (about 3 1/2 to 4 c.) strawberries, hulled
1/2 c. milk (dairy or non-dairy such as coconut or rice)
1 pint vanilla ice cream or frozen yogurt (dairy or non-dairy)
Combine the strawberries, milk, and ice cream in a blender. Blend until mostly smooth with some pieces of strawberries remaining, about 10 to 15 seconds depending on your blender. Divide among four glasses and serve immediately.
"Healthified" Strawberry Shortcakes
This is another one from myrecipes.com but with some tweaks incorporating whole foods.
3 1/2 c. halved strawberries
1/3 c. natural sugar (Sucanat or Florida Crystals)
1/3 cup orange juice
2 tsp. vanilla extract
1 tsp. lemon juice
1 1/4 c. whole grain flour (wheat, spelt or gluten-free blend)
3 T. natural sugar (see above)
1 tsp. baking powder
1/4 tsp. baking soda
1/8 tsp. salt
3 T. chilled butter or non-dairy substitute such as Earth Balance vegan shortening or coconut oil
1/2 c. buttermilk or non-dairy (rice or almond) milk mixed with 1/2 tsp. lemon juice
6 T. vegan "Cool Whip" (see recipe below)
Whole strawberries for topping
Combine 1 c. strawberry halves, 1/3 c. sugar, orange juice, vanilla, and lemon juice in a bowl, and mash with a potato masher. Stir in 2 1/2 c. of strawberry halves. Cover and chill. Preheat oven to 425°. Lightly spoon flour into a dry measuring cup and level with a knife. Combine flour, 3 T. sugar, baking powder, baking soda, and salt in a bowl; cut in butter or substitute with a pastry blender or two knives until mixture resembles coarse meal.
Add buttermilk, stirring just until moist (dough will be sticky). Turn dough out onto a lightly floured surface and knead lightly four times with floured hands. Pat dough into a 6x4 rectangle. Cut dough into six squares. Place 1 inch apart on a baking sheet lined with parchment paper.
Bake at 425° for 12 minutes. Cool on a wire rack. Split shortcakes in half horizontally using a serrated knife, plate each bottom half on a dessert plate. Spoon 1/4 c. strawberry mixture over each bottom half. Top with the remaining half of the shortcake. Spoon 1/4 c. strawberry mixture over each top. Top each serving with 1 T. vegan cool whip and garnish with whole strawberries if desired.
Vegan Cool Whip
I found this recipe on detoxinista.com.
1 can full-fat coconut milk, chilled overnight
1 T. pure maple syrup
1/2 tsp. vanilla extract
Mason or similar glass jar, chilled in freezer for about 10 minutes
Remove the chilled can from the fridge, being careful not to shake it. (You want the cream that floats to the top to stay separated from the liquid portion at the bottom.) Carefully open the can and scoop the thickened cream into the chilled Mason jar. The amount of cream may vary in each can, but you should be able to get about a cup. (Save the remaining liquid in the can for a morning smoothie!) Add the maple syrup and vanilla extract to the heavy coconut cream, then screw the lid onto the jar. Shake vigorously for 3 to 5 minutes, until the cream is thickened and fluffier in texture. Serve immediately over your favorite fruit or dessert. Leftovers can be stored in a sealed container for at least a week in the fridge. The cream will thicken even further when chilled.
Strawberry-Smash Muffins
These are easy-to-make muffins, a perfect baking project for kids. The recipe is adapted from one I found on Food.com.
2 c. strawberries, fresh or defrosted and drained
1/2 to 2/3 c. natural sugar (Sucanat or Florida Crystals)
1/3 c. good-quality oil (olive, grapeseed, walnut, or melted coconut)
2 eggs
1 c. whole grain flour (wheat, spelt or a gluten-free blend)
1/2 c. ground/milled flax seed or ground chia (sold as Salba)
1/2 tsp. baking soda
1/2 tsp. salt
1 tsp. cinnamon
Heat oven to 425°. Put a paper baking cup in each of 12 regular-size muffin cups. Slightly smash strawberries in large bowl, using a fork. Stir in sugar, oil, and eggs until mixed. Stir in other ingredients just until moistened. Spoon batter into muffin cups. Bake 15 to 18 minutes or until light gold brown or toothpick poked in center comes out clean. Cool 5 minutes. Loosen sides of muffins from pan, and take them out of the pan. Makes 12 muffins.
Lauren Mirkin, CNS, LDN, LCPC, is a licensed nutritionist and professional counselor. She provides nutritional counseling at the Johns Hopkins Integrative Medicine and Digestive Center at Green Spring Station. Contact her at 443-326-7023 or holisticnutritionhelp@gmail.com.