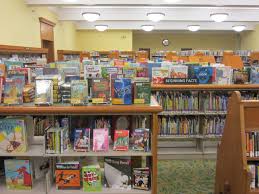 Baltimore County Public Library offers a wide variety of activities for your children this summer. I'd like to mention some of them.
Let's start with our youngest customers. Whether for the summer or year round, all branches of Baltimore County Public Library offer "Baby Storytime" for ages birth through two years with an adult, and "Preschool Storytime" for ages two to six with an adult. These programs incorporate reading books, rhymes, singing songs, and playing – through which librarians expose children to vocabulary words and encourage parents to do the same. Librarians help increase language awareness by modeling for parents how to employ books with very young children: using words in a variety of ways; incorporating language with movement, music and art; and exposing children and adults to voice inflection. All of these are important skills that foster literacy.
In addition to the regular Storytimes, the Owings Mills branch offers bilingual (English/Spanish) "Baby Storytime" and "Preschool Storytime" on Friday mornings. The Pikesville branch offers "Toddler Storytime" for ages two to three with an adult. This program takes place on Friday mornings. Registration is required. Additional fun story times are being offered at Owings Mills, Pikesville, and Randallstown. Please check our website www.bcpl.info , or call the branch for details. All the "Baby Storytime" programs require registration.
One very popular library destination for small children is Storyville, a child-sized "village" designed specifically for children birth to five and their caregivers. Preschoolers can play in its themed learning areas, which include the Baby Garden, Toddler Woods or Toddler Bay, a grocery store, mailroom, puppet stage, home living area, and construction zone. There are two Storyvilles – one at the Woodlawn branch and one at the Rosedale branches of the library.
For our school-age children, it's very important to keep them reading and engaged throughout the summer, so that they don't lose the progress they've made during the school year. We can help with that. All of our branches are offering STEAM programs – Science, Technology, Engineering, Art, and Math activities, which are sure to be a hit with your child. "LEGO Fun" will be offered at all three branches. Registration is required. Each branch is offering additional STEAM programs throughout the summer. Be sure to check for more details.
At Randallstown Branch
The Randallstown branch is offering "Science in the Summer" for grades two to six. In-person registration for this program begins on Monday, June 20, and the program runs from July 18 to 21. They are also offering "Maker Days" every Tuesday from June 21 to Aug 16 at 1:00 p.m. These librarian-guided sessions cultivate inspiration, creativity, and problem-solving skills in your child. All ages (children under eight with an adult) are welcome.
Also at Randallstown will be the "Modern Pop Art Experience." Children will create modern art collages using recycled cardboard with artist Michael Albert. Participants are introduced to a wide range of modern art by the artist, followed by a fun, interactive workshop: Thursday, July 21, 6:30 to 8:30 p.m. For ages 6 to 17 (children under 8 with adult). Registration is required.
"Let Us Teach You Chess" will be offered at the Randallstown branch as well. Learn techniques to improve your endgame and set up a winning attack. Our instruction prepares you for the culminating chess tournament on August 9, with prizes awarded to first, second, and third place finishers and best in class. For ages 11 to 17. Sponsored by the Friends of the Randallstown Library. Classes will be held on Tuesdays from 3:30 to 4:30 and run from June 28 to August 9. Registration is required.
At Owings Mills Branch
The Owings Mills branch is hosting the "Nano Exhibit," on loan from Port Discovery Children's Museum. Nano is an interactive exhibition that engages family audiences in nanoscale science, engineering, and technology. Hands-on exhibits present the basics of nanoscience and engineering, introduce some real world applications, and explore the societal and ethical implications of this new technology. On Thursday, June 23 at 2 p.m., there will be a "Nano 101" program presented by Port Discovery Children's Museum for children ages 6 to 11 (children under 8 with an adult.) Registration is required.
Pikesville Branch
The Pikesville branch will be offering "Make a DoodleBot" on Tuesday June 28 at 2 p.m. You can create a motorized robot that draws. Space is limited. Tickets will be given out 30 minutes before the program.
On Sunday June 26 at 12 noon, the Pikesville branch will offer a "Sensory Summer Reading Club Introduction." This is geared to all ages (children under 8 with an adult). If you are apprehensive about bringing your special needs child to the library, take this opportunity to explore, relax and acclimate to the branch for 60 stress-free minutes before the doors open to the public, while learning about the Summer Reading Club.
"Family Game Night" at Pikesville, "SPORT-tacular Magic" with Magician Mike Rose at Owings Mills, and "Learn to Juggle Workshop" at Randallstown are some of the other programs that provide fun and learning for the entire family.
Summer Reading Club
What is Summer Reading Club?
Summer Reading is a recognized literacy/programming activity held in most public library systems across the nation. In Maryland, SRC is typically an eight-week free library reading program, taking place from June through August, that is available to all children and youth from birth through high school as well as adults. It is designed to promote and nurture continued learning and development in fun ways over summer vacation.
libraries are members of the Collaborative Summer Library Program (CSLP), which provides a central summer reading theme and support materials that are shared among public libraries in most states. But in practice, it is much more than that.
SRC is an important part of a child's summer literacy experience, preventing "summer slide," the loss of important reading skills that children have gained during the school year. The "summer slide" effect is well documented by research, which has shown that children who don't read and participate in enriching experiences over the summer months lose valuable skills gained during the school year and that the loss is accumulative throughout a child's school life.
At Baltimore County Public Library, Summer Reading Club has been taking place for over 37 years – which translates into a staff with much experience and expertise in creating an exciting and successful reading program for kids. An important partnership with schools, parents, caregivers, and other children's advocates, SRC provides an enjoyable recreational reading experience inclusive of all children.
For school-aged youngsters, public libraries are able to keep students engaged in "joyful learning" over the summer by responding to each child's interests and giving them experiences they may not have during the school year. By encouraging youngsters to read for their own pleasure and interests through participation in the summer reading club, libraries help children stay engaged in reading.
Summer Reading Club Specifics
SRC officially begins on June 20 and ends August 14. This year's theme is about fitness: Healthy Body, Healthy Mind. There are four levels of participation, and participants can earn prizes for reading books throughout the summer. They are:
Birth through Five Years Old (Read-to-Me)
Elementary School
Middle and High School
Adult (Prizes including Fit Bit and gift cards)
Make a Difference to Children Week
During Make a Difference to Children Week, July 18 to 22, children are invited to visit a BCPL branch and read to a librarian or tell a librarian about a book they read to receive a bonus prize. Take a photo with a librarian and post it on social media tagging BCPL and using hashtag #bcplsrc to win tickets to an Orioles game.
As you can see, Baltimore County Public Library is the place to explore, create, learn and connect. Be sure and visit us over the summer and all year round.
I have only included information about our three local branches. To see a full schedule of offerings, please visit your local branch or check our website at www.bcpl.info. For those programs requiring registration, you can register in person or online. Look under "events," select the branch you want to visit, click on the event, and fill out the registration. You may also visit or call the branch, and staff will assist you. Here are the phone numbers of our local branches: Owings Mills, 410-887-2092; Pikesville, 410-887-1234; and Randallstown, 410-887-0770.
Barbara-Salit Mischel is Manager of the Owings Mills Branch of Baltimore County Public Library.