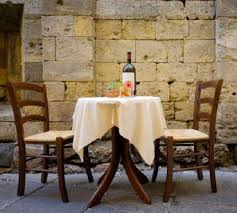 Full disclosure: I edited this cookbook a year ago for Israel Bookshop Publications. So when the Where What When asked me to review it, I jumped at the chance. This has become my newest go-to cookbook – in fact, I was printing the recipes from my computer long before I got the hard copy of the book! And every single one of them has been a winner: delicious and different but at the same time familiar and straightforward.
Rivka Parizad, a proud Baltimore resident (albeit transplanted from New York), has done a magnificent job with Table for Two, which covers all the basics: breakfast, lunch, and supper; meat, fish, and dairy mains; Shabbos meals and desserts. As she shares in her introduction, early in her married life she found herself serving as a resource to her friends as they transitioned to wifehood and faced the daunting question, "Help! Do I have to make dinner every night? How do I do that?" For young marrieds, who are used to Mommy making the food, being responsible for putting supper on the table every night can be quite an adjustment. As Rivka advised and coached, she gradually realized that a cookbook just for kallas would be an invaluable resource.
And she was right. Filled with popular and up-to-date recipes like Sweet and Spicy Chicken Poppers and Rosemary Garlic Sweet Potato Fries, as well as advice on how to make cholent for two people and what to do with leftover challa, Table for Two is the perfect cookbook for every newlywed. But it's also a great tool for anyone who just wants new, current, and down-to-earth recipes, like the veggie sides, Shabbos dips, and salads galore that fill the pages of this treasure trove.
One caveat: If you're not actually cooking for two, you may need to double or even triple some of the recipes in these pages. But if you're looking for that perfect gift for a kalla, or you want to upgrade your own Shabbos or weekday menu without having to buy any exotic ingredients, try Table for Two. You won't be disappointed.
Here's a small sampling of Rivka's recipes. Two of them have already become staples in my house (I won't tell you which ones). Enjoy!
Garlicky Zucchini Soup
Pareve
Yield: 4 servings
Whenever I can, I like to keep the peel of the zucchini on. Whether it's a zucchini soup, muffin, or soufflé, I like the contrast in color that it gives. In this soup, the peel gives the soup a nice flecked look.
1 T. oil
1 onion, diced
3 to 4 cloves garlic, crushed
3 large zucchini, sliced
2 potatoes, peeled and cubed
3 c. water
1 T. chicken soup mix, MSG free
1/2 tsp. salt, or to taste
1/2 tsp. garlic powder
1/8 tsp. pepper
Heat the oil in a 3-quart pot and sauté the onion, garlic, zucchini, and potatoes for 3 to 5 minutes. Add the remaining ingredients, cover, and bring to a boil. Lower the heat and allow the soup to simmer for 1 1/2 hours. Remove from heat and blend the soup to desired consistency. For a chunkier soup, reserve some of the diced vegetables before blending. After blending the soup, return the chunks to the soup.
Balsamic Barbecue Chicken
Meat
Yield: 2 servings
A simple blend of everyday ingredients makes for an extraordinarily delicious dinner!
2 to 3 chicken legs or 6 drumsticks, skinned
1/4 c. barbecue sauce
2 T. balsamic vinegar
1 T. light brown sugar
1 tsp. yellow mustard
1/2 tsp. garlic powder
1/8 tsp. pepper
Preheat oven to 400°. In a small bowl, mix the barbecue sauce, balsamic vinegar, brown sugar, mustard, and spices. Place the chickens in an 8-inch square dish (or 9x13-inch dish if using 3 chicken legs) and brush a third of the sauce on the chickens. Bake uncovered for 45 minutes. Remove the chicken from the oven and brush on another third of the sauce. Return to the oven for an additional 25 minutes. Remove the chicken from the oven again and brush the chicken with the remaining sauce. Raise the heat to 425° and bake for an additional 5 to 10 minutes.
Teriyaki Honey Vegetable Stir-Fry
Pareve
Yield: 2 to 3 servings
Teriyaki and honey are a surprisingly delicious pair. The light undertone of teriyaki and honey complement the vegetables beautifully.
1/2 T. oil
8 oz. fresh mushrooms, thinly sliced
1 large carrot, sliced in 1/4-inch rounds
1 1/2 T. teriyaki sauce, divided
1/2 T. honey
1/2 T. water
1 clove garlic, crushed
1 c. frozen broccoli florets, slightly thawed
1 red pepper, sliced in 1/2-inch strips
In a medium-sized skillet, heat the oil and sauté the mushrooms until they have browned and shrunk to half their size. Add the carrots and sauté over medium heat for 3 to 4 minutes. In a small bowl, mix together 1 T. teriyaki sauce, honey, water, and crushed garlic. Add to the skillet along with the broccoli and red pepper. Sauté over high heat for 5 to 7 minutes, mixing occasionally. Add the remaining 1/2 T. teriyaki sauce and toss.
For a crunchy stir-fry, turn off the heat and serve. For a soft stir-fry, cover and continue cooking over low heat for an additional 10 to 12 minutes. Turn off the heat and keep the vegetables covered for another 10 minutes.
Apple Trifle with Strawberry Sauce and Crunch
Pareve
Yield: 12 mini-trifles or 1 large trifle
This trifle has all the components of a perfect dessert. It looks gorgeous, it's easy to make, it's low on fat and sugar, and most importantly, it tastes divine! To make a smaller amount, see tip.
3 red apples, unpeeled and diced
3 green apples, unpeeled and diced
3 yellow apples, unpeeled and diced
1 20-oz. can crushed pineapple (do not drain)
Crunch
3/4 c. chopped almonds
1 c. crisp rice cereal
1/2 c. light brown sugar
1/2 c. oil or trans-fat-free margarine, room temperature
Strawberry Sauce
1 lb. frozen strawberries
4 T. confectioners' sugar
1 T. vanilla sugar
For the crunch, preheat oven to 400°. In a medium-sized bowl, combine the chopped almonds, crisp rice cereal, and brown sugar. Sift together, and then knead in the oil or margarine until the mixture has reached a crumbly consistency. Spread on a baking sheet lined with parchment paper. Bake for 12 to 14 minutes. Allow the crunch to cool slightly, then crumble into small pieces.
To make the strawberry sauce, combine all the sauce ingredients in a blender or food processor and blend until smooth. In mini-trifle bowls, layer the red apples, then the green, and then the yellow. Place about 2 1/2 T. crushed pineapple at the top of each trifle and spread over the top. Immediately before serving, top with strawberry sauce and crunch.
Tip: Although this recipe is enough for 12 mini-trifles, you can easily make only four individual trifles by using just one red apple, one green apple, and one yellow apple. Freeze the remaining crunch, strawberry sauce, and crushed pineapple, and the next time you want to serve it, all you'll have to do is chop up the apples!