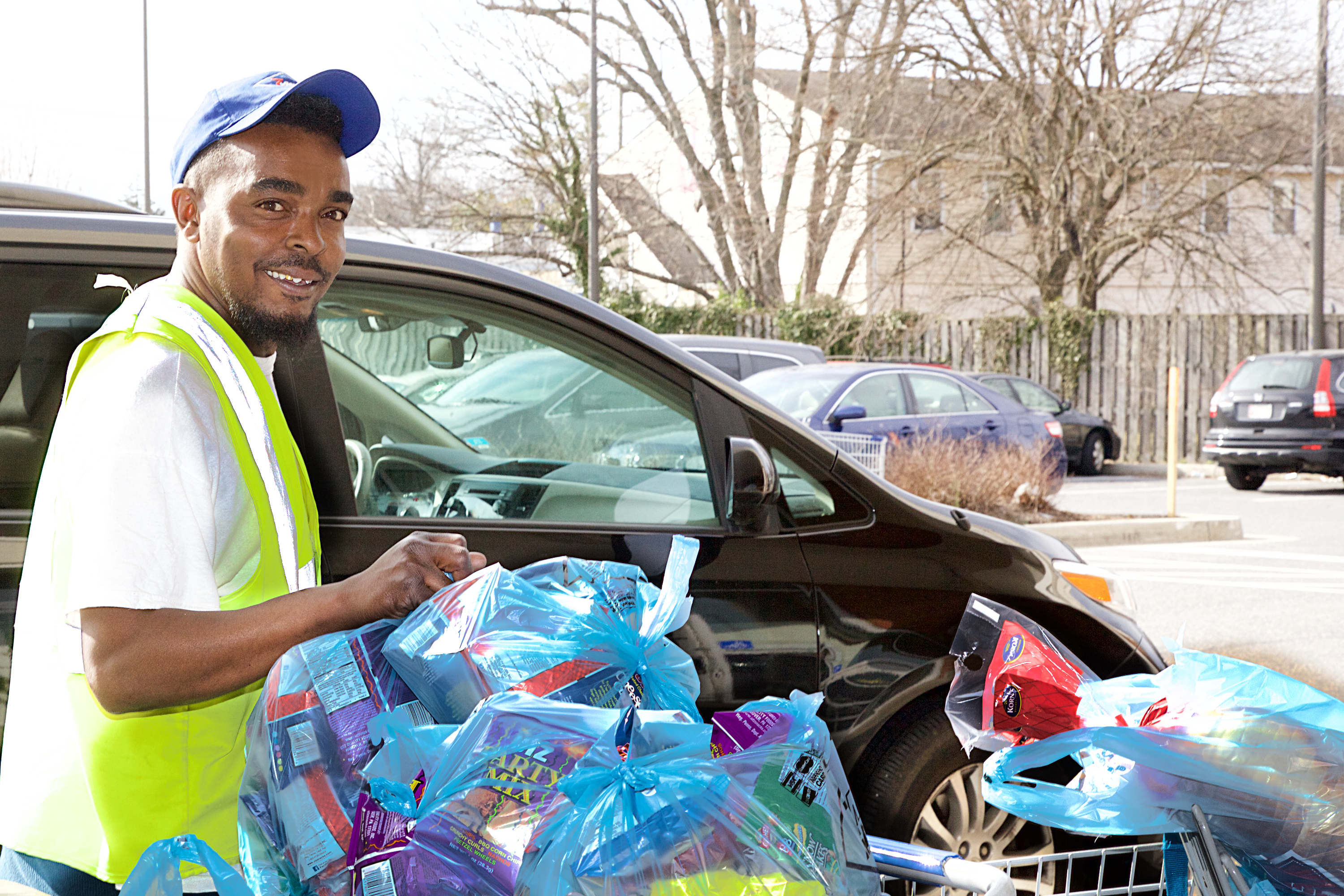 How many of us take the time out of our busy lives to recognize those who help us? They may be home health companions, waiters and waitresses, grocery baggers, shopkeepers, and even neighbors. All of them give us a helping hand. Here is just a small sampling of the many wonderful people who go above and beyond duty in aiding members of our community with a warm smile and a full heart.
Bags Are his Business
If you've shopped at Seven Mile Market, you know Lamont. Like the proverbial postman, Lamont has been loading customers' vehicles with the familiar blue bags 40 hours a week in rain or snow, sleet or heat. Yossi Lax, a fellow employee, remarks, "People really love Lamont because he knows what everyone needs and even remembers where they parked their car. On erev Shabbos or Yom Tov, he knows exactly what to say: "Have a good Shabbos!' or 'Have a good Yom Tov!' I would call him 'Lamentsch' because he is a mentsch. I don't remember a Friday that he didn't buy flowers to bring home to his wife."
"The thing I like about this job is that the people are friendly," says Lamont, as he loads the back of a minivan with the contents of an overflowing shopping cart. "Working with the Jewish community works okay for me. I love to do business with them; I have to be honest about that."
Lamont, whose other perks include getting off on Sundays, Shabbos, and Yom Tov, says, "I work really hard all year round, but Passover is the hardest time of the year. I work outside for eight hours and inside, after that, for another three or four hours."
Although Lamont makes a dollar tip per customer, on average, he helps even if he isn't tipped. "A lot of time people won't tip me during the year, but at the end of the year, they give me a tip for the whole year. It's incredible."
A "Grate" Helper
Next, I had the pleasure of encountering the "grand matriarch" of Seven Mile Market, Mrs. Rose Boehm, mother of the store's owner, Hershel Boehm. She was accompanied by her caretaker, Patti Lawson. When I asked Patti about her entrée into our community, she told me that she was initially hired from an agency about 15 years ago. Since then, she has found jobs working for Orthodox families by word of mouth.
"I make potato kugel every Thursday with Mrs. Boehm," mentions Patti, who also took care of Mrs. Boehm's husband, Jack, z"l. "She's been making them since they had a little store named Jack's. She told me all about it. They kept a tab, and people who couldn't pay for things could owe the money.
"I do everything to help get ready for Shabbos," continues Patti. "I clean up, put Bobby's special Shabbos tablecloth on her table, and get ready for Bobby's grandkids. They all come over to visit her every Friday and get their Fruit Roll-Ups and potato kugel. I even make potato kugel at home; my three kids love it. I also make her cheese blintzes, kichel, kreplach, and shlishkas recipes."
Patti works the day shift, 8 a.m. to 8 p.m., Monday through Friday, and every other weekend. She takes Mrs. Boehm to Seven Mile Market about twice a week. She also takes her to Sam's Club, the weekly luncheon at Shaarei Zion, and swimming at the JCC twice a week.
"It is a big eye-opener to work in your community," Patti remarks. "Jews all stick together; I wish I was Jewish, myself. When someone needs help with anything – money, college, cooking – they help one another. When a person gets sick, someone cooks the meals for the family; if people from out of town need a place to sleep, they find a place for them. It's amazing! They have big hearts. They do for each other, and I really admire that.
"She's a wonderful woman," concludes Patti. "Bobby's the best! I love Mrs. Boehm and her family. She can't do without me, and I can't do without her. If you see her, you see me."
Give and Get
Jorge Aguayo has worked for Hatzalah of Baltimore since September, 2008. On Shabbos, when the responders are allowed to drive to the scene of the emergency but cannot drive home, Jorge and Francisco, the second Shabbos driver, return their cars as well as the bags and equipment they used. After the ambulance returns, he takes the responders back home.
Both Jorge and Francisco considered Lonnie Borck, z"l, a true friend. Francisco was on call that Shabbos and was on the verge of tears when he heard that Lonnie had died; he was completely broken. When Jorge got the news, he showed up at the hospital to offer his help.
Although they are paid employees of Hatzalah, both men consider Hatzalah their personal mission as well. They love everything they do for the organization. "We considered Lonnie and all Hatzalah members friends and heroes for giving their time helping others," remarks Jorge. "We went to the funeral and burial because we respect him and his family, and we really considered him a friend.
"I like how everyone in the community works to help each other," continues Jorge. "I feel very good being part of it, helping and working in the Jewish community. The community opened their doors for me to work with them. I have never seen a community as organized as this, with its own 911 Hatzalah and Chaverim, and other helping organizations. All the people are very thankful to us, and we're very thankful, too, to the community for giving us the opportunity to work with it."
In closing, Jorge mentions, "I feel close to the community and I feel part of it, also, because it is my neighborhood. I have to take care of and help my community. Many people ask me to help them on holidays or Sabbaths, as they trust me to come into their house. That makes me feel close and useful to the Jewish community."
Common Threads
Hector, of Hector's Top Quality Tailoring, and his wife, Millie, migrated from Jamaica in 1969 and opened their tailoring business, which is tucked inside Pikesville's Alley Shops, in 1981. Dr. Yoel and Mrs. Michelle Jakobovits were their first Yeshiva Lane customers. Satisfied with Hector's impeccable work, they spread the word. Hector approximates that 90% of his customers are affiliated with Ner Israel.
"It's great working with all of them; I didn't know I was going to get that clientele," notes Hector, who is so close to his Orthodox customers that he even traveled with them by bus to Brooklyn to attend a wedding. "I was not familiar with the Yeshiva community until I came to Pikesville. Now, we are like family."
Hector's customers often ask his trusted dating advice. "If they tell me, 'Hector, I want you to fix my suit nice; I'm going on a date,' and they don't remember to tell me about it when they come back, I say, 'Well, what happened?'
In one case, a young girl customer asked my opinion of a guy she was dating. I went out to the car to meet him. I spoke to him a little bit and told her my opinion; he seemed to be a nice guy," recalls Hector. "One customer even brought his bride to my shop to introduce her to me before the wedding.
"The whole Orthodox wedding is interesting, the way they perform the chupa and how the mothers walk the bride around the groom," continues Hector. "The people are so friendly, and the guys grabbed me into the circle to dance with them. I really enjoyed the reggae song the band played, and I taught them how to dance to it.
"I feel pretty comfortable with the Jewish community," concludes Hector, "because I like to talk to people, and I'm able to open up discussions with them about their future. Some of them say they want to be lawyers or doctors. Most often, they tell me they want to get married."
Hector really tries to learn everything about Judaism. "I learned about shatnes – not wearing linen and wool together. I'm around here long enough to even tell my customers what to do! When the young guys come here, I ask them, 'Did you get it checked for shatnes?'"
Make it O'Fishel with Michelle
Michelle McClean has been a waitress for O'Fishel Kosher Caterers for over 10 years. Growing up with an Orthodox best friend, she had been introduced to kosher as a kid. Working for O'Fishel's opened her eyes even wider to the world of kashrus.
"I love working for O'Fishel; we're like one little family," says Michelle. "I live among Jews, on Park Heights between the Agudah and Bnos Yisroel. I think that's what sets me apart from other gentiles. Since I have one foot in your community, I kind of get it, and I wish people were a little more tolerant of everyone in every situation.
"I am a cerebral person; I asked a lot of questions from the beginning," continues Michelle, who learned about the particulars of kashrus, Shabbos, as well as the appropriate Hebrew lingo and pronunciation on the job. "From day one, it's been mutual respect with me and everyone I've worked with. Everybody shows me appreciation, but it was especially touching to read the letter full of praise that was in the Where What When. A customer took the time to sit down and write it."
Just Like West Virginia
When Michael and Sharon Bennett moved into their house on Shelburne Avenue, 21 years ago, one of the first people they met was their next-door neighbor, who introduced himself in a strong West Virginian accent, saying, "Hi! I'm Truman. I'm the Shabbos goy!"
A wounded Vietnam army veteran, Truman has been going above and beyond the call of Shabbos and Yom Tov duty for 38 years! His "territory" encompasses Shelburne and several surrounding blocks "I reckon the strangest thing I did was to change the batteries in a hearing aid," says Truman, "I also plugged in a heater in someone's succah."
The more usual tasks are helping out with stoves, refrigerators, slow cookers, and air conditioning. "Sometimes I switch on a machine for a child who has a breathing problem," adds Truman. "My wife helps out when I am out of town." Of course, Truman wishes his neighbors a "Good Shabbos!" And, as soon as Pesach is over, he very thoughtfully puts a cooler filled with beer on his front porch, so they can help themselves to their first taste of chametz.
"Truman has a lot of compassion and cares about people. His wife Nancy is just as nice," says Mr. Bennett. "If someone is having trouble, like a car breaks down, he is the first one to help. If he can't fix it, he will spend the next three days figuring it out. One Simchas Torah, he was in our shul trying to fix a plumbing problem. He is just happy to help. It is almost what he lives for." Mrs. Bennett recalls the time it snowed and Truman was out of town: "He called to offer us the use of his snow blower!"
"When I grew up in West Virginia, the only Jewish people I knew there were slumlords," admits Truman. "I didn't like Jewish people because I didn't know what they are all about. But when I came up to Baltimore to work for my cousin, I got tied up with his friend who is a psychiatrist, and he and a few other Jewish families are the ones who helped me change my views of Jewish people. They accepted me as a person and not as a goy. I tell my friends back in West Virginia that I've been more to synagogues than churches!
Truman is so close with some of his friends that they have entrusted him with the keys to their houses. "The best compliment was when one of my Jewish friends went to Israel for a week following a death in the family," recalls Truman. "I babysat for their four kids. If you can trust someone with your kids that's the best anyone can do for me."
Truman learned his values in childhood. "My mother and father instilled in us that we should help people and not expect money in return. When you grow up in West Virginia, whether you're poor or rich, if you need help, people are right there for you. People looked out for each other. To me, the Jewish people are like hillbilly people. They're just like my neighbors in West Virginia."
Open Home, Open Heart
Christopher Luckey was the home health aide for Rabbi Morris Kosman, z"l, three days a week for the last eight months of his life. "From day one, he realized that I was a religious man, and we immediately clicked," says Christopher. "It didn't matter what background we were from; we all seemed like one big happy family. He opened his door, his heart, and his home for me. Immediately thereafter, the Jewish community and Ner Israel yeshiva did, as well.
"The Rabbi told me to do a few things and I would flourish for the rest of my life," continues Christopher, choked with emotion. "He said, keep G-d first, family second, and always make sure you make time for your family; always give Him your praise, glory, tithes, and offerings. This man was like a father figure to me. I could never say enough about the Rabbi. I know he was G-d's gift to all of us, in whatever capacity he was able to touch us – whether as a father figure, a friend, a mentor, and even as a confidante. Even the days he was sick, he was always a praying man and always positive. He always had something nice to say and always saw the silver lining in everything. He not only talked it, he lived it."
Christopher concludes, "The stature of the man I took care of was so great that he was able to open up doors, knock down barriers, and overcome obstacles. He didn't have to say much; he was a mild-mannered man. The Rabbi taught me how to pray. He never made me feel like an outsider, never made me feel out of place; he always included me in everything, in every conversation, and he always asked about my family and about me as a person, my spirit. He had an effect on my life, and I have the utmost respect for him and his family."
© Margie Pensak-2017