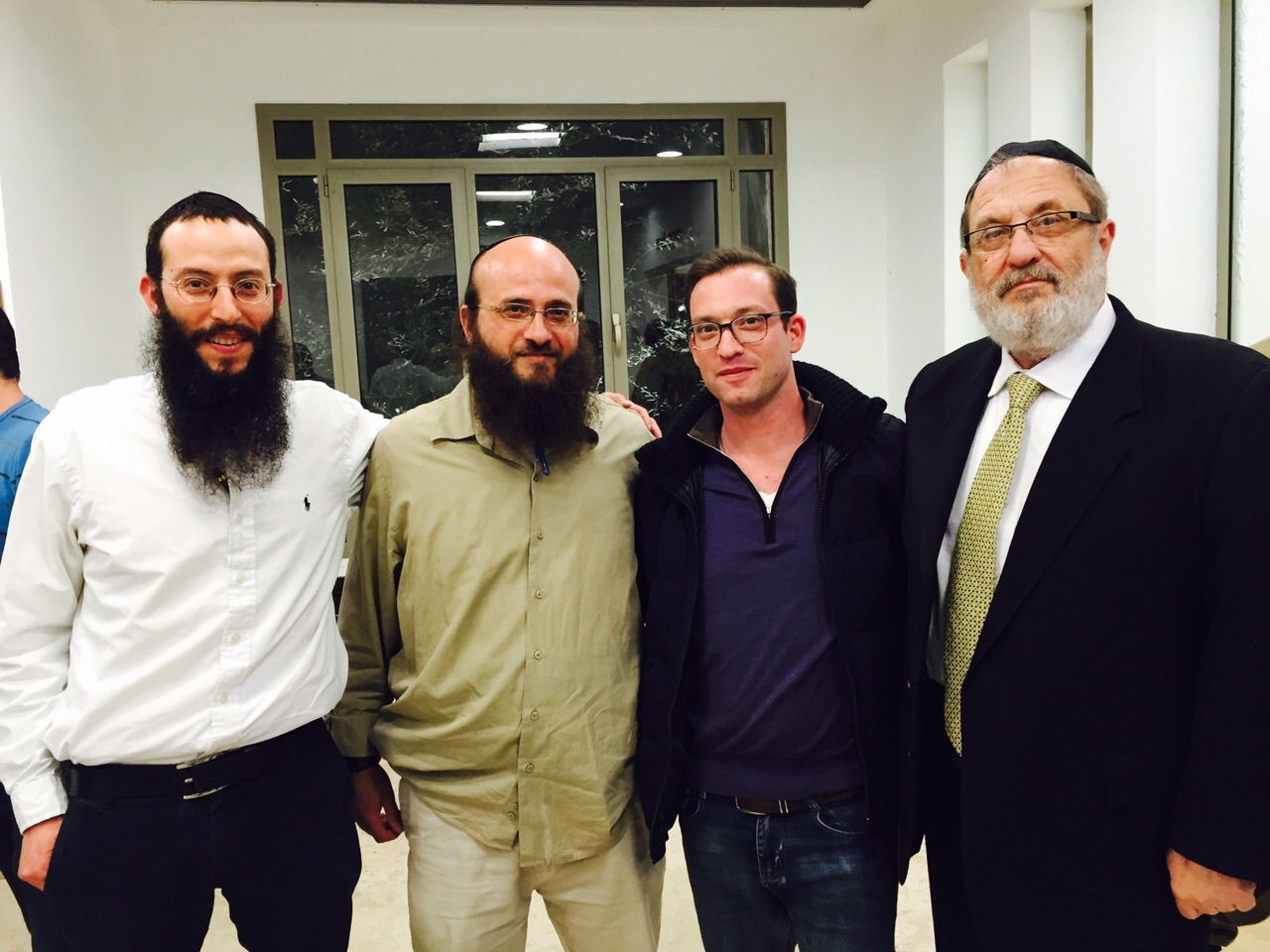 Many years ago, when I first visited Israel, I did not have any close family there, and the term mishpacha, to me, meant the Jewish people. When I visit today, it still means that, but, in addition, three of our married children made aliyah, and they and quite a number of grandchildren live in Eretz Yisrael. So, now, visiting mishpacha means so much more. That's why, when Feigi and I heard about an incredibly inexpensive ticket to Israel –$385 roundtrip on Transaero through Moscow – we made a quick decision to go for Purim.
Who would have imagined, one generation ago, that nonstop scheduled flights would be winging between Moscow and Tel Aviv, and that you would be served kosher food under the hashgacha of the Chief Rabbi of Russia, Berel Lazar!
* * *
This was my first Purim in Eretz Yisrael, and it was a unique experience. The whole country celebrates it as a national holiday. The streets are full of people in costumes. One really feels that we are at home in our one Jewish country. Our children came together for the Purim seuda at our son Shmuli's house in Modiin. I have written about Modiin in the past: how there was not shul in his neighborhood and we davened in makeshift quarters in a school. Well, now there are several large and beautiful shuls in the Buchman neighborhood.
The two main ones are the Israeli shul and the American one. Shmuli feels that, since he lives in Israel, he is part of that country, and he is active in the Israeli shul. He pointed out to me various members who have high positions in government, military, or commerce. Our daughter Penina and her husband Zach Abramowitz, who made aliyah this past summer, daven at the American shul. I would too, if I lived there. To skip ahead, we spent Shabbos in Ramat Beit Shemesh, and there I did daven at an American shul under the leadership of Rabbi Yaakov Haber. When you are new to a country, it is good to have a shul where you feel at home, where you belong. Rabbi Haber's members all welcomed me, and a lot of them had some Baltimore connection. The tunes and the whole ambiance were familiar. I think davening in a shul like that eases the "klita," the absorption, process. But if you really want to be an Israeli, you have to become part of that culture, so it is a balancing act, at least for the immigrant generation.
* * *
After spending a wonderful Purim seuda with all of our children and grandchildren who are in Israel, we went to Ramat Beit Shemesh with our daughter Estie Fertig. We spent Friday, Shushan Purim, in Yerushalayim, where they keep Purim a day later than everyone else.
Two observations: I can't begin to tell you how impressed I am with Chabad. All over the city, they set up kiosks where someone read the Megilla and a crowd had gathered around to listen. Don't tell me that these secular Jews aren't interested in frumkeit. If you bring the Megilla to them, they listen respectfully. Secondly, the city has a huge festival with music and huge mannequins moving around to the music. Crowds of people are filling the streets, and everyone is in costume. It is so Jewish; one feels so at home there.
* * *
Sunday morning, Estie drove us to the airport, and we joined Eretz Israel Tours for three nights in Eilat. I have taken tours with this particular group a number of times. You can go for just part of a tour; you don't have to sign up for the whole two weeks. The price is significantly less than if you did it on your own. For three days in the Leonardo Hotel with over-the-top breakfast and dinner buffets, tours, admission to attractions, and airfare to and from Eilat, we paid $450. It was a great deal, and the hotel was full to the brim – with Israelis. I am told that tourism from other countries is still down from the aftermath of this past summer's war. Eilat's 90-degree weather was a welcome change from snow-covered Baltimore.
On Monday, the group visited Mitzpeh Ramon, a city of 5,000 in the middle of the Negev, which overlooks the vast Ramon Crater and is far from any other city. (Feigi stayed behind in Eilat to scuba dive and practice for the Jerusalem Marathon.) We visited the recently opened Ilan Ramon Museum. In 2003, he became the first Israeli astronaut to participate in a NASA mission. He died, tragically, when the Space Shuttle Columbia broke up. A piece of foam had broken off the spacecraft at take-off, allowing the great heat generated upon reentry to the earth's atmosphere to penetrate the craft and disintegrate the people. What a tragedy! The museum is very modern and worth visiting. The only connection between Mitzpeh Ramon and Ilan Ramon that I know of is the same name. Maybe the fact that there are many military personnel stationed in that area has something to do with it.
* * *
Our three married children who live in Israel took us out on Wednesday night in honor of my birthday. Picking a venue was not easy; one of the issues that one has to deal with is kashrus and, in Israel, that is no simple matter, especially during the shemita year. Our son-in-law, Avi Fertig, recommended a restaurant in Beit Shemesh that had a top-of-the-line hashgacha that all could rely on.
And now I come to the highlight of my trip, one of the most inspiring events in my life. When we bought the tickets, we didn't even know for sure the date of this event, but it all worked out, and we were in Israel for the reunion of the yechidat srikat rabbanut (YSR), the part of the army rabbinate that retrieves fallen soldiers and body parts under fire in the midst of a war.
Our son Yoni served in the Israeli Army in the infantry. He was called back into service for Tzuk Eitan, Operation Protective Edge, the Gaza war of this past summer. During his regular service he was a locheim, an artillery fighter, trained in the use of various weapons. In the reserves, he was assigned to YSR, the reconnaissance unit of the army rabbinate. These brave men are tasked with going out under enemy fire to retrieve fallen soldiers and sometimes body parts, to bring them to Jewish burial. Under those conditions, lochamim are assigned to the chevra kaddisha, so to speak.
During the war, Rabbi Yissochor Dov Eichenstein called me and asked if my son and his unit had proper protective gear. I wrote to Yoni, who referred me to his magad, the person in charge of his gedud (unit), Ayal Mordoch. The magad referred Rabbi Eichenstein to his assistant, the samgad, Sharon Sadon, and they spoke about how we could best help our boys. Sharon told us that they desperately needed modern, ceramic, bulletproof vests, and put us in touch with the manufacturer in Israel. We also contacted other rabbis in Baltimore and publicized it on Baltimore Jewish Life. Rabbi Zvi Teichman and Azi Rosenbloom joined the effort. Dovid Meir Loeb and Dr. Michael Elman and his son Ari joined the team, and we set to work. Originally, our ambitions were modest. Each vest cost a little over $1,500, and we hoped to raise enough money for 10 or 20.
Sharon told us that he could use 60 but would gladly accept whatever we could provide. We asked Moshe Dov Shurin, CPA, to volunteer to take care of all the donations and keep records, so that everything would be transparent and accounted for, and he gladly agreed to take on this task.
Thus began a period that was one of the high points of my life on this earth. I was part of a pouring out of ahavat Yisrael that overwhelmed us all with its intensity. Azi got my article from Baltimore Jewish Life onto Yeshiva World News and arranged for donations to be given online through Congregation Ohel Moshe.
Let me summarize: Over the next few weeks, while the war was raging in Gaza, the Jews of Baltimore and our fellow Jews all over the United States donated funds to buy all 60 vests. Then we set out to find other reserve units that needed them but did not have the modern ceramic bulletproof vests. The regular troops in the front lines were, of course, provided vests by the army, but there may not have been enough to supply certain backup units. That is how we came to understand it. We did not ask anyone for donations, we merely publicized the project, and Jews all over wanted to share in this mitzva of piku'ach nefesh for Jewish boys going into harm's way.
There were no political or ideological differences; all of klal Yisrael participated with outstanding generosity. As the war drew to a close, we also ended our campaign. We were an ad hoc group for a specific purpose, and we accomplished far more than we originally imagined we could.
* * *
Now let me skip forward. On this recent visit to Israel, we were invited to a reunion of Yoni's reserve unit in the IDF. The soldiers and their wives were invited, and there was a meal, a baal teshuva entertainer who played music and had a whole comedy routine of jokes that were about the various kinds of Israelis and differences in customs. The jokes brought howls of laughter to Israelis but may have left most American Jews a bit bewildered.
The Army Chief Rabbi and his deputies for the North and the South were present, and the soldiers and many of their wives came over to thank me for the vests we provided. The soldiers in the field and their commanders are the ones who asked me to come and receive their appreciation, which I accepted on behalf of all those who participated in this ad hoc endeavor. The response of the Jewish community was beyond anything we expected, and the Chief Rabbi of the Army looked me in the eye and told me to tell the Jews of Baltimore that even more than the vests, they appreciated that we care about them. Israelis feel isolated in the world, and the love of the Jewish People is very encouraging to them.
My hope is that these ceramic bulletproof vests will remain safe in a locker and not be needed. But if our boys – and that includes my son – get called up again, we can feel that we did something to help them. As I looked around at the assemblage, I saw wives and some who had brought their small infants. I realized that when you save the life of a soldier, you are also helping to keep his wife from being a widow and his children from being orphans. That is why all of klal Yisrael understood that what we were asking was a matter of piku'ach nefesh.
Yoni, who was temporarily in Baltimore now, surprised us by flying in from Baltimore just to be at this gathering of his "gedud." Everyone welcomed him, and I saw how much it meant to him.
As much as I like to write, I cannot adequately put into words what this gathering and the recognition I accepted on behalf of all who participated in the effort means to me. Hashem gave me a zechus (merit) of being able to help the Jewish army of our Jewish country do its duty with more safety and protection. Truly, the appreciation of all the soldiers, their wives, and the top officers in the Army rabbinate made me feel very fortunate to have had a share in such a mitzva.
* * *
After one more Shabbos with our Modiin children and our grandson Dovid Lasson, who learns in Toras Moshe, we flew back to the U.S.A. This was one of the most inspiring and uplifting trips to Israel I have ever taken. Sharon Sadon has already written asking me to come back for their exercises this summer and to be connected with them. I know Yoni will report for duty when called up, and I feel so fortunate to have this kesher (link) with our lochamim (fighters) and with the holy society that fulfills chesed shel emes in the midst of battle. May Hashem watch over them.
* * *
Postscript: One of the major issues of aliyah is securing a job that pays an adequate wage. Many people who have attempted aliyah have returned because the Israeli economy is skewed. Those at the top or with the right skills make a fine living, but many struggle to "finish the month," i.e., to earn enough to pay their bills. This is a problem in the Diaspora also, but the Israeli salary scale is in shekels, and one often earns a fraction of what he or she would earn in dollars in the U.S., although the cost of living in Israel is not lower than in America.
To get to the point, Yoni learned from one of his many friends of a job opportunity. He flew to Israel and passed four interviews and the background check. This week he signed the contract to begin training for the GIA. This organization grades diamonds, and this is a career track position. He didn't use the return half of his ticket and is happy to be back in the country he calls home.
I want to close with what my good friend, Rabbi Tzvi Hersh Weinreb, wrote me today: "Thanks for sharing the goods news regarding Yoni. I wish him hatzlacha. He is a Jewish hero, as are all of these boys who are willing to risk their lives for our people."