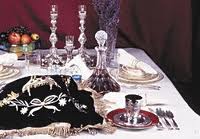 Dear Rebbetzin Weinberg,
My husband says Shabbos is a time to relax, and one of the ways he likes to relax is through drinking. He never drinks during the week, but on Friday night, the wine is plentiful, with a few bottles on table. Of course, he takes a shot of whiskey between the fish and the soup. On Shabbos morning, there is kiddush in shul, even though the shul is supposedly trying to become liquor free. On the way home, my husband might stop at a few friends' homes, accepting a shot at each.
I hate drinking. Mostly, I'm concerned about our children. My husband can handle his drink. He is not abusive or even truly drunk. But how do I know whether my children will tolerate alcohol? I have a cousin who is an alcoholic; maybe there is such a tendency on my side of the family. The boys are teenagers, and they are already starting. They get a drink at their rebbes' homes on Friday night, and of course there is lots of liquor at our house.
Read More:A Blaste from the Past: Some Shalom Bayis Columns from Rebbitzen Weinberg A"H