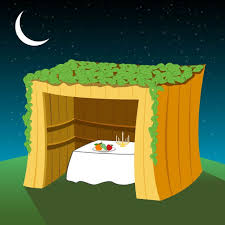 I was about 10 years old when my Great-Aunt Cele led me into Congregation Beth Jacob's sukkah on Park Heights Avenue. It was my first time in a sukkah, and, even as a child, I knew that this was a special place. Streams of sunlight shone on tables laden with fruit. More fruit hung from above. But what I remember the most was an indescribably sweet smell. Today, I think of that sukkah as a window on Gan Eden.
"Any sukkah by definition is special because it's a very holy space...an atmosphere of complete kedusha," says Rabbi Menachem Goldberger, Rav of Congregation Tiferes Yisroel. Yet making a sukkah more beautiful lies within the domain of hidur mitzva, according to Rabbi Goldberger. He quotes a passage from Az Yashir (Song at the Sea): "Zeh Kaili ve'anvaihu – This is my G-d and I will adorn him."
Many sukkahs in Baltimore have been adorned in honor of the mitzva of building and dwelling in a sukkah. After returning to live in Baltimore only eight months ago, after 46 years in Atlanta, I can hardly wait to visit some of the special sukkahs here. This article describes a few of the well-known ones.
The Old Is New Again
About 20 years ago, three artists – Ellen Singer, Chana Elsa Katana, and Rivka Friedman – adorned the outside walls of the 16 x 20-foot sukkah at Tiferes Yisroel, on Park Heights Avenue. Karen Pear, a member of the shul, remembers that she and a crowd of women came out "to color it in."
Each wall was truly unique. "Whenever I walked up to the sukkah, I stopped to look at the very beautiful painted panels," says Rabbi Goldberger. He adds that each year, saying goodbye to the sukkah on Shemini Atzeres is an elevating experience for him and his congregants. It is also bittersweet as they are about to take leave of the sukkah.
Now his shul is saying goodbye early. Two problems needed correcting: First, the structure was so heavy that it took many volunteers to put it up, take it down, and store it each year. And second, the beautiful pictures had weathered. "It was getting old and decrepit," says shul member Glenna Ross, who had an idea to create a lighter sukkah and preserve the artwork. She designed a structure of metal poles that fit into each other, "similar to the concept of Tinker Toys," she says. She enlisted the help of her son, Ari Ross, a film animator living in New Zealand, who was visiting his parents.
Ari digitally restored the artwork as close as possible to the original. "Even the grain of the wood shows through," says Glenna. A banner shop in Owings Mills printed the panels on heavy-duty vinyl in the size of the walls.
Now, with the artwork preserved and the sukkah much lighter, members of Tiferes Yisroel are grateful to have a sukkah that is easier to put up and store. Although she likes the feeling of a heavy wood structure, Karen Pear says," It's the best compromise: practical and beautiful."
Home Sweet Sukkah
About 30 years ago, artist Avraham Cohen decided that he needed a comfortable sukkah, one that he would want to stay in after the meal rather than rushing back inside. He designed and built a wooden sukkah, 16 x 20 feet, and made it as comfortable as possible. It features a wood floor raised off the ground and covered with carpeting. It has numerous custom-designed, permanently-screened, plexiglass windows that move up and down via a pulley system. It has a shlock (rain tarp) that can be drawn off and on quickly via rope pulls. Avraham added couches, bookshelves, a heater, a stainless steel sink, and art work from three generations of his family.
Every year, Avraham and a helper carry out all the component pieces and build on bare ground from the bottom up. It takes two people at least two full days to put up the sukkah. From under the porch, they bring out the shlock, long boards and support for the schach. From a metal shed in the Cohen's backyard, they carry out a total of 20 4-foot-8-inch panels. When stored on their sides the rest of the year, they double as shelving for gardening tools and pool supplies.
The floor panels must be laid down on stone blocks and leveled carefully. Then the wall panels are wrapped around the floor and bolted together. Support beams run through the front and back walls, and the handmade schach mats are rolled out on top. "Constructing the rain roof is a half-day project all by itself," says Avraham. "It's a big production, but it's worth it."
Lighting is a major part of the Cohen sukkah. "During the day, the sunlight shining through the schach onto the doors, windows, and curtains is very beautiful," says the Baltimore artist. At night, two separate lights work on timers. When the main lights (a chandelier and fluorescents) go off, hundreds of little lights, attached to support beams, cast a soft glow throughout the sukkah.
During the seven days of Sukkos, Avraham sleeps in the sukkah and spends much of his time there. If there's an unexpected shower during a meal, the tarp is quickly rolled down so that he, his wife Sima-Leah, and their guests can finish eating. If it's a quick shower, the tarp is rolled back up for bentching.
With many of the comforts of home, Avraham says there's no longer a need to rush inside after a meal. He adds that his sukkah is "like a comfortable little cabin" which he and his wife like to share with many guests, whether for a meal or just for a visit.
Mini-Museum of a Sukkah
Ken and Barbara Lasson's sukkah, a true Baltimore community landmark, draws students from day schools, neighborhood children and adults, and many others every year. Its unique feature is the animated dioramas that line one of the walls. A law professor at the University of Baltimore and author of many books, most recently Defending Truth: The Quest for Honesty About Jews and Israel (Hadassah Word Press), Ken says that he loved putting up a sukkah "even as a kid on Biltmore Avenue." He and Barbara had a sukkah on Menlo Drive, but the 12 x 18-foot one at their present residence on Wirt Avenue is the most elaborate.
The walls go up quickly, while the decoration takes at least a day, says Ken. And Barbara helps with the ceiling hangings. Set up on his patio, the sukkah has two doors and two stationary walls, one wall is decorated traditionally with art work from his children and grandchildren. The other wall displays a family tree. The driveway door depicts the 12 tribes, while the patio door shows the holidays. Both are in simulated stained glass.
An old sewing machine serves as a wash station, and hanging from the schach are all sorts of objects the Lassons have collected from their trips across the States and abroad. First they attach vials of flour and oil, a tradition symbolizing the bounty of the harvest season. Next go souvenirs like miniature Coke bottles from Atlanta and even a tiny working bagpipe from Scotland. "Everything has a story," says Ken.
The biggest stories are depicted in his dioramas, a total of eight or nine animated scenes displayed behind the third wall of the sukkah, which is actually the glass wall of his den – perfect for viewing. One of the first dioramas was a Rosh Hashana scene the Lassons' children made out of clay. Other scenes depict Tashlich at the corner of Cross Country and Wirt Avenues, a diorama of the Old Shearith Israel on Simchas Torah, and Rabbi Hertzberg's shul (now Rabbi Dovid Katz's shul) on Wallis Avenue. More dioramas depict scenes from Gan Eden, Noah's Ark, Yonah and the Whale, and the Bais Hamikdash, with animals being led for sacrifice. On a light note, one scene, entitled "Woodsy," shows little animals building a sukkah in the woods.
There are many light notes to delight viewers, such as myself, when I saw his newest diorama on simchas bais hasho'eva. Ken helped his grandchildren in Israel make it last year. A juggler throws a ball into the air, while two groups of chasidic dancers, one in white and the other in black, flank a kohen moving back and forth as he pours water on the mizbayach.
Art materials and household items, such as empty spools of thread for black hats and pipe cleaners for gartels, are used in the scenes. The dioramas are animated by small motors, similar to the ones used at the Cross Country Firehouse for their display in December, says Ken. He uses five to ten low-RPM motors per scene. At that speed, they spin very slowly. Under each diorama is a saying in English and Hebrew explaining what the scene represents.
The Lassons' sukkah is not the only one people visit, but it is a prominent part of the venerable Baltimore tradition of "sukkah-hopping" that unites people in the community. Rabbi Goldberger says that a sukkah represents two things: an atmosphere of complete kedusha, as mentioned earlier, and a "feeling of camaraderie with all people who come in."
May all Baltimore's sukkahs bring joy and camaraderie to everyone in the community.
Sidebar
Rabbi Goldberger's Simchas Torah Dance
by Ruby Katz
Clasping a small, gold-covered velvet Torah, his tallis over his head, Rabbi Menachem Goldberger stood perfectly still in front of the bima at Tiferes Yisroel. Except for an occasional noise from a baby, not a sound was heard as everyone, myself included, stared mesmerized, waiting for Rabbi Goldberger to begin to chant his niggun: "De de de di..." It was the same niggun that his beloved rebbe, Harav Shloime Twerski, the Hornesteipoler Rebbe, zt"l, had sung and danced to for the first hakafa on Simchas Torah, many years before in Denver.
Rabbi Goldberger was born and raised in Denver. His father, Rabbi Daniel Goldberger, z"l, was a rabbi in Denver for over 50 years. In fact, Baltimore's Rabbi Menachem Goldberger is a sixth-generation rabbi, descended from Hungarian rabbonim.
The father wasn't chasidic, but he and Rabbi Twerski became close friends. And his son Menachem became one of Rabbi Twerksi's disciples. Along with the Rebbe's family, Rabbi Menachem Goldberger and other talmidim stood at Rabbi Twerski's bedside on the morning of Simchas Torah when a doctor said that the beloved Rav was going imminently. But Rabbi Twerski lived throughout the day. "It was our last Simchas Torah with him,"says Rabbi Goldberger, who cherishes the memory of his Rebbe and his Simchas Torah dance.
"I saw that dance being lived by Rabbi Twerksi, and that made an impression on me," said Rabbi Goldberger. "It was truly an awesome sight." So he brought the niggun and the dance to Baltimore when he came here in 1986.
Now, on Simchas Torah, decades later, Rabbi Goldberger took a few steps, then more, singing the niggun over and over again as he danced alone in a circle with the Torah. I stood with about 60 women on the left side, behind the mechitza, while about 100 men stood to the Rabbi's right.
Suddenly the Rabbi, his tallis falling over his face, held the Torah close to his heart and moved it back and forth in four directions, as if shaking a lulav. Finally, he lifted the Torah high towards the aron kodesh, where the engraved words from a Shabbos song glowed. Indeed, the whole shul seemed aglow. I felt in that moment like I was standing at the bottom of Mount Sinai with Moshe Rebbeinu giving us the Torah.
"In general, among chasidim, the Rebbe dances the first dance," states Rabbi Goldberger. The idea is to set the tone for the celebration, which he says is a combination of yirah and simcha (awe and joy) simultaneously. "Gilu bere'ada: To rejoice when trembling," explains Rabbi Goldberger.
The small Torah he dances with was handed down to him from his father, who received it from his father, Rabbi Goldberger's grandfather, Rabbi Henry Goldberger, z"l. Because of its age, it is no longer kosher, but it remains meaningful for his Simchas Torah dance.
When Rabbi Goldberger's solo dance was almost complete, he motioned to Jay Taffel, gabbai of the shul, who gave the signal for the men, carrying full-sized Torahs, to join in the dancing. Rabbi Goldberger had set the tone, and the members of Tiferos Yisroel sang and danced with yirah and simcha. On the other side of the mechitza, I rejoiced with them.