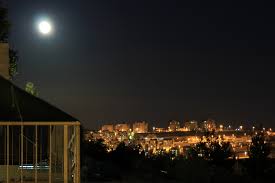 Each stage in life brings new vistas, if your determination is as strong as your dreams. In the case of Baltimoreans Nisan and Marietta Jaffee, the Holy Land beckoned as Mr. Jaffee reached his retirement. The Jaffees not only agreed to share their aliyah journey with me but also met me one fine afternoon in Yerushalayim and gave me a ride through the countryside leading to their home in Efrat.
We drove through the famous tunnels and over the picturesque mountains of Harei Yehuda, blossoming with the first signs of spring. On the way, Mr. Jaffee stopped at an outlook in the neighboring yishuv, Neve Daniel, to show me the view. From this spot, the highest in Gush Etzion and, after Har Hermon, and one of the highest in the country, you can see much of Eretz Yisrael from the mountains down to the coastal plain and, on a clear day, even the towers of Tel Aviv.
Located in Gush Etzion in Yehuda, Efrat was established in 1983 as its own municipality, separate from that of Gush Etzion. The city is only 7.5 miles south of Yerushalayim, between Beit Lechem and Chevron, outside the Green Line. Looking down onto Efrat from the lookout, I am reminded of the pasuk from Chumash, "Eretz chitah, seorah, gefen, teanah, rimon, Eretz zais shemen u'dvash." The narrow strip of land on which Efrat is situated comprises seven hilltops, each one a separate neighborhood named after one of the seven special fruits of Eretz Yisrael.
The Jaffees welcome me to their lovely apartment on a quiet, leafy street of their neighborhood, Hagefen. Over tea and cookies, they share their aliyah experience. Their 2013 move to Eretz Yisrael was not sudden. Mr. Jaffee had dreamed of aliyah for 30 years, but it was only recently that he and his wife were able to actually pull it off. It was simply the right time.
The Jaffees' daughter Tova had stayed in Eretz Yisrael after seminary and made aliyah herself a year before the Jaffees moved. Their younger son Avi finished high school and would be continuing his learning in Eretz Yisrael. Only their older son Dovid was still in Baltimore, together with his wife and children. Mr. Jaffee retired from his job at the Social Security Administration and his massage therapy practice. Some things happened in Mrs. Jaffee's work as well that gave her the signal that "it was time to move on."
* * *
The Jaffees did not agonize over which community to choose. They immediately gravitated toward Efrat. Over the years, they had visited their friends from Baltimore who now lived in Efrat, and Mrs. Jaffee started to feel quite comfortable and pleased with the community. Knowing that she would be surrounded by her friends, Mrs. Jaffee felt ready to join her husband and fulfill his long-awaited dream. The cooler climate of the Gush was a plus. In fact, the Gush does not have humidity in the summer and is one of the coolest parts of the country because of its elevation; it has even seen some snowy blizzards.
Already familiar with the community, the Jaffees felt no need to go on a pilot trip and relied on their friends in Efrat and their daughter, who was living nearby in Neve Daniel at the time, to check out the apartment they had found on Efrat's chat list. After seeing the apartment, the Jaffees' friends said, "Take it; there will be a long line for it." It is, in fact, a nice apartment, with four bedrooms, two-and-a-half baths, a mirpeset (veranda), and even came with appliances and bookcases. Before their arrival, Tova cleaned and set up the apartment for her parents.
Efrat's residents are about 60 percent "Anglos." These English-speakers live among the Israelis in the yishuv. In the streets you'll hear both Hebrew and English, and the Israelis for the most part speak English, too. The population is primarily dati leumi, but there are Lubavitchers, Moroccans, Sefardim, and respectful secular people as well. "One of the things I love about Efrat is that people don't require you to look like them," says Mrs. Jaffee. "They like differences. It's a very open community." The city's rabbi is Rabbi Shlomo Riskin, who founded Efrat with a group of people from Lincoln Square Synagogue in Manhattan. Mr. Jaffee believes that Rabbi Riskin's biggest accomplishment is that he was able to establish Efrat as a community with a remarkable acceptance of others. Unlike other yishuvim, where you have to be interviewed to be accepted into the community, Efrat does not put people through any such process.
The Jaffees view their apartment's location as "gold" and have found a real sense of belonging in their community. Aside from friends living on the same street, the families in the area are especially caring and friendly. "I've met amazing people from all walks of life," says Mr. Jaffee, "regular people who work for a living and immersed in Torah. These humble people don't 'advertise' themselves as being talmidei chachamim. It is really inspiring that, when they are not involved in their work, they can be found learning, either with a chavrusa or in a chabura or shiur." Mr. Jaffe adds that their diverse neighbors are very accepting, respect others for who they are, and "don't expect you to dress in a certain way."
The Hagefen neighborhood has one shul with two minyanim. One of them is Moroccan, and – because there's such a mixture of Ashkenazim and Sefardim – the other one doesn't have a set nusach. Rather, explains Mr. Jaffee, "Whoever gets up to daven, that's the nusach. In this shul, where so many types can be found, the 'boxes' [of external dress] don't mean anything." Imagine such cohesiveness! Hagefen is a primarily Israeli neighborhood in Efrat, and Mr. Jaffee hears mostly Ivrit in shul, which is fine with him, since it helps him integrate.
Mrs. Jaffee enjoys going to the women's beit midrash, where she is able to listen to Torah classes with "cream of the crop" teachers. Many highly educated, well known people live in the Gush, and often volunteer to teach classes. There are many other exciting endeavors going on, including an annual women's musical performance called "Raise Your Spirits," in Alon Shvut, which combines Israeli and American talent on stage.
Aside from its accepting environment, Mrs. Jaffee emphasizes that Efrat is also known for its chesed. From among its numerous gemachim, Mrs. Jaffee volunteers in the clothing gemach. Efrat also has a food packaging organization for needy families, and also brings food to the many Israeli soldiers stationed in the Gush. During the winter, for example, hot soup was brought to the soldiers on guard at night. In addition, there's a place called Pinah Chamah ("warm corner") next to the large Rami Levi grocery store at Tzomet Hagush, where people bring over leftover Shabbos food for soldiers. The tired soldiers can relax, enjoy a good meal, and even take a nap. In Efrat itself, the community center arranges barbecues and movies for soldiers to rejuvenate. Mr. Jaffee went there and gave aching soldiers a massage. The amount of chesed brings even more achdus (unity).
* * *
Although they didn't make aliyah with children, and therefore didn't deal with the Israeli school system, Mrs. Jaffee has heard wonderful things about Efrat's education. There are elementary schools and two boys high schools. Girls bus to nearby Alon Shvut for high school. The town is known to provide excellent services for children with special needs.
Efrat has numerous shopping venues. It has doctor clinics as well as a model Terem emergency center. Around the corner from the Jaffees is a library, matnas (community center), and makolet (small grocery). A short distance away from their home are larger grocery stores, a post office, clothing stores, and a shoe store. The only thing Efrat lacks is a bank, although they do have an ATM machine. People either go to Alon Shvut or Yerushalayim. Depending on traffic, it is only 15 minutes away by car to the city's outskirts. The Jaffees often shop at a makolet they like in Neve Daniel, and since Mr. Jaffee visits his son who is learning in Har Nof once a week, he does some discount shopping in Yerushalayim's large Osher Ad store as well.
I wonder about the safety of the residents in Efrat. The Jaffees inform me that there are many security cameras and a guard's booth at the entrance of the yishuv. B"H, things are reasonably safe, with the surrounding Arab villages fairly peaceful with their Israeli neighbors. Upon entering Alon Shvut, however, deeper in the Gush, Mrs. Jaffee sometimes feels as though she's entering a war zone. The road leading up to the town has concrete stands on either side, with elite soldiers on guard with drawn out rifles. The large grocery store, Rami Levi, where there was an incident not long ago, also has soldiers on guard. Mrs. Jaffee usually drives in when needed, but says, "Sometimes I get sick of the stress, and I say I'm taking a break."
But Mr. Jaffee explains that it's one of the things you just get used to. He describes the incomparable feeling of living in this place so important in our tradition. "From the Neve Daniel lookout, you can see the hills of Moav. From there, the famed Rus accompanied her mother-in-law Naomi down the Jordan valley, crossed the river, and climbed the mountains to Efrat." Indeed, the Jaffees feel they are living in the footsteps of our heritage.
* * *
The transition to Efrat was thankfully a smooth one for the Jaffees, and for this they consider themselves fortunate. The town sponsors a coordinator and support system to help new olim, providing all kinds of services, including arranging trips to get to know the area. The coordinator even found a tutor to study Ivrit with Mrs. Jaffee free of charge! Upon arrival, both the Jaffees spoke basic Ivrit. They went together three days a week for government ulpan but burned out shortly after beginning because they found it too academic and old fashioned. Mr. Jaffee then found a few other great ulpans, including Ulpan Morasha in Yerushalayim, which is considered to be one of the best ulpans in the countries. By now, the Jaffees are definitely more conversational and recently hosted Mrs. Jaffee's Ivrit tutor and family for a shabbos meal and were able to converse only in Ivrit.
The Jaffees are also grateful that their children are not too far away. Their daughter is married to an American Israeli from Neve Daniel and lives in Modi'in, which is a fifty minute drive away. Twice a week, she comes to Efrat and works as a personal trainer in the Gush where she has a good network of people from when she was living there. She also trains both of her parents and Mrs. Jaffee has the pleasure of caring for her grandkids when Tova is working with her other clients.
I ask the Jaffees if they encountered any challenges upon making aliyah. They laugh and describe the relatively minor hurdles they experienced when confronting a foreign culture. Things like figuring out the telephone line, wifi, how to get appliances to work, and a bit of bureaucracy in Yerushalayim. Mrs. Jaffee is quick to say that annoyances with bureaucracy can be found in America too, and they always had pleasant experiences with the government offices in Efrat. One thing though that really drove them crazy (excuse the pun) was getting their drivers license. It used to be that if you want an Israeli driver's license, you would simply present your American license and then receive your Israeli one. But now, the law is that a new oleh can drive with a foreign license for one year and afterwards has two additional years to convert it into an Israeli license. If one delays until after the first three years, they have to go through the full Israeli gamut of twenty eight lessons with a driving instructor and payment of thousands of shekels. Even if you convert within the first three years, you still have to take at least two driving instruction lessons (even if you've got years of experience under the wheel) and have to pay a pretty penny too. All in all, the Jaffees experienced only minor challenges and appreciate their "soft landing."
I wonder about the Jaffees everyday life. Back in Baltimore, Mr. Jaffee worked long hours at Social Security, so now in his retirement stage, he enjoys more of a relaxed free schedule. His days are filled with Torah learning, including once a week a learning session with his son in Yerushalayim, home repairs, fitness training with his daughter, and lots of reading and ulpan. Mrs. Jaffee teaches Zumba gold, which is a gentler Zumba dance exercise, in the Efrat medical center for a mostly middle aged group of women. "That's also one of the amazing things about Efrat – people are very open to trying things," Mrs. Jaffee exclaims. She has also been able to use her Hebrew school teaching experience from Baltimore to now teach English one on one with students in Efrat.
Mrs. Jaffee advises people interested in aliyah to find the right community they will feel comfortable in. She says that some people like to integrate into a completely Israeli environment, but for her, "having people to relate to was extremely important." She goes on further, "I don't expect to become an Israeli; I am an American." Mr. Jaffee agrees that the cultural gap is big and "as soon as you open your mouth, people know (you're an American)." He says, "If your goal is to become seamlessly Israeli, it's probably not going to happen and you'll get very frustrated." The Jaffees emphasize that this is everyone's Jewish homeland, not to worry about "becoming Israeli" because "we have a lot to contribute and a lot to learn." Americans can contribute things like their politeness and customer service. Speaking about customer service, Mr. Jaffee is reminded of a story he would like to share.
One day, Mr. Jaffee came home and realized he left the toilet paper he had bought in the shopping cart in Osher Ad in Yerushalayim. He returned, checked the area and it was not there. Without any expectations other than, this was probably "going to be an aggravating experience," he went inside and asked for help by the customer service desk. Surprisingly, the woman responded kindly, checked around as well, and then spent about ten minutes on the phone trying to locate the missing toilet paper without success. Finally, she said to go down a hallway and knock on the white door. In comes Mr. Jaffee, greeted by another friendly guy who sits him down in a room with about a dozen security screens and finds the playback of Mr. Jaffee exiting the store with the toilet paper in the cart! Even though the man couldn't help him any further, he began a lovely conversation with Mr. Jaffee, who afterwards left the store thinking, "this was better than toilet paper." "I was aggravated and then I came out of there with a big smile on my face!"
Another beautiful encounter was when Mr. Jaffee went out to buy a Weber's grill for his daughter. Mr. Jaffee walked into the store in Talpiot and the guy helping him was American and decided just like that to give his fellow American a discount on the grill! Mrs. Jaffee comments, "You've got to hold onto those experiences." Standing on the lookout and seeing the larger landscape, I have learnt indeed, gives one greater appreciation for both our National Home Land and life's bigger picture and ultimate purpose.