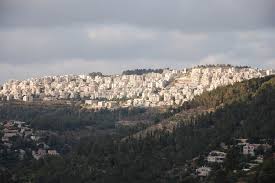 Almost everyone knows someone in Har Nof. This suburb of Yerushalayim, populated by many American families, was built on a terraced hillside in the early 1980s. I leave my own home in the neighborhood on this bright, quiet morning and walk only a few buildings down to meet the Perkals, former residents of Baltimore. On the way, I gaze at the brilliant blue sky and absorb the magnificent panorama of the Jerusalem forest sloping down to a few lone fields in the valley far below. It must be this beautiful view that gave Har Nof its name, which translates to "scenic mountain."
When Rabbi Moshe and Mrs. Barbara Perkal made aliyah in 1993, their move was unusual – not only because few people made aliyah then but also because all their children, including the married ones, moved along with them. And every one of them has continued to live here! For years, Rabbi Perkal dreamed of making aliyah but was unable to do so until he felt financially ready. When he finally was, the Perkals held a family meeting to explain their move. One son-in-law announced that he was interested in moving along with them, and the other son-in-law consulted his Rebbe and subsequently decided to make the move as well. And so the entire Perkal family – parents, two married, and six unmarried children – traveled together to make a new life in Eretz Yisrael, joining another two married children who were already living here.
Since the Perkals are Bostoner chasidim, I assumed that their draw to Har Nof was the Bostoner shul down the block. However, the Perkals inform me that there was no Bostoner community when they came! Rather, the Bostoner building was a community shul whose members were (and still are) both Litvish and chasidish. The Bostoner chasidish community developed as the next generation grew up and married.
Interestingly, years before their move, the Bostoner Rebbe had found an apartment near his shul and asked the Perkals if they were interested in buying it. The price was too high for them, and they turned it down. A few years later, on their pilot trip prior to their move, the Perkals looked high and low for the right apartment in a chareidi community but couldn't find anything within their price range, desired neighborhood, apartment size, etc. Just before they left, they noticed an obscure ad and went to check out the apartment where they currently live. Since the price was too high, in a major act of graciousness, the owner dropped the price by tens of thousands of dollars. In addition to being a large apartment, it includes an enormous mirpeset with a view of the streets of Har Nof from one side and the picturesque view of the Jerusalem forest on the other side. But the most incredible thing was that it was the very apartment that the Rebbe had asked them to buy years earlier!
Getting Adjusted
An initial challenge the Perkals dealt with in those pre-Nefesh B'Nefesh days was the infamous Israeli bureaucracy. On one memorable occasion, the Perkals were waiting in line at a government office to get their citizenship worked out, when they saw a man clutch his chest as if he was having a heart attack. An ambulance was called, and he was told to go straight to the emergency room. He responded, "I'm not going!" Why not? After waiting in line for so long he was not leaving his place! Only after his girlfriend shlepped him to the counter when their turn finally arrived did he leave for the hospital. Despite the absurdity of that situation, Mrs. Perkal says, "I could understand it, and that's the worst part!"
I am interested to know how the young Perkal boys met the challenge of adapting to a new language and culture. At the time of aliyah, the youngest of the six single Perkal boys was five, and the oldest was a teenager. To catch the boys up to their peers, the Perkals' longtime friend and future mechutan tutored them for a period of time so that they were able to acquire some basic Hebrew language skills. In addition, he helped them find proper chedarim in the Bucharim neighborhood. Adapting to their new school wasn't overly difficult for the Perkal boys. The five-year-old came home the first day of school and described it succinctly: "Mommy, the day is so long!" Then, around Chanukah time, he remarked, "You know, Mommy, the day got so much shorter!"
The two older teenage boys were in "transition points" in yeshiva gedola, so it didn't make much difference for them where they were learning. Although they went through some initial roughness, Mrs. Perkal says, "They knew we were behind them, that we supported them, and that they had no choice. It was not as though if it didn't work out, you move back to America…. We lived here. 'We have our challenges; you have your challenges.'"
I still wonder at the Perkals' experience. I am amazed that all their children continued in the path of their parents and persevered in a new country. Mrs. Perkal shares her firm belief that the key element is integration in a complete way into whichever society you choose to belong in Israel. They decided from the beginning, "We eat Israeli; we don't walk into a store and look for our American products, etc."
She is also adamant about learning the language. All the Perkals speak fluent Hebrew by now, and Mrs. Perkal describes learning the language as a pivotal element to integrating within Israeli society. "It's speaking, reading, and thinking," she says. "You force yourself to read the signs in Hebrew. You force yourself to answer the phone in Hebrew, and talk to the person next to you on the bus, the grocer, the fruit man, the little kids on the street – all in Hebrew. It's a process, but it's essential. Those people who do not learn how to speak Hebrew fluently never make it here."
Today, when the family gets together – and it now includes children, grandchildren, and great-grandchildren – if someone wants to speak, it's in Hebrew. Mrs. Perkal believes that those who put themselves into an American neighborhood, speak English to their neighbors, and when the phone rings, say, "Do you speak English" – they are the families whose kids go back to America or go off the derech. They are the kids who have all kinds of major problems.
One adjustment that was very pleasant was the freedom that children have in Israel. The Perkals reminisce about their pioneering days, when safety was much less a concern than it is today. It once happened that their boys were on the bus to school, and the older boys accidentally left the five-year-old alone on the bus as they hurriedly got off at their stop. The ride continued to the Kotel where the bus driver realized he had a small boy keeping him company. He promptly asked him where he wanted to go and took him to cheder! Even nowadays, Mrs. Perkal believes that if a child is relatively trustworthy and intelligent, they can do things by themselves, like going shopping or venturing out to shul down the block, as her five-year-old grandson does in Beitar.
Parnassa Worked Out
Bringing their professions with them to Israel was not a challenge for the Perkals. Rabbi Perkal worked for a Baltimore company doing pharmaceutical development prior to making aliyah and was able to freelance upon arrival in Israel. Mrs. Perkal, who was employed at Johns Hopkins Hospital while in Baltimore, was also able to continue her work as a nurse. She is now a popular, self-employed nurse for women in labor. When I ask Mrs. Perkal how she was able to go from an American hospital to an Israeli medical setting, she answers with a chuckle, "Like everything else in this country, Hashem runs the world, and He ran that." Although originally "terrified" to work in the Israeli system, not knowing Hebrew well, she explains that her practice developed when someone from Baltimore asked her to provide her services here. As time went on, however, she adjusted and built up her practice by word of mouth with Americans as well as with Israelis.
Where Do We Belong?
As all the Baltimoreans I've interviewed have told me, choosing an appropriate community is essential if you want to make a successful aliyah. Since the Perkals are chareidi Bostoner chasidim, they sent their children to chareidi chadarim and Bais Yaakovs that are in line with the values and beliefs that they endeavored to instill in their children. Rabbi Perkal shares his appreciation of the system in Eretz Yisrael: "There's no comparison between living in America and living here. It's 100 percent different. The values are different, the spirituality…and the potential is far greater to develop in Torah and yiras Shamayim."
Rabbi Perkal explained the accomplishments of his young grandchildren in terms of the breadth of their Torah knowledge at a young age. He believes that the standard level of learning achieved here far surpasses what could be expected in the States. One reason is that, since the children already understand the language of their studies, they can advance more rapidly. I ask whether, with all the intense learning the boys are involved with, do they appreciate and enjoy the process, or do they feel lots of pressure? Mrs. Perkal laughs, "They love it. They come to our house, and all they want to do is sing their songs and test me on this and test me on that." As far as the rebbeim, Mrs. Perkal continues, "they get on the floor and crawl with the little kids; they play with them and dress up when they have "chasanas." Mrs. Perkal gives an example how their derech halimud goes beyond Torah learning. "If they want to teach balance, they will crawl on the table." When it comes to teaching the parshios, the lessons can really come alive. For parshas Chayei Sara, they take a trip to Me'aras Hamachpeila in Chevron. The children have their aleph bais siyum at the Kotel. The geography of the Holy Land grants superb learning opportunities for the mishnayos and Chumash.
A Bit like Baltimore
Amidst its many playgrounds and greenery, Har Nof's advantage is that, even though it's not near the center of the city, it offers just about everything one can imagine. You'll find supermarkets, a bank, doctors' clinics, a pharmacy, pizza, ice cream, dry cleaners, a photo shop, and a toy store. And right outside Har Nof, an even greater variety of shops, including many clothing and shoe stores, line busy Kanfei Nesharim Street. Mrs. Perkal chooses to shop in a discount supermarket outside Har Nof. The Perkals often rent a car Friday morning and return it Sunday morning to use for their erev Shabbos shopping and as transportation to the hospital when Mrs. Perkal is on call over Shabbos. A bonus is that, in Israel, you don't have to pay for the rental car over Shabbos. Imagine that!
How do people react when they see Mrs. Perkal driving on Shabbos with her hat over her shaitel? For the most part, they understand that it's an emergency. One funny incident was the time the Perkals were in Shuafat for the Shabbos sheva brachos of their son. Everything was fine until Mrs. Perkal was beeped during Shabbos lunch and immediately proceeded to the hospital in her car. "They were all talking about this lady dressed up like a chareidi who stole the car," Mrs. Perkal remembers!
One aspect about Har Nof that makes it very similar to Baltimore, according to Rabbi Perkal, is its diverse community. You'll find all types and stripes here, but peacefulness and achdus prevail. There are chareidim, a strong dati leumi population, lots of Sefardim, and Ger, Vishnitz, Breslov, and Boston chasidim. Rabbi Perkal ventures to say that only a quarter of Har Nof's residents are American, and most kids speak Hebrew to their friends even if they are raised in English-speaking families. What's most beautiful is that, although there are numerous shuls to cater to each type of individual who lives here, it's not uncommon to walk into a shul and find men davening, some with black hats, and some with kipot seruga.
School options are increasing in Har Nof as well. The neighborhood offers two Bais Yaakovs and a dati leumi girls school, a recently-opened girls high school, several boys schools, batei midresh and kollelim, and many seminaries for post-high school students from abroad. One unique Israeli chareidi school, Netivot Shlomo, provides both limudei kodesh (Hebrew) and chol (secular) studies for boys through eighth grade. There are now several Israeli chareidi high school options, in and out of Yerushalayim, where boys can continue learning Torah and secular studies. Har Nof also hosts an excellent Sefardi school, with about 80 percent of its students learning in shul at night. The community also welcomes seminaries and yeshivas for adult beginners to Yiddishkeit: Neve Yerushalayim and Shearim for girls, and Machon Shlomo and Machon Yaakov for guys.
As I get ready to leave, the Perkals emphasize once again that the key factor necessary to succeed within the Israeli system is integration. "To speak the same language is so important, especially for the sake of the children, so their parents can understand and be understood," Mrs. Perkal asserts. "You have to give in to the culture; you cannot raise American children here. You will never be Israeli, but if you want your kids to adjust, you must adjust to the culture."
The Perkals speak from experience. Baruch Hashem, although their children are different from each other, all are frum and raising frum families. Each child has parnassa, even though, "some make more, some make less; some struggle, some don't struggle. Whether the men, women, or both work, everyone has found something to do." All of the children are chasidish, and no one has gone to college, although some have taken training courses or had private lessons to learn a trade. Loads of siyata d'Shemaya and lots of effort, I muse, as I glance around the Perkal home, where I can almost envision the numerous members of their family and happy memories bursting from every corner.
Miss Shugarman grew up in Baltimore. To reach the Perkals, you may email them at mperkal@gmail.com.