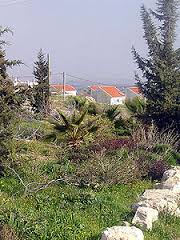 by Bracha Shugarman
Over 20 years ago, Aryeh and Shoshana (Suzanne) Weinberg were a typical young Baltimore family living on Fallstaff Road. What a surprise it was when they picked up and moved to Israel in 1996 with their six children, aged one to almost sixteen. Aliyah, uncommon today, was a rarity then. Shoshana chronicled the family's experiences at the time in a series of Where What When articles. I now spend a beautiful Shabbos with the Weinbergs in their desert home and find out what has happened to them over the years.
Raised in Randallstown, Shoshana, whose maiden name is Weinstein, went through the Bais Yaakov system and became more yeshivish. Her hope of settling in the Holy Land commenced when she was a seminary girl and affirmed that her home was in Eretz Yisrael. But dating in America was difficult as Shoshana soon saw that in the yeshivishe crowds, most bachurim were not interested in moving there. The pressure from her family to settle in America, along with her own interest in marriage, eventually won, and upon meeting Aryeh Weinberg, she chose to enter a beautiful marriage with him.
Aryeh had been a talmid in Ner Yisrael but was already employed when he met Shoshana. When the topic of life in Eretz Yisrael came up during their dating, Aryeh thought that it was more practical to settle in America, where he was studying to become a CPA. He also held negative memories of his several months in a high school in Israel. Wanting to give him a different experience from their yeshiva in St. Louis, Aryeh's parents sent him to Israel for tenth grade in a school that was supposed to have American students but in fact enrolled mostly Israelis that year. Aryeh lasted until May and then went home to complete high school.
After their wedding, the young Weinberg couple settled in Baltimore and all was well. Aryeh was working, and Shoshana was primarily an at-home mother who occasionally did freelance writing and editing projects. During the five years preceding their aliyah, she wrote text for a company that produced "Torah cards," which were collectable cards for children depicting pictures and facts from the Torah. The Weinberg children attended Bais Yaakov and Torah Institute, and thoughts of aliyah were on the backburner in Shoshana's mind. An important factor was that their oldest daughter was diabetic, and in those days, Israel lacked sufficient medical expertise to deal with her condition.
* * *
It seems that the aliyah dream that Shoshana had carried in her heart for so many years was to remain dormant, until the day when, ironically, Aryeh felt the desire to consider it. The more he contemplated life and internalized the messages from the Torah about the chashivus of Eretz Yisrael, the more he concluded that his home must be there, among am Yisrael. Shoshana explained. "We felt a lack of religious satisfaction and fulfillment. We saw that things were deteriorating morally and religiously, that the goal in America was to have fun. We wanted something more for the kids, spiritually, and thought we could have a more meaningful life in Eretz Yisrael." Aryeh thought that perhaps the moral decay in America might be a turning point for Jewry and wanted to leave while he still had that option, just as some Jews did before the Holocaust in Europe.
Aryeh went on a pilot trip with Tehilla, an organization helping people with aliyah that preceded Nefesh B'Nefesh. When Aryeh returned home, unfortunately, his father, who was living in Baltimore, was diagnosed with a benign brain tumor. The Weinbergs felt obliged to stay and care for him as Aryeh was his only child in Baltimore. It was a disappointment, because Aryeh's father had been making plans to move to Israel as well.
* * *
After Aryeh's father passed away, the Weinbergs became busy again with the notion of aliyah. Soon, they were on their way to start their new life at the absorption center in Mevaseret Zion, a small community just outside Yerushalayim. Shoshana had one first cousin in Israel, and Aryeh had an aunt and uncle and many extended family members. Their relatives were extremely helpful. Shoshana's cousin met them at the airport with a suitcase full of food and helped them get settled in the absorption center. That night, Aryeh's aunt came and made the family supper and explained the basics of Israeli life. As a professional tour guide, she also helped them acclimate by taking the children on trips in the Jerusalem area.
Absorption centers once filled an important role in helping new immigrants acclimate to Israeli life. A family could stay in a simple semi-detached home for the maximum of a year, with six months free of charge and six months at minimal rent. Free daycare was provided for the young children on premises while the parents took ulpan, Hebrew language classes. Also included were trips to educational museums and tours of potential communities. Many government bureaucratic services were also provided on the premises.
For the families, it was a comfort to grapple with Israeli life together with other new olim, whether it had to do with the school systems, adjustment to Israeli winters without central heat, or medical issues. Aryeh and Shoshana took advantage of the ulpan in the absorption center. Shoshana laughs: "When did I ever spend five hours a day next to my husband?" adding that the ulpan was "humorous and light, with a minimum of homework." During breaks, the couples would go home for a light meal and wave to their children playing in the daycare yard. Shoshona enjoyed the experience of meeting people from all over the world, and she and her family retain many connections they formed from their early days in the absorption center.
While in the absorption center, the Weinbergs connected to Rav Sinai Adler, who was mashgiach of the yeshiva of Mevaseret Zion and formerly Chief Ashkenazic Rav of Ashdod. The Rav is chareidi, although the yeshiva has chareidi, dati, and chardal (chareidi leumi, i.e., strongly religious and also nationalistic) bachurim. The Rav and his Rebbetzin provided fatherly and motherly warmth for the Weinbergs, who were privileged to attend a Rosh Hashana meal at their home. Rav Adler became their address to ask questions to regarding functioning in Israeli chareidi society.
While the parents were acclimating, the children went to school. The Weinbergs sent their two elementary age daughters to nearby Telz Stone and their son to a cheder in Yerushalayim. The older Weinberg girls went to a Bais Yaakov high school in Yerushalayim that had many English-speaking girls. It wasn't a perfect fit but was the best option at the time. Their daughter Tzippy, in first grade, had the hardest adjustment and became distressed with her new situation. Coming from a comfortable preschool in Baltimore where she was smart and well-liked, she was now thrust into a situation which was totally unfamiliar: larger classes, teachers and students speaking a foreign language, and a bumpy school bus ride. The school didn't know how to handle Tzippy's adjustment difficulties, so Shoshana finally made use of another benefit in the absorption center. She consulted the social worker on premises and with her help was able to transfer Tzippy to the preschool in the absorption center, where the young girl blossomed once again. The downside was that the group was coed and a bit too Zionistic for the Weinbergs' liking.
* * *
Many of the communities that the new olim explored on the Sochnut (Jewish Agency) tours were yishuvim, small settlements as part of the Sochnut's agenda was to encourage the development of yishuvim. Although the Weinbergs eventually settled in Ma'ale Amos, a small yishuv in Gush Etzion, they did not find it through the group tours, nor was their initial intention to settle over the Green Line. But it was on the group tours that the idea of a cozy, quiet yishuv life began to interest Aryeh and Shoshana. The problem was that most yishuvim were Zionistic, which didn't line up with their own beliefs. One day, while visiting yishuvim with some of his absorption center friends, Aryeh came across Ma'ale Amos and was impressed with its simple chareidi lifestyle. Ma'ale Amos is one of the only chareidi yishuvim in the West Bank and was named after the Navi (prophet) Amos, who some say lived in the nearby village we know today as Tekoa. The fact that it wasn't too far from Yerushalayim aroused his interest as well. He was concerned, though, about the long winding road through the desert mountains leading to the yishuv. At night and in the rain, the road could be treacherous. Security was another concern because of the potentially hostile Arab villages nearby.
Shoshana later went to Ma'ale Amos with some other women, and describes her impressions: "We pulled up to the gate. I looked around and saw the sky, the fresh air, and the view. I saw the children during recess and everything seemed so wholesome." She appreciated that the school was within walking distance for the children. In contrast to Israel's usual class sizes of about 40 children per class, the small class sizes of five to ten children in Ma'ale Amos classes was very refreshing for Shoshana.
The heimish atmosphere among the approximately 50 families on the yishuv made Shoshana feel that she would find a family substitute there. The Weinbergs also hoped that, because of the community's small size, they wouldn't get lost but would be able to become active community members. In Baltimore, Aryeh had been treasurer of Rav Feldman's shul and on the board of P'TACH. Shoshana edited and wrote for P'TACH's newsletter and, at one point, for the Bais Yaakov PTA as well. In Ma'ale Amos, too, they felt that they would have opportunities to make a difference.
Another thing that the Weinbergs liked about Ma'ale Amos was that it is a Hebrew-speaking Israeli yishuv with some Anglo families as well. This would guarantee that their kids would speak Hebrew fluently and integrate into Israeli life, which doesn't happen as easily in majority Anglo communities. Since some classmates of the older Weinberg girls from their high school in Yerushalayim lived in Ma'ale Amos, Shoshana knew that there would be some familiar faces for them. Another benefit of the yishuv was that they could purchase an affordable house, which would cost less than a small apartment in Yerushalayim! And the children would be able to run freely along the streets as is typical of yishuv life.
Connecting to a Rav is an important value for the Weinbergs, and here too they were satisfied that they would have access to the Rav of Ma'ale Amos, Rav Zev Charlop, who was American. They also felt that the other yishuv residents were spiritually oriented and not materialistic. All things considered, Shoshana felt sure about Ma'ale Amos, despite its problematic road. The Weinbergs initially rented a home in the yishuv, and several years later built a spacious five bedroom home. Most residents were Russian, American, and Israeli as the yishuv had taken in many Russians during the Russian wave of immigration in 1991 and taught them about religious life.
* * *
When the Weinbergs made aliyah, high tech was big in Israel, and Aryeh found a job as a CFO (Chief Financial Officer) in a company across from the Malcha mall in Southern Jerusalem. When the company moved to America, Aryeh switched to other companies until the high tech market crashed and employment became a challenge. Although Aryeh was only in his early 40s, companies were looking for even younger workers.
Aryeh finally found something truly suited for him in Bnei Brak with an ideal corporate environment for a frum person. Most people in the company were chareidi, employees received a mehadrin fleishig lunch each day, there were shiurim during work hours for both men and women, and even a Shabbaton in the Kinar hotel for the employees' families. A week after the Shabbaton, however, Aryeh lost that job when new investors in the company felt that his newly created position wasn't financially justified.
As a result of this big disappointment, Shoshana learned a large life lesson: "Sometimes in the short term something seems very difficult, but in the long term is the biggest bracha." Aryeh took a course to become a Certified Internal Auditor, a branch of accounting. He is now self-employed working from home, which turned out to be a huge bracha, in comparison to his hour-and-a-half commute to Bnei Brak.
* * *
Not long after they moved into Ma'ale Amos, both Aryeh and Shoshana took active roles in their new community. Aryeh is Ma'ale Amos' representative in the religious Regional Council of Gush Etzion's 20-plus yishuvim. He also became part of the va'ad hanhala (town council) and is a member of the va'ad kabala, the committee that accepts or rejects prospective new families. Ideal candidates to be accepted into the yishuv are chareidi families without any major medical or shalom bayis issues. Since the yishuv medical clinic is open only twice a week for 30 minutes, yishuv residents make use of the excellent medical services in nearby Efrat (only 10 minutes away) as well as Beitar and Yerushalayim. Shoshana jokes that you have to get sick on the right day of the week! There is also a male nurse on the yishuv who does blood work once a week and a mini-pharmacy where you can order basic medications. It is for this reason that medical needs are a factor that determines a family's success in the yishuv.
Another community project that Aryeh undertook, along with two partners, was to purchase a few guest houses with a government grant. The men planned to use the houses to accommodate guests of yishuv residents, vacationing families, and prospective yishuv dwellers. The men also started a makolet (small grocery) to provide for the yishuv residents and the families in the guest houses. They didn't last long as they were not buying in bulk like large supermarkets had no choice but to sell the groceries for higher prices. There were also large expenses and lots of time involved in transporting the goods into the yishuv because food suppliers were afraid to travel the roads to Ma'ale Amos, since this was around the time of the intifada in 2000.
As for Shoshana, she became coordinator for prospective new residents of the yishuv, a volunteer job she did for six years. She welcomed them warmly, gave tours, and coordinated visits and meetings with the va'ad kabala. Her advice to these would-be families was, "The more you are active in the community, the more likely you will be happy. If you are not involved in the community, you will go crazy from boredom."
Currently, Shoshana is part of the emergency committee, which deals with weather, security, and other emergency issues as well as the death of a resident (fortunately, rare). The women on the committee notify the yishuv's residents of imminent or current emergency issues and make sure people are coping with the situation. The system is well-organized and efficient, and the women are trained for their roles. Since the government doesn't have the infrastructure to deal with snow, the winding mountain roads leading to the yishuv become too hazardous for travel during snowstorms. The emergency committee therefore warns the yishuv's residents of impending snowstorms so they can plan to arrive home before the storm begins. Families also make sure to stock up in advance on whatever emergency food and household and medical supplies they will need over what could be several days without access to stores, electricity, and medical care. Shoshana mentions that the winter winds are so powerful in the yishuv that when people alight from the bus, they occasionally get thrown against the fence and make their way home holding on to trees and poles, running several meters at a time when the wind calms down slightly, until they arrive home!
* * *
Security measures are part and parcel of yishuv life, with several men owning guns, including Aryeh. To keep infiltrators out, the yishuv is surrounded by a security fence and a guard post at its entrance. Not too long ago, at 3:00 a.m., Shoshana and the other women on the emergency committee received an alert to make the rounds of phone calls to the yishuv residents warning them to stay indoors and keep their windows and doors locked until further notice. They also carefully assessed each family's emotional reactions. In that case, baruch Hashem, the emergency ended up being theft and nothing worse. A soldier stationed on the yishuv heard noise on the other side of a wall where construction of new buildings is taking place and saw some Arabs leaving with construction equipment loaded on a donkey. Shoshana explains that the professional training she received on handling emergencies helps her maintain her calm during those stressful situations, so that she has the logistical and emotional strength to carry out her assigned tasks.
Although security remains an issue – and there are occasional incidents of stone throwing and firebombs – Aryeh and Shoshana own a car and confidently come and go from the yishuv without restraint. Many residents take advantage of the government's offer of free stone-proofing on car windows, and recently, a seminar was given on defensive driving tactics to handle terrorist attacks on the roads. The Weinbergs are careful to say tefilas haderech when they travel anywhere. A few Sefardi men in the yishuv actually say birkas hagomel upon their return each time they venture out of the yishuv. Aryeh assumes that they say the bracha to fulfill the condition of saying it after traveling in the desert. Although it would seem that their security is compromised, the residents actually feel very safe on the yishuv itself, and the children play carefree on the streets.
* * *
Over the years, Shoshana has been able to use her degree in mass communications to take on freelance writing and translating projects. Her work is part time and is enough to keep her occupied. Shoshana maintains a close circle of friends on the yishuv and gives a shiur in her home every Shabbos to other English-speaking women. She also plays the flute and occasionally joins other musical women to put on performances on special occasions, such as before Purim or on Rosh Chodesh. There are several shiurim each week for women, with two given by Rebbetzin Charlop, who is Israeli but speaks perfect English.
The community center in Ma'ale Amos offers exciting chugim (organized activities), such as sewing, pottery, drawing, dance, exercise, drama, and choir for women and girls. Young children are offered storytelling and a supervised playroom. The boys have optional learning groups after school and can take chugim in woodworking and art. They also play ball, ride their bikes, roller blade, and make amazing go-karts from scraps of material. "That's yishuv life," laughs Shoshana.
The Weinberg's son, Yisrael, when he was already a young adult, spent a few Shabbosim in Gush Katif, the enclave of yishuvim in the Gaza Strip. He once took the family to visit the settlement Neve Dekalim and meet his host family. The hostess insisted to Shoshana that the evacuation would never happen. That summer, the evacuation sadly did take place. Shoshana describes how this tragic event affected her family as yishuv residents: "You identify very strongly with the people being forced out, and you imagine it could happen here also."
There are no stores in Ma'ale Amos aside from a few families that sell items from their homes, such as fruits and vegetables, snacks, baking supplies, and cleaning supplies. Most people own cars and shop in Beitar or Yerushalayim. Children who study in Yerushalayim as well as adults who learn or work there help by bringing groceries back to their families by bus or car.
Both the cheder and girls elementary school on the yishuv are Chinuch Atzmai schools, which are partially financed by the government. Most children stay in the yishuv for school, but some children travel 30 minutes to Beitar or an hour by car, bus, or free school buses to Yerushalayim to attend schools that better suit their needs, such as a Yiddish-speaking chasidish cheder. Although the local schools have a remedial teacher, children who have more severe special needs also leave the yishuv and receive free door-to-door transportation in vans. Some parents from surrounding yishuvim who want a chareidi school experience send their kids to Ma'ale Amos for school. Teachers are either local or travel in from Beitar or Yerushalayim.
* * *
Shoshana shares one of their biggest challenges they encountered in their new Israeli life: "We went from American yeshivish out-of- town community to an Israeli chareidi one. Many things were different, such as the appropriate styles of dress, leisure activities, goals for your children, what you talk about and don't talk about, and the social life." In the absorption center, Shoshana remembers being a little jealous of her dati leumi neighbors because "they could stay who they were and their kids would be fine. They didn't have to make changes, so it was easier for the kids. Of course, you still have to adjust to the culture and language, but because of the chareidi community's long history of having to fight for Torah in a secular State, it turns out that, in the chareidi world, you are always bashing the government. And when you're busy bashing society and its cultural values, your kids start thinking, 'Why did you bring us here if it's so bad?'"
The Weinbergs tried to infuse their children with the great value and significance of being in Eretz Yisrael, which they weren't necessarily getting in the schools. For their part, the schools were leery of the American Weinberg children: afraid of their Western influences and values. "And here we thought, 'Look what we gave up – family, what we were used to, community status, etc.'" says Shoshana. "We come here and find that we are second class citizens. We have to learn the values."
These feelings and experiences were generated mostly from the schools to which the Weinbergs sent their older children rather than from Ma'ale Amos itself. In the yishuv, they found more acceptance because many of the residents were ba'alei teshuva, people who were growing religiously. But since the yishuv wanted to maintain high religious standards for the children, if someone didn't fit in completely, they felt like they didn't belong. "Some yishuv parents view children who wander away religiously very warily lest they influence their own children," says Shoshana. "No matter who you are in the community, if you have issues with your children not staying in line, people are upset with you. It might be a reflection on you and your success with your chinuch or due to something else. It's an imperfect world, but people try to create and preserve and live in a utopia that doesn't really exist. It's ironic, because a few years later, the children of those same people reach that age group and are going through the same thing. You just say, 'Welcome to the club.'"
High school was a roller coaster challenge for the Weinberg children. There were lots of ups and downs as they sorted their way through the system in a number of different schools. One daughter attended high school and simultaneously completed her GED through a correspondence course. Shoshana emphasizes, "We experienced exceptional hashgacha pratis repeatedly, when new high schools and seminaries opened up exactly when our children needed something that didn't exist before." Their youngest daughter Meira, who did not have difficulties, baruch Hashem, looks back and wonders how she would have turned out if her family had remained in America. She appreciates the lower emphasis on gashmius and the spiritual depth and frumkeit with which she has been inculcated by going through the chareidi system.
In the Weinbergs' case, not only were there challenges in their own move (including the challenges with the schools, which affected Aryeh and Shoshana very much) but Shoshana's mother, Paula Weinstein, back in Baltimore, had a particularly difficult time with the separation from her beloved children and grandchildren. Being a Holocaust survivor, she worried about the financial and security situation of her daughter's family. She also opposed their choice of a very small, remote, chareidi community. However, after several visits, meeting the friendly people, enjoying the exceptionally fresh air, and seeing the current miracle of construction of new housing units which herald the community's development, she began to come around. It was after the grandkids started getting married that she finally came to terms with the Weinberg's life in Israel.
* * *
By now, most of the Weinberg children are married, having met their spouses through amazing hashgacha. The married couples are living in Beitar, Beit Meir, Ramat Eshkol, and Telz Stone and raising beautiful families. One daughter returned to Baltimore after seminary and completed her degree through Ma'alot while boarding with a local family, until she married and settled in Baltimore.
Was it worth it? Aryeh and Shoshana remain positive and appreciative of their life in Eretz Yisrael. Shoshana shares some anecdotes that highlight the beauty of their aliyah: Once, when they were eating in a restaurant, their son Yossi, who was two at the time, was staring at a foreign worker. Shoshana braced herself for an embarrassing scene in which her son would ask out loud, "Why does that man have slanty eyes? Why isn't he wearing a yarmulke?" Instead, Yossi said, "Ima, that man didn't wash before sitting down to eat!" Shoshana relishes that incident. "In Israel, you can display mitzva observance openly and feel like you are the norm," she says, "in contrast to my own feelings during college in America, when things like saying asher yatzer and other brachos made me feel self-conscious, even though I knew I was doing the right thing."
Another time, Yossi came home from preschool and Shoshana found him searching the yard for fruits to bring as bikurim to the Bais Hamikdash. "The learning was so real for him. It wasn't some fantasy." She reflects, "This is what we wanted for the children: to make the Torah come alive for them, to have a less materialistic life. On the whole, we accomplished that. The goals here are to become an eved Hashem."
Shoshana sums up her aliyah experience with a comment from someone in the absorption center. The woman had said that the decision to make aliyah is the easy part. It was finding the right community to fit your family's needs after aliyah that was difficult.
"It's important to sometimes break out of the mainstream to do what's right for your family, even if you get flack for it," says Shoshana. She also warns, "If you come to Israel with high expectations, you will be disappointed," pointing out that her own family encountered lots of surprises over the years even after all their planning.
Aryeh is clear about their aliyah. He hones in on pesukim from the Torah that highlight Hashem's constant guidance over each person and the extra special hashgacha (providence) that is even more manifest in Eretz Yisrael. He believes that living in Eretz Yisrael takes emuna (faith). And with emuna, anything is possible.