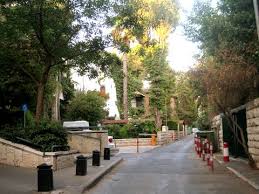 When I think of Rechavia, my mind conjures up an upscale neighborhood in the heart of Yerushalayim with tree-lined streets, green parks, and beautiful, often palatial, buildings surrounded by neat gardens. Although but a few minutes walk to shops, hotels, and restaurants on Keren Kayemet Street, Rechavia is almost purely residential, with a mixture of both secular and religious Israelis as well as chutznikim (immigrants) interspersed throughout the neighborhood. Meni and Liza Even-Israel and their four children are one of the many families living in Rechavia, and Liza graciously agrees to share her story of how they landed there.
Liza Ferszt Even-Israel was born and raised in Los Angeles until age eleven, when her parents decided to move to Israel. Intending to make their move open ended, they did not sell their house or their business immediately. A few years later that they actually made aliyah. Since they had come in 1986, before the first intifada, Liza has happy memories of life in Israel.
Of course, leaving her friends in the States and moving to a foreign country had its difficulties, but, she says, "My parents always made it fun." They would take trips around the country or do simple things like going out for ice cream together. Since Liza came from a small class of just seven girls in L.A. – if you didn't get along with your classmates there was no one else to befriend – she appreciated the larger class sizes in Israel. She also describes herself as easygoing by nature, so her school experience in Israel was "smooth sailing." Liza believes that her parents' personalities also played a key factor in the family's integration. "My parents are friendly, happy-go-lucky, positive people, and are pretty open. There were always other people in our house, and this made it much easier for us."
When the Ferszts first moved to Israel, they lived in the Old City for six weeks, until Liza's father realized that he needed a more spacious environment. They moved to Talbiyah and Katamon, but her parents were not satisfied; they were searching for a community where they could be active and feel part of something. They were told about a neighborhood in Ramot, called Treiger, where there was a friendly, mixed-religious Anglo community that had the atmosphere of achdus they were seeking. (The community has since shifted and become more Israeli chareidi with the passage of time, says Liza.) Liza's parents decided to buy a house in Ramot and were extremely satisfied with their pick. Liza and her siblings had a happy childhood in the neighborhood with the many children their age.
* * *
When Liza grew into adulthood and met her husband, an Israeli from the German Colony neighborhood of Yerushalayim, they began their marriage in the States. His last name, originally Steinsaltz, was changed to Even-Israel by the Lubavitcher Rebbe. Since both Liza and Meni are Lubavitch, they were sent on shlichus by Chabad to Richmond, Virginia. Part of Meni's shlichus was to teach gemara to university professors at the University of Virginia in Charlottesville, and Liza organized Torah classes for the community. Meni enjoyed the work on campus and continued community outreach in Stony Brook, N.Y., as campus rabbi at SUNY. The family lived in Stony Brook for two years and were then transferred to Hillel of Greater Baltimore.
They moved into a house on Strathmore Avenue and became members of Congregation Tiferes Yisroel. Meni started working for the international Hillel and was involved with outreach towards people coming back from Birthright trips. He would travel to colleges and engage the students on campus, inspiring them about their Jewish heritage. Shortly after the outbreak of the first intifada, the Birthright program collapsed due to low enrollment. Meni became rabbi in the University of Maryland, and the family continued to live in Baltimore, occasionally spending Shabbos at the University in College Park.
After a few years in Baltimore, Meni and Liza moved back to Israel in 2005 with their three children. (Their fourth child was born in Israel.) They chose to return to Eretz Yisrael upon the request of Meni's father, Rabbi Adin Even-Israel Steinsaltz who desired that Meni direct his organization, Shefa. Rabbi Steinsaltz began Shefa in 1975 as an umbrella organization for all his activities. Its aim is to foster Jewish identity and make Jewish education as widespread as possible, according to the Lubavitcher Rebbe's vision of of "Let My People Know." Among Rabbi Steinsaltz's accomplishments is the publication of the Koren Gemara. He has also written 60 books and established a network of schools and educational institutions in Israel and abroad.
When the Even-Israels returned to Israel, they began their life again in Ramot in the home of Liza's parents, which was large enough to accommodate everyone. There was even a big yard where the kids could run and play. The location was not a good fit for them, however, because the residents were mostly of an older generation, the parents of Liza's childhood friends still living there at the time.
From Ramot, they moved to Rechavia in the center of the city. Since Meni's father is the Rav of the Chabad shul, Tzemach Tzedek, in the Old City, and Meni was raised being part of the shul, it was important to him to live within walking distance of the shul and be active in it once again. The shul was built by one of the Lubavitcher Rebbes and was actually the only shul left standing after the Six Day War. Every Shabbos, the Even-Israels make the 35-minute walk to Tzemach Tzedek. Liza is enthusiastic about the shul: "It's fun because it attracts a lot of tourists, and you get to see so many people through the years. Of course, there's a core group of people who daven there as well."
There are no religious schools in Rechavia, so children leave the neighborhood, taking either public or private transportation. The Even-Israels sent their daughter to a Chabad elementary school in Ramat Shlomo. Their older son went to Meni's father's school, and their younger son went to Rapaport in Ramot. It is a "chardal" school (a mixture of chareidi and dati leumi) that has a large number of both chutznikim and Israelis.
* * *
The Even-Israels came to Israel during the second Lebanese War in 2005, which made settling in hard and very scary, especially for their son, who was eight years old. Their daughter had an easy time adjusting, and by Chanuka time, she was already speaking Hebrew with an Israeli accent. Liza recognizes that her children's adjustment was made easier since she and her husband spoke fluent Hebrew and were already Israeli citizens, and because they had family living there.
Liza mentions that her boys have severe allergies to nuts and peanuts, and when they first sent them to the Israeli schools, she had to work hard to educate the staff about their allergies. "If I did not know Hebrew," she says, "I probably would not have come to Israel at that time." Liza adds that there is now much more awareness of allergies in the schools.
Liza also had a hard time initially getting the proper ulpan (Hebrew language) help that her children were entitled to in school. "You can't always rely on the school for language help," she says, "and this can be very frustrating." She advises olim to be prepared to spend money to acclimate their children, whether with ulpan or extra chugim (activities) to keep them busy after they come home from the shorter Israeli school day.
Leah, the Even-Israels' daughter, who is now 18 and in 12th grade, shares her experience making aliyah. "It wasn't a hard process for me. I'm friends with a lot of people who made aliyah a lot later and their process was probably one of the most traumatic things they have ever done in their lives. I was six and spoke English fluently, and I still do. I was almost never in class the first year. I had someone who took me out to teach me Hebrew, and within four months I spoke Hebrew fluently." In the beginning, Leah's best friend was American and also spoke English fluently.
Liza points out a benefit in her choice of schools for her daughter: Since Liza had gone to the same school, she knew most of the teachers and was able to have people she trusted watch out for her daughter.
As part of Israeli life and culture, there are times when you have to fight assertively to receive what you are seeking. Leah describes how she had to fight recently to receive the bagrut test earmarked for olim chadashim (new immigrants), which is easier than the standard test. (Bagrut are the equivalent of matriculation exams, and if students don't pass, they cannot graduate high school or get into college.) Since her age is borderline in meeting the requirements of how long an olah can receive the easier test, Leah had to assert herself until she finally received the test. Leah explains that even though she speaks Hebrew fluently, she has trouble with various aspects of learning in both English and Hebrew, and therefore wanted the easier test.
* * *
The Even-Israels are happy to be living in Israel and are quite settled in Rechavia. They enjoy hosting their many Shabbos guests, who include students from Mayanot, a girls seminary nearby in Katamon, other seminary students, and family friends. Ironically, all of Liza's family moved back to the States when her father and grandfather became sick a number of years ago. Only her mother is currently living in Israel in the Wolfson Towers, a mostly Anglo retirement building in Rechavia.
Liza describes life in Rechavia as "quiet and not so concentrated." People live on different streets and, as city life goes, don't always have the opportunity to connect with each other. "You have to try to be friendly; you receive as much as you put out there. It's not like living in a close-knit community, where just being there creates an active presence." On the other hand, Liza admits, "it's also nice, because you can have your private time. People aren't too much in your face." People typically live in Rechavia out of convenience, because it's so central. There are also many retirees who seek to spend their golden years in a quiet neighborhood. Although the Even-Israels own a car, Liza says it's not necessary in Rechavia, because public transportation is so frequent.
Liza compares the mixed community of Rechavia to nearby Sha'arei Chesed, where many more chareidim live and the streets are closed to cars on Shabbos, as in other very religious neighborhoods. A large number of Anglos live in both Rechavia and Sha'arei Chesed, most of them affluent, with lots of English heard on the streets. Liza notes that Sha'arei Chesed has the most prized real estate, because it's small and in demand for its central location. In Rechavia, too, houses are very expensive. The Even-Israels rent their apartment, as do many other residents.
From time to time, shiurim and other lectures are offered in the community. Liza explains that communities are formed in Rechavia based on a number of factors, such as children going to the same schools or chugim. There are a variety of shuls to choose from. The Mayanot shul, which has the same Chabad administration that began the Mayanot learning institutions for men and women, has beautiful Carlebach-style nigunim. The Gra shul in Sha'arei Chesed is a popular shul for many Anglos, with minyanim happening all the time.
An interesting feature of life in Rechavia is that the residents share the neighborhood with the prime minister and many politicians. Indeed, I was stopped by a roadblock as I walked onto Balfour Street, as per my Google Maps directions, to get to Liza's house. The security guard proceeded to ask me where I was heading. She then redirected me to take another route as entry through that road was restricted. Little did I know that Prime Minister Binyamin Netanyahu lives on that street. Liza actually saw the Prime Minister and his wife once taking a walk on Shabbos. "I was walking home from visiting my mom, and I saw all this action, so I knew somebody was around. Then all of a sudden in the middle of the street, I see Bibi and Sara Netanyahu. I yelled out 'Shabbat shalom,' and he responded to my greeting." Liza adds that you get used to the daily sirens that are sounded when Netanyahu is entering or leaving the neighborhood.
Another time, former Israeli prime minister, Ehud Barak, was exiting his car and Liza's three-year-old son, who was riding his tricycle on the sidewalk, almost ran him over. She describes how she quickly caught up to her son and found everyone standing there laughing at the scene.
* * *
Liza created her own career path in the Israeli workforce. Back in the States, she worked as the program director for RZA, Religious Zionists of America, part of Mizrachi Olami, the umbrella group for Bnei Akiva and all religious Zionist activity outside of Israel. One project Liza helped plan when she was in Baltimore was the Baltimore Walks for Israel campaign. Its 20,000 participants raised money for an ambulance in Israel. I ask Liza how she became so active, and she responds, "Being part of Chabad, you are always on shlichut, bringing the community together. Ever since I was little, I was raised to work for the community, whether to organize a mesibas Shabbos, a Shabbos party for affiliated or unaffiliated Jews, to work as a camp counselor. That's why there are so many shluchim around the world. Our lifestyle and mindset are to give to other Jews and to be there as a teacher or someone who brings Jews together."
When Liza moved back to Israel, she signed up for an event planning course for the private sector. After working for an event planner for a couple of years, she began her own business and works mainly with tourists who come from the States to celebrate their simchos here in Israel. She takes care not only of their event planning but also arranges accommodations and tours. Her business has its ups and downs, based upon the level of tourism in Israel. "Last year," she explains, "business was slow because of the stabbings, and that was very hard. But now people are starting to come again." She enjoys her work very much, even though it can be stressful at times.
* * *
Although Liza plays a role in bringing people to Israel through her business and is a strong supporter of aliyah, she is practical and realistic when advising people about the realities of life here. She states, "I don't think aliyah is for everybody. You should try living here and see if it's for you. I am not one of those people to say everyone should make aliyah – I don't believe that. Each person has to look at their family and their situation realistically. It could be they're very enthusiastic to make aliyah, but it's not the right time or it's not for them."
Liza has seen people not succeed in Israel, through the years, and either continue living here or go back to America. She says further, "I don't think people should use aliyah to run away from their problems. Some people think that by moving to Israel, everything will be amazing. It's a struggle to be here, especially if you don't have family or know the language. It could be a great place, too, but it has to be right for everyone in the family."
In order to succeed in Eretz Yisrael, Liza advises, "You must be very tough and not get bogged down by the difficulties. There are times you must be assertive in dealing with the offices and stick things out that don't go your way. It's important to do research into the different types of communities," she adds. "You have to know yourself. It might mean coming here before your move to look for a suitable place that will allow for a more successful aliyah."
When I ask Liza what she appreciates about life here, she answers simply, "I feel at home. Even with all the problems, you have other Jews here, and that makes a very big difference in the atmosphere." She shares an "only in Israel" story to illustrate her feelings: "Once, I went to a store and didn't realize that I forgot my teudat zehut (identity card) there. There's a Yerushalmi group on Facebook and people post lost items on it. The girl in the store posted my picture. I came home and my son asked me, 'Did you lose your teudat zehut?' I looked in my purse and saw that it was missing. He said, 'A guy was walking down the street and saw the post on Facebook with our address on the teudat zehut, so he just came here and knocked on the door to tell you that it was found.'" Liza views this anecdote is typical of life here in Israel: everyone trying to help the next.
You can contact Liza at 052-529-0575 or lizaevents@gmail.com. Meni can be reached at m@miltaltd.com.