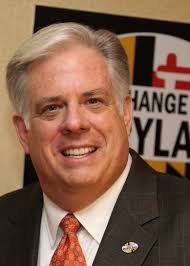 After Rosh Hashanah ended, I checked my emails, as I always do after a Shabbos or holiday, to find out what I missed during the two-day Yom Tov of restricted access to the outside world. I was rather shocked to receive an email dated October 3, 2016 from Governor Hogan's press secretary asking me, "Can you come to the State House in Annapolis for a 15- to 20-minute in-person interview with the Governor this Friday, October 7, at 2 p.m.?" You may ask why I was surprised to receive this email. Precisely, it is because I had been requesting an interview with Governor Hogan since early August for the September edition of the WWW. However, the Governor's staff informed me that he would not be available for an interview until some time in October, which led me to believe that perhaps the interview would never take place. I later learned that Governor Hogan was preparing to travel to Israel on a trade mission in September, which had not yet been made public. The Governor's staff wanted to schedule the interview with the WWW for after his return from Israel so that he could discuss the highlights of the trade mission during the interview.
Now I needed to decide whether I would be able to travel an hour to Annapolis for the interview and back to Baltimore in time for the start of the first Shabbos of the New Year. I asked the press secretary if we could schedule the interview for Sunday instead of Friday afternoon. She responded that the Governor only schedules interviews on Fridays but would be available for a phone interview if the commute was not feasible. I opted for the in-person interview and hoped there would be little or no traffic would for the return trip to Baltimore.
I left my office in Towson at approximately 12:15 p.m. and arrived in Annapolis around 1:15. After finally finding parking further than I anticipated, I walked six blocks on a hot Friday in October, turned past the Governor's residence, and walked up the steps into the State House in time for the 2 p.m. interview. "I have a meeting with the Governor at 2," I confidently announced to the security guard on duty. After calling upstairs to confirm my identity, he cleared me to proceed to the second floor, where the Governor's office is located. While waiting in the lobby, I had just enough time to straighten my tie before the press secretary escorted me to the Governor. Tagging behind the press secretary, I heard her say, "Governor, meet Brad Kauffman." Then the Governor appeared. He greeted me warmly at the entrance to his elegant and spacious office. I told the Governor that it was a real privilege to meet him. He directed me to his desk, which was situated in front of American and Maryland State flags, and we sat down for the interview. The press secretary and another aide were also in the room.
My first impression of Governor Hogan was of a very affable, down-to-earth person. Perhaps his gregarious persona is one reason the Governor is so popular in the state and nationwide. Before we delved into more concrete topics, Hogan said to me with a smile, "Shabbat shalom. I missed wishing you a happy New Year." I thanked the Governor for his kind wishes. Hogan's press secretary then announced that she was setting the clock to make sure the interview did not exceed the 20-minute time slot.
"She's a stickler," Governor Hogan quipped. Actually, his staff is very diligent about accounting for every minute of his time which is of course valuable.
"I Will Never Forget Israel"
Governor Hogan then shifted to talking about his first trip to Israel, which he described with glowing adjectives as being "terrific, amazing, fantastic," a trip that he will never forget. The Governor had been looking forward to visiting Israel since last year. Unfortunately, 150 days into his term, Governor Hogan was diagnosed with an aggressive form of cancer which spread throughout his body and required 24-hour-a-day treatment for six months, including immuno-therapy and three surgeries. The trip to Israel had to be put on hold. When the Governor's health improved so that he could travel overseas, Hogan again set his sights on Israel and the planning for the seven-day trade mission sponsored by the Maryland Israel Development Center began. The Governor was accompanied on the trade mission by a 40-member delegation comprised of cabinet members, academic officials from all the major Maryland universities, CEOs of Maryland businesses with ties to Israel, and leaders in the Jewish community, including BJC Chairman Abba Poliakoff.
After touching down in Tel Aviv on September 20, Hogan held intense on-the-hour, back-to-back meetings with Israeli businessmen representing both small and large companies. At those meetings and in remarks he delivered to 250 Israeli entrepreneurs at Tel Aviv University, the Governor emphasized the commonalities between Maryland and Israel in a sales pitch to persuade them to expand their companies or relocate their North American headquarters to the Free State. According to the Governor, Maryland and Israel share similar interests in the fields of bio-tech and defense, among other industries. Hogan's constant meetings left virtually no time for surveying the exquisite beaches of Tel Aviv. However, in the process, he fondly recalled being introduced to young, aspiring, and innovative Israelis who have launched impressive start-up companies.
Israel-Maryland Cooperation
I asked the Governor, "What are the chances that any of these businesses will open up in Maryland?" Hogan believes that his lobbying campaign of Israeli businesses will result in concrete developments benefiting both Maryland and Israel. Specifically, he hopes that, in due time, many of the young people who formed the start-up companies will forge relationships with Maryland. Indeed, several significant announcements during the trade mission itself are worth mentioning.
The Israeli pharmaceutical subsidiary of Enzymotec, Vaya Pharma, agreed to relocate their U.S. headquarters to the University of Maryland Biopark in College Park. In addition, the Israeli company Nayax, the "global leader in cashless payment industry," opened its U.S. headquarters in Hunt Valley. Hogan's delegation negotiated and closed a deal while in Tel Aviv with Cyberbit, a division of Electronic Technology Associates (ETA). As a result of this deal, ETA will be opening up the first stand-alone, hands-on cyber-security training center in the United States, which will be located in Baltimore. Elta, the largest defense contractor in Israel, actually manufactures parts of the Iron Dome in its plants in Howard County. Because of the Governor's trade mission, Elta will be tripling its presence in Maryland. While in Israel, Hogan and his team toured the Iron Dome facility and met with the scientists who created the radar systems.
On the academic front, University of Maryland Baltimore and UMBC signed a memorandum of understanding with the Hebrew University and Tel Aviv University to collaborate on research and enhance their student exchange programs.
Governor Hogan also wanted the readers of the WWW to know that he particularly admired the Negev communities in Israel, which he said are booming and have the most potential for an extensive connection with the Maryland economic market. The Negev "has grown from nothing in the middle of the desert to 250,000 people, with some Maryland companies there like Northrop Grumman," said Hogan. While visiting the Negev, Hogan and Israeli Deputy Minister of the Interior Meshulam Nahari signed the first ever Sister State relationship between the Negev and Maryland, which is appropriate considering that Hogan has called the Negev "the cyber-hub of Israel" and Maryland the "cyber-capital of the United States." The new bilateral ties between the Negev and Maryland became crystallized when representatives from Maryland's top universities held all-day substantive discussions with their counterparts at Ben Gurion University on cyber-related issues.
Shabbos in Yerushalayim: a First
In addition to the Negev, Hogan was enthralled by the sheer beauty of Jerusalem. He was particularly moved by Yad Vashem and the Western Wall. It was also in Jerusalem that Governor Hogan attended his first-ever Shabbos dinner, which he called "a unique cultural experience." Baltimore's Dr. Michael and Linda Elman invited the entire delegation to their residence in the heart of the Old City.
"We did the whole…," recalled Hogan, as I rather excitedly interjected: "You did the challah and kiddush and everything?"
"Everything," reiterated the Governor.
Hogan admitted to feeling a little awkward during the dinner: "My Hebrew is not very good, so when they were doing the prayers and singing, I was trying to follow along."
I reassured the Governor that guests are an important part of the Shabbos experience and the Elmans were undoubtedly thrilled to have the delegation join them for a meal.
The biggest disappointment for Governor Hogan was not having the opportunity to meet with the legendary Shimon Peres, who suffered a stroke right before the trip and passed away shortly thereafter. Prime Minister Netanyahu was also unable to meet the Governor as he was stuck in New York for meetings with President Obama and would not return to Israel in time.
BWI to Tel Aviv – Non-Stop!
After hearing about all the highlights of the Governor's trip, which was a tremendous success, I turned my attention to the next important piece of business: a long-overdue nonstop flight between BWI and Tel Aviv. Hogan, a strong advocate for international expansion at BWI airport, has met with representatives from Korean Air to discuss starting a nonstop flight between BWI and Asia in the near future. Apparently, Korean Air is close to launching such flights.
I suggested to the Governor, "One of the things that I want to bring to your attention that I think will really help Israeli businesses is to have a nonstop flight between BWI and Tel Aviv. Did that come up at all during your trip?" Hogan concurred with my suggestion and responded that wherever he traveled in Israel he continually emphasized the importance of having a nonstop flight between BWI and Tel Aviv. As a matter of fact, when Hogan boarded the direct El Al flight from Newark Liberty International Airport (EWR), he told the flight crew, "You know, I would really enjoy flying with you better if we did not have to drive three-and-a-half hours to Newark. We have a tremendous number of people in the Baltimore/Washington region who would like to fly direct from BWI." The El Al flight crew seemed interested in discussing expansion into BWI airport, although that decision ultimately rests with the corporate office. Governor Hogan maintained that after the Korean Air deal is finalized, he plans to focus his attention on securing a nonstop flight between BWI and Ben Gurion (TLV).
Before we completely changed topics, I reiterated to the Governor that the Jewish community very much appreciated that he took the time out of his busy schedule to travel to Israel. "Israel is very isolated with this BDS movement that wants to boycott Israel, so these kinds of missions are really helpful," I informed the Governor. Hogan responded that he had previously signed a letter fervently expressing his opposition to BDS. "Going there [Israel] was showing the solidarity with Israel," explained Hogan of the trade mission. Israel is our strongest and greatest ally, and I want people to know that we were there."
Thanks Community for Prayers
The Governor is asked frequently about his valiant defeat of cancer. (His last chemotherapy treatment occurred over Rosh Hashanah.) He certainly did not need another question from me, so I debated whether to bring up his cancer diagnosis in the remaining time that we had. But since Governor Hogan's perseverance and leadership during an uncertain period is quite intriguing, I decided to ask the question: "How did you continue to lead the State with this diagnosis?"
"I just really tried to stay positive and stay focused," Hogan said of his spirits while undergoing treatment. For the Governor, keeping busy took his mind off of the cancer. He diligently pushed to accomplish the agenda he set for the people of Maryland when he took the oath of office in January 2015, despite suffering from fatigue and other physical side effects. In fact, he worked the entire time he was in the hospital. He had senior staff bringing documents into the hospital for him to review. With his chemotherapy bag attached to his chest, Governor Hogan held security briefings and cabinet meetings in the hospital conference room.
Besides support from family and friends, the prayers and good wishes from faith communities all over the state truly helped the Governor in his fight against cancer. "It really meant a lot to me," Governor Hogan said of the support he received from the citizens of Maryland. He was particularly touched by the Orthodox Jewish community, which organized tehilim and prayer gatherings for the Governor. Indeed, Governor Hogan maintains friendships within the Orthodox Jewish community, most notably his oncologist Dr. Aaron Rapoport, whom he describes as the "greatest doctor in the world" and "one of the nicest men." Dr. Rapoport, who accompanied the Governor on the trade mission, lectured at Hadassah Hospital in Jerusalem with Hogan about the Governor's experiences battling cancer.
Before I knew it, the press secretary chimed in, "You have time for one more question."
"She's a stickler," I said, echoing the Governor's earlier lighthearted description of his press secretary.
Maryland's Republican Party
Governor Hogan declined to answer any questions about the presidential election. Last June, he announced that he was not voting for Donald Trump, although he has not endorsed Hillary Clinton either. Nevertheless, I was curious to hear Governor's Hogan's perspective on the state of the Republican Party in Maryland today. After his surprise defeat of Anthony Brown in the 2014 gubernatorial election, Hogan has a popularity rating of 71%, according to recent polls. Still, is Hogan's election just an anomaly, or are Republicans gaining ground in a state that is largely dominated by Democrats?
According to the Governor, Republicans are being registered to vote two-to-one over Democrats in Maryland. However, Hogan stressed the importance of electing more Republicans in Maryland. "Competition is really important," advised Hogan, "and it also allows for a healthy government when there is a two-party system. Part of the problem is that we have had a monopoly in the state for several years with no honest debate of the issues."
While Republicans are outnumbered in the legislature, where Democrats have the power to override Hogan's vetoes and also dominate in the congressional races, more Republicans have been elected to county-level positions than Democrats.
Like all the other political junkies in the state, Hogan is closely following the hotly contested Maryland Senate race to replace the retiring Senator Barbara Mikulski. Maryland has not had a Republican Senator since Charles Mathias retired from the Senate in 1987. Delegate Kathy Szeliga, the GOP candidate for Senate, is touting Hogan's endorsement of her in TV ads and on her lawn signs. Governor Hogan has even headlined a number of fundraisers for Szeliga. At the moment, though, the polls seem to show Szeliga trailing Chris Van Hollen during a tough election year.
The bottom line is that it is not yet known whether Hogan's popularity will translate into Republicans being elected to some of the other high-profile positions at the state and federal levels.
What is undeniable is that Governor Hogan deeply cares about the Jewish community and Israel. And to top it off, there was hardly any traffic for the return trip to Baltimore!

Brad E. Kauffman is a freelance writer and an attorney in Towson.