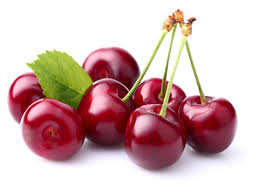 Ever wonder where cherries get their vibrant red color? The secret to these red gems is in pigments known as anthocyanins, a group of compounds whose colors can range from bright red-orange to blue-violet. They are found in many fruits and vegetables and provide a protective mechanism against environmental stresses such as cold temperatures and drought.
Nutrition researcher Denise Webb writes in Today's Dietician that, "while the answers to how and why anthocyanins may help prevent disease remain undiscovered or unexplained, the literature is intriguing, and most researchers are calling for more studies to explore the potential health benefits of these naturally occurring compounds."
The American Institute for Cancer Research (AICR) website adds additional information about the nutritional benefits of cherries with this statement: "Lab studies suggest that the phytochemical anthocyanin, credited with giving cherries their notable red hue, has been recognized for its antioxidant power." Antioxidants help prevent damage to healthy cells caused by free radicals, an unstable molecule. This destructive process contributes to the development of many diseases. A study published in 2013 in the American Society for Nutrition found that sweet Bing cherries lowered inflammatory markers such as C-reactive protein (CRP) for chronic disease in healthy humans.
Let's look at some interesting facts about cherries and then explore some promising research about their health benefits.
Cherries are drupes, a family of small stone fruits whose other members include apricots, peaches, and plums. There are two types of cherries: sweet, sometimes known as wild, and sour or tart. Cherries are available fresh year round with a peak season in Maryland of June and July. The easy accessibility of frozen, dried, and canned varieties makes them a versatile fruit to consume any day of the year.
Nutritionally speaking, cherries, especially the sour kind, are high in vitamins and vitamin C. Sweet cherries are considered a good source of potassium and of fiber.
Here's a summary of some research findings on the benefits of cherries culled from information found on nwcherries.com.
Gout: Gout, a painful disease of the joints, is associated with elevated levels of uric acids. A study at the University of California at Davis showed reduced levels of uric acid after the consumption of sweet cherries.
Heart disease: The consumption of cherries may help protect arteries from damage that leads to heart disease. This is because of the anthocyanins, antioxidants that reduce inflammation.
Cancer: A flavonoid known as ellagiac acid, found in cherries, appears to be a potent inhibitor to the growth of cancer cells.
Diabetes: Researchers who conducted a study on animals found that the anthocyanins in cherries lowered blood sugar. They speculated that the same effect may occur in humans.
Pain fighter/Inflammation Reducer: A study done at Michigan State University found the anthocyanins called 1 and 2 in cherries has similar ability to fight inflammation as ibuprofen and naproxen.
* * *
Cherry-Coconut Bars
These chewy and fruity gluten-free bars are a favorite for all ages, and add color and elegance to your table. I have modified this recipe from myrecipes.com.
Cooking spray
1/2 c. brown rice flour
1/4 c. potato starch
1/4 c. ounces tapioca flour
3/4 c. flaked sweetened coconut, divided
1/4 c. chopped walnuts
1/4 c. natural sugar such as Florida Crystals or 1/2 tsp. xanthan gum
1/4 tsp. salt
6 T. chilled pareve shortening, cut into small pieces
3/4 c. cherry preserves, such as Smucker's Orchard's Finest
Preheat oven to 375°. Line 8-inch square metal baking pan with foil, allowing foil to extend over edge of pan; coat foil with cooking spray. Lightly spoon brown rice flour, potato starch, and tapioca flour into dry measuring cup; level with a knife. Place brown rice flour, potato starch, tapioca flour, 1/4 c. coconut, walnuts, and next 4 ingredients (through salt) into a food processor; pulse 2 times or until blended. Add shortening; process until mixture resembles fine meal. Reserve 1/4 c. flour mixture. Firmly press remaining flour mixture into bottom of prepared pan. Spoon cherry preserves over crust, spreading evenly. Combine reserved 1/4 c. flour mixture and 1/2 c. coconut; sprinkle over preserves. Bake at 375° for 20 minutes or until bubbly and top is lightly browned. Cool completely in pan on a wire rack. Lift bars from pan, using foil sides as handles. Place on a cutting board; cut into 16 squares. Remove from foil.
Cherry Peanut Butter Oatmeal Cookies
The bright, tangy cherries really shine against the peanut and oat flavors! These cookies will stay extremely soft and chewy for an entire week if stored in an airtight container between sheets of wax paper. Modified from a recipe amyshealthbaking.com.
1 c. instant oats
3/4 c. whole grain flour
1 1/2 tsp. baking powder
1/2 tsp. ground cinnamon
1/8 tsp. salt
1/4 c. creamy peanut or almond butter,
1 large egg, room temperature
1 tsp. vanilla extract
1/2 c. honey
1/2 c. dried cherries, diced
In a medium bowl, whisk together the oats, flour, baking powder, cinnamon, and salt. In a separate bowl, stir together the peanut butter, egg, and vanilla. Stir in the honey until thoroughly incorporated. Add the flour mixture, stirring just until incorporated. Fold in 3 T. of diced cherries. Chill the dough for at least 30 minutes. (If chilling longer, cover with plastic wrap, ensuring it touches the entire surface of the cookie dough.) Preheat oven to 325°F, and line a baking sheet with parchment paper. Drop the cookie dough into 15 rounded scoops on the baking sheet. (If chilled longer than 1.5 hours, flatten slightly.) Gently press the remaining diced cherries into the tops of the cookie dough. Bake at 325° for 11 to ­13 minutes. Cool on baking sheet for at least 15 minutes before turning out onto a wire rack.
Lauren's Luscious Cherry Protein Shake
Try this for a breakfast or an afternoon pick me up.
1 c. milk (non-dairy or dairy)
1/2 c. frozen cherries
1 c. blueberries
One small banana, fresh or frozen
1 scoop protein powder sweetened with stevia, such as the flavored rice or pea protein from Growing Naturals in either vanilla or chocolate, or Amazing Grass Protein Superfood in either vanilla or chocolate
1 T. nut or seed butter
1 T. flax or hemp seed oil
1/2 to 1 tsp.. green food powder such as Pine's Wheat Grass or 1 c. of greens, such as raw spinach or cooked kale (optional)
In a blender, combine all ingredients and blend until smooth. Makes one serving.
Cherry Salsa
Here's an interesting recipe I found on extension.usu.edu.
2 c. pitted fresh or frozen sweet cherries
1/3 c. fresh basil, chopped
1/3 c. green peppers, finely chopped
2 tsp. lemon juice
1/2 tsp. sauce
1/2 tsp. lemon peel
1/4 tsp. salt
Dash of bottled hot pepper sauce, like Tabasco sauce.
Chop cherries in food processor or manually. Combine all ingredients, mixing well. Refrigerate at least 1 hour. Serve with tortilla chips. Makes a tasty garnish when served over meat.
Slow Cooker Chocolate Cherry Steal Cut Oatmeal
Adapted from choosecherries.com
4 c. milk
4 c. water
2 c. steel cut oats
2/3 c. dried Montmorency tart cherries
4 T. unsweetened cocoa powder
2 oz. unsweetened bakers chocolate, chopped
1/3 c. maple syrup
1/2 tsp. almond extract
Pinch kosher salt
Cherry Sauce
1 1/2 c. frozen Montmorency tart cherries
2 T. water
1/4 tsp. almond extract
Combine all ingredients for the oatmeal in a 3- or 4-quart slow cooker and stir together. Cover, cook on low for 8 hours the night before, and set so that the slow cooker stays on warm after it's done cooking. In the morning, combine ingredients for the sauce in a small sauce pot over medium-high heat. Bring to a simmer and let cook for 7 to 10 minutes until thickened. Uncover oatmeal, stir and add a bit more milk if it's too thick. Spoon oatmeal into serving bowls and top with cherry sauce.
Cherry Butternut Squash
I couldn't resist one more cherry recipe, especially since most supermarkets sell kosher certified cut squash. This makes it super quick to get a healthy colorful side dish in the oven for Shabbos and other occasions. The inspiration for this recipe was again from choosecherries.com.
3/4 c. dried Montmorency tart cherries or other dried brands
4 c. butternut squash (1 small squash about 1 1/4 pound), peeled and cubed (1-inch chunks)
1/2 c. boiling water
1 small onion, cut into thin wedges
2 T. oil or coconut oil
2 T. maple syrup or honey
1/4 tsp. salt
Preheat oven to 375°. Spread squash in a single layer on a greased or sprayed 15×10-inch jelly roll pan or shallow roasting pan. Bake 15 to 20 minutes. Meanwhile, combine cherries and boiling water; set aside to plump. Add onion wedges to pan with squash. Drizzle oil over vegetables; toss well. Bake 10 minutes. Drain cherries and add to pan. Drizzle syrup over vegetables; toss well. Continue baking 5 to 10 minutes or until vegetables are tender and glazed. Sprinkle with salt. (Tip: To cut preparation time, look for 18-ounce packages of peeled, diced butternut squash.)
Lauren Mirkin CNS, LDN, LCPC, NCC is a licensed nutritionist and professional counselor. Please contact her for information about her comprehensive integrative nutrition counseling services, mindful eating workshops, and health and nutrition classes. She also provides psychotherapy for those struggling with eating disorders and disordered eating. She can be reached at 443-326-7023 or holisticnutritionhelp@gmail.com or holisticcounselinghelp@gmail.com.
.