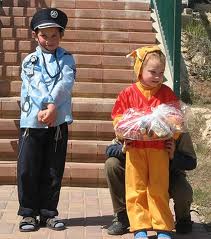 As the winter wanes and Purim draws near, my family begins to hear comments wherever we go:
"So what are the Raczkowskis dressing up like this year?" or "Can't wait to see what the Raczkowskis come up with this Purim…."
Most people have the one Yom Tov that they especially love or identify with. Mine has become Purim. To explain how this came to be, I have to take you back to the beginning. So make yourself comfortable and listen to the whole megillah.
A Child Grows in Brooklyn
The Purim today and the Purim of my childhood years are two different species. When I was growing up, back in the '80s, Purim in our home was simple. There was no "theme" to my mother's shalach manos. And they could hardly be termed "elegant." Rather, we children helped fill cupcake holders with a piece of cake, an orange, a box of raisins and a small grape juice bottle, all arranged on a plain paper plate. We inserted the plates into gallon plastic bags and sealed them with twist ties.
Since we lived in Brooklyn, where you don't have to own a car, we walked to friends and neighbors to deliver the shalach manos and received some change – sometimes even a half-dollar coin – for our efforts. The block was filled with other little kids in ragtag costumes doing the same thing. When we returned home, we would recycle some of the shalach manos we received to make others for the people whose gifts we had not anticipated.
I was vaguely aware that there was such a thing as fancy shalach manos. On our block, a mix of Ashkenazi and Sefardi families, I remember the big wrapped packages the Sefardim delivered: towering baskets of goodies wrapped in cellophane. How elaborate and beautiful they looked.
Our costumes were also simple, mostly homemade. And I am quite sure my mother would have been very puzzled if anyone had suggested dressing up her babies. A few Purim costumes stick in my head. In 1983, we went to G & Sons, and both my brother and I picked out a few accessories for the clown costumes we were planning. I bought a pair of Groucho Marx glasses to go with a baseball cap, and my brother bought a clown half-mask that had glasses attached and fuzzy orange hair; the finishing touch was a bowtie that squirted water. The rest of our costumes consisted of my father's big button-down shirts stuffed with pillows.
In 1986, we were plumbers, wearing backwards baseball caps and logos we cut out of construction paper, and we walked around with a plunger. In 1987, I was a cowgirl and my brother was a punk. My mother wouldn't let him dye his hair, so he sprinkled baby powder on it and spiked it up around his kipa. The getup was complete with a denim jacket and a Mrs. Potato Head earring in one of his ears.
My little brother was ET, that year, a bought costume that came with a plastic ET mask. All the other children also wore simple, homemade creations, and looking back, I remember how much fun we had and how our neighbors loved how cute we looked.
As the day went on, it was time for the Purim seuda. It was at home, just our family, with good but simple food, along with divrei Torah and family time.
As I became a teenager, I no longer dressed up, and Purim became just another Yom Tov. And when I was in college I would go hear the Megillah early, leave for school, and then deliver my few shalach manos and come home for the seuda.
My Purim About-Face
I was dating my husband-to-be, in 1996, and we were chatting about Purim. I must have come across as a real Purim-pooper, as I explained that I was not really doing much: just going to the Megillah, and then heading to college. Zvi told me about the balloon pump he was buying and how he was going to blow up balloons for his friends' kids as he delivered shalach manos. He would end up at his cousin's house for the Purim seuda along with a bunch of his chaveirim from his Providence yeshiva chevra. Zvi's Purim plans sounded way better than mine, and that year was the last year I was a Purim-pooper.
We got married in August 1996. During the wedding, when I was brought over to the chassan's side, a clown came out dancing and jumping around. Zvi and I were laughing hysterically, with no clue as to who it was, until my husband looked at me and said, "That's my shirt that your brother borrowed the other day." I said, "Oh my gosh, I can't believe it." It was my brother! He was wearing my husband's very large blue button-down shirt filled with two or three pillows – and the clown mask from 1983! Even my mother didn't realize it was my brother until he took out his jump rope and started jumping.
On Purim 1997, our plans were to make some simple but elegant shalach manos. I bought pretty plates and colored cellophane, and I baked some kugels and cakes. We acquired a balloon pump so that Zvi could blow up balloons for the little kids. We planned to join the Providence chevra's Purim seuda, where I would be contributing the salads.
Then, a few days before Purim, my husband and I were talking about Purim and costumes. My response was something like, "I am not dressing up." He said to me, "You are not dressing up, we are dressing up." (It is years later now, and I think maybe he regrets that comment.) So we decided to wear our matching boy/girl smiley-face T-shirts and matching baseball caps. We bought some smiley-face accessories at Party City to add to our shalach manos to tie them in to our costumes. That was our first Purim together, and things just took off from there.
Prophetic Purim Themes
Our first Purim set the "stage" for future Purims. Some years I would come up with an idea for our Purim theme as early as November during the Halloween costume sale, and other years it would be later. The Purim costumes were a combination of new readymade costumes, used costumes purchased on eBay, custom ordered or designed costumes, as well as self-created costumes.
As the children got older, ideas had to be vetted, discussed, and agreed upon, and then we would decide what we would do for shalach manos that year. (I tried to keep within a budget of approximately one dollar for the container or presentation, and one to two dollars for the food. For the rebbeim and a few others, I would spend more money.
When the kids were younger, I tried to find cute plush costumes and incorporate our costumes into theirs. The year the kids were Dalmatian dogs, we were firefighters. We packed our shalach manos in a fire hat, with hot potato chips and water to put out the fire. The year the kids were a giraffe and a zebra, we were zookeepers, and we filled our shalach manos bag with a bag of animal crackers, water, bear candy, and banana Laffy Taffy (for the monkeys). The year my youngest was a newborn, she was a corn on the cob, and my big kids were farmers in denim overalls and plaid shirts. We were also farmers, as we distributed our best crops: baby corn, grape tomatoes, apple sauce, and juice.
When my youngest was four, she was in love with Curious George, so we did Curious George and company, She was a monkey, I made my husband a man-in-the-yellow-hat costume with an old white Shabbos shirt and a pair of white pants, which I dyed bright yellow; we also found him the perfect boots. My son was Chef Pisghetti, my daughter was the door man, and I was the scientist. We put together a Curious George book, and gave out banana cake, banana Laffy Taffy, and yellow Gatorade.
It was ironic how, in some years, our theme worked so well with what was going on at the time, even though we had planned it far in advance. After Purim 2004, I got an idea for the next year to have a UPS (United Purim Service) theme. This was years before the costume companies made a UPS costume. I went on eBay to look for used UPS uniforms. I found out that you can't buy the uniform due to potential fraud. EBay would cancel the posting, but I contacted the sellers and made a few private transactions for four sets of UPS uniforms. My children were four and six at the time. I took the two smaller uniforms to the tailor and had them shortened so that they would fit. I hadn't realized that Purim that year fell out on a Friday. It worked out very well, because we delivered our shalach manos Thursday night, UPS style, in a little brown box with packaging labels and a sticker stating, "Don't open till Purim morning." We tossed it on people's porches without knocking. It made our Friday Purim day less rushed and more enjoyable.
The day after Halloween 2009, I found this adorable green tree car deodorizer bunting for my one year old and purchased it. I took it to the tailor and had it made into a top that she could wear with leggings. I then found Toyota uniforms for the big kids, myself, and my husband. Our theme that year was going to be around cars and repairs. Our shalach manos was a car repair kit with water, a donut (spare tire), and change. It turned out that, in February/March 2010, Toyota had a mass recall, so our costumes and shalach manos fit an event of that year.
Last year, Purim 2014, we came up with the idea of an aircrew. My husband and teenage son were going to be the pilots; my teenage daughter was going to be the outside aircrew, with a reflective vest, head phones, and flashing wands; I was a stewardess; and my five-year-old was the jet plane. We planned to give out vacuum-packed airplane meals. Tragically, a week before Purim, Malyasia Airline Flight 370 went missing. It was too late to redo our entire theme, but the timing certainly wasn't the greatest.
Costume Collection and Keren Reva Costume Gemach
I learned from my mother to always keep my eyes open for bargains, so when the JC Penney's clearance center went out of business in the summer of 2000, I bought a bunch of baby costumes for $1.50. After Halloween, if I saw a good deal on costumes, I bought them. Even if I couldn't use them for my kids, a few friends would borrow costumes that I had used in the past or from my collection. As the years went on, I would make a trip to Old Navy on October 31 to see what was marked down after Halloween and buy them for my collection.
Some years I would get a phone call from a friend or relative after Purim saying, I am reserving XXX costume for next year. The most popular one was my UPS collection. I would also get phone calls from friends telling me that they wanted to do a certain theme for Purim and asking me for ideas for shalach manos, costumes. etc. And so, despite my humble Purim beginnings in Brooklyn, I became an unofficial "Purim consultant." I enjoy seeing kids and adults having a good time on Purim with a fun costume.
My collection grew over the years to over 100 costumes (many of them ones we had used for our family). In 2013, on many of the Baltimore social media groups, I saw posts from people looking for a specific costume or for ideas. I saw the need for my costume collection to be more public, and so, I opened my official costume gemach before Purim 2013. I advertised through social media (Facebook, Baltimore Jewish Life) and word of mouth. The gemach lent approximately 150 costumes that year, out of 250 costumes total. Many of my friends, when they heard about the gemach, generously donated their used costumes as well.
I was speaking to a close family friend about the gemach, and she said, "Your gemach needs a name. What was the name of your mother-in-law, a"h?" I replied Reva, and after conversing with the friend, "Keren Reva Costume Gemach" got its name. The name and the zechus is very befitting my mother-in-law. Reva Raczkowski (Sorah Rivka bas Yehuds Aryeh Leib) got such nachas and pleasure out of children. The mission of the gemach is spreading that Purim simcha to both adults and children.
For Purim 2014, I contacted Dress Up America, a Jewish costume company. I wanted to open up a wholesale account for the gemach. I then offered that if anyone wanted a specific costume that the gemach didn't stock but was available from Dress Up America, I would purchase it wholesale. They paid the wholesale price, and the costume would go back to the gemach after Purim. This worked very well, and many people were happy to pay $10 or $15 instead of over $30 for a costume, especially if they were successful in finding most of the costumes for their family at the gemach.
Before Purim 2014, the gemach grew to 500 costumes and lent out 375 costumes. All the rental donations ($3 per costume) were used to buy new costumes for the gemach. The Keren Reva Costume gemach has costumes in children and adult sizes and many different themes. For boys, my stock of fireman, FBI, SWAT and police, army, and pirate are very popular. For little girls, what little girl doesn't want to be a princess or a bride? The Keren Reva Costume Gemach has received retired gowns from the Jewish Caring Network children's gown gemach. Many parents want costumes that aren't bulky, are car seat safe, and comfortable for children. The medical scrubs and Thing 1/Thing 2 costumes satisfy those needs.
Sometimes, as I help a mother pull together a theme based on the costumes in the gemach and brainstorm with her on coordinating shalach manos, I think back to Brooklyn and how far I've come. I am no longer a clown or a plumber. It's been a journey of many years – but I am finally a Purim Queen.
For the 2015 Purim season the Keren Reva Purim gemach is fully stocked with over 750 costumes. For more information, email kerenreva@gmail.com or call 443-858-3615.
Sidebar
More Themes
Just to start the creative juices rolling, here are our some cute ideas for shalach manos themes from someone who doesn't live in Baltimore:
1) A blue bottle, recreated to look exactly like the original Moscato D'Asti bottle, had an altered back label. "Moscato d'Vashti. A brazen and arrogant blend of flavors picked from the sour grapes of Babylon. Serve killed. Government Warning: According to the Sushan General, (1) Women should not disobey husbands who are under the influence of alcohol. (2) Consumption of alcoholic beverages impairs your ability to be rational and may cause serious health problems such as beheading."
2) Tube sock filled with wafers to be mekayem the words of the Megillah: "Sock va'wafer yutza larabim."
3) Last year at the height of the Israeli bachurim draft law, we took the picture of the Israeli kid who was dressed as half chareidi, half chayal (soldier) and made it into a label, which we affixed to a beer bottle, with the words "Genuine Draft." We also wrote on the label, "Finally! A draft we can all agree on."
4) "La'Yehudim haisa ora vesimcha vesasson veLIQUOR!" a big bag of Twizzlers. "All right, all right, it isn't liquor…but it is