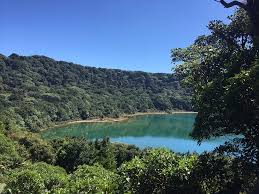 The first time I gave thought to Costa Rica was after viewing Jurassic Park, a 1993 science-fiction adventure film about a wildlife park of cloned dinosaurs. The setting of Steven Spielberg's movie seemed so balmy, so pristine, so lush with greenery, that it was only natural that dinosaurs could survive there. It was supposedly on an island off Costa Rica, although I found out only while writing this article that it was actually filmed in Hawaii! Wherever it was filmed, the impression created was of a paradise of totally unspoiled nature.
* * *
Winter hit Israel, and I was catching every new virus floating in the air. I shivered from the cold and wet that seemed to penetrate the walls of my old apartment in Rechavia. One day, an email from a kosher tour company caught my eye. They were going to Costa Rica, of all places! I checked out the itinerary: volcanos, waterfalls, and parks with abundant wildlife, birds, and exotic plants. Costa Rica lies in the tropics, between 8 and 11 degrees north of the equator (about 880 miles), and I learned that the weather in January – the driest month (it rains a lot) – was in the seventies and eighties. It was tantalizing to think about taking off my heavy winter coat and walking around in short sleeves, wading through a thick jungle with screeching monkeys swinging on vines from tree to tree over my head, and watching the sun set in magnificent colors over the ocean.
Costa Rica is part of Central America. It is bounded by Nicaragua on the north and Panama on the south, and stretches between the Atlantic and Pacific Oceans. It has four million residents, with one million living in San Jose, its capital. There are another one million illegal immigrants who fled from corrupt, war-torn Nicaragua. They do all the hard manual work in the country. Costa Rica has no army! That allows it to sponsor free compulsory education, which stabilizes the country and its democracy.
Read More:Costa Rica: The Tiny Paradise