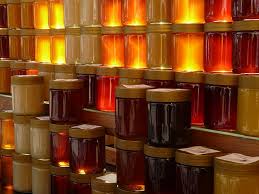 May you and your families have a good and sweet new year!
With the approach of Rosh Hashana, fall is upon us, and the time for warm and cozy dishes has arrived. On my current "health kick," I have been trying to make better choices – isn't that what Rosh Hashana is all about? – which, in terms of eating, means limiting high fat foods and sugar. Argh. As my sister would say, "better choices" is really code for not binging on Reese's peanut butter cups.
Seriously, Rosh Hashana is the perfect time to take stock of your life and make small but meaningful resolutions. Some of mine are to eat more healthfully and to spend quality time with my family. Somehow, it all ends up (as do most things in my life) in fun and delicious recipes. Cooking not only results in great food to be enjoyed and shared but also enhances family togetherness, especially if you can get the little ones on your team. As I've mentioned before, I am a big proponent of kids in the kitchen. A bunch of studies and anecdotal evidence indicate that, when children participate in making the meal, they are much more likely to eat it.
We all know that Rosh Hashana is synonymous with the apples, the king of fruits. Did you know that (are you sitting down) there are 7,500 varieties of apple in the world? You can pick some yourself at Larriland Farms (through November). This is a great activity for the children. How much fun it is for them to not only eat the apples they picked but to cook with them as well! The truth is, I don't need a recipe to get my kids to eat apples. I do, however, need to slice them up. If I put some cut-up apples on a plate, my kids will snack on them throughout the day. If I hand them an apple, on the other hand....
Maybe you are the same, and still have to be convinced to eat apples. If so, it might help to know that apples contain antioxidants, flavanoids, fiber, polyphenols, vitamin C, boron (something that helps with mental acuity), malic acid (a chemical that whitens teeth) and much more! If the only term you recognized is the vitamin C, don't worry. The apples will not take offense and will still provide you with their health largesse. So join me in eating apples, and we will all be smarter, have whiter teeth, and stave off cancer and other diseases together.
* * *
Butternut Squash Soup in a Mini-Pumpkin
This soup makes a gorgeous first course for a sheva brachos or Yom Tov meal. You do not have to use mini-pumpkin bowls, but serving it that way regularly produces lots of "wows"!
6 mini-pumpkins
2 T. oil
1 medium Vidalia onion, peeled and chopped
1 medium carrot, peeled and chopped
1 Granny Smith apple, cored and diced
2 1/2 lb. butternut squash, cubed and deseeded
4 c. stock (vegetable, chicken or beef)
1 medium sweet potato, peeled and cubed
1 T. brown sugar
1/2 tsp. ground ginger
1/2 tsp. ground allspice
1/2 tsp. ground cinnamon
1/4 tsp. nutmeg
1 tsp. salt
1/4 tsp. freshly ground pepper
parsley sprigs
1/2 c. tofutti sour cream (optional)
Cut tops off the mini-pumpkins and reserve. Spoon out all seeds and stringy fibers. In a 3-quart pot, sautee onions in oil for about 5 minutes on low heat until translucent. Add carrots and apple and sauté for another 5 minutes. Add butternut squash, stock, sweet potato, brown sugar, and spices. Cover and raise the heat until boiling. Reduce heat and simmer for 30 minutes or until vegetables are tender. Remove from heat and use an immersion blender to puree the soup to desired thickness. Serve in mini-pumpkins (or bowls). Add a swirl of sour cream and a sprig of parsley for garnish. Place the top of the pumpkin askew on the pumpkin "bowl" or on the plate.
Note: If you want your mini-pumpkins to be edible, spray the inside with cooking spray and bake at 350° for about 30 minutes.
Chicken and Apples
The sweet and savory flavors of apples, maple syrup, and vinegar permeating a whole chicken make for a little bit of heaven. Use real maple syrup (Aldi's has it for a relatively normal price). It's worth it. (Don't get me started on those Aunt Jemima-type "maple syrups," what are really just colored corn syrup.) This recipe is also easy. Just throw it into the oven to cook until you're ready to eat!
1 whole chicken
1/4 c. oil
1/4 c. balsamic vinegar
1/4 c. maple syrup
1/4 tsp. pepper
1/2 T. salt
2 tsp. minced garlic
1 Vidalia onion, sliced
4 honey crisp apples, cored and sliced
Preheat oven to 375°. Rinse chicken and pat dry. (Patting dry helps the skin get crispy.) Place chicken in a 9x13 pan. Brush oil all over the skin. (Again, this helps with crispiness.) Mix together balsamic vinegar, salt, pepper, and maple syrup. Drizzle some on top of the bird and rub the rest on the inside. Add the sliced onions and apples to the pan, putting a few inside the chicken, if desired. Bake at 375° for 30 minutes, then lower to 350° and continue to bake for 60 minutes. You could also cook the chicken at 350° for 90 minutes, but I find that the higher heat at the beginning gives me a crispier bird.
Apple Roses
These roses were making the rounds on the internet a few years ago. They are absolutely beautiful as a dessert on their own or as decoration on top of cakes or cupcakes. They are a little time consuming to put together but are perfect for little helping hands. Each rose can be "fixed" (if needed) before baking, and they can be made gluten free! Look for a large crisp red apple – I recommend pink lady and honey crisp. Red delicious is too mealy and doesn't cook well, and I do not like the way green apples end up looking, although you could use them as well. The larger the apple, the larger your roses will be.
6 apples, cored and thinly sliced
1/4 c. lemon juice (about half a lemon)
1/4 c. sugar or honey
Crystalized or powdered sugar
1/4 c. apricot jam
1 sheet thinly-rolled out pastry dough (optional)
Preheat oven to 375°. Core apples and cut in half. Slice 1/16-inch-thick half-moons. Slice as thin as you can because thicker slices are harder to roll. (Use a mandolin if you have one.)
Mix sugar and lemon juice until combined. Toss sliced apples with the mixture and place in a microwave-safe bowl. Microwave on high for about 1 minute. (You can immerse the apple slices in boiling water for the same effect). The goal is to make the apple slices pliable.
Prepare muffin tins in advance and insert muffin tin liners. These make pulling the baked roses out of the muffin tins much easier. If you are using pastry dough, roll it out 1/4-inch thick. Cut out circles 3 1/2 to 4 inches in diameter. Put the circles at the bottom of the muffin liners.
Line up 10 apple slices of about the same size horizontally, with the rounded side of the half-moon on top and the flat part on the bottom. Overlap each slice, so that you see half the slice and half the slice is covered). Tightly roll the slices starting at the left side and rolling until the final slice. Then plop the bundle of slices onto the muffin liner. Add extra slices to the edges if the "rose" does not completely fill out the space. Each rose should take about 12 to 15 slices.
Bake for 25 to 30 minutes. Remove from oven and brush with apricot jam, which has been warmed for about 15 seconds in the microwave. See our website for a video of the apple roses: www.sweetandgoodcatering.com
Bracha Shor is the owner and executive chef of Sweet and Good Catering. Her email is bshor@sweetandgoodcatering.com. Questions and comments are welcome. Sweet and Good is offering their Simanim platters again this year!