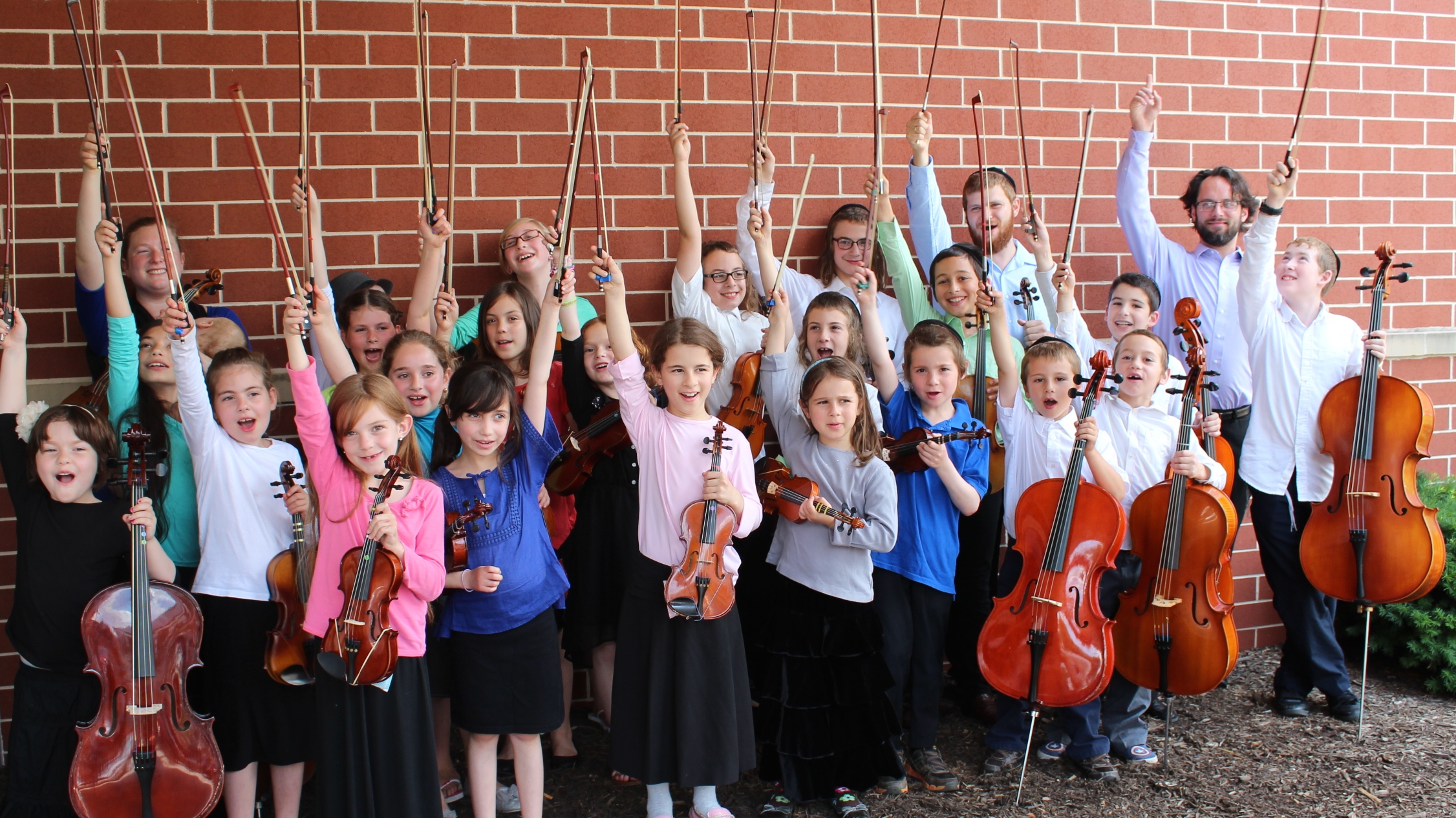 The first time I had the pleasure of hearing international violinist Yonatan Grinberg play was at a fiery June performance at a most unusual parlor meeting/concert at the home of Frank and Danielle Sarah Storch. The concert was for the benefit of Aliyos Shlomo, an advanced kollel located in Yerushalayim, whose rosh yeshiva, Rabbi Dovid Lipson, also happens to be an accomplished pianist and accompanied the string ensemble.
Yonatan is a member of The Chamber Encounters. Together with his wife, cellist Andrea Grinberg, and violist Sarah Lowenstein, their performances – aside from the exquisite music – engage the audience to share, in a personal manner, the Grinbergs' interpretation and connection to the music, through discussion, demonstration, and other media.
Pulling Strings
Yonatan is also the director and violin teacher for the Baltimore Bows. This unique string orchestra for boys and girls, ages 7 to 12, met throughout this past school year, its first. Classes were held at Northwestern High School and sponsored by the Baltimore Talent Education Center (BTEC). It was its first site-specific string orchestra among 20 or so Baltimore City school programs that offered progressive after-school music education emphasizing parent involvement and community interest in bringing families and communities together. The heavily subsidized BTEC program made participation in Baltimore Bows possible for families who could not afford the costs of instruments and music lessons. Since BTEC is closing, the Baltimore Bows program will be run this fall under Yonatan's own non-profit organization; as of this writing, he is seeking a new location to use for classes.
The Baltimore Bows performed at the Jewish-American Festival at Quarry Lake and at the Pikesville library's End of Year Concert. The group was an immediate success since it premiered, last year, and was even included in an NPR story. A new beginner class is forming for the fall. It will be held from 4:30 to 6 on Tuesdays and Thursdays at a yet-to-be-announced location. It is open to any child who wants to learn how to play violin, viola, or cello. The sessions are split between receiving one-on-one instruction –given by Yonatan, Andrea, and Sarah – and playing as an ensemble. Baltimore Bows is inclusive of children who for religious or financial reasons would not be able to attend other music programs. All their rehearsals and events are scheduled around the Yom Tovim. Although the price is lower than most programs, Yonatan says they are working on getting more funding to make it easier financially to achieve their goal of bringing music to every home in our community.
Filling Our Musical Needs
Yonatan, a native Yerushalmi and member of Congregation Tiferes Yisroel (Rabbi Goldberger's shul), who prides himself on making very good homemade humus, has been working as an assistant violin teacher in the studio of Violaine Melancon at the Peabody Conservatory of the Johns Hopkins University, where he is a doctoral candidate. The Grinbergs moved here from Chicago two years ago, after Yonatan completed his master's degree. They have a four-month-old son.
"When I came to Baltimore, there was an outpour of people contacting us," recalls Yonatan, "and we found that there were two main needs: One was kids who wanted lessons but whose families were not necessarily able to afford either private lessons or a group music program. Secondly, many of the programs' classes were on Saturdays, so even kids who did take private music lessons could not take part in the vital social aspect of music – playing with others. We were teaching, at the time, in the Baltimore Talent and Education Center, and I sat down and talked to the director; she was very, very supportive of starting a program here in Pikesville.
Music: Good for Everyone
"When you see kids struggling to play a song, and they work hard and achieve it – and you see a smile spread across their face – it is just so precious," continues Yonatan. "It is nachat for me to hear from parents that their kids got together for a play date and instead of playing whatever games they play, they played music together.
"For some kids, different settings are so valuable," notes Yonatan. "One girl told me that she is the shyest person in school. She never talks. In the violin class, she is talking and being friendly, nice, open, and happy."
The Benzaquens' daughters, ten-year--old Racheli and eight-year-old Elisheva, students at Bais Yaakov, both play viola in the Baltimore Bows. "Words cannot adequately describe how wonderful this program is and how talented and dedicated the teachers are," shared Chana Perel Benzaquen. "My children began playing viola only last year and have progressed beyond our imagination. They are now able to read music and perform entire songs. They have learned discipline, perseverance, and have developed a deep appreciation for music. The Baltimore Bows has been a phenomenal experience for our entire family, and we have heartfelt gratitude to everyone who made this program possible."
"Involvement in the Baltimore Bows has been amazing for my kids in surprising ways," agrees Yael Quittner, whose children are home schooled. "I have three boys in the orchestra, and it has been wonderful for their self-esteem. Heshy, 13, plays the cello, Mendy, 11, plays the viola, and Sruly, 9, plays the violin. They've been able to see in a short period of time the results of working toward a goal, and the beauty of working as a part of a team. Their pride and sense of accomplishment is something every child should have the opportunity to experience!"
It is not unusual for parents of children who suffer from Attention Deficit Hyperactivity Disorder (ADHD) to also opt to have their children play a musical instrument; it calms them and helps them focus on other areas of their life, in lieu of medications that can have disastrous side effects.
"For some people, music is entertainment; for others, it is part of the arts – which it is – but, I think that it also has some specific special qualities that we don't have in other ways, which is all supported in scientific research as well as Torah sources," notes Yonatan. "The way music affects our brains is very, very unique. Music can significantly help kids gain focus and attention and learn how to direct their minds. When playing and listening to music, the connection between the emotional, intellectual, physical, and spiritual is very, very integrated. Especially for kids, who don't have the right words to express, it can give peace and balance to deal with difficulties. For kids who play, it is a type of self-worth and self-empowerment, especially now, living in a world where, if you want something, you just click and get it. Anything worthwhile is not like that, as we know.
"From the Torah aspect, the effects of music on a person, both as a listener and as a performer, can alter our states of consciousness – both the emotional and spiritual states – and it is wide-ranging," continues Yonatan. "We see this from Shaul Hamelech, when he was in a depression. Chazal understood a long time ago the effect that music has on us; they said you should always learn with a nigun….When I see the kids play together, and even seeing the parents when they play together, and seeing the audience coming out of a reverie at the end of a piece of music, you just went through something together, both as individuals and as a community. You're not going to be the same as you were."
Music Is His Passion
Although Yonatan makes his talent look easy, he says it is 99 percent hard work and one percent talent. For many, many years, he practiced many hours a day. Now that he has to balance his life's work with family, he can pull it off with less practice time. And, now that he has completed the full-time part of his studies, he is going to consider doing more concerts while launching a concert series, such as his upcoming performance at the Gordon Center.
Yonatan most enjoys performing the Three Bs: Bach, Beethoven, and Brahms. But
he enjoys contemporary Jewish music, as well. "Jewish music has always been influenced by the music of the world around us. That was the case in Spain, in Poland, and in Morocco," notes Yonatan. "The nature of music has that it has no boundaries. There are many different trends in Jewish music today, all related to trends in music in general. The majority of musical trends, at least those in popular Western culture, are not aiming for depth, whether musically, emotionally, or spiritually. I would argue, however, that it is merely a reflection of popular general culture. In the same way that this culture affects us on a general level, it naturally affects our music as well. Therefore, I do not find those musical trends particularly jarring more than any other area of our modern life; I would probably just prefer to listen to other music. There are very good things starting to happen in Jewish music, mostly in Israel, and I actually enjoy listening to a lot of that music very much.
"I was seven when I started to play violin; I was 'old,'" Yonatan jests. "I didn't have a classic child prodigy type of life; my wife did. I liked music, and I practiced a little, but not too much. If it were not for my parents' encouragement, I would have stopped many, many times along the way. Then, somewhere around the age of 16, I decided this is what I really, really need and what I wanted to do with my life. I started practicing a lot and, baruch Hashem, eventually things came together very well. Music has become my life, my passion….What I most enjoy are the moments when I can feel the energy from Hashem that flows from my heart into my mind, and connects me with the music with the people listening. It is truly a unique and powerful experience."
ã Margie Pensak-2015