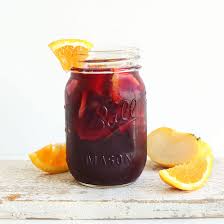 I seem to forget, from year to year, how cold it can get in Baltimore. Winter winds are no joke and make me think of staying cozy indoors with friends. A great plan is to invite your friends over for a game night. Make a big pitcher of sangria and and set it out with some "tapas" (a fun way to say savory appetizers).
What is sangria? you ask. Sangria is a traditional, wine-based drink that originated in the Iberian peninsula, probably to make the wine more palatable. The Spanish word may be derived from the Latin word "blood." White grapes did not grow well in the area (back around 200 BCE), so most of the wine was red. Thus, sangria could have referred to the color of all wines in the region. Today, sangria is also made with white wine and even sake!
It is said that sangria came to the United States at the 1964 World's Fair, where the Spanish World booth served some to a delighted crowd – although any Spaniards who immigrated to the U.S. would have brought the knowledge of sangria with them much earlier. And believe it or not, we have a National Sangria Day! December 20th! If you missed it, there's always next year.
Just as no two families make cholent the same way, the sangria recipe varies wildly and depends on the maker's tastes. Traditional sangria was made with orange juice, sugar, cinnamon, brandy, fresh fruit, and Spanish Rioja. Today, you can make it with sake, cider, white wines, red wines, all kinds of exotic fruits (mangoes, papaya, star fruit, and more), spices (cinnamon, cloves, anise, etc.), herbs (mint, sage, rosemary, etc.), with or without hard liqueur (brandy, triple sec, grand marnier, amaretto, or whatever your heart desires), and with or without carbonation (ginger ale, Sprite, seltzer, etc).
The rule of thumb is to pick a wine that you would be willing to drink but that could be "improved" with fruit flavor and sweeteners. (Wine for sangria need not be expensive.) Ideally, it should be made the day before and left overnight for the flavors to meld.
Traditional Sangria
1/4 c. sugar
3 T. water
1 cinnamon stick
3/4 c. orange juice
1/3 c. brandy (optional)
1 honey crisp apple, cored, skin on, chopped into small pieces
2 oranges, rind on, sliced, large seeds removed
1 lemon (or lime) sliced
1 bottle dry Shiraz
Ice to chill (about 1 c.)
1 c. ginger ale (optional)
Optional: Boil sugar and water briefly until sugar is dissolved. (This makes a syrup, which ensures the sugar does not crystallize.) Add cinnamon stick to the syrup while it is still hot. (This will infuse the flavor quickly.) If you have the patience, let it sit for about 15 minutes. Add orange juice to the syrup. Add brandy and then pour into a pitcher. Add apples, oranges, and lemons. Add red wine and stir to incorporate, then taste and adjust flavor as needed. Add additional sugar, orange juice, and brandy as your taste prefers. Cover and place in the refrigerator overnight. Add ginger ale just before serving. Serve with ice in the pitcher.
Almonds with Smoked Paprika
If you're going to have sangria, you'll need tapas. Here are a few easy and delicious recipes:
2 1/2 c. raw almonds
1 T. coarse sea salt
1/2 tsp. smoked sweet paprika (found at Trader Joe's)
1 T. extra virgin olive oil
Preheat oven to 400 degrees F. Spread almonds onto a sprayed baking sheet and toast in the oven for 8 to 10 minutes, stirring occasionally, until almonds are brown and giving off a delicious aroma. While the nuts are toasting, combine the sea salt and smoked paprika in a small spice grinder or mortar and pestle. (If you have neither, you can use the back of a spoon.) Grind to combine. Remove the almonds from the oven and put into a bowl. Toss with the oil. Sprinkle with the salt and paprika and toss again. Transfer to serving bowl and serve at room temperature.
Marinated Olives
You can buy a jar of marinated olives – or you can make your own! Here is a recipe, but you can marinate these olives in whatever flavors you like. You can make these olives at the same time as you make the sangria and let them marinate overnight.
8 oz. whole Greek Kalamata olives
2 cloves garlic
1/4 medium red onion, thinly sliced
zest of 1/2 orange
3 stalks of fresh dill
1 T. Balsamic vinegar
2 T. extra virgin olive oil
1 bay leaf
Sliced fresh mild red chili (optional)
Peel and slightly "smash" the garlic cloves with the flat of a heavy kitchen knife. Combine all ingredients, preferably in a glass container/bowl. (A ziplock bag would work perfectly because you will be able to squeeze all the extra air out of the bag.) Let the olives sit overnight in the marinade in a cool place. Put them on a plate and enjoy with your sangria.
Mojamo
A rare Spanish delicacy, mojamo is being used in top restaurants nowadays as the new "umami" flavor. In Spain, they salted (and preserved) the tuna and then left it out to dry on the windy coast of Costa de la Luz for three weeks. The tuna shrinks during the process and turns a dark reddish brown color. Here, instead of drying the tuna for three weeks, I cured it for two days. (I know, it still takes time, but it's better than three weeks!) I adapted this recipe from The Spruce website. As soon as I saw this recipe, I was very excited. In the past six months, I cured and smoked salmon for the first time, and thought this would be a great thing to do with tuna! It ends up with a wonderful silky texture.
1 loin (about 2 pounds) sushi grade tuna
1/3 c. fine sea salt
1/3 c. sugar
1 tsp. freshly ground black pepper
2 T. vodka
Rinse the tuna and make sure all skin is removed. Unlike salmon, tuna cures better without its skin. Pat it thoroughly dry. (The curing process is specifically taking out the liquid, so the more liquid removed, the faster the process will go.) Set the tuna in a baking dish or other container with raised sides that can hold the tuna and will also allow you to place another, slightly smaller container with weights in it on top.
In a small bowl, combine the salt, sugar, and pepper. Sprinkle the vodka all over the fish, then coat it with as much of the salt-sugar-pepper mixture as you can. (This mixture removes the liquid from the tuna. The more mixture, the more liquid will be removed.) Lay a piece of plastic wrap on top of the fish, laying it down into the pan and loosely tucking it around the fish. Top that with another piece of plastic wrap and tuck it loosely around the outside edge of the pan.
Set a baking dish, pan, or cutting board on top. Place the whole set-up in the fridge and weigh it down with a small heavy pot with several cans in it. The salt and sugar will draw the water out of the fish and cure it, and the weight will help this process. Leave it in the fridge for 24 hours, then turn the fish for another 24 hours period. If you cannot wait this long, you can eat the fish after 12 hours, but will not be as silky.
When ready to eat, remove the tuna, rinse it off, then pat dry so the moisture doesn't go back into the fish. Use a sharp knife to cut very thin slices of the cured tuna for serving.
Chicken Pinchos
Pinchos means pinched in Spanish, so anything on a skewer would fall into this category. These are fun to eat off the skewers and will go fantastically with your homemade sangria!
1 lb. chicken cutlets
1 tsp. cayenne
1 tsp. ground cumin
1 tsp. dried oregano
1 T. fresh thyme leaves
1 garlic clove, finely chopped
Drizzle of olive oil
Salt and freshly ground black pepper
Cut the chicken cutlets into 1-inch cubes. Place the meat in a large mixing bowl and add the cayenne, cumin, black pepper, oregano, thyme, and garlic. Mix well, drizzle with olive oil, and leave to marinate for at least an hour or up to two days. Meanwhile, make the mojo picón.
When you are ready to cook, thread the chicken on to skewers. (If you are using bamboo skewers, soak them in water for 30 minutes.) Cook in a griddle pan for two minutes on each side. Season with salt and pepper and serve with the mojo picón.
Mojo Picón
1 slice white bread
4 to 5 T. Spanish olive oil, plus extra for frying
2 garlic cloves
5 dried cayenne chilies
1 tsp. cumin seeds
1 tsp. sweet paprika
2 tsp. red wine vinegar
Salt and pepper to taste
Fry the bread in a little olive oil, drain on kitchen paper, and tear into pieces. Using a food processor, pulse together the olive oil, garlic, cayenne chilies, cumin seeds, paprika, fried bread, vinegar, and salt until you have a smooth paste.
You can see a video tutorial on how to make the sangria and tapas here: www.sweetandgoodcatering.com/news/sangria-and-tapas.
Bracha Shor is the owner and executive chef of Sweet and Good Catering. Her email
is bshor@sweetandgoodcatering.com. Questions and comments are welcome.