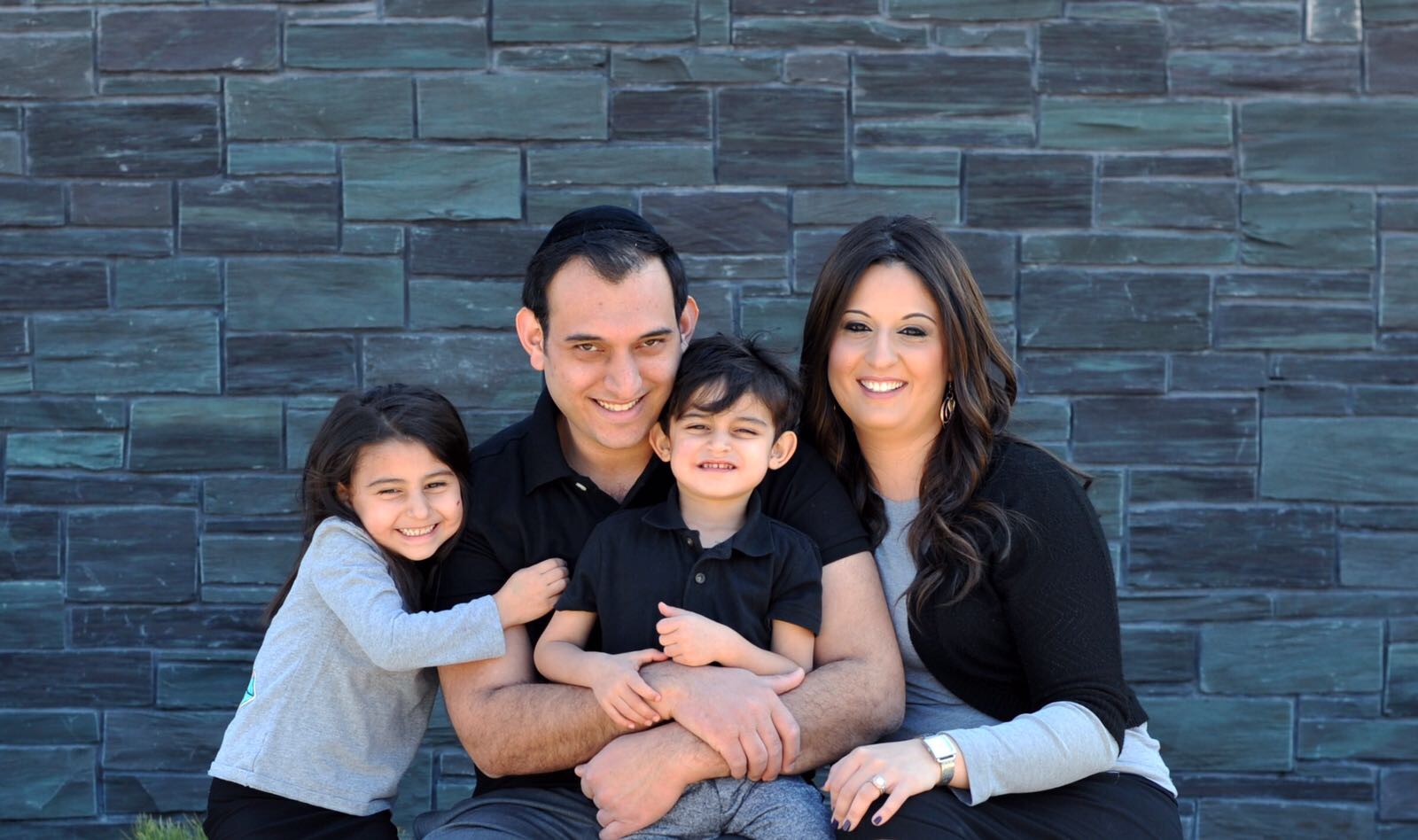 Dalya Attar wants to "put the 'more' back into Baltimore." Dalya, a first-generation American, former Bais Yaakov student, and Assistant State's Attorney in Baltimore, is running for office on the Democratic ticket. She is aiming to become one of the three state delegates for District 41. Although the primaries will not be held until next year, on June 26, 2018, Dalya realizes that, as a relatively unknown face to the majority of the voters in her district, she has her work cut out for her.
Yitzy Schleifer's recent win of a seat on the Baltimore City Council showed how teamwork and community support can help guarantee success. However, District 41 encompasses a much larger and more diverse area than the one that Yitzy represents, so the coming year will be a critical one in getting her message out.
Giving back to the city that has given so much to her family is what motivates Dalya. Born and raised in the district, Dalya saw how her immigrant parents struggled with a new language and culture when they first arrived. They overcame many obstacles and worked to be successful. That work ethic has worn off on her. "I want to work hard to be the voice of the people," says Dalya. "My parents immigrated here because they wanted a better future. They wanted to raise a family in a democracy, with freedom from persecution and better economic opportunities."
Dalya's parents were able to achieve the American dream, and Dalya wants the same for her children, but she is concerned for their future: "We are waking up every day to violent crime, limited options for good, stable jobs, and a seemingly hopeless future. Housing prices have risen, public transportation is challenging, and drugs abound. Drugs are almost as easy to buy as bread and milk. I am running because we aren't going to get anywhere with fears and complaints. We need action."
Dalya feels her Bais Yaakov background has helped guide her in achieving her goals. "I believe we are the totality of our experiences, and Bais Yaakov played a role in helping me understand what's important. It gave me strong moral and ethical guidelines, which have been critical in my professional life in law and will be critical in the political world. Amazing teachers prepared me with an educational foundation that led me to community college, then law school, and eventually to my job." Dalya earned her degree in criminal justice at the University of Baltimore and her law degree from the University of Maryland.
"As a student at Bais Yaakov, I learned how to think for myself and believe in my abilities, which helped me become the person I am today." Dalya is very grateful that the principal, Rabbi Zweig, and his wife attended her recent campaign launch at the beginning of June. "I may have left the school a number of years ago, but they will always be concerned about me."
Dalya says she has always been an independent thinker, and her educational experience makes her an even better candidate. "I learned not just to accept the status quo but to look at things from different perspectives, and this will help me look for creative ways to solve some of the key challenges that District 41 is facing."
Moreover, Dalya feels her educational experience at Bais Yaakov helps her understand "how critical it is for parents to have educational choices so that each child gets a path appropriate for him or her. Each and every parent in our district must know that they have the best educational opportunities for their children." Dalya will work to see to it that "education is a properly funded priority, allowing parents to have good options and ensuring that each child has a chance for a quality learning foundation."
Dalya is not what most people would consider to be a typical politician. She believes that we need stronger, bold leadership in Annapolis, representatives who are not beholden to anyone, whether to other politicians or to special interests, and are not afraid to stand up and fight for the people of Baltimore.
"Although current politicians have track records of things they have done, people keep asking, 'Why is the city in such disarray? They have been in positions of leadership; why haven't they done more? Have they been fighting for the little guy?' We vote for people on the inside because we believe they have power because of their political experience. But if they have power, why are things such a mess?" Dalya feels that, for our families, living, working, and raising families in Baltimore City, things have gotten worse.
Dalya views her lack of political experience as an advantage: "I am not part of any political machine. As a delegate, I will be accountable to the voters and will be a voice for them. The 2016 elections brought many new faces on the Baltimore City Council, and we are seeing good ideas and strong action. Now I think it is time to bring new people to Annapolis to fight for Baltimore City." She adds, "I can't say this and then sit back and expect other people to actually do it. That is why I have entered the race for delegate."
Lest one think that Dalya is concerned only with issues that affect the Jewish community, be assured that this is not the case. Indeed, everything that affects Baltimore City affects our community as well. Every city wants to be known for something special. But for over 15 years, Baltimore has been called the "Heroin Capital of America." Although it's nice to be number one in something, is this the title we aspire to? Even affluent families have been afflicted with heroin addiction. Dalya believes that more diversity and fresh ideas are needed to stem the ever-rising crime rate in our city and the loss of jobs as businesses flee the city.
As Dalya said at her campaign launch, "I speak as a woman. I speak as a mother. I speak as a professional and as a prosecutor fighting to keep the streets safe." Dalya says, "Baltimore needs to end the current era of high crime, heroin addiction, poor education, and the general mess and chaos of the city. The level of crime has made every neighborhood unsafe, although some more than others. Economic woes have made job searches and job insecurity an issue that is never far from anyone's mind." She believes new leadership will be able to launch a new era of "good jobs, better public transportation, a stronger economy and affordable housing." She wants to change Baltimore into a better city because it belongs to all of us, and we are raising our families here.
As the frum community grows, Dalya says, "It is critical that we have representatives who understand our values and nuances. We have seen, time and time again, that legislators are voting for an agenda that doesn't meet the needs of our community." For example, she asks, "Why are we paying such high taxes? So many of our community's families are struggling financially. People think that fighting for lower taxes is a Republican issue, but as a Democrat I know that it is vital that our hardworking families can keep more of their hard-earned paychecks. And while I am a strong proponent in supporting rehabilitation of criminals and giving people another chance, I also think that our families need to be safe and protected, first and foremost. Many current legislators are not doing enough."
Dalya points out that many of the Democrat legislators, some of whom are in their 80s, are of a much older generation. "We need people who are not afraid to stand up and present bold ideas. We need younger people with fresh ideas and different perspectives. I think it's good to have a balance – men and women, younger and older, black and white, Jews and non-Jews. But we don't have an Orthodox Jew in the legislature, and I think it is time."
In addition, Dalya points out that redistricting may take place after the 2020 census, and delegates elected in 2018 will have a voice in these decisions. "Our community should explore and potentially support returning to a legislative district that encompasses the full frum community, rather than splitting us by the city-county line," She says. "As an Orthodox Jew, I can explore that issue with our community's leaders, and take the proper approach to the table in the redistricting process."
Of course, redistricting is not the only thing that State delegates discuss and vote on. In the past General Assembly session, which runs from January through April every year, over 1,600 House bills were introduced. Topics ranged from requiring small businesses to offer sick days, fracking, civil suits against drug manufacturers who overcharge, transportation projects, and health care, to name just a small sampling. These issues affect all of us.
In order to vote in either the June 2018 primary or the November 2018 general election, one must be at least 18 years old. However, as Dalya notes, 17-year-olds can register now if they will qualify to vote on election day. Dalya urges any students who will qualify but who will be away (such as spending a year in Israel) to register now so they do not miss the cut-off date to register when they return next year. In Maryland it is very easy to register to vote and/or to change your party affiliation by going to the website http://boe.baltimorecity.gov. As a matter of fact, if you are a registered Republican but would like to vote for Dalya in the primaries, you can switch your affiliation. (One can only vote for candidates in their own parties in primary elections.) In the general election of course, voters can vote for any party's candidate.
With a husband, career, and two young children, Dalya describes herself as a multi-tasker who has learned how to prioritize and balance her responsibilities. Tremendous family and communal support has helped and encouraged her to run for office. She sees her goal as an "opportunity to show hakaras hatov to Baltimore and the state of Maryland for enabling our families to immigrate to America and for giving us great opportunities."
Dalya will need a large grass-roots effort to achieve her goal. For now, she is relying on volunteers to help run the campaign. Dalya invites all Where What When readers to help – be it by door-knocking with her, stuffing envelopes, hosting an event, donating, or even asking their friends and neighbors to get involved. This is not a one-person effort, concludes Dalya. This is all about teamwork. Information about this can be found on her website, http://www.dalyaattar.com/volunteer.html.