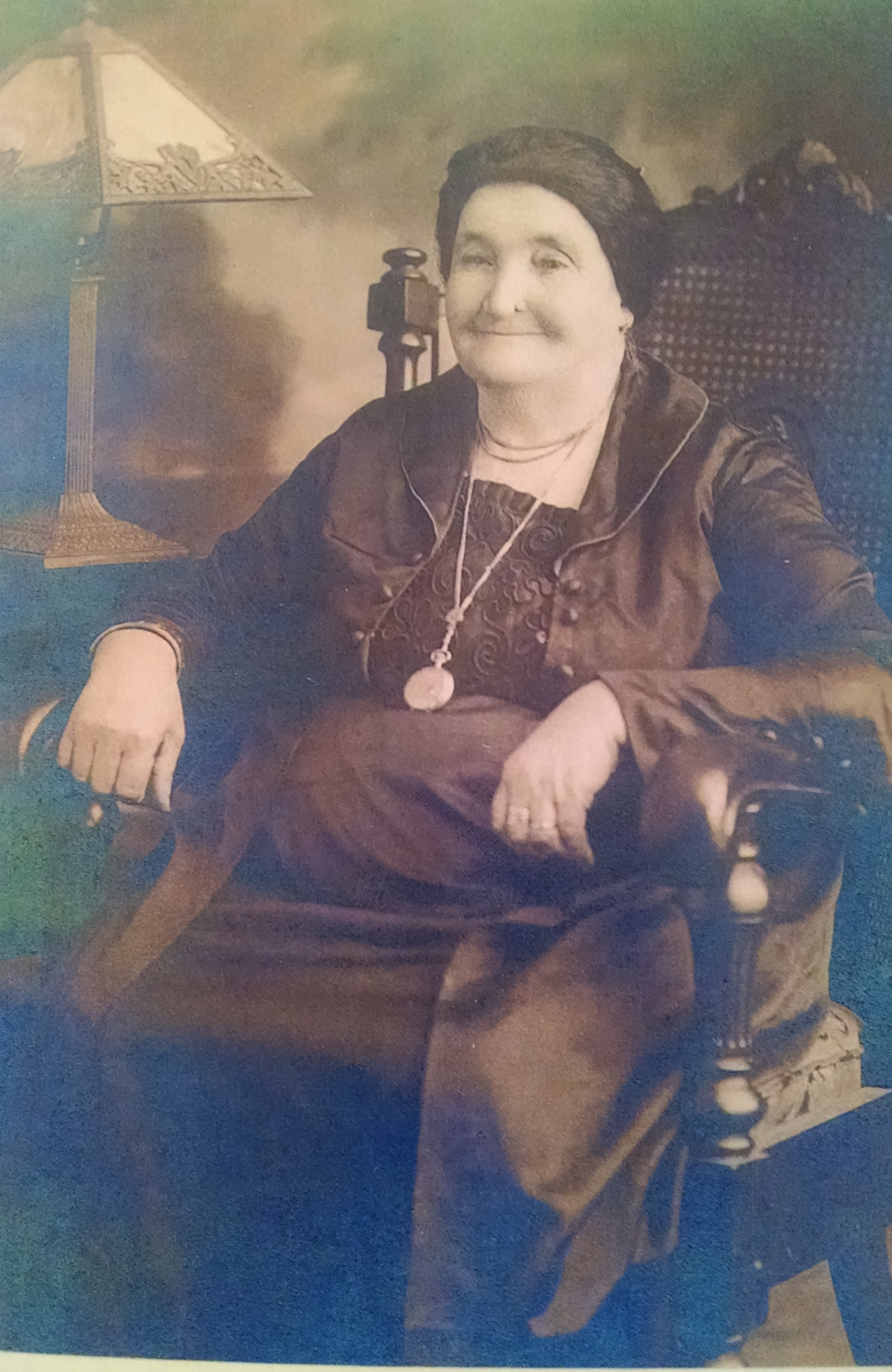 I often try to imagine what the lives of my great-great grandparents were like in Poland. (Or was it Russia? I guess it depends on what day of the week it was.) I also can't help but wonder what threads tie those mostly anonymous shtetl forebears to us, living more than a century later. What is the enigma of Jewish continuity, which wends its mysterious way through the generations? My curiosity was partially satisfied recently through a new friend.
A few months ago, I became a volunteer at Levindale. My official "job" is in the gift shop, but I've also had a chance to meet many of the elderly residents. Though not all of them have the ability to remember their past and communicate well, many do, and have regaled me with fascinating stories. I had planned to do short profiles on several people I met, but after speaking with resident Rosalie Wolfson, who is well into her 90s, I felt compelled to write about her and her interesting family.
In many ways, the story of Mrs. Wolfson's family is typical of that of many immigrant American Jewish families, but the family did benefit – as we shall see – from at least one exceptional personality. As for Rosalie Wolfson, she thinks there is nothing special about herself – and never considered her life "interesting." Many would beg to differ. Fun to speak with, Rosalie uplifts everyone who comes to visit.
"Sara" is just one of many frequent visitors. Both she and her two-year-old daughter "Miriam" look forward to these visits, which were arranged by Rosalie's daughter, Dina Karlip, a popular teacher at TA for many years. "Mrs. Wolfson always treats Miriam like a grandchild," says Sara, "and makes sure to have treats, balloons, and other special surprises. She wants to make sure that we have a great time. Mrs. Wolfson is such a pleasure to be around. It's hard to get Miriam to leave." Another frequent visitor, Florence Davidson, describes her as very "with it," and Rosalie's great-grandchild, Emmy, age nine, (daughter of Rachel and Josh Dreeben of Montgomery County) remembers Rosalie coming to her house every Sunday, when they would sing together: "Me singing songs from Frozen, and Bubs, Yiddish songs. I'm very lucky to have such a beautiful, loving great-grandmother."
A person who can relate to young and old has to be special, and, certainly, when she becomes shomer Shabbos in her 90s, you have to wonder why.
Yacha
Yacha Michelson, Rosalie's paternal grandmother, stands out in her earliest memories. "My grandmother Yacha was a tzadekes," she recalls. "She used to daven in shul every morning and evening. As she approached the shul, the men would joke, 'Ot geyt Mrs. Michelson. Hobn mir shoyn a minyen' (Here comes Mrs. Michelson, now we have a minyan!)' She also used to fast every Monday and Thursday and of course, kept halacha meticulously." Yacha, who was educated in Russia, became known as the "zogerke" the woman who translated the siddur and Chumash into Yiddish for the rest of the women in shul on Shabbos and holidays. She read the siddur out loud and answered any questions the women had on it.
"I never heard my grandmother say an unkind word about anyone. If someone spoke loshan hara in her presence, she would put her finger to her mouth and put her head down. She did not want to hear it," Mrs. Wolfson relates.
How did the family get to Baltimore from Kiev? Yacha's first husband died of tuberculosis at age 34, leaving her a widow with five children including Harry (Hershl), Morris (Moshe Zelig, Rosalie's father), Sarah, Annie (Chana), and Rochel, who died of tuberculosis in Europe. Yacha remarried a widower (Anshel Gostomelsky), who had children of his own, and together they had a daughter named Bessie.
Morris, who would become Mrs. Wolfson's father, and his older sister Sarah were the first in the family to immigrate to America. They arrived in 1903, when Morris was about 15 years old. They were soon able to send for Annie. The three of them worked in sweatshops for another two years, and by 1907, they had saved enough to bring over their mother Yacha and the rest of the family. Sadly, Sarah developed tuberculosis from the sweatshop conditions and died in a sanatorium in Denver, where she is buried, because the family could not afford to bring her body to Baltimore.
Coming to a foreign country is never easy, but the family experienced a frightening incident even before they left Europe. Walking the gangplank from a small boat to a larger ship, Bessie, who was three- or four-years-old, slipped and fell into the ocean, while all watched in horror. Two sailors jumped in and pulled her out, but Bessie was unconscious, and Yacha tearfully davened for her recovery the whole night. The next morning her prayers were answered, as Bessie opened her eyes with no ill effects.
Ironically, after she grew up and married, Bessie had a daughter named Toby. When Toby was about two- or three-years-old, walking down the street with her mother, they passed an open manhole. Toby fell in and became the second generation to "fall into the water"! Fortunately, it was only the sewer and not so deep as to be life-threatening. (Toby moved away from Baltimore when she got older, so it is not known if she had any children to carry on this tradition.)
Settling in Baltimore, the Michelsons[1] worked hard. Yacha and Anshel ran a little store in their house on Exeter Street near Fayette. Yacha, along with a local businessman, also founded her own gemilus chesed organization. She collected money all week and on Thursday afternoons went from family to family distributing funds to help them make Shabbos.
After Yacha's children grew up, they would gather with their families at her home every Shabbos. Mrs. Wolfson remembers her Aunt Annie entertaining the family with stories. She was "almost like an actress" making everyone laugh. (Her sense of humor may have served her well as she lived to be over 100.)
Morris
Yacha's son Morris had attended a bais midresh in Chabne, a small shtetl near Kiev, as well as another yeshiva, and he was a religious youth when he arrived in Baltimore. However, as his daughter Rosalie tells it, he witnessed the terrible working conditions to which some "frum" sweatshop owners subjected their workers. The sweatshop management imposed terrible working conditions and long hours and even locked the doors so that no worker would leave early or even go out for a bathroom break! The hypocrisy Morris saw caused him to lose his taste for religiosity
According to Rosalie's grandson, Josh Karlip, associate professor of Jewish history at Yeshiva University, Morris' disillusionment occurred at a time when the secular Jewish socialist movement became a very strong influence on many Jewish immigrants. Working in the sweatshops, Morris was radicalized and essentially became a socialist. This secular movement viewed religion as a tool of the rich to ensure the submissiveness of the workers.
Despite his estrangement from Yiddishkeit, however, there is no doubt that his mother Yacha's emphasis on chesed and serving others influenced Morris to do the same. Dedicated to helping the working man's plight, Morris became very involved in labor unions. He was one of the founders of the local branch of the ACWA (Amalgamated Clothing Workers of America), traveling to Memphis, Tennessee, for the founding in 1914. He was the chairman in the Baltimore branch until 1934. Dina Karlip has the award presented to Morris by the ACWA, which says, "As a high tribute to Brother Morris Michelson for his splendid services…" and wishes him "a long life of happy usefulness"!
Morris was a very principled man. He refused to accept a salaried job with the union, and remained a factory worker. He felt that if he took money for his union work he would not be able to always speak his mind. One time, during a strike at one of the local factories, goons with guns had been hired to intimidate the strikers. Morris risked his life to walk through their armed ranks and talk with the management to try to get to a peaceful settlement.
Years later, Rosalie had an urgent medical appointment with a doctor at Johns Hopkins. When she got there, she saw strikers outside. Because of her background, Rosalie had never crossed a picket line in her life. What to do? She went over to the man in charge of the strike and said, "Look, my father was a very strong union man and I'm with you 100 percent, but I need to see the doctor today. How am I going to get in there?" He said, "Don't worry" and let her in. "When I got to the doctor he asked me why I was so pale."
Ray Michelson
Rosalie's mother, Ray (Rachel), had a very different background than Morris, coming from a wealthy family from Riga. Nevertheless, she also became involved in the worker's movement. She was a very fine person, constantly doing things for people. Once, a good friend of hers, Frieda Frank, had contracted typhus and was put under quarantine. Her husband and children were forced to leave the house, and there was no one to nurse Frieda back to health. Ray broke the quarantine and came in every day, risking her own life and that of her family in order to save her.
Ray and Morris were only able to have one child. In a tragic occurrence, Ray's obstetrician missed the birth due to a broken arm, and the substitute doctor made the mistake of leaving the afterbirth in. Ray developed sepsis and almost died. For the first three or four weeks of her life, Rosalie was taken care of by her Aunt Annie.
Although Morris and Ray were no longer observant, they maintained a very Jewish home and always respected those who were religious. Morris and Ray were extremely non-materialistic, idealistic individuals. They owned Yiddish translations of many, many literary classics, and their home served as a meeting place for prominent intellectuals of the time. This was the environment in East Baltimore that Rosalie grew up in.
One interesting tidbit about Rosalie Wolfson's family concerns Ray's niece, Mara Davidov, Rosalie's first cousin. Mara married Jacques Faitlovich, a Polish Jew who was instrumental in bringing the knowledge of world Jewry to the Ethiopian Jewish community and vice versa. According to an online Ha'aretz article, Jacques "visited Ethiopia for the first time in 1904. He received a grant from Baron Edmond de Rothschild to 'look for black Jews,' newspapers reported at that time. [Faitlovich], who had studied at the school for oriental languages at the Sorbonne in Paris, astounded the Ethiopian emperor, Menelik II, with his fluent command of the country's languages, and told him that the Ethiopian Jewish tribes were connected to white Jews elsewhere in the world.
"Several years later, an interview with Jacques was published in Warsaw's Hebrew newspaper Hatzfira. 'The first time I came, in 1904, they did not want to believe that I, too, am a Jew, and only after a while did I manage to prove to them that there are many more Jews in the world. Since then they have wanted to be closer to these Jews,' the article quotes him." Jacques' work in Ethiopia helped pave the way for the Ethiopian community to be brought to Israel years later.
The Circle Closes
Being a daughter of a devoted union man, Rosalie met her husband Willie Wolfson at Unity House, a union summer camp in New York they both attended. Because Willie was from New York, they lived there for the first few years of their marriage. But Rosalie missed Baltimore and finally prevailed upon her husband to move back here. Willie, who passed away in 2001, was a successful salesman. He had a nice singing voice and often sang to entertain residents of nursing homes.
Rosalie has two daughters. Linda Wolfson, of Boston, has worked for many years as a social worker – first in hospice care and now in an assisted living facility – continuing her family's tradition of service. Dina Karlip (whose middle name is Yacha) taught third grade at TA for 34 years before retiring last year.
Dina and her husband Fred decided to send their children, Josh and Rachel to Beth Tfiloh day school. Little did they know how this would come to change their lives. Josh took to Jewish observance like a fish to water. He loved everything Jewish and introduced his parents to many mitzvos, which they gradually began to observe. Josh loved going to shul on Shabbos to daven, so Fred took Josh to Beth Tfiloh every week. When Josh became bar mitzva, he said, "That's it. I am becoming shomer Shabbos."
Dina and Fred eventually also became shomer Shabbos. Josh remains very close with his grandmother Rosalie. He calls her every day and they have long conversations. Rosalie's love for him is so great that a few years ago, when she was already in her 90s, she increased her own observance to become shomer Shabbos, as well. Dina believes that another reason she did this is to serve as a role model for some of the other people in her Levindale household. "Just as Yacha was a role model for Rosalie and for the women around her, my mother has become a role model for others, including all of us!"
Two of Josh's daughters are named after family members: Chana is named after his great-great-Aunt Annie, and Yocheved is the Hebrew equivalent of Yacha. Josh says, "One of the greatest brachos of my life is to be able to speak with my grandmother every day. We are able to discuss politics and what's going on in the world. I daven every day that Hashem should keep her here in good health for many more years."
Postscript
Along with my musings about how my ancestors lived in the Old Country, I also often wonder how many of my relatives may have known the relatives of people I know today. Amazingly, after speaking with Josh Karlip, I discovered that we actually are "related" by marriage. A few years after my grandmother Bessie Richman was widowed, in the early 1980s, she remarried. And the man she married, Isidore Wolfson, was Rosalie's widowed father-in-law! I guess that's why they call it "Smalltimore."
---
] Michelson was not the family's last name in Kiev. Morris's real father's name was Michel Kossikov. At one point, Morris went from Baltimore to New York for work, where it was suggested that Kossikov was too difficult to pronounce. Since his father's name was Michel, his last name became Michelson. At Morris' urging, the rest of the family changed their names to Michelson as well.