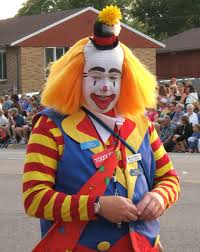 Walking down the aisle in the grocery store, a little girl nudges her mother and whispers, "Look, there's Zaidy Arnold." Her mother is surprised. She only knows about two zaidies in the family, and neither one is named Arnold.
"Who is that?" she whispers back.
"He reads stories to us," the little girl replies, "and it is the best part of Funday!"
In "real life," Zaidy Arnold is Mr. Arnold Shear, who moved to Baltimore five years ago. "I love children," says Mr. Shear, "and had been reading to them when I lived in Boston. Each week, I choose books at the library to read to the Bais Yaakov nursery and pre-nursery classes. I make it a lot of fun, wearing different hats and fun costumes, which makes every Monday into a fun day! I don't know who enjoys it more," says Mr. Shear, "me or the children."
Mr. Shear is only one of many people in our community who volunteer for our schools on a regular basis. Although schools are staffed by principals, teachers, special educators, office staff, and maintenance staff, all of whom work hard to educate our children in the best way possible, there is always room for volunteers from the community to enrich our children's lives with their energy and talents.
Mrs. Miriam Lowenthal is another volunteer who enjoys working directly with the children. She has been volunteering at Bnos Yisroel since its inception. At first she was a classroom aid, but for the last few years she has been doing enrichment reading and some assessments. "I volunteer at Bnos twice a week, for about three hours at a time," says Mrs. Lowenthal. "I taught first grade in Cleveland for many years, and I enjoy keeping my skills active. In order to do a good job as a volunteer I think you have to come in on a regular basis, because then you can accomplish something real."
Mrs. Basi Lowenthal also works with children as head of lice checks in Bais Yaakov elementary school. The job involves finding mothers to come in four times a year to do the checking, she explains, and she finds it harder to get volunteers during busy times of the year. "But," says Mrs. Lowenthal, "it is not unpleasant work; the mothers have the opportunity to get together with other mothers and to spend time with the cute kids, and the administration is very appreciative. I was brought up in a home where my parents were very involved with volunteering for the community," she adds. "It just comes naturally to me to do the same."
PTA and Ladies Auxiliary
Those who don't wish to work with the children can help the schools in other important ways. PTAs and Ladies Auxiliaries create a structure that allows parents to volunteer for specific projects.
Andrea Schulman is the co-president of the PTA at Yeshivas Chofetz Chaim Talmudical Academy, together with Goldie Gross. I asked Andrea why she had taken on such a big task. After all, being the president of the PTA of a school as big as TA is almost like a job!
"I want to give back to my children's school," she says. "There is only so much the staff can do, and the PTA enhances life for the students and the teachers. The PTA does a tremendous amount to both raise funds and to add that special touch for the students and faculty."
The TA-PTA sponsors events such as back to school snow cones, Rosh Chodesh treats for the preschool and elementary students, the annual Chanukah chagiga, a Barnes & Noble book fair, where over $1,200 of books were donated to the school library and classrooms, and Chanukah gifts to the entire TA staff. In addition, they fund the elementary mishmar treats as well as TA's Ben Torah Bucks prizes. Using funds earned through the Box Tops for Education program, the PTA has purchased new science kits for the third, fourth, and fifth grades.
Mrs. Blum* is a longtime volunteer for Bais Yaakov's Ladies Auxiliary. She is very involved with cooking for school events, and has served meals for very large groups at occasions like the graduation dinner. "Bais Yaakov is very proud of the home-cooked flavor of our events," she says. "It creates school spirit and a special atmosphere." Mrs. Blum explains that, when Bais Yaakov built the new high school building, the Ladies Auxiliary sponsored a beautiful kitchen with commercial ovens, refrigerators, and freezers. Dishes, silverware, and glassware were also purchased to serve 500 people.
While the results may be the same – beautiful affairs – the planning and work are different today than in the past. "In the past, most women didn't work, so they had time to do big jobs for the school," says Mrs. Blum. "Parents are still willing to help the school, but we have to subdivide the jobs into smaller chunks to fit today's lifestyle. We oversee the planning and cooking, and concentrate on involving new volunteers. We especially try to recruit the parents of the class to help cook for the event."
Unique Projects
Some people create their own volunteer activities that provide valuable and truly unusual services. Mrs. Maggie Silver, a pre-1A teacher at TA, is also an enthusiastic volunteer. "Everyone has different talents, and everyone has something unique to offer," she says. One of Mrs. Silver's big projects is the hashavas aveida project. "In a big school like TA, huge numbers of items are lost," she says. About four times a year, she goes through all the things in the lost and found. Some things have labels, so she returns them to their owners. Unlabeled items are organized according to size and color and displayed for three days. Parents can come in and search for the clothing their children lost. After three days, the items become hefker and people are invited to take clothing for their children. All the leftover clothing is donated to the Hadassah Thrift Shop. "It is hard to believe, but sometimes we have brand new jackets that are never claimed," Mrs. Silver says.
Mrs. Sandra Friedman and Mrs. Zehava Lefkowitz have taken volunteerism to a new level with the Bais Yaakov uniform gemach they have been running for a number of years. Parents drop off their children's outgrown uniforms, and Mrs. Friedman and Mrs. Lefkowitz get them fixed and cleaned. They draw on a group of volunteers who fix hems, buttonholes, and snags. "The women who mend the uniforms work for hours behind the scenes getting the uniforms into top shape," says Mrs. Friedman. "They are really in perfect condition, and it is unlikely that anybody would be able to tell that they are secondhand!" After repair, the uniforms are arranged according to size, and parents can buy them at a very low price. What a tremendous service to the community!
Training the Children
Not only are our schools benefiting from volunteers who give of their time and energy to enhance the children's experience, but the schools are training the next generation to also contribute through volunteering. For instance, every year, Mrs. Maggie Silver does a chesed project with her pre-1A students. "I wait until I know the boys and then choose a project that is good for that particular group. The project is a very important part of the curriculum, because it teaches responsibility and channels the strengths of each child.
Sometimes I have the boys help with the hashavas avayda project. My pre-1A students work with their fifth grade buddies, going from class to class to find the owners of the lost clothing. Being able to help in such a concrete fashion gives the children a tremendous feeling of accomplishment.
"Some years we have a bake sale," Morah Maggie continues. "The children do all the work, including planning what to make, composing a shopping list, getting recipes, baking (together with parent volunteers), packaging the cookies, and selling them during recess. Another year we planned a visit to a nursing home. We made felt pillows and cards for the residents, brought them a plant, and sang a song."
Another year, Morah Maggie ran a yeshiva beautification project in which the boys planted flowers and weeded the flower patch. She emphasized to the boys that it is a mitzva to beautify a place of Torah learning.
Bais Yaakov high school has a special program called G'mach, in which the girls are encouraged to do chesed just for the sake of helping someone else. Indeed, the school has created an atmosphere where being part of G'mach is considered a privilege. G'mach activities include visiting people's homes after school to help with young children and homework. Girls also tutor and visit elderly people. In addition to the actual helpers are the girls who coordinate the project's schedules and transportation, and the ones who drive the volunteers to and from their G'mach families.
Some students are also involved in a program called Bnos One on One, in which high school girls are matched with middle school girls, and they get together once a week. Much effort is put into the program by the post-seminary girls, also volunteers, who run it. They offer special events for the big and little sisters, and mentoring if the big sister needs advice The high school girls are learning how much can be accomplished by giving of themselves.
Volunteering is something we can all do. It is a matter of finding something that matches your interests and energy levels. "Parents should always be thinking about what they can do to improve their children's school," says Rabbi Zev Silver, a new principal at TA. "They can call or email the rebbe or the teacher and ask how they can be of service. Because many families today need two incomes in order to survive, there are fewer volunteers available, so each volunteer is meaningful."